"An Absolute Game-Changer"
CORAL GABLES, Fla. – All the usual training equipment was spread throughout the Carol Soffer Indoor Practice Facility on a particular July morning this summer.
There were countless plates and bars in the weight room. Cones marked sprint distances on the turf field. And there were plenty of sleds available to push and pull as needed.
But Miami's strength and conditioning staff has used some new tools to help the Hurricanes during the offseason and throughout fall camp, too.
It isn't uncommon to see computer stations set up in the end zone collecting and gathering data as the Hurricanes go through workouts and practices. Each of the racks in the weight room has been outfitted with optical sensors that measure how quickly and efficiently bars are being lifted. And force plates have been used to gauge how players run or jump, allowing for more customized workouts.
The players are also sporting some new technology themselves.
Each is outfitted with a Catapult GPS monitoring system that tracks speed, endurance and agility. An additional group of Hurricanes also sport armbands holding another monitoring system: the Warfighter, a fitness tracker created by Department of Defense contractor Tiger Tech that not only collects electrocardiograms, but measures a user's respiration rate and body temperature, among other metrics.
But one of the most crucial assets in Miami's offseason training program and in camp isn't just the technology gathering all this data for the Hurricanes.
It's Eric Renaghan, who joined the staff earlier this year as the Hurricanes' new Director of Sports Science.
Renaghan, a former strength and conditioning coach with the Vancouver Canucks and the Head of Sports Performance for the St. Louis Blues during the team's Stanley Cup championship run in 2019, is responsible for collecting and analyzing all the data the Hurricanes are generating during their workouts.
And he works closely with Aaron Feld, Miami's head strength and conditioning coordinator, to ensure that not only are the Hurricanes performing at their best, but to make sure each player's workout is geared to his specific needs.
"Success leaves clues and successful people tend to gravitate toward other successful people. So having him as part of our staff is going to be an absolute game-changer," Feld said of Renaghan. "What he brings to the table, from a standpoint of process and answering questions, using the scientific method and finding ways to quantify performance and evaluate performance deficiencies, he's just an absolute game-changer…He really is kind of the glue that binds the performance team together."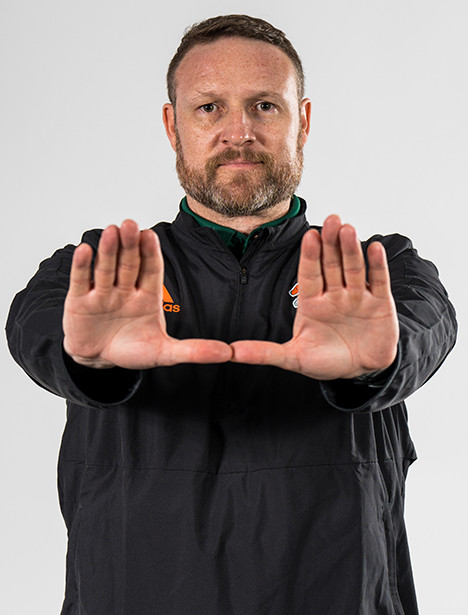 For Renaghan – who has spent the latter part of his career working with professional athletes – the opportunity to come to Miami and return to college athletics was an intriguing one.
Here, he knew he'd have the opportunity to build the Hurricanes' sports science department from the ground up. He also knew he'd have the chance to work closely with not just Miami's student-athletes, but the Hurricanes' coaches, medical team, strength and conditioning staff, and nutrition staff.
And though at the moment, he works primarily with the football program, the hope is to expand the sports science department so that all of Miami's athletic teams can benefit from the unique data Renaghan and his staff capture and analyze.
That's something he's looking forward to.
"I think this generation of athlete is always asking 'How can you help me?' With sports science, with the right infrastructure, the right hardware and the right solutions, we can really be objective with how we make individual athletes better. That's really what people are looking for," Renaghan said. "Most of our guys have the dream of going on to the NFL. If we can help them be more effective while they're at Miami, potentially they have an opportunity to go on to the NFL. If we can use data and science to help individual players improve, I think that's a really big selling point for recruiting…
"To be the first person at the University of Miami to run this department is really unique and an exciting opportunity for me. Hopefully, we can build this up through our entire athletics department."
As to getting to work with college-aged athletes again, Renaghan says that has also provided an interesting dynamic, especially given the kind of talent on the Hurricanes' football team.
He also says the numbers and data add some internal competition which will only help the Hurricanes.
"I think being able to provide them with that little bit of motivation, to hit certain velocities or cover certain amounts of distances is really a unique way for us to create that motivating factor that comes from the athlete," Renaghan said. "Instead of us kind of pushing them non-stop, they can motivate themselves internally and I think it creates a competitive factor…
"If we have guys chasing each other and they get faster, that's good. To have that ability to objectively tell them what their score was and to tell them, in real-time, that's a unique opportunity for them to kind of understand what they're doing and how it's actually making them a better player."
That competitive drive was on full display during one of Miami's late summer workouts as teammates pushed each other, cheered each other on and then checked their respective numbers on the computers after working through variable resistance sprints.
The resistance each player worked through was calculated for them individually with the help of a DynaSpeed machine – another technological tool added to Miami's offseason program.
Things have only gotten more intense as the Hurricanes have worked their way through camp. But Miami's players were ready to be at their best, in large part because of the work Renaghan and Feld did with them throughout the offseason.
"He's somebody that is the brains behind it all," defensive end Chantz Williams said of Renaghan. "He'll say and tweak things you would never think of, like 'Turn your toe a little bit' or 'jump like this.' Him doing that has really shown us how important it is to do the small stuff right. He doesn't understand how impactful he is, but that's what we've gotten from him as well. You want to see your numbers go up, but sometimes, your numbers don't go up, even though you're moving the weight faster. He shows you that. You just have a peace of mind that 'Okay, I know the work is working. I know what I'm doing is working.'"
Added Renaghan, "We want to bring the University back to the level at which it was 20 years ago, with multiple championships. I want to be a part of that. I want to provide the student-athletes with the opportunity to be successful. And I want to contribute to the staff members and the coaching staff that I'm fortunate to work with here and provide them the insight I've been able to gain along my career so I can help them in whatever way possible."
For his part, Feld is confident that's exactly what Renaghan can help make happen – for all of the Hurricanes.
"Eric is a visionary and a great human being. He's really good at what he does. Nobody who is that talented and that experienced in this arena is going to settle for just the most simple version of what the job is," Feld said. "He's going to constantly grow and expand, not just his reach within the athletic department, but to continue to provide more resources for the football program…He really has the vision and experience to build this thing from scratch."