Canes Return to Greentree
CORAL GABLES, Fla. – Since returning to his alma mater in December, Miami head coach Mario Cristobal has shied away from making any kind of grand predictions about the Hurricanes.
Others have picked them to win the Coastal Division title and play for the ACC championship. A handful of players are already on the watch lists for multiple major national awards.
But all Cristobal has wanted to guarantee when it comes to the season ahead is that the Hurricanes are going to work – and work, and work, and work some more.
On Friday morning, with the sun shining and the South Florida humidity making its presence felt, that's just what the Hurricanes did, taking to Greentree for their first workout of fall camp.
For two hours, they ran drills. Received instruction. Pushed each other to improve, knowing that on Saturday, they'll do it all over again. And that the work will continue into next week and beyond.
Still, as tough as the conditions and the practice may have felt, none of the Hurricanes seemed to take the opportunity to be back on the field for granted.
Instead, they are embracing the challenges that await over the course of the next four weeks ahead of Miami's Sept. 3 opener against Bethune-Cookman.
"Everything we do, we're working as hard as we can go and if somebody's not working as hard as they can, you've got to call them out. You've got to hold them accountable," fourth-year redshirt sophomore defensive end Jahfari Harvey said. "And I expect everybody to do the same thing to me, and whoever else on the team. Everything we do is working, from [individual drills] to special teams, everything."
Added fifth-year senior tight end Will Mallory, "We came out with high energy, high intensity, you know, first day of camp. Everyone was just super excited. But it was work. It's hard work. It wasn't an easy practice at all. Guys were struggling, guys were pushing through stuff. But that's the work and that's what we're focusing on. Now, we've got to go back, look at the film, correct the mistakes, improve from that, come back tomorrow and do it again."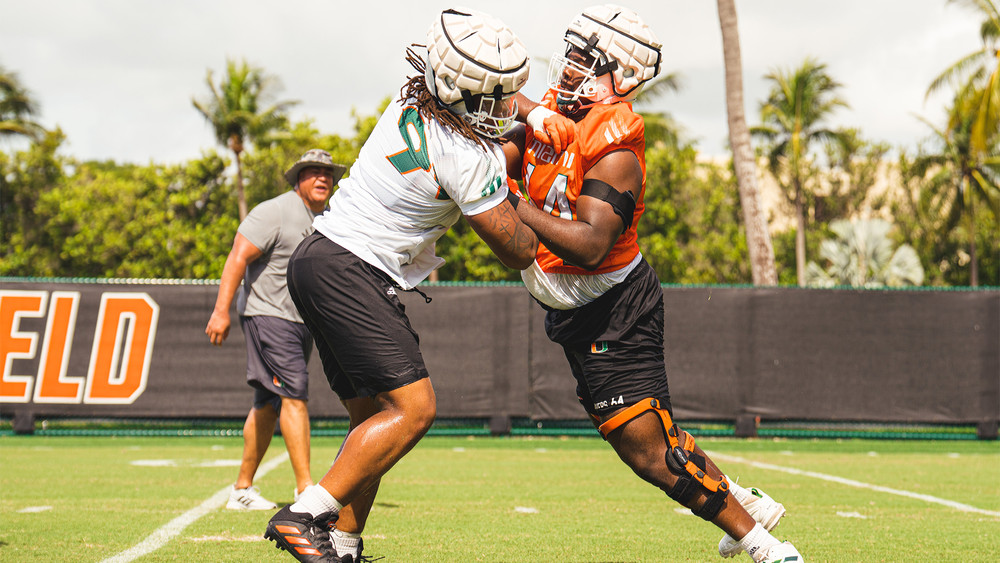 For Mallory, who missed spring drills while recovering from an injury, simply being back on Greentree was reason enough to be excited. That the Hurricanes have now turned their attention from offseason conditioning to on-field preparation only made the day better.
It was a significant day, too, for quarterback Tyler Van Dyke, who a year ago opened preseason camp as a reserve behind veteran quarterback D'Eriq King.
A season-ending injury sidelined King last September and thrust Van Dyke into the starting job. The young quarterback went on to throw for 2,931 yards and 25 touchdowns en route to being named the ACC Rookie of the Year.
In the months since last season ended, Van Dyke – a third-year sophomore – has continued to work on not only improving his game, but to continue growing into his role as one of Miami's leaders.
It's a responsibility he said on Friday he takes personally.
"Since I've been here, I mean, I've always tried to be that guy who's just going to come and outwork everyone and do the extra stuff to be that guy," Van Dyke said. "I would say the biggest difference last year to this year was just I had more of that voice that people would listen to. And I didn't realize that until probably a few months ago. We were having some struggles on offense and people were really listening to what I was saying. I think that's the biggest difference. I feel like the work ethic hasn't changed, just the voice."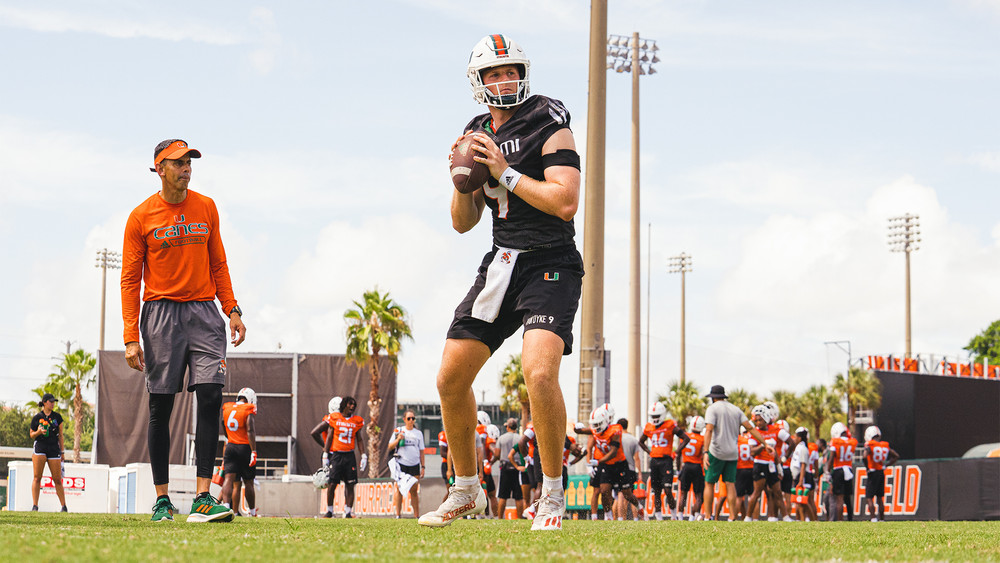 While Friday's practice was a milestone in and of itself – a sort of start to the new season – Cristobal made it clear once the workout was done that the Hurricanes will look to build on what they've done and that the work they'll do will only get harder.
The goal is simple: he wants to see Miami improve on a daily basis, not just in camp, but week-to-week once the season begins.
One way he knows the Hurricanes can do that is to continue to pay attention to detail, on and off the field.
"I'm not so concerned that the plays are perfect, but the way we do things have got to be at a high level," Cristobal said. "Like running on and off the field, have to be full throttle. How you finish a play has to be full throttle. If it's a walk-through, there shouldn't be a ball in the ground. You saw it happen earlier and we had to blow it up and start all over again.
"So the way we do things – as opposed to the result of that particular period, that particular play – is what's really important. If we are in our one-on-one draw, our five-on-four pass drill and we're retracing and chasing the ball, once that whistle is blown or once that ball is gone, everyone puts a foot in the ground. It's a full-speed sprint to the football – not two yards before it, not a yard from it, but all the way through it so we can get in just really good practice habits because our practice and preparation will become our game reality."