"We're Excited to be Getting Better"
CORAL GABLES, Fla. – For months, the Hurricanes have been looking forward to this moment.
Come Friday morning, they'll return to the Greentree Practice Field to open their first preseason camp under head coach Mario Cristobal and take the work of preparing for the 2022 season to an entirely new level.
There were spring drills, of course. And lots of offseason conditioning work. But, as many of the Hurricanes said in the days leading up to their first practice, there's nothing like feeling the grass under one's feet knowing the season opener is less than a month away.
Now, their chance to do that is finally here.
"Everyone's excited for that first day of football. It's been a while since we've actually gotten to play football, practice football and whatnot. There's a lot of excitement that comes with that," fifth-year senior tight end Will Mallory said. "Obviously, with the changes that happened, everyone is really excited, too. There's a lot of buzz outside. People are feeding off that. But I think we're just excited to get to work, to work with our guys and our brothers. That's what I'm looking forward to, just getting out there and playing ball."
Added kicker Andy Borregales, "The energy level has blown the roof off. We've been waiting for this moment since the end of last season. This is what we live for, what we're looking forward to. We're all just excited and anxious to get out there. It's going to be hard work, a lot of hard work. A lot of teaching and everything. But I'm excited. That's all I can say."
There are storylines aplenty that will play out over the course of the next four weeks as the Hurricanes set their sights on a Sept. 3 opener against Bethune-Cookman.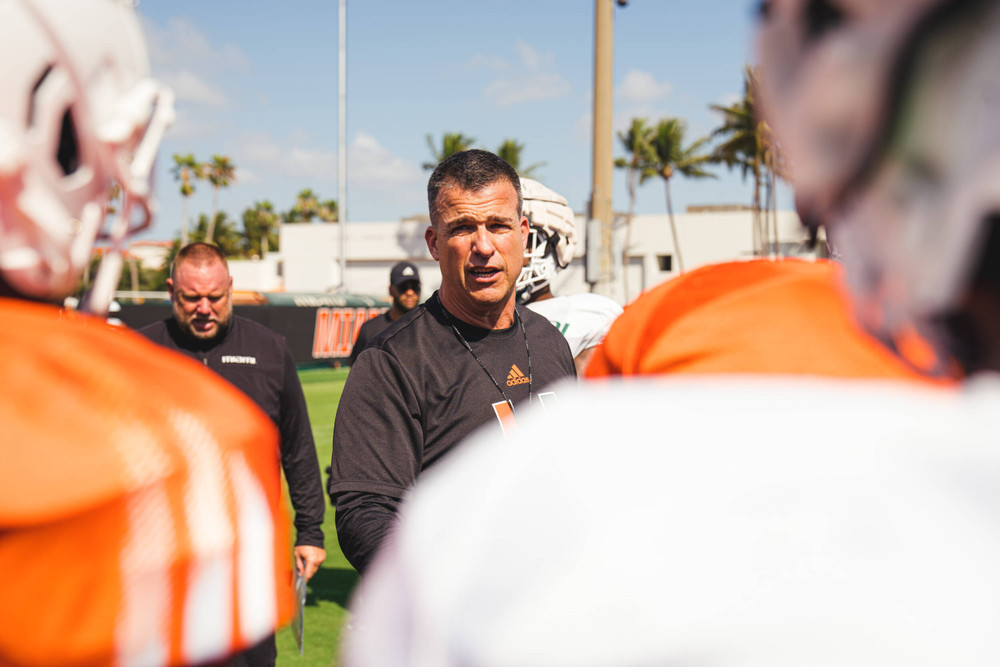 There will be position battles across the field. Cristobal noted earlier this week that just about every player who missed spring drills while recovering from various injuries will be available. New faces will look to step up and replace the production voids left by the departure of several veterans. And a new coaching staff will continue the work of implementing the systems and habits they hope will make Miami successful all season long.
And while the start of camp will mark another milestone in Cristobal's return to both his hometown and his alma mater – this time as its head coach – the two-time national champion offensive lineman has made it clear he wants to keep the focus on the work Miami's players and coaches will be doing on Greentree, not on him.
"I like to think of it as our program. There's a lot of people here that have invested a lot in the University of Miami, a lot of people in this building. So I never feel comfortable with [hearing] 'It's yours.'…I'm a small part of it," Cristobal said. "I'm not thinking about Game One. I'm excited about Practice One. I'm excited about yesterday's run, as simple as that may be, because I love the preparation process. I love the development process. I love having [motivational speaker] Inky Johnson address our team and hit 110 guys right between the eyes because you know what? You gain ground toward making a difference in the way that they do everything.
"You've heard it before: how you do anything is how you do everything. And that process, now, we're in that submarine. We're shut out from the outside world and we can really keep hitting our guys with educational pieces, with ways to get better from a football standpoint…For me, this is my favorite time of year. This is my favorite time of the year because of everything you gain and everything you can accomplish toward the big picture. The big picture will be a reflection of camp. We have work to do. We have an unbelievable opportunity."
Among those opportunities? The chance to potentially play for the ACC championship.
The Hurricanes, who finished last season with a 7-5 record, were voted the preseason favorite to win the Coastal Division at the ACC Kickoff event last month in Charlotte, N.C.
They return the ACC Rookie of the Year in quarterback Tyler Van Dyke, who emerged as Miami's starter last September after a season-ending injury to veteran D'Eriq King.
Van Dyke went on to throw for 2,931 yards and 25 touchdowns and complete 62 percent of his passes in 10 games, nine of which he started.
The signal caller, who has earned spots on both the Maxwell Award and Davey O'Brien Award watch lists, is one of several Hurricanes to earn preseason recognition, joining the likes Mallory, Borregales, offensive lineman Jakai Clark, offensive lineman Zion Nelson, defensive lineman Leonard Taylor, punter Lou Hedley and safety James Williams in the early running for major national awards.
Additionally, Hedley, Mallory and Nelson were all named to the preseason All-ACC Team, an indication of the expectations facing Miami heading into the season.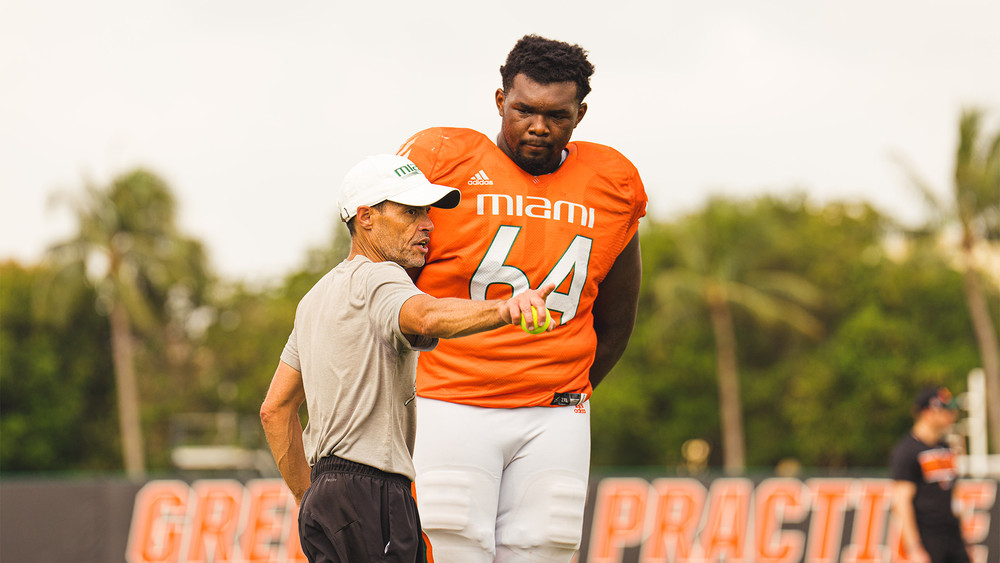 But while fans and media from across the conference may have high expectations for the Hurricanes, none are as high as the goals the team has for itself, goals they know can only be reached with continued hard work.
Needless to say, they say they're more than ready to do whatever is needed to become the team they know they can be.
And they know that process begins in earnest Friday.
"It's going to feel great. I can speak for everybody when I say we're excited to be getting better. Each day is [about going] 1-0, just beating the day, getting better, getting better, getting better," said offensive lineman Jalen Rivers. "We're excited. Just get better every day, no drop-offs, emphasizing competition because we'll be competing for spots and cross-training. I'm excited to see how what we did during the offseason, translating that to in-season."
Added Cristobal, "We go now. And we go hard. I think there's a pretty good understanding of that's the way it's going to be. We're not letting off of that. But what we're doing is going to eventually help us take the next step to get better. The best way to stay grounded is to stay in the moment. The way we practice, the demands of our schedule, the way we teach, the way we progress guys who are proving [themselves] to earn roles, it's inspiring for them. It's motivating. When they see progress, the buy-in becomes much easier…We have found a way to just get tighter as a team. We still have work to do in that department, but the only way to do that is to spend time together and pour ourselves into this camp. That's what we're looking forward to doing."