Hall of Fame Experience and Understanding
CORAL GABLES, Fla. – During his first few days on campus, all he could do was chuckle.
As he'd make his way through the hallways of Miami's football offices, the Hurricanes' weight room or the Carol Soffer Indoor Practice Facility, Jason Taylor noticed how more than a few of the Hurricanes would try to duck out of his way or stay silent as he walked past them.
That shyness, that sense of awe didn't exactly last long. At all.
"Now, they cut me off. They don't hold the door open for me. And that's how it should be," said Taylor, the former Miami Dolphin and Pro Football Hall of Famer who joined head coach Mario Cristobal's staff as a defensive analyst in March. "They're in awe a little bit, but once you get around a little, they start seeing that you're just a normal guy. You're a person that's been somewhere they aspire to be and they start to become sponges and ask questions."
And Taylor is more than happy to answer any and all questions the Hurricanes lob his way.
The opportunity to help the next generation of Miami players is part of the reason Taylor – a former defensive coordinator at Fort Lauderdale's St. Thomas Aquinas High School – opted to join Cristobal's staff, even with all his responsibilities as a broadcaster for the Dolphins and as a father with two sons that will be playing Power 5 football this fall.
The other major reason he decided to join the Hurricanes? Cristobal himself.
"The first thing about Mario, and people always talk about it, he's intense now. And he's relentless. I'll be honest – I've been talking to Coach Cristobal since he got hired here," Taylor said. "It was a two-and-a-half month process of back and forth. He was busy trying to get a staff and recruit, but he's relentless. When he wants to get something done, he's going to get it done. He was determined to bring together a staff of professionals, of guys that know the game, where iron can sharpen iron and guys that are familiar with the process and the identity he wants to establish here. He gets after it and that's contagious…"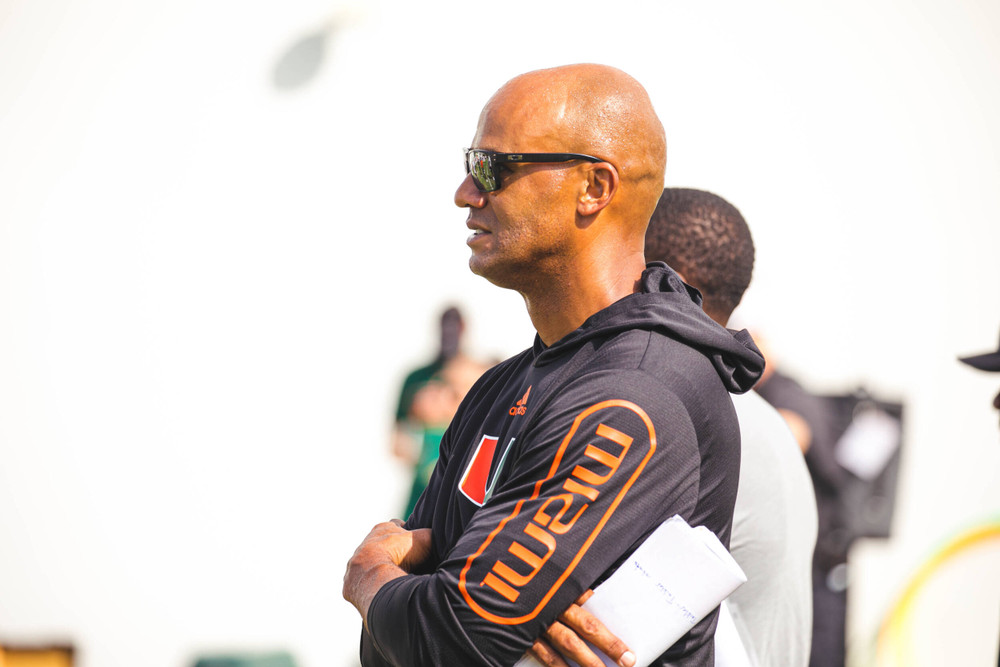 There's no doubt Taylor brings plenty of know-how to a defensive staff that includes veterans like Kevin Steele, Charlie Strong, Joe Salave'a, Jahmile Addae and Rod Wright, who between them, have decades of college coaching experience and multiple championships.
Taylor added the experience of a 15-year NFL career that included six Pro Bowl appearances, a nod as the 2006 NFL Defensive Player of the Year, a selection to NFL's All-Decade Team of the 2000s and 139.5 career sacks, a number that ranked sixth in the league at the time of his enshrinement in Canton in 2017.
Still, Taylor admits that in his first staff meetings, he was as in awe of the coaches around him as the Hurricanes players were during their first encounters with him.
An encouraging late-night text from Steele made the Hall of Famer feel a bit more comfortable speaking up in staff meetings and now Taylor is happy to share his thoughts with the veteran coaches around him.
"It's been interesting and enlightening and empowering. It's been great," Taylor said. "Actually, the first couple days, I was just like the kids in the staff room. Kevin Steele has been coaching this game for 42 years. Jahmile just won a championship last year at the University of Georgia. Charlie Strong is a three-time head coach. Joe Salave'a has been with Mario out in Oregon and coached one of the top guys coming out in [Kayvon Thibodeaux] in the draft this year…There's a lot of camaraderie, a lot of banter back and forth…I understand I'm the lowest guy on the totem pole in that staff room and I'm okay with that. I'm here to help and learn in any way I can."
In terms of what Taylor will do with the Hurricanes, the aspiring coach will be helping coaches break down film and study opponents. He won't be on the field, but he'll help the Hurricanes self-scout and yes, his primary focus will be helping Miami's edge players be the best they can be.
He'll again be working with Wright, a former teammate of his both with the Dolphins and briefly, the New York Jets. And Wright is, understandably, excited to once again have Taylor on his side.
"Why do I listen to Jason Taylor? He's a freaking Hall of Famer, right? You want to listen to guys who've been there, who've done it. That brings credibility," Wright said. "And it's not just about ability – it's about being a pro, understanding I have to show up early. I have to take notes. I have to look at the notes. I have to apply that. I have to get better every single day. Those are things that kids aspire to be, so they listen to that. They're like 'Hey, this guy's been there. This guy's done that.'…To be able to bring that credibility, those kids are just champing at the bit to hear the knowledge that we have and the things that we've learned because that's what they want to do one day."
As valuable as that experience and knowledge is, though, Taylor believes it takes something else for true connection: understanding and compassion.
That's why each of his notebooks features the letters "SES" at the top of every page, to remind himself that each of the players he speaks to is someone else's son. And he intends to treat all of them the same way he hopes his sons' coaches are treating them.
"I think of it that way. There are times you're going to be demanding and have to get on them a little bit and correct them a little bit, instill some discipline, sure. We do that with our own children," Taylor said. "But coach them hard and love them harder…Build them up, love them up, be positive and be there for them. That's somebody else's son. I would want Jedd Fisch and his staff at Arizona to see my son Isaiah in the hallway and get to know him and be there for him…Coach Kelly is there [at LSU] and I'd want them to do the same thing for my son Mason in the building. So, that's how I approach it. I'm a big believer that they don't care what you know until they know you care. Once they know you care, that you truly care and you're there for them, they'll run through a brick wall for you."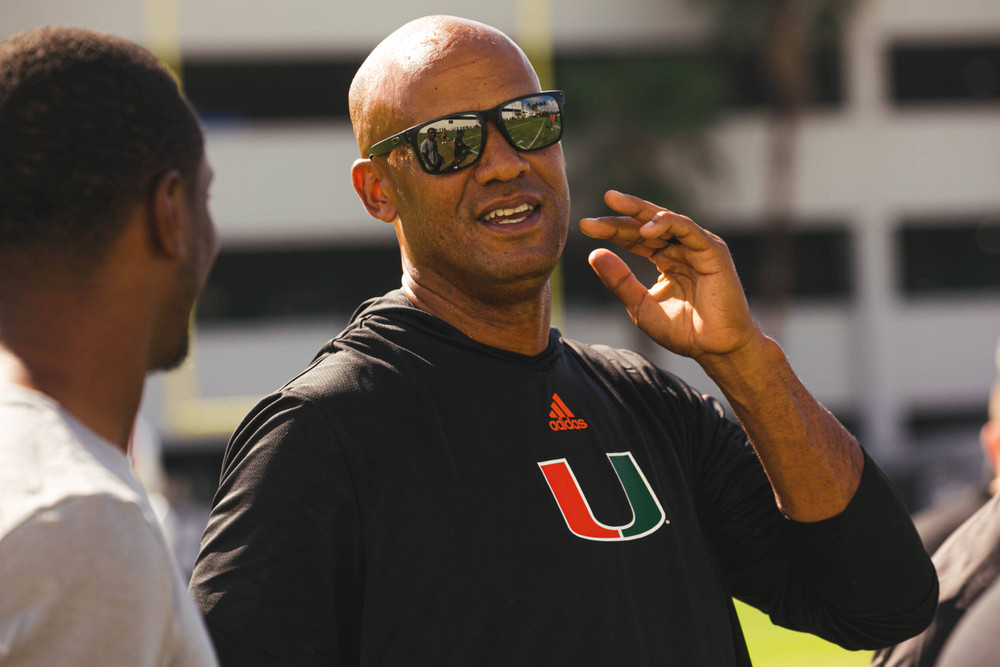 Needless to say, Taylor has made an impression in Coral Gables.
Some of the Hurricanes may have been shy around him initially, but they're plenty happy to have him around now and essential conversations are starting to happen.
"It's crazy because everybody from Miami knows him. You've watched him. Seeing him around, you just see the blessing," said linebacker Gilbert Frierson. "You see the experience of guys you have around, guys you can just sit down and talk to in the office, just sit and talk about life. And experience? He's got a gold jacket. [Chief of Staff Ed Reed's] got a gold jacket. Having those guys around, you want that next step…When I need advice, I know I can go to [Taylor] for sure."
Said defensive end Chantz Williams, "It's been an extremely humbling experience that Jason Taylor has decided to pour into us. We've all taken everything he's told us and taken it to heart. We know he doesn't have to be here. He's choosing to be here and that makes us want to be better…We know he's trying every day and we appreciate it, each and every one of us."
Those rave reviews have come with Taylor being on campus for just a few months' time. Every expectation is that the more Taylor is with the Hurricanes, the more he'll continue to connect with Miami's players and coaches.
And that – along with helping Miami win – is his ultimate goal.
"I'm hoping to give these kids everything I have, everything I can knowledge-wise, mentorship, life advice, discipline if that's what's needed. Whatever it is, give them whatever they need and provide them with all the resources to be successful and achieve their goals," Taylor said. "I'm a servant leader. I'm just here to help serve. And obviously, I want to win. Anything I'm associated with, I want to win. I know I've got a son at Arizona and a son at LSU, but I damn sure hope the University of Miami wins a championship."