Morales Invited to USA Baseball Training Camp
CORAL GABLES, Fla. — Miami Hurricanes infielder Yohandy Morales was selected to participated in the 2022 USA Baseball Collegiate National Team Training Camp.
The prestigious camp will feature 48-50 of the premier non-draft eligible college players for a five-game Stars vs. Stripes intrasquad series in North Carolina from June 30 to July 4. USA Baseball will name a final, 26-man Collegiate National Team roster after Training Camp that will represent the United States at Honkbalweek Haarlem in the Netherlands from July 9 to 15.
Morales earned an invitation to Training Camp after an impressive second season with the Hurricanes. The Miami native paced the team with 64 runs, 17 doubles, three triples, 18 homers, 59 RBI, 156 total bases and a .650 slugging percentage.
The 6-foot-4, 208-pound slugger became the first Hurricane since Zack Collins in 2015 and 2016 to blast double-digit dingers in back-to-back campaigns. Morales tallied a .329 average, which ranked third on the club.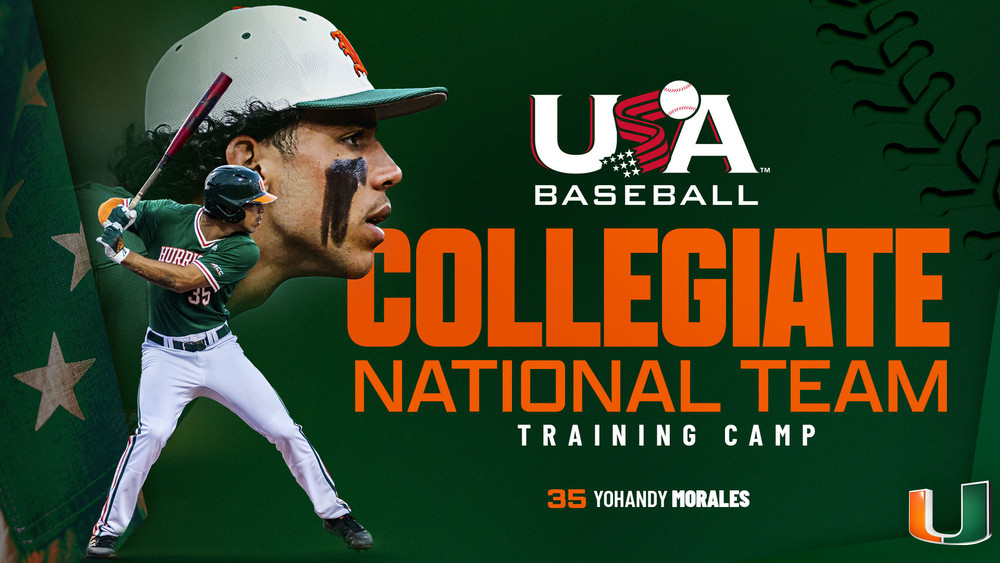 If selected to the 26-man roster, Morales will become the 28th Miami player to join the USA Baseball Collegiate National Team.
Howie Shapiro in 1978 was the first Hurricane picked for the USA Baseball Collegiate National Team. Future MLB standouts Alex Fernandez (1988-89), Charles Johnson (1991-92), Danny Graves (1993), Pat Burrell (1997) Jon Jay (2005), Chris Perez (2005), Yasmani Grandal (2009) and Collins (2014) headline the group of Hurricanes that have combined for 31 all-time Miami selections to the USA Baseball Collegiate National Team.
The opening game of the Stars vs. Stripes series will take place at the USA Baseball National Training Complex in Cary, N.C. at 7 p.m. on June 30. The Durham Bulls Athletic Park (DBAP) will host games two, three and four. The first pitches of games two and four are set for 6:35 p.m. ET on July 1 and 3, respectively, and game three will start at 5:05 p.m. Training Camp will conclude with the series finale at 6:05 p.m. ET on July 4 at Truist Field, the home of the Charlotte Knights All five games of the series will be available to watch on USABaseball.com.
Team USA will begin Honkbalweek Haarlem against Japan at 8 a.m. ET (1 p.m. local time) on July 9 before taking on Italy, Cuba, the Netherlands and Curacao to close out group play. The second round of competition will then be played on July 14, ahead of the championship on July 15.