Miami Earns No. 6 National Seed for NCAA Postseason
CORAL GABLES, Fla. — The University of Miami baseball team has been tabbed the No. 6 overall seed in the NCAA Division I Tournament and will welcome second-seeded Arizona, third-seeded Ole Miss and fourth-seeded Canisius to Mark Light Field for the NCAA Coral Gables Regional, the selection committee announced Monday.
Miami (39-18), which is hosting for the 28th time in program history, will have the opportunity to host the super regional round should they advance. The Coral Gables Regional is paired with the Hattiesburg Regional, hosted by Southern Miss.
The Hurricanes begin their postseason run against the Golden Griffins at 12 p.m. Friday. The Wildcats and the Rebels will play at 7 p.m. Friday.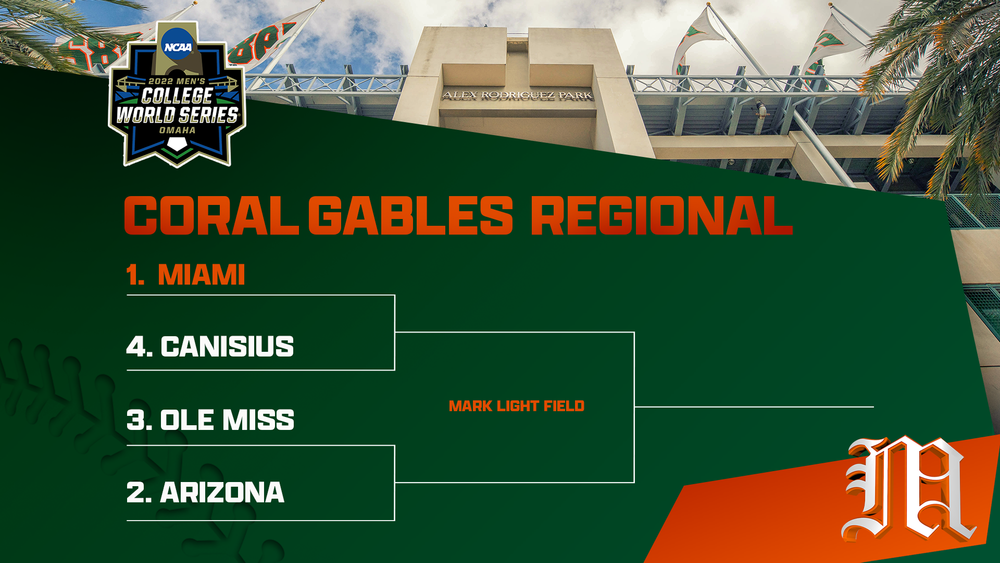 Miami is making its 48th postseason appearance and owns an all-time NCAA Regional record of 129-50 (.721), including an 88-17 (.838) ledger at Mark Light Field.
Each regional field features four teams, playing in a double-elimination format. All 16 regionals are scheduled to be conducted from Friday, June 3 to Monday, June 6 (if necessary).
Season ticket holders have the ability to secure their seats from the Coral Gables Regional. Meanwhile, tickets will be available to the general public at 9 a.m. Tuesday.