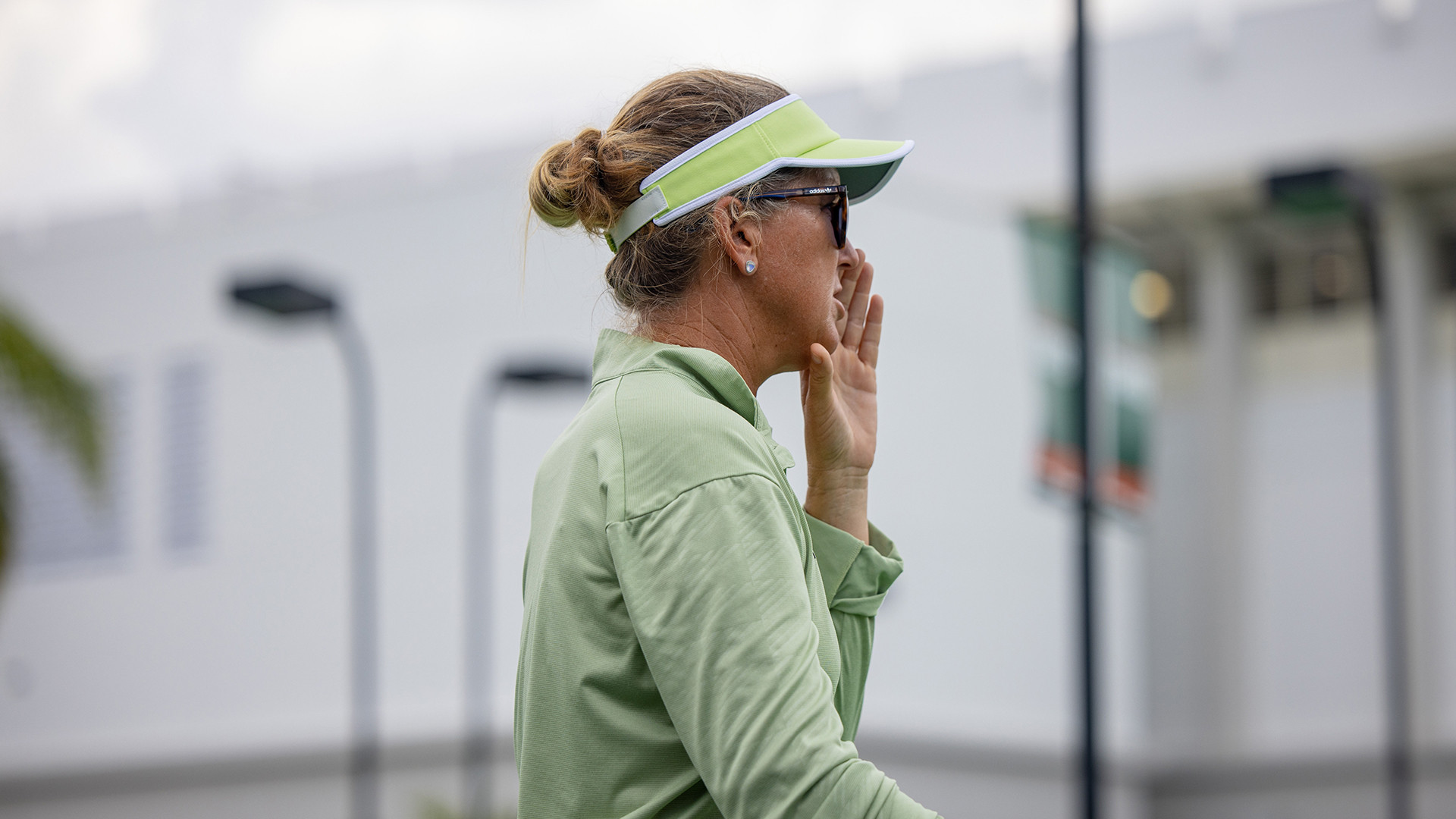 EDITOR'S NOTE: This story is part of our Together 4 Her series. Launched in conjunction with the 50th anniversary of Title IX legislation, Together 4 Her is a year-round initiative by UM Athletics that showcases accomplishments of women from around the university while supporting gender equality on and off the field of play. For more information click here.
CORAL GABLES, Fla. – Paige Yaroshuk-Tews doesn't think about it very often.
After all, she's got a successful, high-profile tennis program to run. A family that needs her. Players that rely on her for guidance away from the court.
Her plate is plenty full and that doesn't always leave much time for sentimentality or reflection.
But every once in a while, as she walks through the Neil Schiff Tennis Center on Miami's campus, the memories come flooding back and Yaroshuk-Tews can't help but smile.
"I grew up standing under these palm trees. I grew up going to the summer camps on these courts, having my mom sit in line and slap sunscreen on my face and then pick me up at 4 o'clock," the Hurricanes' women's tennis coach recalls. "I'd walk across campus to the cafeteria and have lunch. I mean, this is literally where I grew up. People joke and say 'You couldn't have really grown up here,' but I really did. I really did grow up here."
These days, it's Yaroshuk-Tews' two children – 16-year-old Emma and 13-year-old Landon – who've grown up around the Schiff, all while watching their mother make Miami one of the nation's top college tennis programs.
Under Yaroshuk-Tews' guidance, the Hurricanes have advanced to the Elite Eight in eight of the last 18 NCAA Tournaments. They've advanced to the Sweet 16 on 14 occasions during that time.
Miami has produced a pair of individual national champions – Audra Cohen and Estela Perez-Somarriba – during Yaroshuk-Tews' 21-year tenure as head coach and this week, the Hurricanes could add to that total when fourth-year junior Daevenia Achong and fifth-year senior Eden Richardson head to Urbana, Ill. to participate in the NCAA Singles and Doubles championships.
It has been a run Yaroshuk-Tews couldn't have imagined when was handed the keys to Miami's program a little more than two decades ago. Then, the Hurricanes' women's tennis team was an afterthought of sorts, and some warned her the program had a limited ceiling.
But Yaroshuk-Tews, the daughter of former Hurricanes' baseball Hall of Famer Ernie Yaroshuk, couldn't abide that idea. She'd grown up cheering championship runs for Miami's football and baseball teams. She understood the expectations that came with wearing orange and green.
Why shouldn't those expectations be the same for Miami's women's tennis program?
"At first, I think, just to be a little brat, I was out to prove that person wrong," Yaroshuk-Tews said. "I thought he was wrong. And as things happened, I was like 'Wow. We can be pretty darn good.'"
There is no single secret to Miami's success under Yaroshuk-Tews, who has amassed a 396-138 record during her time as the Hurricanes' coach.
The program's consistency, she said, has been a product of the discipline she's tried to instill in her players and a recruiting philosophy that has her focusing on prospects who want to grow as individual players, but who also want to give their all to Miami as a whole.
It's a formula that's worked – and has made an impression on her players, more than a few of whom have joined the Hurricanes from overseas and rely on Yaroshuk-Tews to help them navigate the challenges that come with being international student-athletes.
"The way Paige talks to me, the way she's obviously had so much experience, it's not only about tennis," said Hurricanes third-year sophomore Diana Khodan, who hails from Ukraine. "It's not only about tennis, not only about tactics or what we're doing on the court. It's about how to be as a human being. Paige is a person who has helped me and made me better every day."
Said Perez-Somarriba last year after closing out her remarkable Miami career, "I cannot put into words how much she means to me…I think for every parent that basically sends her daughter to this program needs to be very, very thankful to Paige because the way she coaches, the way she mentors, the way she guides, it's great…She made me believe I could accomplish things I wasn't even thinking of and I think it's very important for a coach to make people feel like that. I always felt she had this confidence in me every time I went out on the court. That's very big…She makes you feel accountable. She makes you feel like you have a voice and that you are a big part of this program. Again, I think it's very important for coaches to believe in their players and really have high expectations for them. With her, that's what happened."
For Yaroshuk-Tews, coaching has become a passion and a calling. Initially, the former UCLA tennis standout figured she'd go to law school after college and potentially, settle in Los Angeles.
But the bonds she built with her college coaches – the late Bill Zaima and current Bruins coach Stella Sampras Webster – made an impression on her, and she realized her own future was in coaching.
After her graduation from UCLA where she was a two-time ITA All-American, Yaroshuk-Tews worked with the United States Tennis Association player development program. She came to Miami in 1998 as an assistant coach before serving a two-year stint as an associate head coach.
She was mentored by former Hurricanes coach Jay Berger during that time and his influence, Yaroshuk-Tews said, helped her become the coach she is today.
To be able to now coach at the University that shaped so much of her childhood and is so much a part of her journey isn't an opportunity Yaroshuk-Tews takes for granted.
But it's one she knows comes with incredible responsibility, a responsibility she embraces and says continues to drive her, even after more than 20 years of leading the Hurricanes.
"We've got to get better. We've got to get better," said Yaroshuk-Tews, who was inducted into the UM Sports Hall of Fame in 2012. "I think the success and the alignment that [associate head coach Alex Santos] and I have from a coaching standpoint is huge and I think we saw that this year…A lot of people would be happy going 'Oh yeah, you know, you hosted [the NCAA Tournament] and you got to the Round of 16 and you're top-10 in the country, but every year, you learn more. And when you learn more, you become a better coach…We can make one more push with this program and I'm not going to go anywhere until we do."