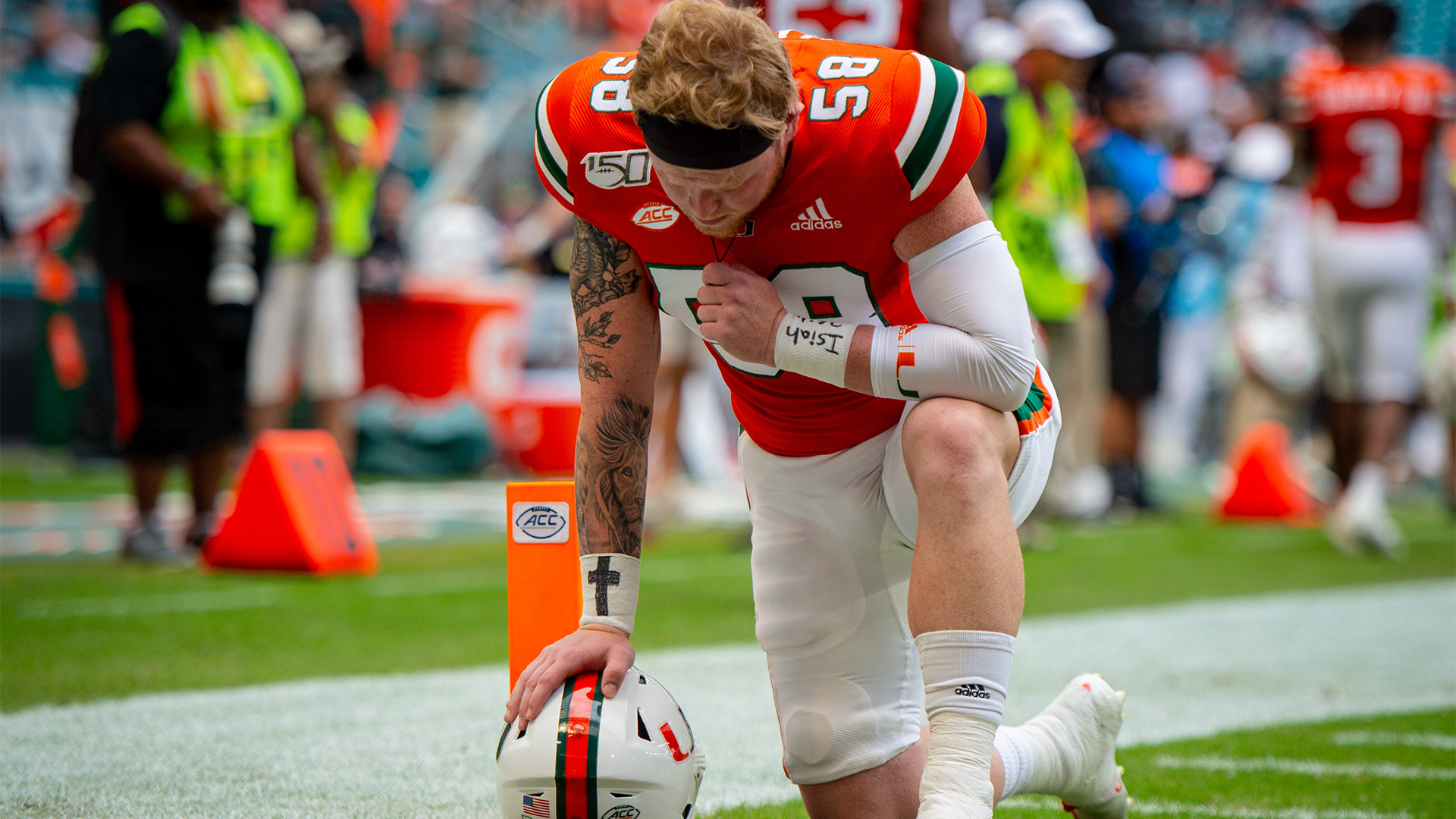 CORAL GABLES, Fla. – During a summer of uncertainty, Clay James felt the call to help.
The COVID-19 pandemic raged. Job losses mounted across the community. And far too many families in South Florida were struggling with hunger.
So James, the long snapper for Miami's football team, joined several other Hurricanes student-athletes for weekly early-morning volunteer shifts at Grove Outreach, a local food bank.
And though James went into the summer of 2020 having already done plenty of community outreach work both during his time at Miami and as a student at Cocoa High School, the fifth-year redshirt junior was moved by what he saw on those summer Saturday mornings.
"I mean, it really gave me a lot of perspective. We never struggled to put food on the table or anything growing up," James said. "It's just a completely different thing looking at it…There are people that just can't get food sometimes. I think it's really unfortunate and anything I can do to help, I want to be a part of. It really gave me a lot of perspective to say the least."
His work with Grove Outreach isn't the only way James has tried to tackle food insecurity during his time with the Hurricanes.
James has also been an active participant with Miami's Second Spoon program, which started at Miami in part through the work of former Hurricanes running back Robert Burns.
Second Spoon seeks to take food that would otherwise be wasted and, using its own food truck, delivers meals to communities in need.
James and more than a few of his football teammates were at the forefront of those efforts when the fledgling non-profit began its work in South Florida before the Covid pandemic.
"It's incredible every time we get to do it. It's been so fun and so rewarding every time we go out," James said. "One time we went and there was a guy who didn't have a shirt on. [Former Hurricanes defensive end and current Miami Dolphin] Jaelan Phillips literally gave him the shirt off his back. That was a 'wow' moment for all of us. It was so telling about the kind of people we have on our team and how cool the organization is. It's been great."
There's no doubt that at Miami, James is one of the student-athletes helping set the tone when it comes to community outreach.
The long snapper, who this month earned a master's degree in sports administration, has totaled more than 169 hours of community service with the Hurricanes.
Along with his efforts to feed the hungry with Grove Outreach and Second Spoon, James has volunteered with Best Buddies, Operation Christmas Child and Lotus House.
He's visited with students at local elementary schools and after-care programs and has been a pen pal to several of the youngest Hurricanes fans in Miami.
This year, James was also a student ambassador for the Miami's It's On Us campaign, an outreach program that seeks to stop sexual violence on college campuses across the country.
"You have to go across campus and apply for that and then sit for multiple interviews to be selected. So the fact that Clay went through the institutional process and was selected, I just love that," said Shirelle Jackson, Miami's Senior Associate Athletic Director of Student-Athlete Development. "Sometimes, our student-athletes feel like they don't have the time to go through a process like that. They feel they may not be able to commit. But the fact that he takes that seriously and is representing not only himself, but the football team and the athletic department, I'm just so proud of that…He's with a lot of other University student leaders and it's just wonderful."
Added Jessica Hurley, Miami's Program Coordinator for Student-Athlete Development, "Clay truly wants to give in any way he can. I would say his biggest challenge, as it usually is, is simply time. But anytime there's an opportunity, I send it to him and he joins. He always wants to know what's happening so that any time he possibly can, he can be involved. And he likes to be involved in every aspect of the community because he knows every part is important."
For James, finding ways to make a difference in his community is a way of life.
His mother taught community service at Cocoa High and James said her example taught him from an early age the importance of using his voice and his platform to help those in need.
"It's definitely the way I was raised. My mom taught service-learning at the high school level for a while, so I was always doing stuff with her growing up. She taught me 'If you have something, give back to others.' It's really important in our family," James said. "And I don't know, I just feel so blessed to be here. It's a dream every day getting to wake up and play for Miami and just do everything I do. It'd be silly for me not to give back when I've been given so much…I can't say how much I love just the cities of Coral Gables and Miami. They've given me everything. Who would I be if I didn't give back?"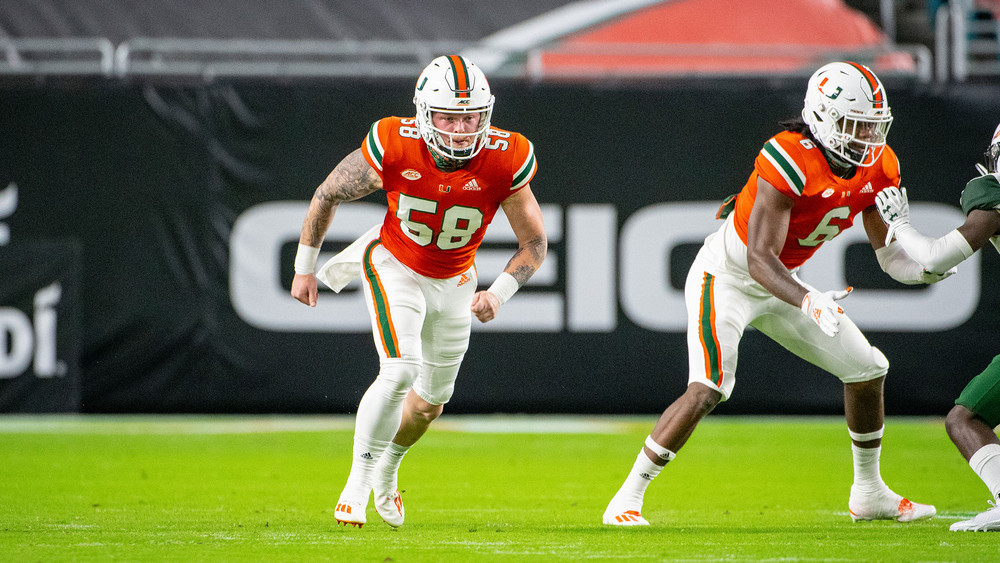 And while James credits his mother's guidance for helping shape his world view, she – and many others who know James best – say his nature plays a much bigger part in his call to community service than he might believe.
"I can't take any credit for it. Honestly, I truly believe that's just his heart. It's just how he's wired," said Heather James, Clay's mother. "I feel very blessed that he is that way. When he was little, we didn't have a lot of extra funds to go out and donate tons of money, so we'd do little things, like at Christmas, when we'd pick an angel from the angel tree and get a gift for a little boy that was his age… By the time he got to high school, I saw a spark in him. He realized he had the ability to do projects and go out on his own."
Today, that spark has grown into a flame that has helped shape James' experience at Miami.
He often encourages teammates to get involved with Miami's community outreach efforts and says he is making it a point to try and set an example for some of the newest Hurricanes joining the football program about the need to connect with the community and their fellow student-athletes.
He also says that his work within the community, like his work on the field, is far from finished.
"That's been one of my biggest things since I came to Miami and earned the starting spot. I have a little bit of a platform and I want to leave this place better than I found it, even if it's in a little way," James said. "I wanted to touch the whole experience and leave a legacy beyond the field. I hope that I've passed that down to everybody that's every asked me, especially the younger guys. I just think it's really important that with the platform we have that we do give and we connect with the people in the community."