Tournament Time at The Schiff
CORAL GABLES, Fla. – The University of Miami women's tennis team opened its season on Sept. 23, 2021, at the Fall Ranked Spotlight in Cary, N.C.
Now, over seven months later, with the first week of May about to wrap up, the 2022 NCAA Team Championship is finally here.
Ninth-ranked Miami (17-5, 10-3 ACC) enters the event seeded ninth overall and will host the opening two rounds of the tournament. It is the team's 26th straight NCAA berth and the 14th time in the last 17 tournaments the Hurricanes are on their home court to begin competition.
"Obviously, we're excited to play at home," Miami head coach Paige Yaroshuk-Tews said. "Excited to see a team that we haven't seen this season in Stetson. Excited to get the NCAA tournament started."
This is the first time since 2018—there was no tournament in 2020 due to COVID-19—the Hurricanes are a top-16 team slated to host the Round of 64 and Round of 32. Miami did not host in 2017, but did so each year from 2005 to 2016.
Yaroshuk-Tews is happy to once again have the first two rounds of the NCAA Team Championship back in Coral Gables. Each year, the team sets out to make just that happen.
"Really nice. It's been too long," the two-time ITA Southeast Region Coach of the Year said. "It felt like 10 years. It's been three; it has felt like 10 years. I can't be any more excited to play here. It's always a goal of ours and to be able to meet that goal is big for us."
Miami has excelled on its home court during NCAA Team Championship play, sporting a 25-1 record that includes 24 consecutive victories. All of that success has come under Yaroshuk-Tews.
Her teams have won 4-0 or 5-0 in the first round of all 13 of their prior NCAA tournament matches at the Neil Schiff Tennis Center. Even in the second round, Miami has only allowed its opponent record even one point just three times (2005, 2015 and 2018).
Clearly, she knows just what it takes to prepare her players to block out the noise from friends and family around them, hone in on upcoming matches and protect their home court.
"I think you need to talk about it. I think you need to keep them together. You need to keep them focused on the task at hand," Yaroshuk-Tews shared. "You need to constantly talk about it as though you're on the road and you have that sometimes you're able to find on the road. We've been playing well at home this year and we've been playing well in general. I think we need to take this one match at a time and we just need to look to get better as the tournament goes on."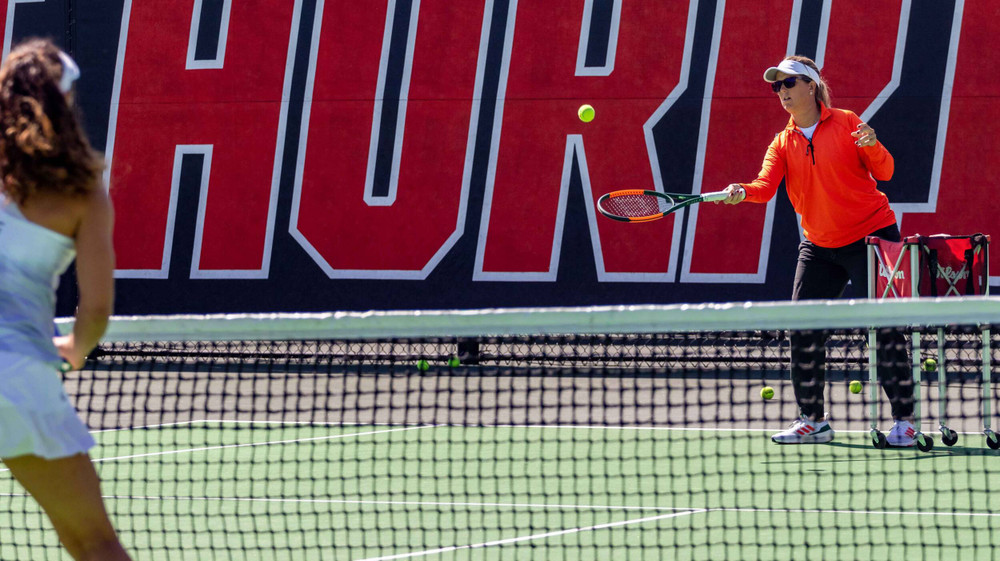 Miami's first opponent in the NCAA Team Championship this year is No. 61 Stetson, with action slated for Friday at 1 p.m. The Hurricanes are 3-0 in the all-time series, all at home, but the programs have never faced off in the postseason and have not met at all since a 9-0 decision on March 31, 1981.
The Hatters do not have any ranked players or pairs, but sport a superb 22-2 (8-1 ASUN) record on the season. Stetson enters the weekend on a nine-match winning streak that dates back to March 27.
It also has an assistant coach, Ros Riach-Dalrymple, who is particularly familiar with The U, as she was a three-time ITA All-American at Miami from 1983-87 and served as the program's head coach from 1988-90.
The Hurricanes must be prepared to face a highly motivated team in their first-round matchup in Coral Gables.
"We talked them about it yesterday, they make their money at 3-4-5 in their lineup. So, we've got to have our antennas up there and we've got to take care of business at 1-2-6," Yaroshuk-Tews said of the matchup with Stetson. "We need to understand the moment. We're playing a team that's excited to be in the tournament, they don't have any pressure, they're going to come out here and have fun and play free. They're probably going play an unbelievable match against us. We've got to be ready to play and we've got respect them like we respect everybody that we play. We're expecting a good match on Friday."
The victor of that opening-round contest will play either No. 21 UCF or No. 41 Alabama. Those teams square off Friday at 10 a.m. in the first match of the weekend.
UCF is 15-7 (3-0 AAC) on the season and heads into NCAA tournament having won eight of its past nine matches. The Knights have one ranked singles player in No. 116 Marie Mattel and one ranked doubles duo in Mattel and Evgeniya Levashova, who hold the No. 48 spot.
Miami played UCF early in the season, posting a 5-0 victory on Feb. 20 in Coral Gables. The Hurricanes are 12-2 in the all-time series, including 12-0 at home.
After never previously doing so even once, the sides have met in two of the last three NCAA Team Championships, both times in the Round of 32. Miami posted a 4-3 home win on May 12, 2018, and the UCF logged a 4-1 home triumph on May 8, 2021.
Meanwhile, Alabama is 15-11 (5-8 SEC) this year after falling in five of its last six contests. Despite the recent skid, the Crimson Tide have a talented roster with two ranked singles players, both in the top 70, with Loudmilla Bencheikh at No. 66 and Petra Sedlackova at No. 68. In addition, Sedlackova and Anna Parkhomenko check in at No. 52 in doubles.
The Hurricanes own an 8-2 record versus Alabama, including a 5-1 ledger at home, but the teams have never met before in the NCAA tournament. Their most recent meeting came on Feb. 6, 2015, when Miami tallied a 4-1 victory in the ITA National Indoor Championship opening round in Charlottesville, Va.
"[Alabama has a] good strength of schedule, strong team. I think maybe they've had some ups and downs," Yaroshuk-Tews said. "I think [they recently] took down Georgia, who was 10th in the country at the time, at home. So, look, they're a solid team. Alabama is well-coached. They're going to come in here ready to play. Same with UCF. We saw them earlier in the year; they were a little dinged-up. They're going to come in here healthy and ready to play. I think those two are going to have a battle Friday morning."
The Hurricanes will begin the NCAA Team Championship with three ranked singles players. Fourth-year junior Daevenia Achong places No. 33, followed by fifth-year senior Eden Richardson at No. 37 and sophomore Isabella Pfennig at No. 92.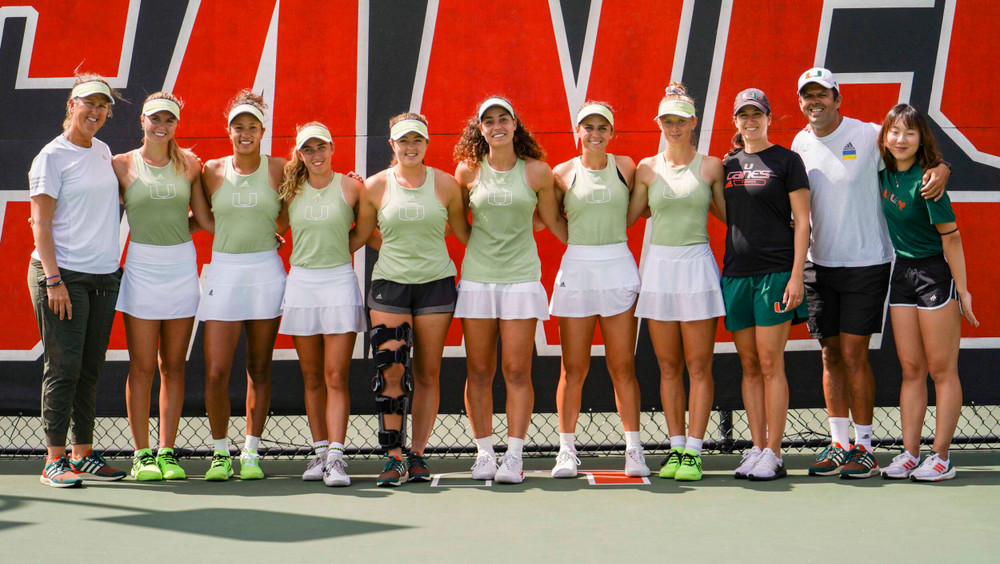 Miami also, for the first time all season, has three ranked doubles pairs. Achong and Richardson come in at No. 13, with third-year sophomores Diana Khodan and Maya Tahan behind them at No. 54. Then, Tahan and freshman Tatyana Nikolenko place No. 76.
The Hurricanes, though, are not looking towards any of those players in particular to step up this weekend. Rather, it will take a full team effort of each player doing so for Miami to advance to the Sweet 16 for the 13th time in the last 16 tournaments.
"We're all important. We've got to get out here and we've got to focus on the doubles point. We've got to play aggressive," Yaroshuk-Tews remarked. "We've got to establish our style, establish our rhythm and then play like we've been playing all season, which is together. It doesn't matter where the points come in; we need four. We need four Friday and we need four Saturday, and then we'll talk about the next step if that's what we get."
Live stats for all three matches this weekend will be available HERE, while matches will be streamed live on the TennisONE App, which can be downloaded HERE.
To keep up with the University of Miami women's tennis team on social media, follow @CanesWTennis on Twitter, Instagram and Facebook.