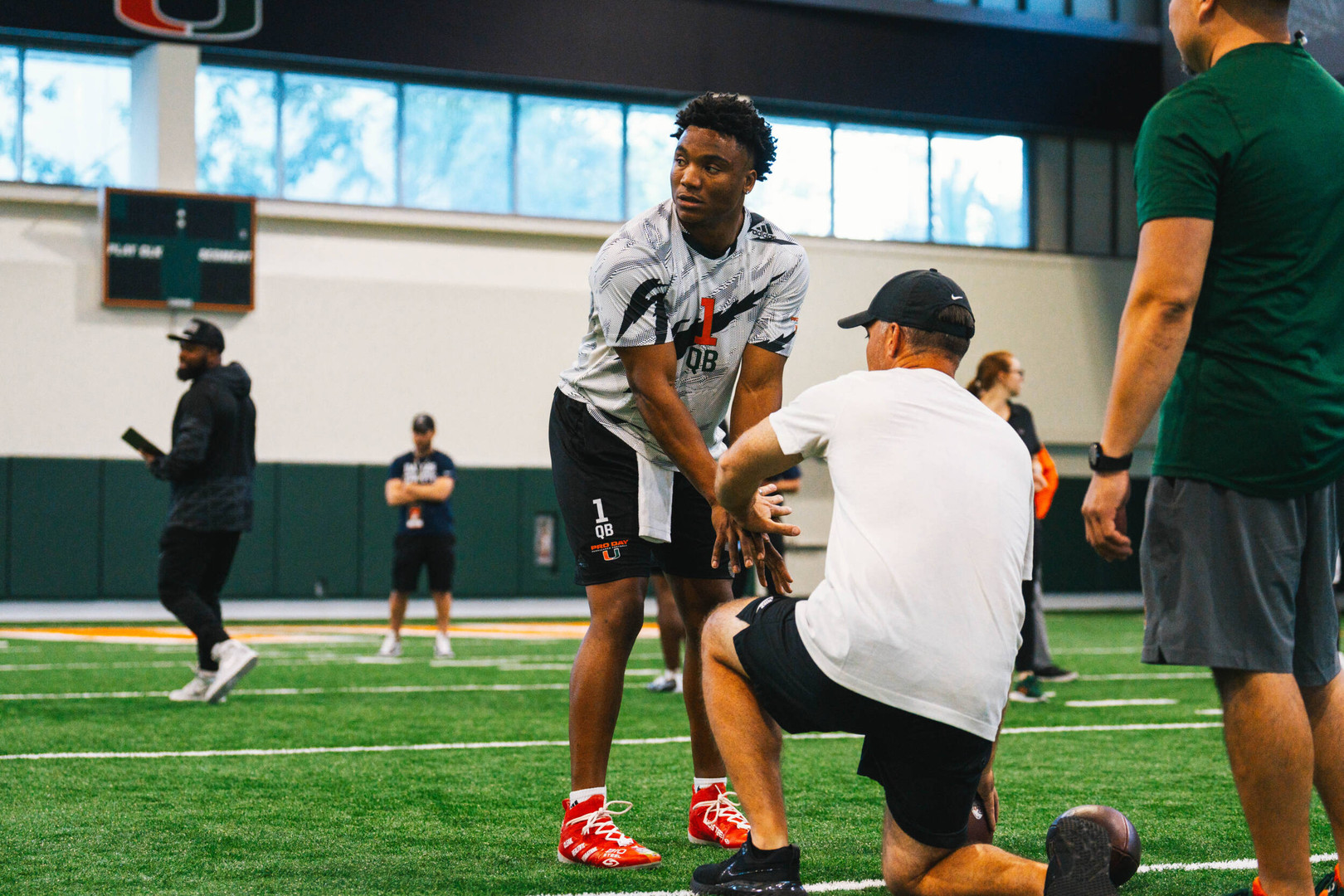 D'Eriq King has heard the critics his entire career.
He remembers being told as a high school football player that he'd never get the attention of any major college program. More than 30 Division I schools eventually offered scholarships.
He remembers being told he'd never be a college quarterback. At Houston and later at Miami, despite dealing with a series of injuries, he threw for a combined 8,378 yards and in 2020, was a semifinalist for three major quarterbacking awards, including the Maxwell Award.
Now, with the NFL Draft set to begin Thursday night in Las Vegas, King is once again being told his dreams are too big and it's unlikely he'll get the call every football player dreams of getting.
He isn't bothered by any of it.
While King knows it may take a bit for his phone to ring this weekend, he remains confident that in one way or another, that call will come and when it does, he'll be more than ready.
"Any team that lets me in the door, it's going to be hard to kick me out of it," King said. "I'm going to go in there and prove I can do everything, whether it's be a backup quarterback or be a special teams guy or be a slot receiver. Any way I can get that best opportunity to make a team or practice squad, whatever it is, I'm not going to cut myself short. I'm going to do everything I can to show value."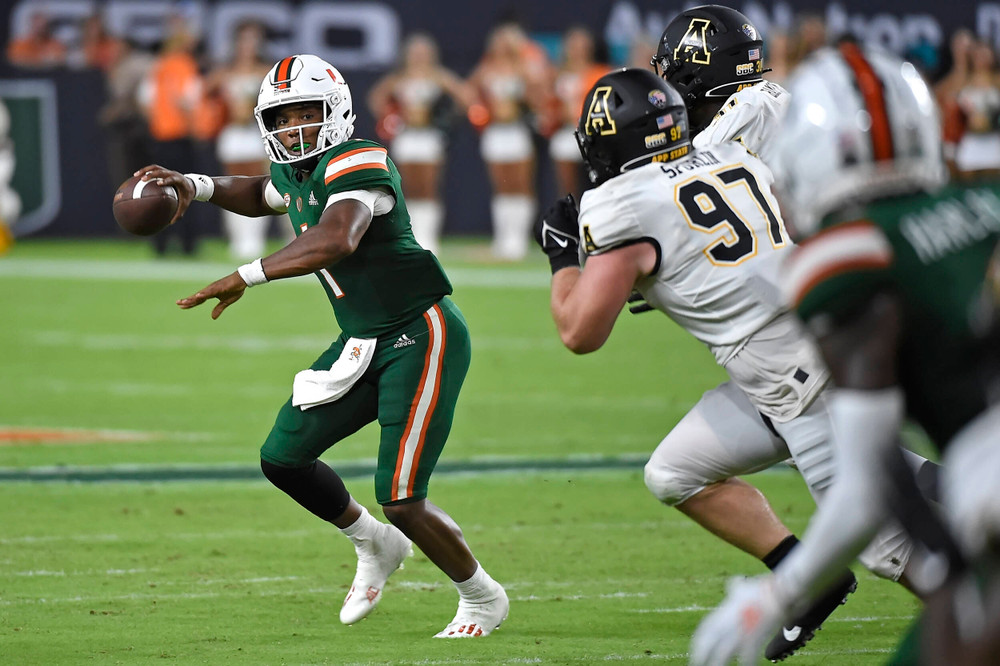 During his two years a Miami, King did more than just show value.
He helped set the tone for the Hurricanes during a pandemic-marred 2020 season filled with uncertainty. He emerged as Miami's unquestioned leader, on and off the field.
He finished his college career responsible for more than 11,000 all-purpose yards, adding 2,055 rushing yards, 520 receiving yards, 29 punt return yards and 260 kick return yards to his passing total.
And he made it a personal mission to leave the Hurricanes' quarterbacks room better than he found it, a mission that seemingly came to fruition last year when, after King was sidelined by a season-ending shoulder injury, reserve quarterback Tyler Van Dyke stepped in to lead the offense – and became the ACC Rookie of the Year.
"He's been great, supporting me all the way and giving me the confidence to just go out there and be myself as a player," Van Dyke said of King last November. "He's been helpful in meetings, helpful on the field…In the summer, we were in the quarterback room, just drawing defenses up and he'd try to quiz me, stuff like that. I can see him coaching one day…He's going to be pretty good at it."
King – whose late father, Eric, was a football coach – has never shied away from the idea of one day coaching the game he loves. But, that, he hopes will come later.
Much later.
Right now, King's primary goal is to find his way onto an NFL roster. To help maximize his opportunities, he's spent the better part of the last three months training at two positions: quarterback and receiver.
It's made for long days and intense workouts, but King hasn't been fazed. If an NFL team sees him as more of a pass-catcher than a runner or thrower, that's fine with him.
In fact, he believes his experience playing quarterback will only make him a better receiver, if that's what's needed of him at the next level.
"Playing quarterback a long time, I know what a quarterback is looking for. I remember playing receiver my freshman year. It was like I kind of knew when I was getting the ball and when I wasn't," said King, who had 29 catches for 264 yards at Houston in 2017 while splitting time at the two positions. "Playing quarterback definitely helped me, as far as preparing for receiver. You know all the fine details. You don't want to take too long to get out of your break. You want to show in this window for the quarterback. I think that when I'm at receiver, all of that has helped me out in the long run."
It would seem more than a few teams are intrigued by King's versatility.
He's had individual workouts with the New England Patriots, the Dallas Cowboys, the Miami Dolphins and his hometown Texans. And at Miami's Pro Day last month, with personnel from across the League in attendance, King worked out at both quarterback and receiver, throwing passes to receivers and former Hurricanes teammates Mike Harley and Charleston Rambo, then catching passes from former teammate Ryan Rizk.
Before all of that, King tried his best to make an impression at the NFL Combine in February, even though he was still limited by his shoulder injury.
Because of his injury, it maybe hasn't been the process he envisioned years ago, but King says he's tried to make the most of every opportunity and he's taking the same mindset into the draft.
On Friday night, he plans to go bowling with his brother and girlfriend, continuing a tradition they've had for a bit. And on Saturday, he and his family will watch the final rounds play out together at a Houston hotel.
There won't be a big party. There won't be a lot of fuss. King just wants to be surrounded by the people who have been at his side while he's navigated an emotional college experience that featured the highs of big wins and the lows of injury, illness and loss.
"I've relied on my family a lot. I still talk to them every day," King said. "I'm in Houston, so I see them a lot more than I have the last two years and any time I'm feeling down or whatever, they pick me up. They tell me I can do it, that it's destined with all the work I've put in. They have my back 100 percent, my family and my girlfriend. It's been really good being back home."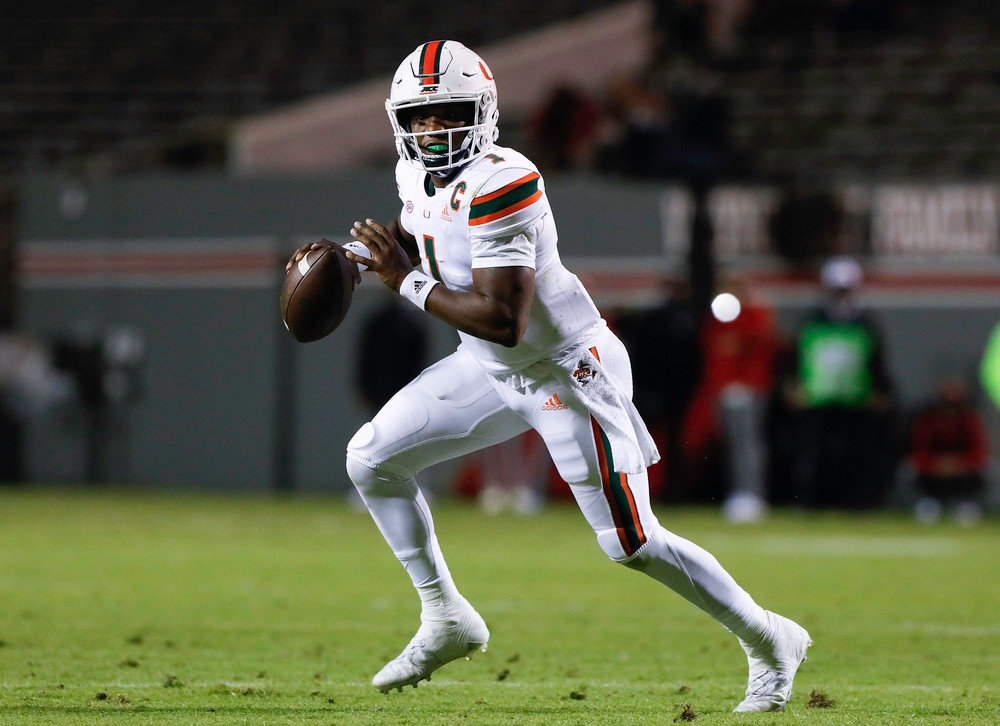 While his family's support – in college and beyond – has been essential, King is grateful, too, for the support he's received from his former coaches and teammates, including at Miami.
For him, returning to Coral Gables last month and lining up with the likes of Harley, Rambo, Bubba Bolden, Jarrid Williams, Zach McCloud, Amari Carter, Jon Ford, Deandre Johnson, Cam Harris and Navaughn Donaldson one more time meant the world.
And he's hopeful all his former teammates, like him, will now get an opportunity on football's biggest stage.
"I think that was my favorite moment of the pre-draft process, just coming back to Miami again and seeing everybody, seeing all the guys that I grew to love in my time at Miami," King said. "I think I learned a lot from my time being at Miami, as far as relationships and actually becoming a better leader. I thought I was a leader at Houston, but coming to Miami was a whole different ball game. You've got to do things a little different at Miami.
"I think the quarterback room is in great shape for years to come and that was one of my goals when I went there, to leave it better than I found it. I still talk to the guys probably every single week, so like I said, just building relationships and becoming a better leader, for me, that happened at Miami."