"Those Guys Are Going to be Great Players"
CORAL GABLES, Fla. – After the Hurricanes wrapped up one of their final practices of the spring, freshman tight end Jaleel Skinner walked off Greentree and found himself chatting with 12-year NFL veteran Jimmy Graham.
During Miami's annual Alumni Weekend, Jacurri Brown got some encouragement and advice from Miami legend Bernie Kosar, who urged the young quarterback to remain patient as he continued adjusting to not just college football, but college life.
Those conversations and those moments likely won't be forgotten any time soon, even if the last three months have been a whirlwind of sorts for Skinner, Brown and the rest of Miami's early-enrollee freshmen who arrived in Coral Gables in January.
Since, the group has gone through their first college practices. Played in their first spring game. Endured their first college offseason training and conditioning program. Moved into new dorms. Taken their first college classes. And, yes, gotten to know new teammates and coaches.
That's all come with a learning curve – including on the field.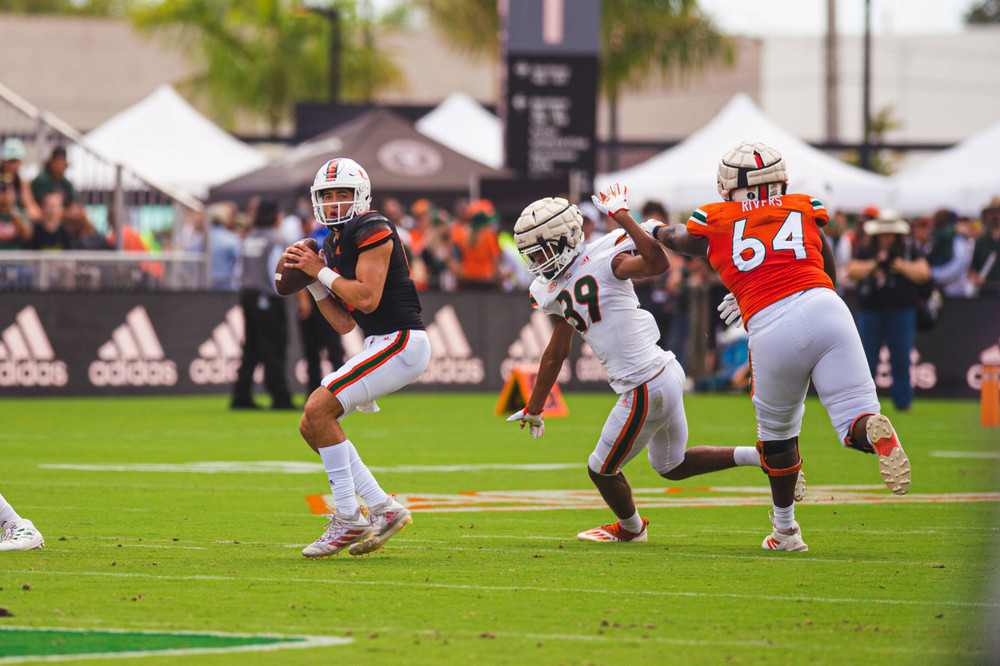 "There's definitely a big, physical difference," said freshman defensive lineman Cyrus Moss. "It doesn't matter what it is. It could be a walk-through. It could be practice. It doesn't matter. It's going to be physical and that's something I had to learn. There were a couple of walk-throughs, a couple practices where I came out just kind of trying to go through the motions and it was like 'no.' Some dudes came and they knocked me out the way. I was like 'Okay, you have to be physical every single day, day in and day out."
Still, even with the adjustments they've had to make, there's no doubt Miami's freshmen have taken advantage of the opportunity to jumpstart their college careers.
Moss, for example, notched a pair of sacks in the Hurricanes' spring game and helped force a fumble. And Brown was among the newcomers to surge during the last week of workouts, earning praise from teammates and coaches alike.
"They've grown. They've grown. The guy that really flashed today was Jacurri, actually, the last three days, he was…wow. Impressive in everything he did: decision-making, accuracy, his temperament," Miami head coach Mario Cristobal said last week as the Hurricanes wrapped up spring drills. "Jaleel's had an outstanding spring. He looks like he's 190 pounds, but he's 232 pounds. The entire spring, he's taken reps with the [second-string].
"Same thing with Cyrus Moss. To be able to qualify just in time, get on out here, come in weighing 199 pounds…he's put on about 10 pounds and has been thrown into every single package, taking on double teams with a senior-laden tackle, tight-end box. That's a lot. And he's done exceptionally well. Super proud of those guys. Those guys are going to be great players for the Hurricanes."
For each of Miami's freshmen, that is exactly the goal.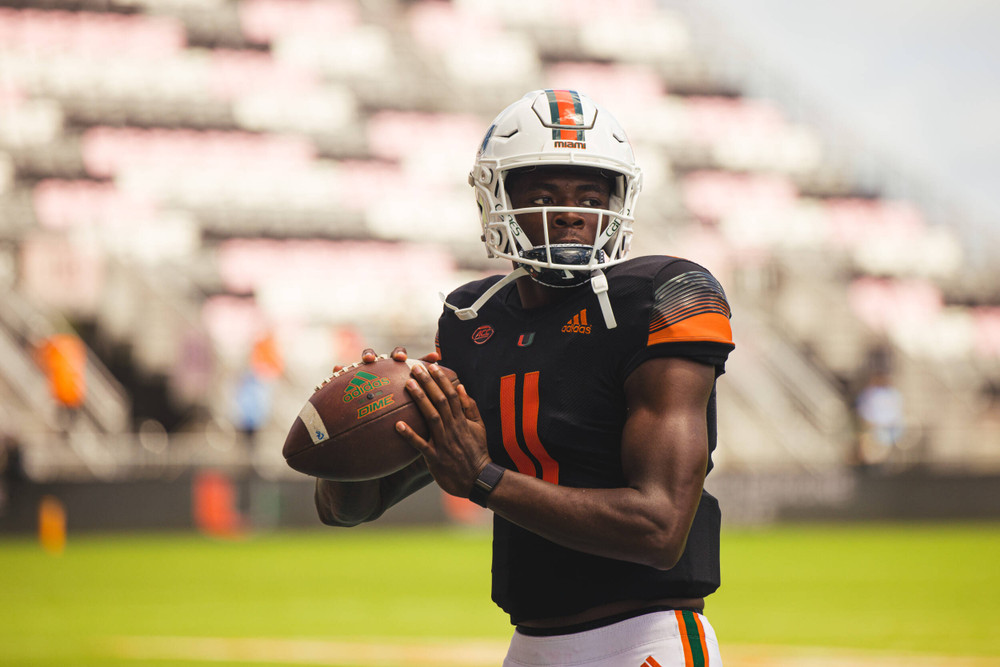 Bissainthe, a former four-star linebacking prospect at Miami Central, used the spring to try and learn as much as he could from Hurricanes defensive coordinator Kevin Steele, linebackers coach/co-defensive coordinator Charlie Strong and older teammates like Waynmon Steed and Corey Flagg.
Brown, meanwhile, tried to do the same with quarterbacks coach Frank Ponce and veteran teammates Jake Garcia and Tyler Van Dyke, who earned ACC Rookie of the Year honors last season after throwing for 2,931 yards and 25 touchdowns while completing 62 percent of his passes.
Every bit of those lessons, they said, helped.
"I mean, it was just getting up under Tyler, Jake and them, just learning and getting comfortable," said Brown, a former four-star prospect, of his spring football experience. "It's a big change and stuff like that, a big jump. I'm supposed to be in high school right now…but all the guys, they're encouraging. They're getting me right. It's really just football. You can't get outside of that."
Said Bissainthe, "I knew it wasn't going to be easy, but coming from Miami Central, we had a difficult defense. Coming in here, the defense is only going to get harder. I'm learning. I'm taking it slow and I believe I'll get where I want to be soon. Real soon."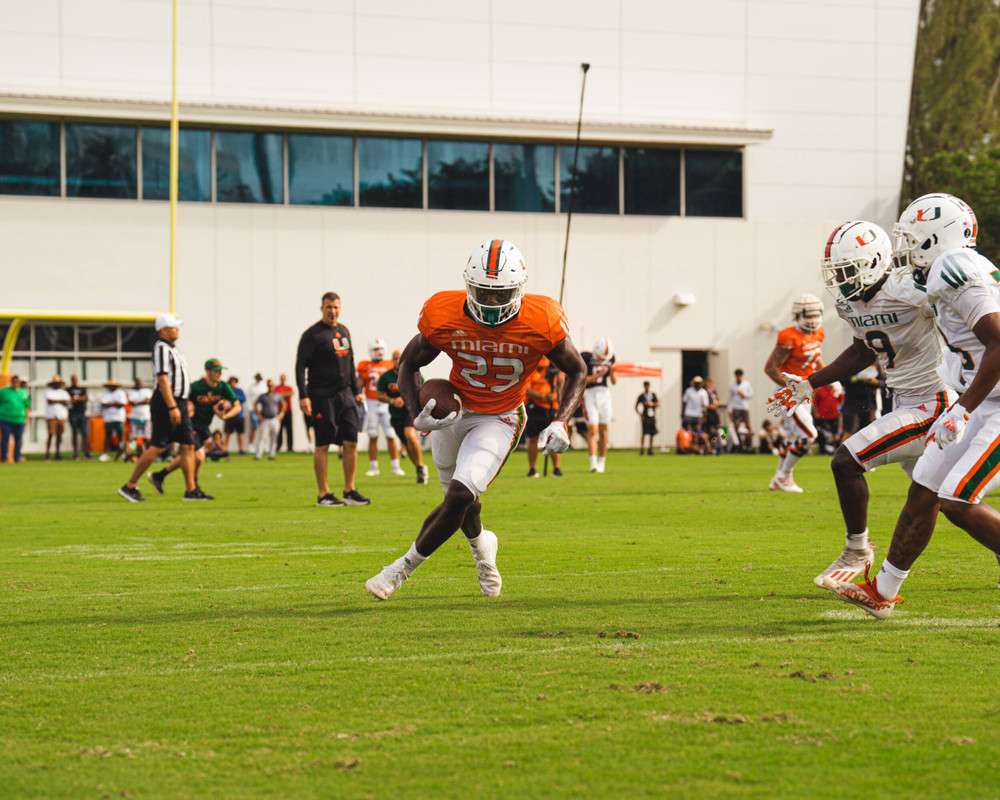 Like the rest of their veteran teammates, Miami's freshmen will now spend the offseason finding ways to grow and improve their respective games.
They'll build on what they've done over the last 15 practices, continue working to strengthen their bodies and they're determined to find ways to get on the field and continue impressing.
"It means a lot to me. It shows how much I really mean to these coaches, and how much they really want me to be able to perform at my highest level," Skinner said of his spring football experience. "I'm happy they're throwing me into the fire early, so when fall comes around later on, I know what's coming. In the scrimmages, I just [tried] to go out there and perform my best every day. I have a couple busts and I've had a couple ups and downs with it, but I'm getting steady and I'm learning this is college football, this is how things need to be done. It's been really good."
Added Moss, "It's definitely [been] a great opportunity and I've been excited about it. I feel like I've been doing pretty well. Mostly, it's just making sure I know what I'm supposed to be doing, making sure I'm not out there looking like a freshman, making sure I'm able to fill in those shoes, fill out that role. I think I've been doing a pretty good job with that."