Canes Shine in Spring Game
FORT LAUDERDALE, Fla. – The Miami Hurricanes had just wrapped up their spring game, Tyler Van Dyke had yet to walk off the field and already, the quarterback was looking forward.
Among his plans for the remainder of the holiday weekend? A film session to go over the afternoon that was, the plays he and his teammates made and just as importantly, the throws the reigning ACC Rookie of the Year already knew he'd like to have back.
"As an offense, I think we ran the ball well, but I think I missed a few throws that I'd really like back. That's just learning the new offense and getting more comfortable with that," said Van Dyke, who led the offense to a 31-27 win over the defense. "I'm going to work on it over the summer, but I think overall, we had a good day completing passes and throwing the ball well."
For Van Dyke and the Hurricanes, spring football may have ended at DRV PNK Stadium on Saturday afternoon, but it's now that the work of preparing for the season ahead truly begins.
Over the course of the last seven weeks, Miami's players have been learning the new schemes implemented by offensive coordinator Josh Gattis and defensive coordinator Kevin Steele.
And they've been acclimating to the culture being instilled by new head coach Mario Cristobal, a former two-time national champion offensive lineman at Miami who returned to his alma mater in December and has been working at a furious pace since to hire a staff, recruit and of course, begin preparing the Hurricanes for the 2022 season.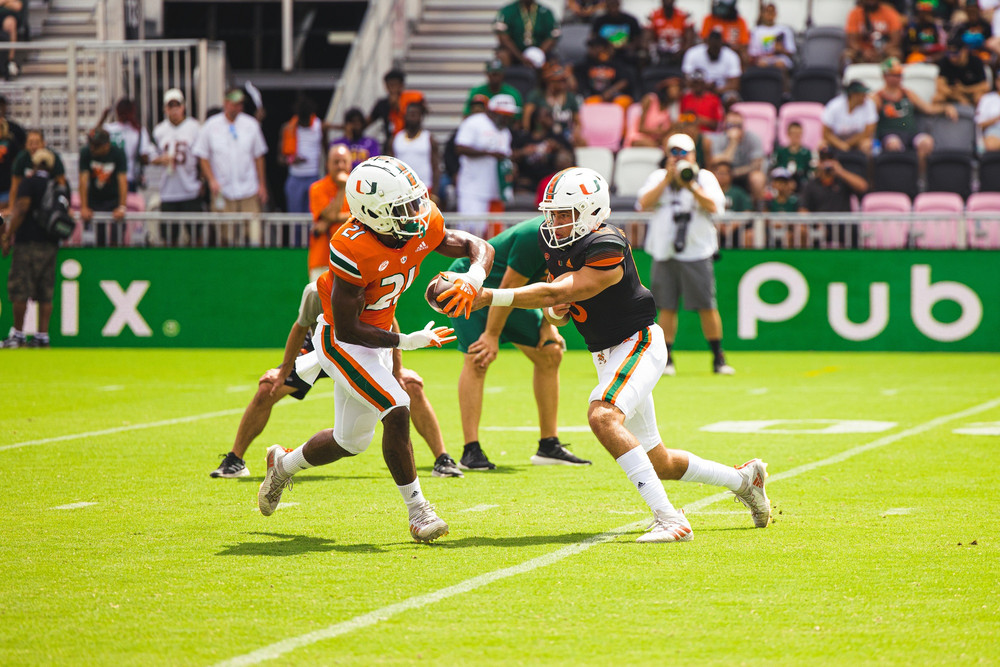 On Saturday, Miami's fans had their first opportunity to welcome Cristobal home and get a look at some of what's been happening in Coral Gables since his arrival.
They had more than a few reasons to cheer.
Van Dyke finished the day completing 21-of-32 passes for 177 yards with a touchdown. Redshirt freshman quarterback Jake Garcia finished was 14-of-23 for 147 yards, while third-year sophomore receiver Xavier Restrepo finished with six catches for 61 yards.
Running backs Thad Franklin Jr. and Henry Parrish Jr. helped carry the load, combining for 101 yards and three touchdowns, while tight ends Kahlil Brantley and Elijah Arroyo had four catches each. Second-year sophomore Andy Borregales, meanwhile, added a 21-yard field goal.
On the other side of the ball, some of Miami's newest faces made their presence felt quickly.
Defensive end Jacob Lichtenstein – a transfer from USC – notched a sack and deflected a pass that eventually led to a James Williams interception. And freshman Cyrus Moss, who arrived at Miami in January, finished with a pair of sacks.
All of that, Cristobal said, gives the Hurricanes something to build on as they turn their attention to the summer and eventually, fall camp.
"It's been 15 practices and another 15, 16, 18 days of lifting and running and meetings and all that stuff. Surely, there's progress, but there's still a ways to go," Cristobal said. "There's always a gap between the way you end the season and where you want to go next year. We feel like we've made ground toward where we want to get to, [but] we have a lot of work to do and we know that. That's the best part about it. Right now, the best approach is understanding that the best thing we have is the power of choice. We need to choose to work our tails off to go get better and to make sure we're focused on school, we're focused on great decisions and we're focused on getting together and coming together as a team so that in 100-plus days when we take the field, that our very best will be out there."
For many of the Hurricanes, Saturday's game wasn't just an opportunity to show what they've learned throughout the course of spring drills.
It was a chance to reconnect with fans and share a spring game with them. Because of the COVID-19 pandemic, that's something Miami's players haven't really been able to do the last two years.
So when the game was over, several of them posed for pictures with family and friends, signed autographs and some – including Garcia – played a little bit of catch with some of the youngest Hurricanes supporters in the crowd.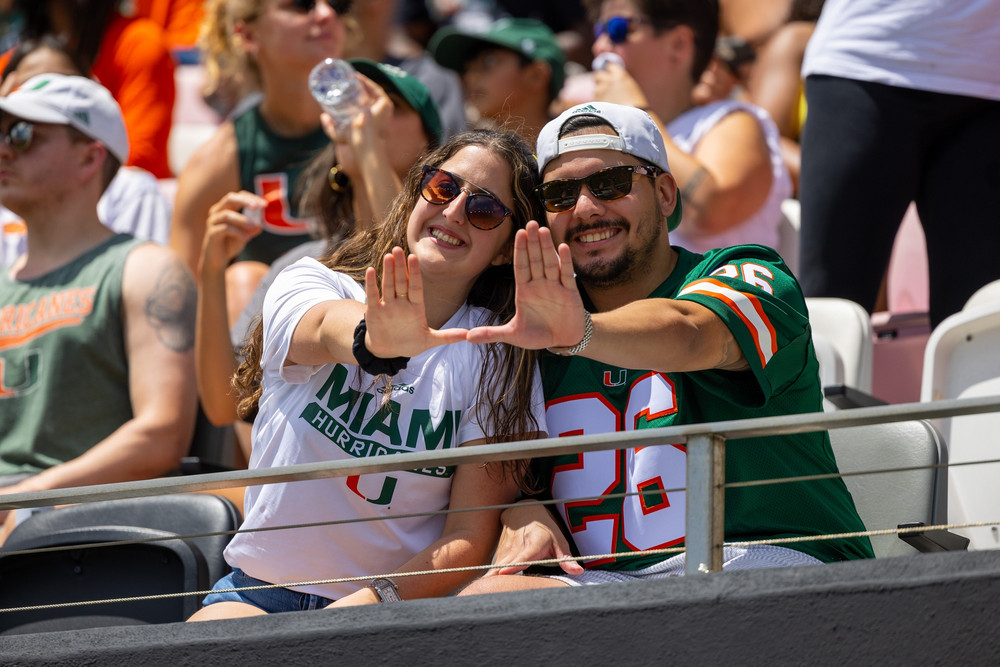 To be able to hear cheers and feed off the atmosphere wasn't something any of the Hurricanes said they took for granted.
"I've never gotten to experience a spring game like this because when I came in, it was Covid," said third-year sophomore defensive end Chantz Williams. "For me, this was almost like a game. I had a great time, honestly. I fed off the energy and I hope next year, the fans come out because the whole team feeds off it. Seeing the young guys come out and making plays, doing what they're coached to do, seeing people progress and let loose in the game today was huge."
Added Cristobal, "It really was neat to come out here and see our fans, who provided us with a really great atmosphere for the spring game."
Now, with their spring game behind them, the Hurricanes will take the next steps in preparation for the upcoming season.
There will be, as Van Dyke noted, plenty of film study. More off-season training. And many players said they expect they'll be back on Greentree on their own sooner rather than later, throwing, catching, and continuing to build the chemistry they know will make a difference come September.
"You know me, I'll probably be out there later today," Restrepo said with a smile.
Added Williams, "We know what it takes. We're ready to take that step as a team."