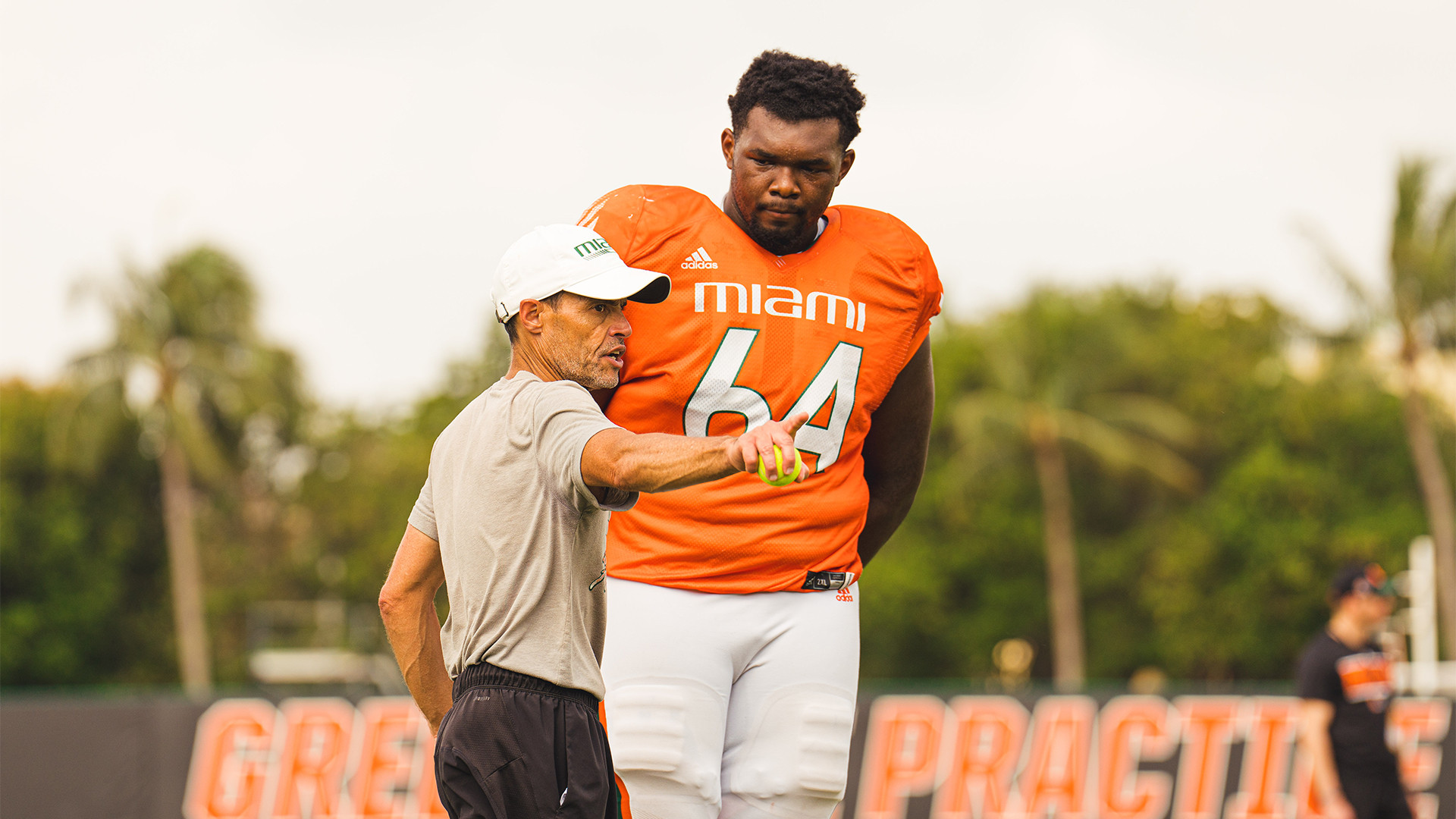 CORAL GABLES, Fla. – Jalen Rivers knew right away he was hurt. Badly.
Despite playing the game for years, never had he felt the pain he felt during the first quarter of Miami's third game of the season, a non-conference matchup against Michigan State.
Bad news, he was sure, would come in due time when doctors assessed his knee.
"I really prepared myself for that news and when I got it, I wasn't in distress," the offensive lineman said with a shrug of his shoulders. "I was like, 'Well, it is what it is.' I told myself I'd have years to still play and I was going to get over my injury. It was tough, yes, but I had family, friends, teammates, coaches and even my friends back home were by my side, checking up on me and coming to Miami just to be with me. It was a great support system."
That support system and months of rehabilitative work with Miami's medical and athletic training staffs have Rivers feeling better than he has since that fateful September afternoon.
Now, as the Hurricanes approach the end of spring practice, Rivers is back on Greentree, continuing to improve, continuing to grow and continuing to lead an offensive line that he believes has the potential to be special when a new season begins later this year.
"Everyone has improved tremendously," Rivers said. [Offensive line coach Alex Mirabal and Hurricanes head coach Mario Cristobal] have made sure of that. They want everybody to get better, not just a specific group of people. I hope we get to showcase how dominant and physical our offense can be [at next week's spring game] and show that we can finish strong and start strong as well."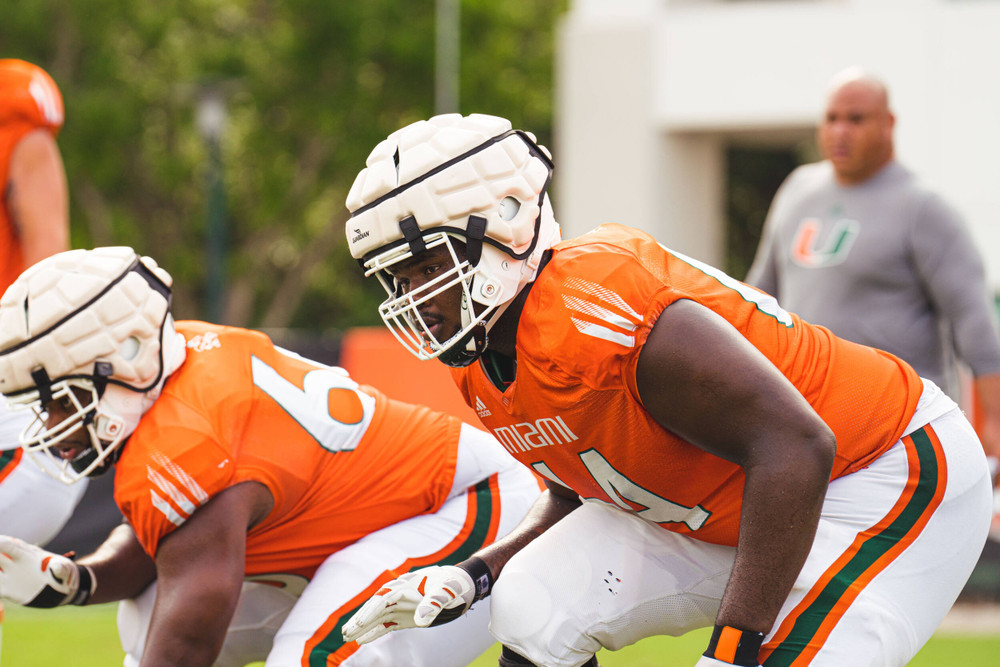 For Rivers, the six months since his injury have been filled with physical therapy, training sessions, classwork and still, plenty and plenty of football.
In an effort to stay engaged with his teammates, he made it a point to attend as many meetings as possible during the season and provided as much encouragement as he could to his fellow linemen. He watched more games than he ever has in the past, taking time to study a series of offensive linemen throughout the NFL to continue learning ahead of his eventual return.
Once doctors cleared the 6-foot-5, 325-pound lineman to begin doing upper-body work in the weight room, Rivers tried to be there as much as possible. He jokes that as he started to feel better, doctors, athletic trainers and physical therapists had to remind him to take it slowly and not take on more than his body could handle.
Even now in spring, where he's been a limited participant as the Hurricanes take a conservative approach in his continuing recovery, Rivers has done his best to mentor linemen when he's on the sidelines, sending signals in and offering advice whenever possible.
But he's embraced the work he is allowed to do and his efforts have certainly made an impression on his new head coach – a former Hurricanes offensive lineman who knows exactly what it takes to succeed at this level.
"That guy's an impressive young man, first and foremost. And then he's a big, physical, athletic, tough guy," Cristobal said. "It's great to have him out there. He's just about full [go]. He takes about 75 percent of the reps. He's got great power, great balance and body control. He understands leverage. He uses his hands really well. It's hard to have the combination of a guy that's light-footed by heavy-handed and he has that.
"When he strikes you and he gets his hands on you, you feel it. He does a good job knocking people that way and can really slide his feet and anchor, protect the quarterback. Very smart, great communicator, challenges his teammates [and] challenges himself. A tremendous blessing to have Jalen on this team…When he walked down the hallway, impressive…You're like 'I hope his play matches what he looks like' and he hasn't disappointed. He's been excellent."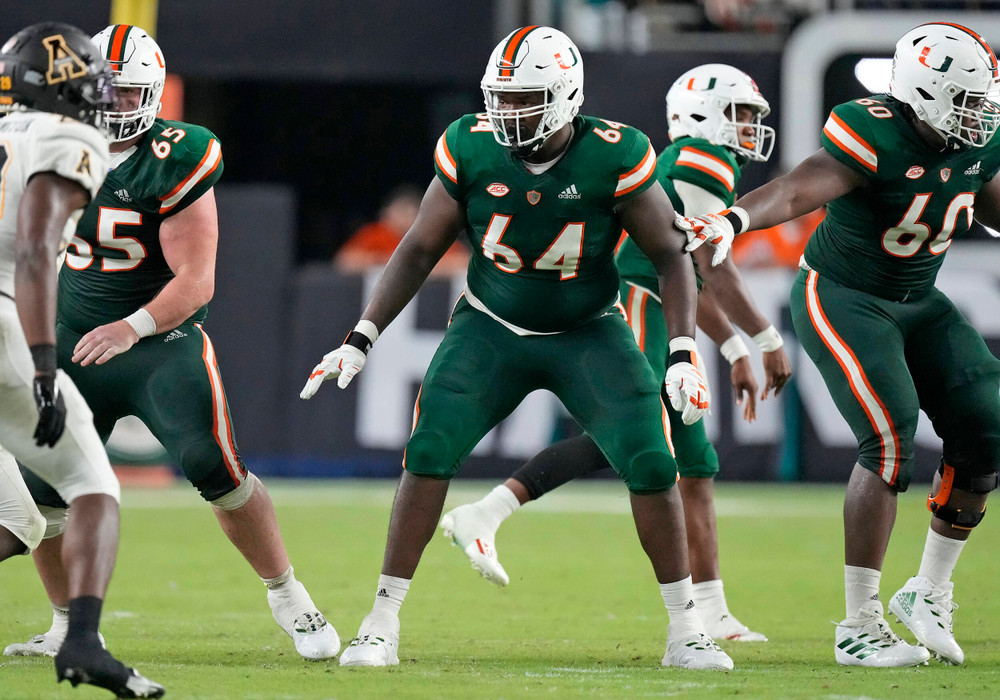 That's high praise and for his part, Rivers is determined to continue improving. He noted after one of the Hurricanes' 15 spring practices that he's not quite sure yet where on the line he'll play come fall, but he's eager to contribute, wherever his coaches need him to be.
And the chance to play for Cristobal and Mirabal isn't one he takes for granted, knowing the extensive experience both have when it comes to coaching the offensive line.
"It's a great opportunity to have a head coach that played our position before and knows what it takes to be a real Miami Hurricane and have the swagger that they had back when he was playing," Rivers said. "To have his leadership on the offensive line, and really at every position, it's good to have that for a team that wants to be great and wants to win championships and get better every day…And [Mirabal] is the same as Coach Cristobal. It makes sense they're best friends…They're a great duo when it comes to the o-line. It's good to have Coach Mirabal. He's big on technique and I just love it. He'll praise you, but he'll let you know you need to get better. He pushes us every day."
Though his return to Hard Rock Stadium is still more than three months away, Rivers is already counting the minutes until Miami's opener against Bethune-Cookman.
Given all of the struggles of the last six months, to be able to be back on the field with the Hurricanes – healthy – is something he can't wait to experience again.
"It's going to be a real celebration in my eyes because this is what I've been waiting for since I got hurt," Rivers said. "I always wanted to get back on the field like I never left. I'm excited to be back out there even now and to show people how talented I am and how talented we are as a whole team, offense, defense and special teams."