Healthy and Happy to be Back
CORAL GABLES, Fla. – Al Blades Jr. considers himself a neutral thinker.
And so, on the night before he was set to make his return to Greentree after overcoming a series of health issues, the cornerback didn't exactly get caught up in the emotion of it all.
That doesn't mean he wasn't grateful. There was plenty of gratitude.
He just didn't want to dwell on the past.
"It's a blessing to be back. Blessing to be on the field….I'm glad to be back," Blades said last Friday after the Hurricanes wrapped up their first week of spring practice. "Last season, I actually had surgery. I was out. That's why you didn't see me on the sidelines…I feel amazing [now]. I feel blessed."
Blades, unfortunately, has had to deal with his share of health issues the last two seasons.
His junior campaign in 2020 was cut short when he was diagnosed with myocarditis after going through COVID-19 protocols. He recovered, but then dealt with a stress fracture last spring.
In the fall, he played in just four games before needing season-ending surgery for a sports hernia.
After each challenge, Blades – the son of Hurricanes great Al Blades – tried to move forward as best he could.  Feeling sorry for himself wasn't going to help.
He focused instead on what he could control and that was doing his part to get healthy.
"Of course, [I've] been through a lot of stuff, but it doesn't really matter. One-day-at-a-time mentality," said Blades, who has totaled 82 tackles and four interceptions during his Miami career. "Went and attacked it every day. Obviously, it was a tough process, but I blocked out the outside noise, did my thing, came in here and was still learning, [getting] ready to come back so that when I'd come back, day one, day three, I'm still rolling."
Through one week of spring drills, Blades' effort has certainly been noticed.
The Fort Lauderdale native has spent time at both corner and at the STAR position and has made an early impression on Miami defensive coordinator Kevin Steele.
And before spring practice, Blades was one of the first players to earn recognition as one of Miami's fourth quarter top performers during the Hurricanes' offseason training program.
"Al has come out here, he's playing star and corner some and he's got a really good skill set," Steele said. "We feel good about him helping us."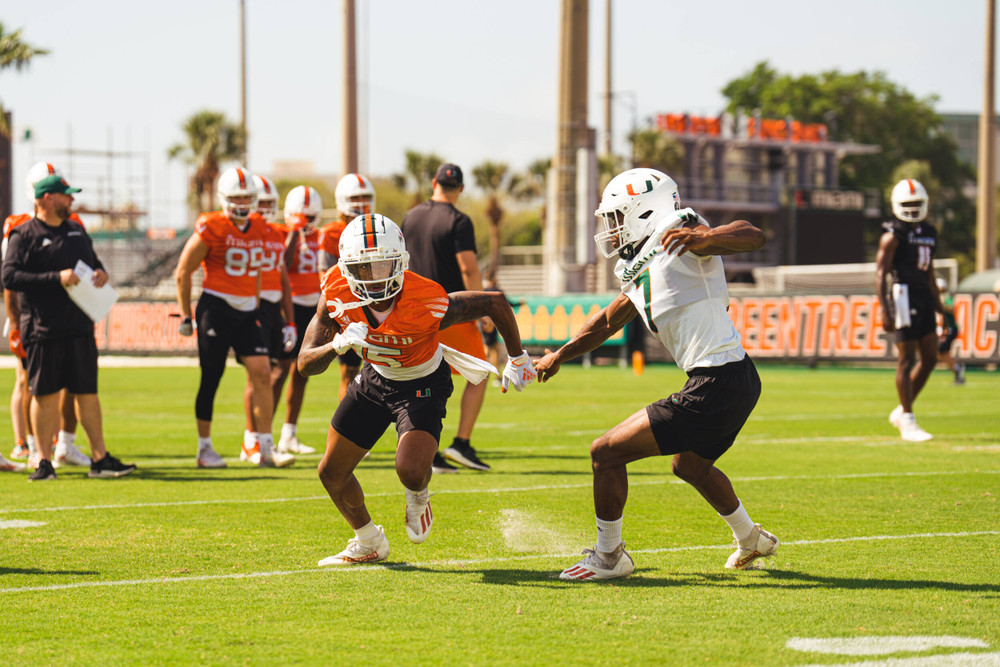 Helping Miami find ways to win has become a personal mission of sorts for Blades.
The versatile defensive back says he feels comfortable lining up at corner, at nickel, safety or anywhere else Steele, defensive backs coach Jahmile Addae and the Hurricanes need him.
And through his first three practices back, he's feeling as healthy as he has in a bit.
"Feels like I've made leaps and bounds, you know? Just from coming out, expecting to play corner, finding out I'll be at nickel a little bit…me being the Swiss Army Knife I am, I'm always ready to plug in wherever," Blades said. "I mean, I felt myself make huge leaps and bounds at nickel in just three days. It makes me excited to know my body is just able to hop on, being able to see myself grow back into the role I've always had and keep going past that."
As for what's next, Blades says quite simply he wants to continue improving – both as an individual player and as one of the leaders of the Miami defense.
"When you love the game, you don't have to prove anything to anyone. You just have to come out and play the game as you love it," he said. "And when you love it, you're a kid out there. Just coming out, being able to play the game and get better, that's what motivates me. Being great, seeing myself get better, seeing my team get better, being able to know guys are willing to listen to me, taking them under my wing, helping other guys get better, that's just love of the game."
And Blades is excited to see that same love all across Greentree, including from his teammates and Hurricanes head coach Mario Cristobal, a former Miami offensive lineman who returned to his alma mater to lead the program where he won two national titles.
His energy has been effusive and that's something Blades has appreciated – along with all the former Hurricanes players who have returned to campus in recent days to lend their support.
"It feels good to have a coach like that. He's out there, he's definitely full-blown, diving into the practices," Blades said of Cristobal. "He loves football and coming from someone who loves football, you know when someone loves football. He loves football."
Now fully healthy, Blades is determined to make the best of his opportunity.
And he says he won't be taking it for granted.
"I've always appreciated the game. That's one thing about me," Blades said. "I've always loved the game. Any narrative that you see around me, it is what it is. But everyone in this building knows that I've always loved the game. I've always come out here and given 110 percent. Being back and spending that time away, if anything, it just allowed me to find myself more, just kind of grow outside of the game. But this is my life. Football is a part of me."