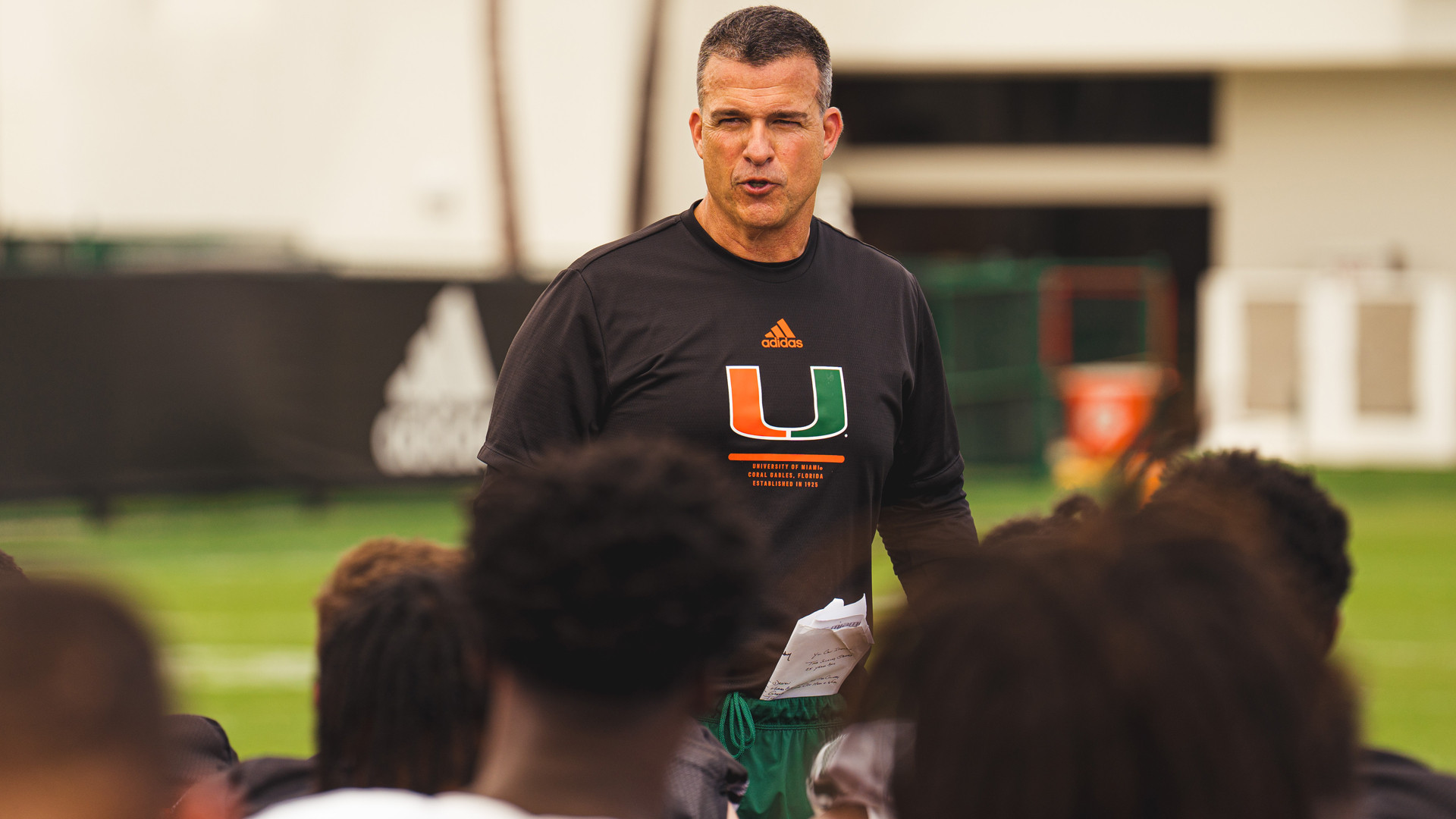 CORAL GABLES, Fla. – It has been nearly 100 days since his life was forever changed, 100 days since he returned to Miami, 100 days since a dream he'd put away finally became a reality.
And still, the magnitude of all that has happened in those 100 days hasn't hit him. Not yet.
Mario Cristobal has had plenty on his plate as the new head coach at his alma mater.
He's had to meet his new team. Hire a staff. Recruit, not just in December ahead of the early signing period, but in January before National Signing Day. Move his family across the country.
And he's had to do it all while spending as much time as possible with his beloved ailing mother, Clara, the woman who helped shape him into the husband, father and coach he is today; the woman he had to say goodbye to on the same day his Hurricanes opened spring practice last week.
So, no, there hasn't been too much time for personal reflection. That will have to wait.
"It's been 20-hour days," said Cristobal, the two-time national champion offensive lineman who in December was named the 26th coach in Miami history after a successful five-year stint as the head coach at Oregon. "That's what it's all come down to. It will eventually set in. Maybe for a moment during spring break, if there is such a thing. Or maybe in the summertime. And it will be overwhelming when it does because this is home…"
His voice trails off for a moment.
"It's more than home," Cristobal continued.
THE JOURNEY
In so many ways, Cristobal's story is the ultimate Miami story.
The second-generation son of Cuban immigrant parents, he discovered football – a sport that involved "tackling the guy with a dead pig in his hands" – only after he was cut from his high school baseball team as a freshman at Miami's Christopher Columbus High School.
With his parents both working two jobs and taking classes at night to learn English, Cristobal needed something to do after school. He was tall, so he was told he'd be a natural at football.
He gave it a try and fell in love. Decades later, that love remains unchanged.
Cristobal eventually developed into a strong enough lineman at Columbus that he earned a scholarship offer from Miami during the Hurricanes' 1980s heyday.
He played under Jimmy Johnson and Dennis Erickson and was on Miami's 1989 and 1991 national championship teams. He was a 1992 All-Big East selection and when his time with the Hurricanes came to an end, he signed as an undrafted free agent with the Denver Broncos before spending two years in NFL Europe with the Amsterdam Admirals.
While playing in Europe was an experience he relished, his family back in Miami wasn't entirely sure about the whole enterprise.
"My mom used to say, 'You're not playing football. What are you doing in Europe? You're up to no good,'" Cristobal chuckled. "I said, 'I swear, there's a football league here.' And she'd say 'You're in a rock band. You're doing else something out there.'"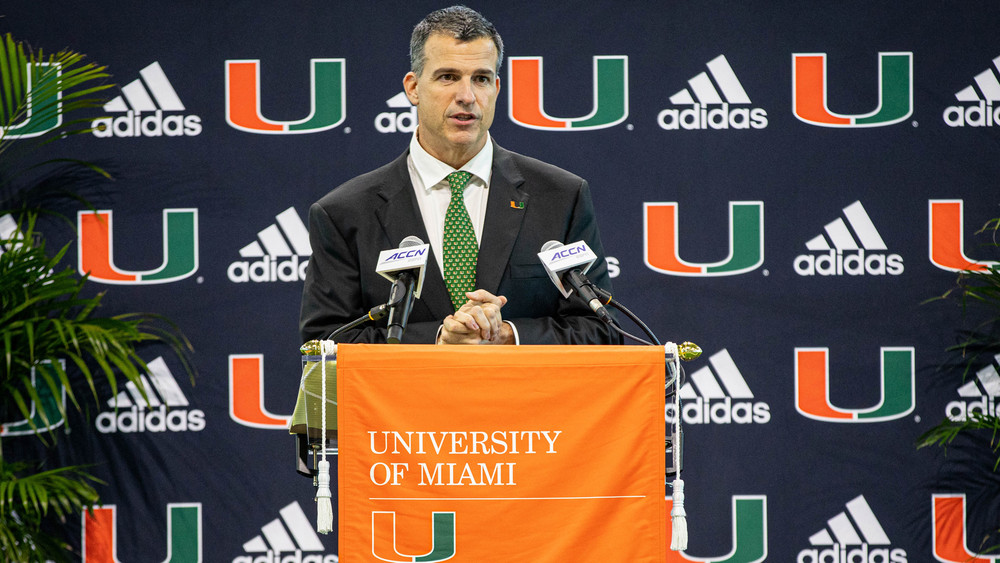 His time with NFL Europe eventually came to an end and Cristobal found himself back in the United States at a crossroads.
No NFL team was clamoring to sign him. He was coming to the realization that his playing career might be over, but he was loathe to give up the game.
He began working at a public relations firm in Coral Gables and his agent suggested he might still have time to train, in case any football opportunity presented itself.
To try and stay connected to the game, Cristobal often made his way to the Orange Bowl to watch the Hurricanes play. He can still recall a chance conversation he had with a police officer at one of those games who recognized him.
Miami, mired in scholarship losses and NCAA sanctions, hadn't played particularly well that day, losing to former Big East foe Syracuse. The officer asked Cristobal what he thought. When Cristobal responded it hadn't been good, another question came.
"'How come guys like you don't come back and help?'" Cristobal recalled the officer asking. "That hit."
Not long after, with encouragement from his friend Rob Chudzinski – then the Hurricanes' tight ends coach and someone Cristobal had been faxing offensive line protections to even as he worked in public relations – Cristobal found himself in the office of Miami head coach Butch Davis.
He had, to that point, shied away from the idea of being a graduate assistant at Miami, or anywhere else, convinced he'd be relegated to getting coffee and picking up dry cleaning.
But Davis and Miami promised Cristobal the opportunity to do some coaching as a graduate assistant. He was intrigued and when Davis asked him what his ultimate career goal was, the answer was quick.
"I want to be sitting in your seat," Cristobal replied.
He joined the Hurricanes as a graduate assistant in 1998 and after the opportunity to work with some high school players at a summer camp, Cristobal believed he'd found his calling.
Still, he had to work odd jobs to make ends meet. With one foot in football and another outside of it, Cristobal wondered about the possibility of pursuing another dream: a career in federal law enforcement.
He went through the process of applying to join the United States Secret Service, taking all the necessary tests and enduring all the tough interviews that came with that.
Just before the Hurricanes were set to play in the Micron PC Bowl that season, a job offer came and Cristobal accepted. There were tearful goodbyes at Miami. A future as Special Agent Cristobal awaited – or so he thought.
The night before he was set to start his new career, Cristobal awoke in a panic. Maybe, he realized, he wasn't as ready to say goodbye to football and to Miami as he thought.
"Football hurt when I left it the first time, or when it left me. Now I had a chance…I didn't want to let it go," Cristobal said. "I had to go back and inform the powers that be at the Secret Service. That was rough. Then I came to get my 25-cents-an-hour job back."
The Hurricanes welcomed Cristobal back and his coaching career began in earnest.
An opportunity to coach at Rutgers with former Hurricanes defensive coordinator Greg Schiano followed not long after in 2001. He returned to Miami and joined coach Larry Coker's staff in 2004.
Three years later came the breakthrough every young coach wants: the chance to lead his own program.
Cristobal became the first Cuban American head coach in FBS history when he took over the program at FIU in 2007 and during his five years there, the Panthers went from being winless just before his arrival to winning the Sun Belt Conference title in four years.
He earned recognition as the Sun Belt Coach of the Year in 2010 before he and FIU parted ways in 2012. Not long later, Cristobal briefly found himself back at Miami, this time as a part of Al Golden's staff.
Then another opportunity he simply couldn't pass up presented itself.
"Going to Alabama, for me, was very difficult. I had to leave Miami. I have tremendous respect for Al Golden. I think he's an excellent person and a really good football coach, but what was best for Miami and best for me at that time was to go get my PhD in coaching," Cristobal said. "It was just like going to school…[Nick Saban] was going to help me take the next step as a coach, as a CEO, to learn to really run a program at the next level and he did and I'm forever grateful for that."
At Alabama, Cristobal served as assistant head coach, offensive line coach and recruiting coordinator. His responsibilities, he said "skyrocketed."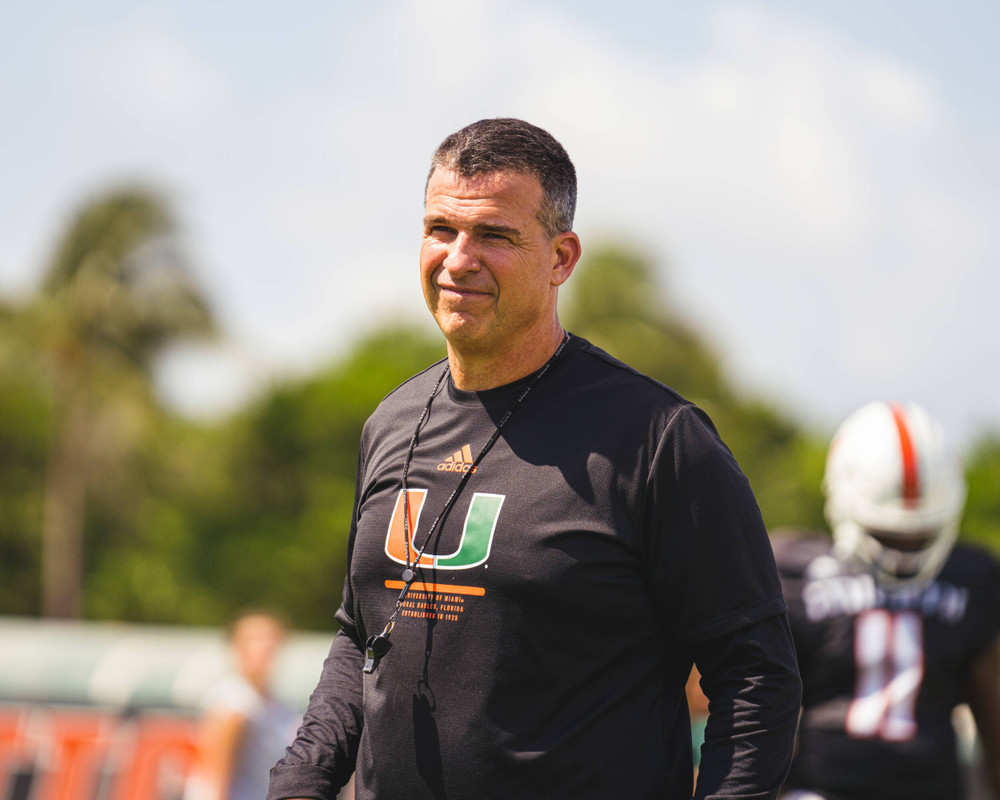 He established himself as one of the top recruiters in the nation and during his four years in Tuscaloosa, five Alabama offensive linemen were selected in the NFL Draft.
In 2015, his line won the inaugural Joe Moore Award, which is given annually to the top offensive line unit in the nation. That same year, he was a part of the Crimson Tide's national championship team.
Two years later, Cristobal's journey took him to Oregon, where he joined Willie Taggart's staff as offensive line coach and co-offensive coordinator. When Taggart left Eugene after one season, Cristobal was tabbed as the Ducks' interim coach.
The interim tag was removed shortly thereafter with the support of Oregon's players and once again, Cristobal was a head coach.
Suddenly, a new dream was born: building Oregon, which was 4-8 before his arrival, into a powerhouse.
"They gave me my second chance as a head coach and it worked out awesome," Cristobal said. "We won more games than any team in the Pac-12. More [conference] championships than any team in that four-year span. More first-round [NFL Draft] picks. We ended up hitting a home run times two and you're super, super grateful for that."
At Oregon, Cristobal posted a 35-13 record. He led the Ducks to three straight conference games and won a pair of Pac-12 titles. There was a Rose Bowl win over Wisconsin to cap the 2019 season and Oregon finished No. 5 in both the final Associated Press Top 25 and the AFCA Coaches polls that year.
Along with the success on the football field, Cristobal, his wife Jessica and their two sons, Mario Mateo and Rocco, created a life they loved in Eugene.
Jessica Cristobal – the founder of Leading Ladies League, a social organization for women that partners with local charities serving the needs of women and children – was active in the community. Mario Mateo and Rocco made friends at school and on the football field.
Everything seemed to be exactly where the coach and his family wanted it to be.
Because of all that, even when the opportunity he'd dreamed of for years appeared, Cristobal paused.
Miami needed a head coach and it wanted him. It should have been a slam-dunk decision.
But it wasn't.
"It was very difficult. We really loved Oregon," Jessica Cristobal said. "The decision was not easy because we were truly happy there. But when the opportunity presented itself, we had to do what would be best long-term for our family, and that was to return home to Miami."
Added Mario Cristobal, "Leaving Oregon was extremely difficult because that had become our new home. It was hard to leave something we had worked so hard to rebuild. We were grateful for the opportunity and the people, but when [Miami] came calling and it was real, it hit. It hit hard. Because Miami is home. It's the only place in the world where I don't need a GPS. It's not that I know every street – I know every crack on every street. I know every stop sign, one-way, shortcut. I know addresses and…I played here. I played here. I practiced on that field…To be able to play here was an incredible dream. Then it came back and it hit me right between the eyes. Twenty-five years of working in this profession has earned you the privilege, the honor of being able to come back to your alma mater and to your home and do this."
COMING HOME
Ultimately, though, the allure of coming home – to his alma mater, to the community that raised him, to the city he knew so well – proved too much to ignore.
Cristobal accepted Miami's offer and on December 7, 2021, he once again held up a Hurricanes jersey emblazoned with his name.
This time, he did it at a press conference at the Carol Soffer Indoor Practice Facility with plenty of fanfare when he was introduced as the Hurricanes' new head coach.
He answered questions that day. Posed for pictures. Shook countless hands. And he promised both his new players and his hometown that he would work relentlessly to give Miami the championship it has waited for for so long.
And in the weeks since, Cristobal has been welcomed with open arms and unflinching support.
When he stops to fill his gas tank or swings by the famed Versailles restaurant on Calle Ocho for a shot of Cuban coffee, he's greeted with high-fives and congratulations.
The occasional date nights with Jessica or outings to watch his boys play football have featured plenty of familiar faces, eager to wish him well as his new journey begins.
Though some might roll their eyes at all the unexpected attention when out and about, the Cristobals try to go out of their way to shake every hand and pose for every picture.
"It's super humbling," Mario Cristobal said. "I feel like we've made a lot of people happy, that we've given a lot of people hope for the simple reason that they know we're going to grind to a whole different level. That we're going to go, go, go, not for any other reason that they know this means the world to us and that our lives are completely invested in it. I feel the energy of this city. I feel the juice. I feel the desire, so I'm going to lean on the city, too.
"We feel it. Now, opponents need to feel that at Hard Rock. Our players need to feel that. I remember being in the tunnel at the Orange Bowl and I felt like as we headed through that tunnel, there was no way we were going to be denied…It just meant that much more and playing at Miami, once again, will mean that much more."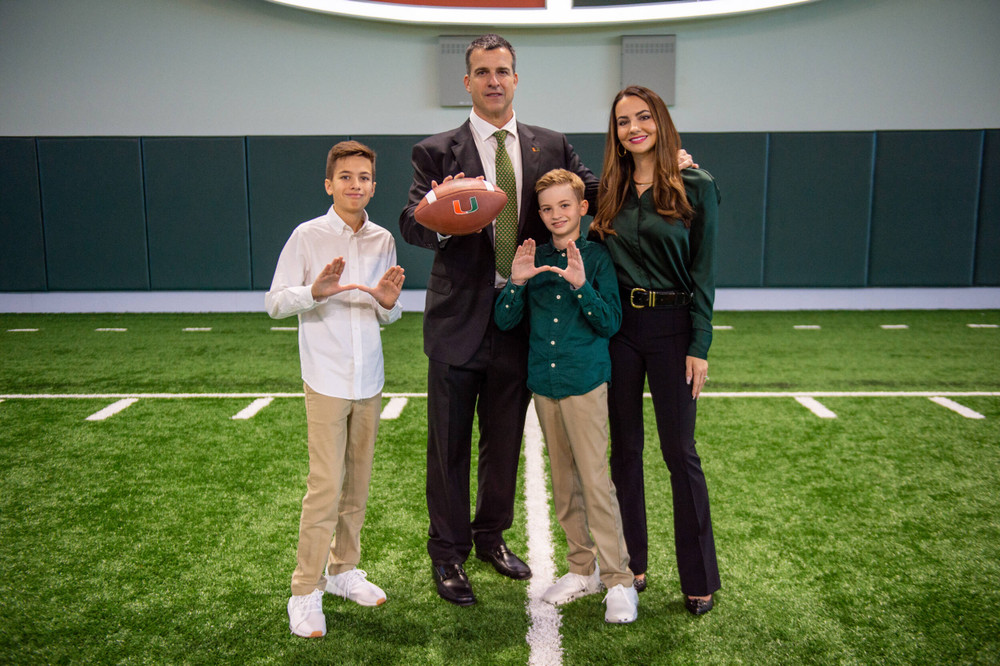 The Cristobals are invested in the Hurricanes, of course. But they're invested in Miami, too.
Already, their boys are learning to polish up their Spanish. They're starting to try more of the Cuban cuisine their father grew up on in South Florida. There's time with cousins and family that simply couldn't exist when the Cristobals lived more than 3,000 miles away.
And as Jessica, Mario Mateo and Rocco continue acclimating to life in the community that means so much to their husband and father, Mario Cristobal has thrown himself into the work of building the Hurricanes into the program he knows they can one day be again.
It hasn't taken long for the new members of his staff and his players to see how truly personal his mission is.
"It's definitely special to have someone here who lived it, someone who's been through it and is not only trying to come back and feed it to us, but kind of reform it and give us our own legacy and our own story," Hurricanes cornerback Al Blades Jr. said. "He's not just always talking about what he's done, but he's talking about what he wants us to do, how he wants us to build the program. It's about moving on to the future. And he loves football. I feel like no matter where he goes or what he does, he's going to give 100 percent. For him to be here, it means a lot to him for sure. There's probably a lot of sleepless nights for that man."
Said Hurricanes linebackers coach and co-defensive coordinator Charlie Strong, "You came here as a student-athlete for a reason. Now you've been given the keys and that's what's happened: he's been given the keys to this program. You feel like 'Everything I do, it's only about making this program better' and he's done that. It has been so fun to watch him through the fourth quarter program and how he goes about it. Even how he speaks to the team, you can see the passion is there. He talks about how this is a family and it is a family. You think about all the great players that have come through here, they're watching from afar because they want to see it and they feel the excitement, too."
THE PROCESS
But as excited as Cristobal is to get started at Miami, as much as he wants to see the Hurricanes contending for conference and national championships, he knows it won't come easy.
During his first weeks at Miami, he's done his best to evaluate the Hurricanes' roster and tried to address specific needs through both recruiting and within the transfer portal.
Offseason workouts were intense and players were tested throughout Miami's new fourth quarter program. The Hurricanes' first three spring practices on Greentree – a space Cristobal deems sacred – have been fierce and a new standard of performance has been set.
The work ethic instilled in him by his parents has driven him throughout his career and the coach is adamant that everyone around his program will work just as hard to be successful.
"Physicality is going to be at a premium. Playing with max effort is going to be at a premium. Between the lines and snap-to-whistle, no tough-guy BS after whistles. That doesn't win football games," Cristobal said of his approach. "But complete ownership of our systems, understanding what to do, how to do it, why we're doing it that way, making sure that our levels of communication and our standards for how we practice are done right…
"If we're on that field, we're running. We're running all the way on and all the way off the field. Our eye-discipline, our body position, our ability to bend, strike, shed blockers, strike blockers, strike defenders, finish plays, finish blocks, ball security…anything and everything regarding our systems, our techniques, our fundamentals are going to be at a premium with a heavy, heavy emphasis on culture. How we do anything is how we do everything…That applies to the staff, also…If you're on that field, you're working. You're running. There's a high-level of urgency. Our players need to feel that from us as a staff…It applies to everybody in the program."
It's a formula that worked for Cristobal at Oregon, one he began honing at Alabama and at every stop that preceded his time in Tuscaloosa.
Now, it's time to implement it at the one place that means more to him than any other.
"I know I sound like a broken record, but there's nothing like Miami. There's no place in the world like Miami, let alone a college football program with its history," Cristobal said. "I was part of it as a player. I was part of it as a graduate assistant. Now I am part of it as the head coach. When Miami is done a certain way, it becomes the elite program in the country. It is about outworking the competition and being a part of a brotherhood like none other."
And those who know Cristobal best believe he'll be successful at Miami.
For him, there is no other option.
"He's at his dream right now and my whole goal is to help him win a championship," said Alex Mirabal, Miami's offensive line coach and a former high school teammate of Cristobal's who has been a part of the coach's journey for years. "I've been able to help him do that at FIU. I've been able to help him do that at the University of Oregon. And now, even bigger and better things [are coming] here at the University of Miami."
Added Jessica Cristobal, "It's not been an easy road or an easy path. The path to success never is and it's not going to be now. We know that. Rebuilding a program is challenging and takes time and endless sacrifice, but it's a challenge that excites Mario. I'm so very proud of him. It's an incredible and overwhelming experience…That U is everything to him. It's so much more than a brand. It's a culture. It's a lifestyle. It's Miami."