Rivalry Showdown at The Schiff
CORAL GABLES, Fla. – The University of Miami women's tennis team played about as well as it possibly could this past weekend.
No. 12 Miami (8-2, 3-1 ACC) played a pair of top-15 teams on the road, earning a 4-3 victory at No. 15 Wake Forest in Winston-Salem, N.C., Friday night and then dropping a heartbreaking 4-3 decision two days later at second-ranked NC State in Raleigh, N.C.
Although the Hurricanes assuredly wanted to take both matches, their performance in both contests was quite encouraging. The victory over Wake Forest marked a sixth straight win, while the defeat versus NC State was an extremely competitive match that took well over four hours to finish.
"You always want to win, but a lot of times it's a process," Miami head coach Paige Yaroshuk-Tews said. "A lot of times, the first step is putting yourself in the position to win and the next thing is executing the win. So, we were able to do the first and we've got to be able to do the second. If we do, we're going to take a huge step forward."
Facing talented teams, especially away from home, is always a difficult test. Miami came close to acing it.
Yaroshuk-Tews was particularly pleased with the way her team handled the matches—not just from a physical or tennis perspective.
"I just think our level of calmness was pretty impressive. We stayed really calm," she shared. "We didn't seem nervous. We didn't seem anxious. We didn't seem tight. We were true to ourselves. I sensed no change in their demeanor on-court or off-court. And that is kind of where we need to be from a mental standpoint."
One player in particular who excelled this weekend was fourth-year junior Daevenia Achong, who went 2-0 in singles at the No. 2 spot and 1-1 in doubles at the No. 1 position.
At Wake Forest, Achong paired with fifth-year senior Eden Richardson to take down sixth-ranked Anna Brylin and Brooke Killingsworth, 6-4. She then beat Anna Campana, 6-2, 6-2.
In the matchup with the Wolfpack, Achong and Richardson narrowly dropped a 4-6 decision to No. 16 Jaeda Daniel and Nell Miller. She responded, however, by notching a top-25 singles triumph, taking down No. 24 Abigail Rencheli, 7-5, 6-1, in impressive fashion.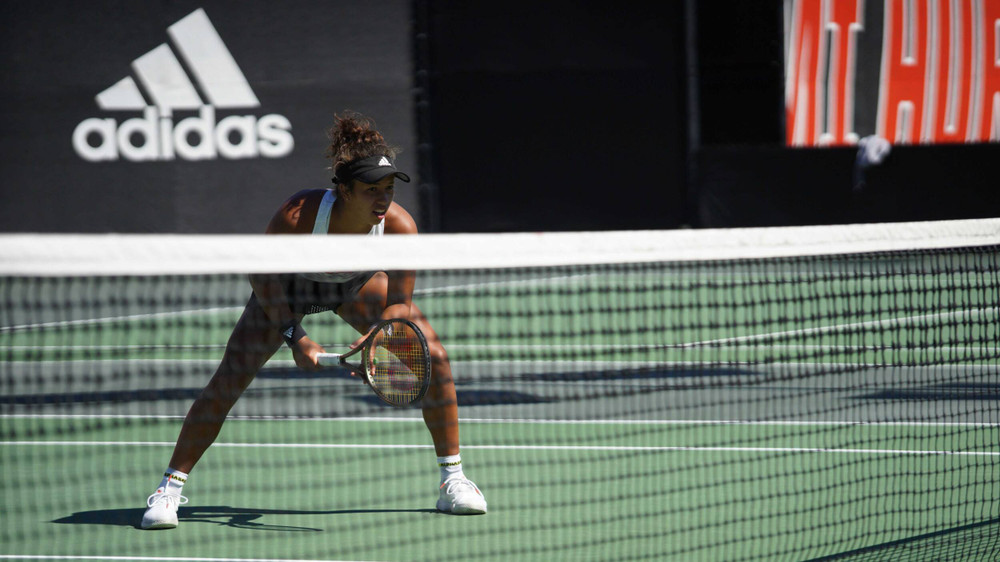 "She is just playing with so much confidence. She is playing so aggressively and is staying aggressive in the big moments," Yaroshuk-Tews said. "She executing when it is time to kind of separate herself in a match. She is not digging herself into many holes. She is maturing. She is developing. She is getting better, which is what you need a kid to do who has been in your program for four years."
Achong has continued to progress as the spring has gone along and Miami is now at roughly the midpoint of the season.
The Hurricanes have been superb so far. They have doubled their national ranking and beat three top-20 teams, while both their setbacks came in 4-3 fashion away from home against top-15 foes.
Overall, Yaroshuk-Tews likes where her team is at through roughly two months of competition.
"I think we're definitely tough. We can play with the top teams in the country," she shared. "But with that being said, you need to stay humble and understand that every tier can be kind of interchangeable in any moment, any day, any situation. We've got to keep the energy going and the mindset going. There is a long season ahead of us."
Up next for Miami is a rivalry showdown with No. 61 Florida State. Action is slated for Friday at noon at the Neil Schiff Tennis Center.
The Seminoles are 6-5 (1-3 ACC) on the season. They feature one ranked singles player in No. 16 Petra Hule and one ranked doubles duo, with Hule and Lesedi Jacobs at No. 39.
"I think [Florida State provides] the same challenges that any solid team in the ACC presents," Yaroshuk-Tews said. "They're solid up top. They're tough down low. They always want to beat us; it's a big match. I think that the juices kind of get flowing when you play Florida State."
It is, of course, always a big deal when the Hurricanes and Seminoles square off, whatever the sport may be.
Miami is 36-9–with one match left unfinished due to weather–all-time against Florida State, including 15-2 at home. In the most recent meeting, the Hurricanes upset the sixth-ranked Seminoles, 4-1, in the ACC Championship quarterfinals in Rome, Ga., on April 23, 2021.
Despite the significance of the in-state showdown, Yaroshuk-Tews will not address that with her team. Instead, understandably, she wants them to approach it just as they would any other match.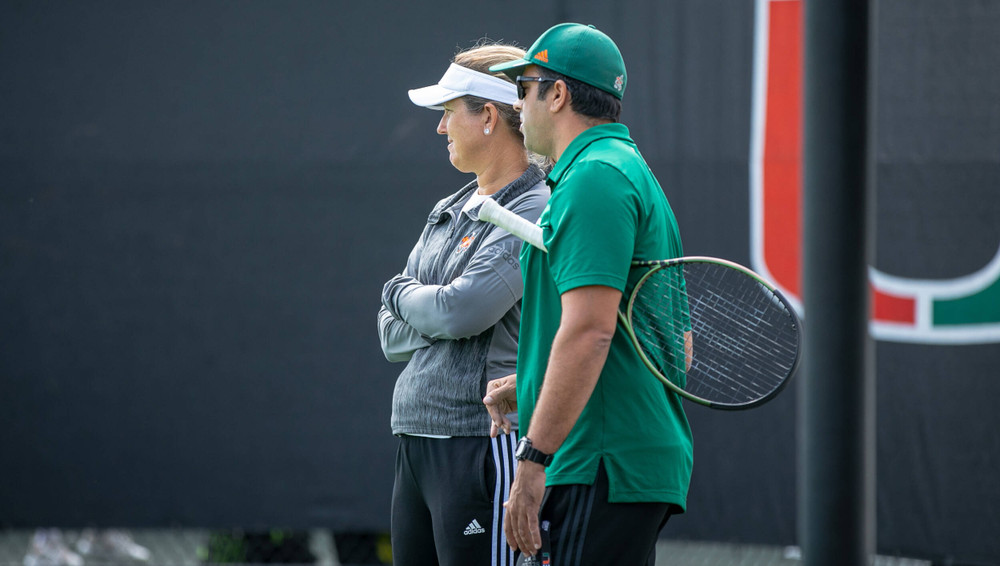 "I think the way we look at it in tennis is that every match is a rivalry. We want to beat everybody in the ACC," Yaroshuk-Tews said. "We want to put ourselves in the best position to try to host and to try to get the highest seed we can in the tournament. So, I think every match is kind of a super important match in terms of our intensity and our desire to beat our opponent. It's really not something I'm going to focus on."
The first 100 fans in attendance at Friday's match will get a free drink from Smoothie King. Yaroshuk-Tews is hoping folks will take advantage of the opportunity to see not just her team in action, but also the Miami men's team during a big-time twin bill at the Neil Schiff Tennis Center.
"I think we're going to have great tennis, beginning with our match at 12 and followed by the men's match [against North Carolina] at 5," she said. "It's not often you can see two big ACC matches in your backyard. So, I think it will be a great afternoon of tennis. Hopefully we come away with the 'W.'"
The Hurricanes head into the match with three ranked singles players in Achong at No. 56, Richardson at No. 58 and sophomore Isabella Pfennig at No. 112. In doubles, Miami has two ranked duos, with Achong and Richardson at No. 16, followed by third-year sophomores Diana Khodan and Maya Tahan at No. 72.
Live stats for the Hurricanes' Friday matinee against the Seminoles will be available HERE.
To keep up with the University of Miami women's tennis team on social media, follow @CanesWTennis on Twitter, Instagram and Facebook.