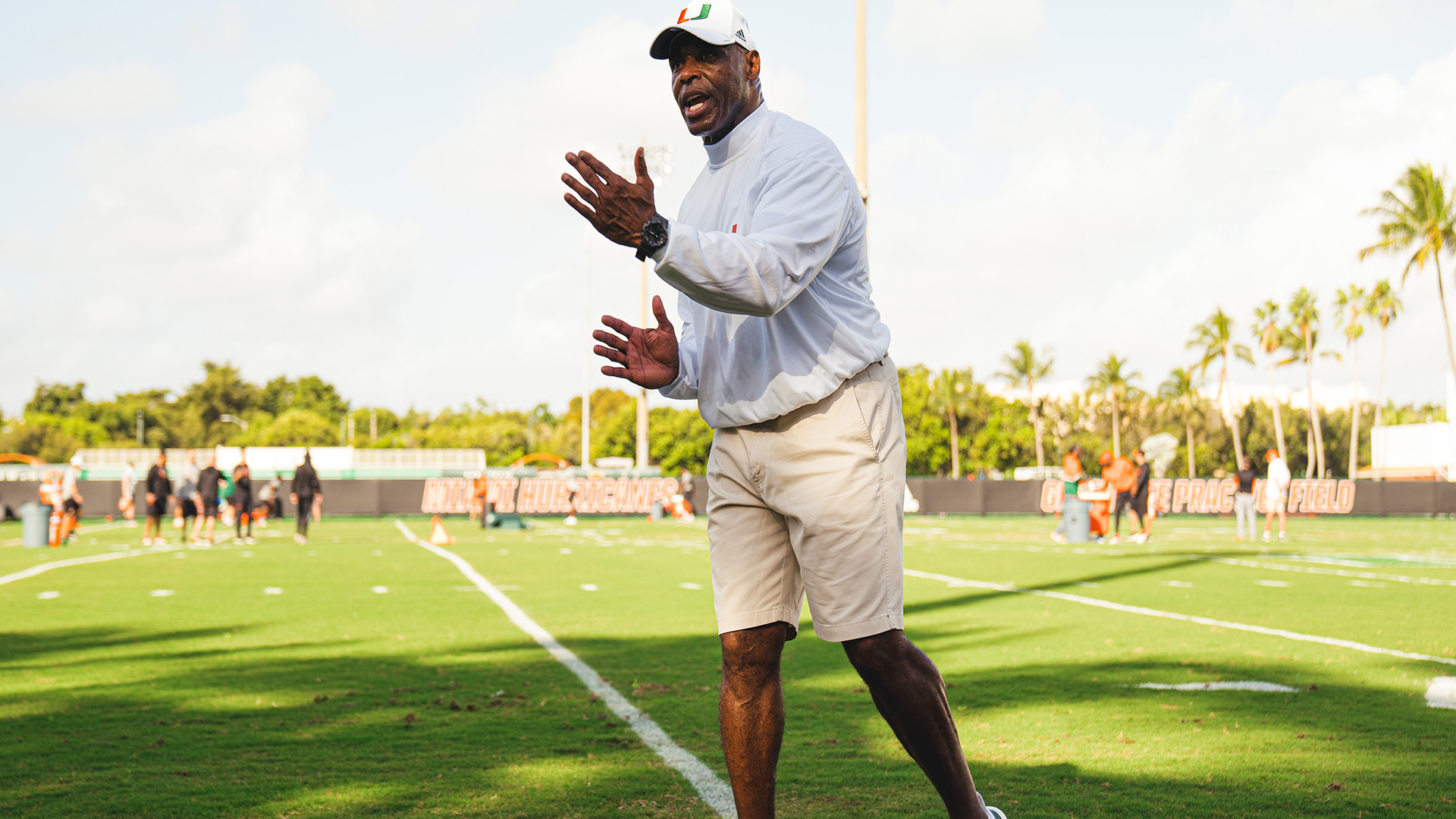 CORAL GABLES, Fla. – Their paths had crossed more than a few times. They'd engaged in their share of battles on the recruiting trail. But through it all, the respect was always there.
So when Hurricanes head coach Mario Cristobal reached out to Charlie Strong and offered the veteran coach the opportunity to join the Miami staff, Strong was more than intrigued.
He was ready to head to Coral Gables and help Cristobal do the work needed to help the Hurricanes return to the pinnacle of college football.
"I think whenever a coach has the chance to come back to where he actually played, it's an advantage in that you can put together an unbelievable staff because you're going to believe in you because of where you are," said Strong, who joined the Hurricanes last week as their co-defensive coordinator and linebackers coach. "His record speaks for itself.
"Then you just look at the excitement around the program right now. Everyone is so excited and when you gather that excitement, the players realize it and they work a little harder, which they're doing right now. When you think about a staff, you think about the chemistry and…he did a really good job of taking his time and hiring his staff. He's put together an excellent staff."
Strong, no doubt, adds his own bit of experience and know-how to that staff.
A two-time conference coach of the year, he was most recently with the NFL's Jacksonville Jaguars as an assistant head coach and linebackers coach. He's spent 10 years as a college head coach working at Louisville, Texas and the University of South Florida.
Eighteen of his 38 years of college coaching experience have come at programs within Florida and with his ties, he's widely recognized as one of the state's powerhouse recruiters.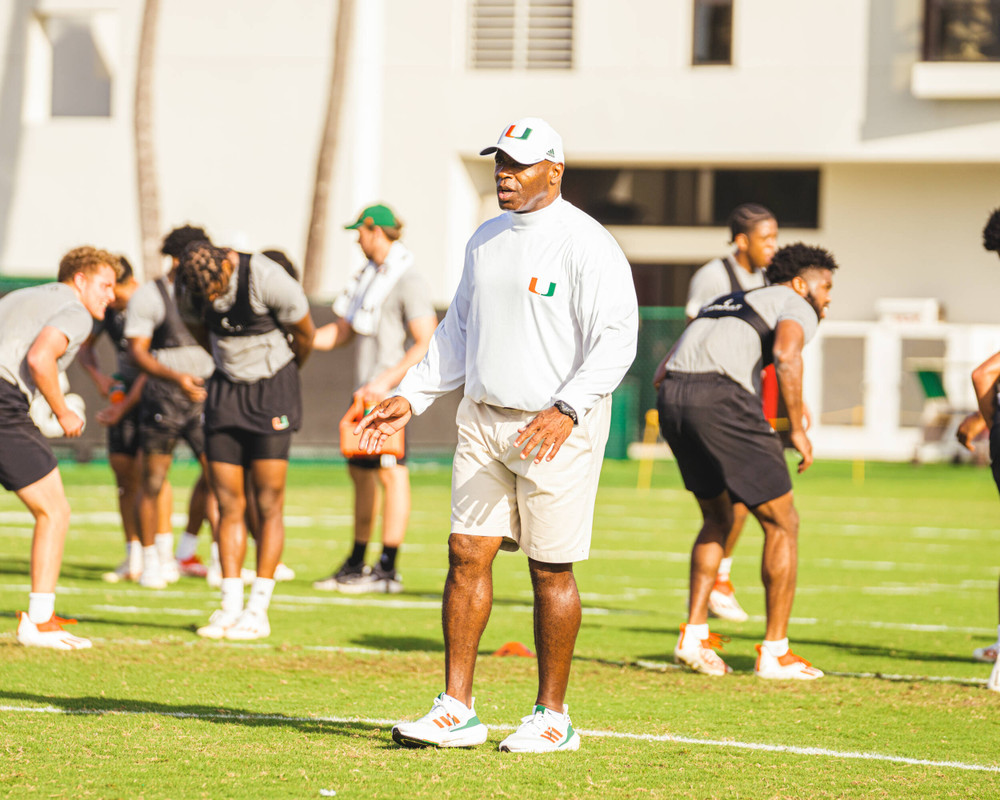 As word spread about his joining the Hurricanes, Strong joked his phone got a little busy.
But even that, he notes, was a sign of respect for Cristobal and the Miami program.
"When you see that happen, when everyone is calling you, you know they respect the program and they know what can happen here once we get it going," Strong said. "It's a really special moment for me. Whenever you go into a program, you always look at 'Do I have a chance to be successful? Are we going to have the support that we need?' And that's what you're getting right now. You look at the history – a foundation has been laid here.
"It's the championships over the years. The great players over the years…Everybody wants to see this program take off and everybody expects for this program to be at a different level. That's what we're doing. We want to get the program back to that respectability, get it back to that high level where people watch us play and it's fun to watch."
Though Strong and the Hurricanes are just days into spring drills, already the players he's coaching have made an impression.
He saw some of the work the group did during Miami's fourth quarter program in the offseason. He's watched them push each other through the Hurricanes' first two days of practice. And in meetings, he's discovered a group of playmakers hungry to grow.
"I've had a chance to watch the film on some of the players and to see [the] fourth quarter [program] and you just love their overall attitude right now," Strong said. "I had a conversation with a young man the other day and I just said to him, 'Listen, this is a whole new coaching staff. Everyone is kind of starting from zero. It's all about work now and your attitude and what you're willing to put it into it. Make a commitment and go be the best. Put in the work each and every day and good things will happen for you.' And I think it's happening in the weight room. I think it's happening on the field."
Making it easier for Strong to connect with the Hurricanes is the fact that he arrived in Coral Gables already familiar with so many of them.
He met several during the recruiting process at some of his previous stops.
Now, his mission is to get to know those players and their strengths even better and connect with them in a way that will help them succeed on and off the field.
"I'm very fortunate to have been a head coach and I've coached at some outstanding places. My approach is that it's all about the players. What you want to do is build a relationship with them and just teach them about fundamentals, fundamentals of the game and fundamentals of life," Strong said. "I think when players know how you feel about them…everyone always says if someone knows you really care about them, they're going to give you everything they've got. You want them to feel that at any time, you're very approachable. Guys understand that when we go to work, it's all about business. And when we sit around, we're going to have a lot of fun. You want them to enjoy being a part of something special, coming to work each and every day, but knowing they can also have fun."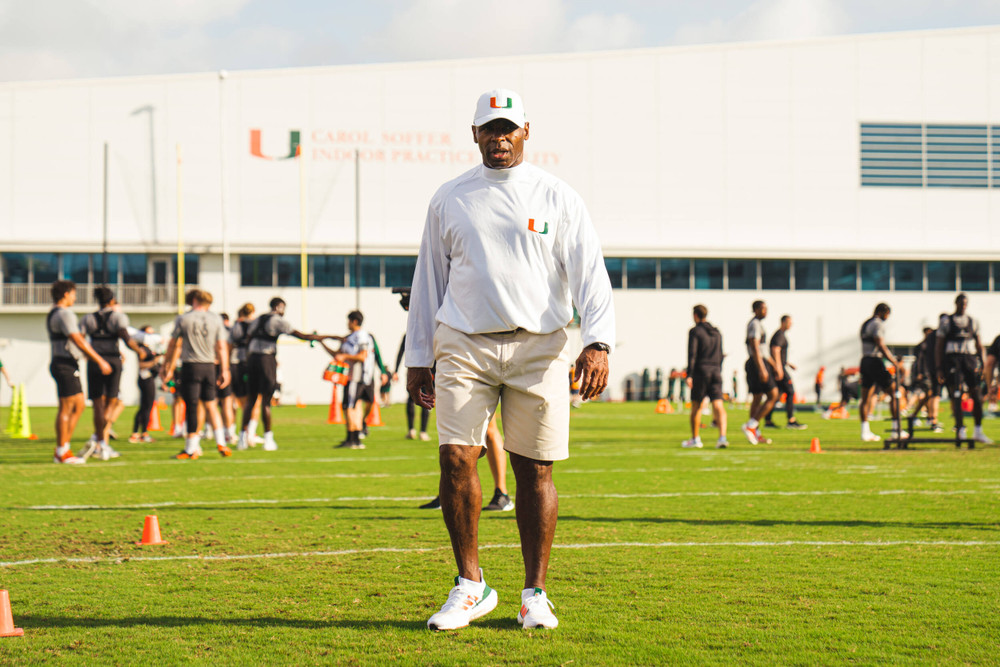 Winning, Strong knows, can have a significant impact on the fun the Hurricanes can have.
And like Cristobal and the rest of the Hurricanes coaches, he understands the responsibility that comes with coaching at a program rich in tradition like Miami.
His goal, he says, is to help a new generation of Hurricanes linebackers add their names to the list of greats that have come through "Linebacker U."
"You think about Ray Lewis. You think about [Jon] Vilma. You think about Dan Morgan. Last year, I was in Jacksonville and I had Shaq Quarterman. Those are just a few of the backers here. There's a long list…but you think about that and it has always been 'Linebacker U,'" Strong said. "When people think about Miami, they think about all those great linebackers and that's what we have to get it back to. Just playing at that level and getting guys in the program that want to be successful; guys that are looking at it as 'Coach, how are you going to make me better and how am I going to be able to get where I want to get to?' and that's where you as a coach have to provide it for them."