The Hurricanes are making their first ACC Tournament semifinals appearance since 2017 after downing the second-seeded Louisville Cardinals, 61-59, on a buzzer-beater from graduate student Destiny Harden, Friday night at the Greensboro Coliseum. Miami is set to face third-seeded Notre Dame at 2:30 p.m. on Saturday. The game will air on ACC Network with Beth Mowins and Debbie Antonelli on the call.
Miami fell short of the Fighting Irish earlier this season, facing a 69-53 defeat in South Bend, Ind. Graduate student Kelsey Marshall led the way with 18 points, including six 3-pointers in the contest.
Notre Dame has dominated the all-time series between the two schools, holding a 22-5 advantage and winning eight of the last 10 meetings. Of the Hurricanes' five wins against the Fighting Irish, two have happened under Katie Meier.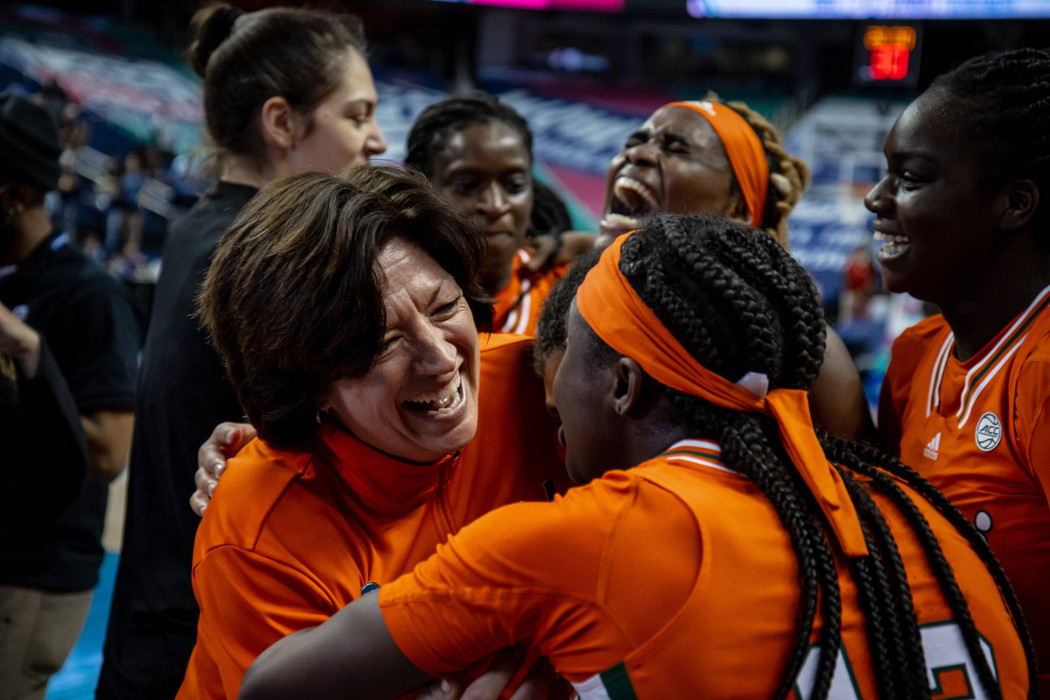 ACC TOURNAMENT NOTES
The Hurricanes are 10-17 all-time in the ACC Tournament and 3-6 in quarterfinals games.
Miami has only been the seventh seed once before and won two games in the tournament before facing a 57-52 loss to third-seeded Duke in the 2017 ACC Tournament.
This will be the first meeting between Miami and Louisville in ACC Tournament history.
Fourteen of Miami's 27 ACC Tournament games played have been decided by single-digits
"I thought it was an amazing regular season. It was as difficult as it has ever been to get conference wins because, while our top teams are good, the middle pack is great, too. I'm happy to not being playing on the first day. We've fought and clawed our way back from adversity this season and we are in a good spot." – Head Coach Katie Meier
COMING IN HOT
The Hurricanes roll into the ACC Tournament with some momentum having won five of their last six games. All five wins were double-digit victories for Miami and two were over top-50 NET teams. Miami has shot better than 40 percent from the field in six straight games and eight of its last 10 contests.
The Miami bench recorded a monster performance on Sunday, totaling 38 points in the game against Clemson. That is the second-most points by the Hurricanes' reserves this season (48 vs. Robert Morris). Miami's bench has totaled 20-plus points in half (14) of its game this season. 
A pair of Hurricanes collected All-ACC honors Tuesday as Ja'Leah Williams was named to the All-Freshman Team and Kelsey Marshall earned All-ACC Team honorable mention status. Williams becomes just the fifth Hurricane to earn ACC All-Freshman Team honors, joining the likes current assistant coach Shenise Johnson, current teammates Mykea Gray and Kelsey Marshall and 2017 graduate Adrienne Motley.
KEYS TO THE GAME
Good things happen for the Hurricanes when they:
Score 65 or more points (10-2)
Keep opponents under 60 points (14-3)
Have the lead at halftime (15-2)
Outrebound their opponent (12-2)
Dish 15 or more assists (8-2)