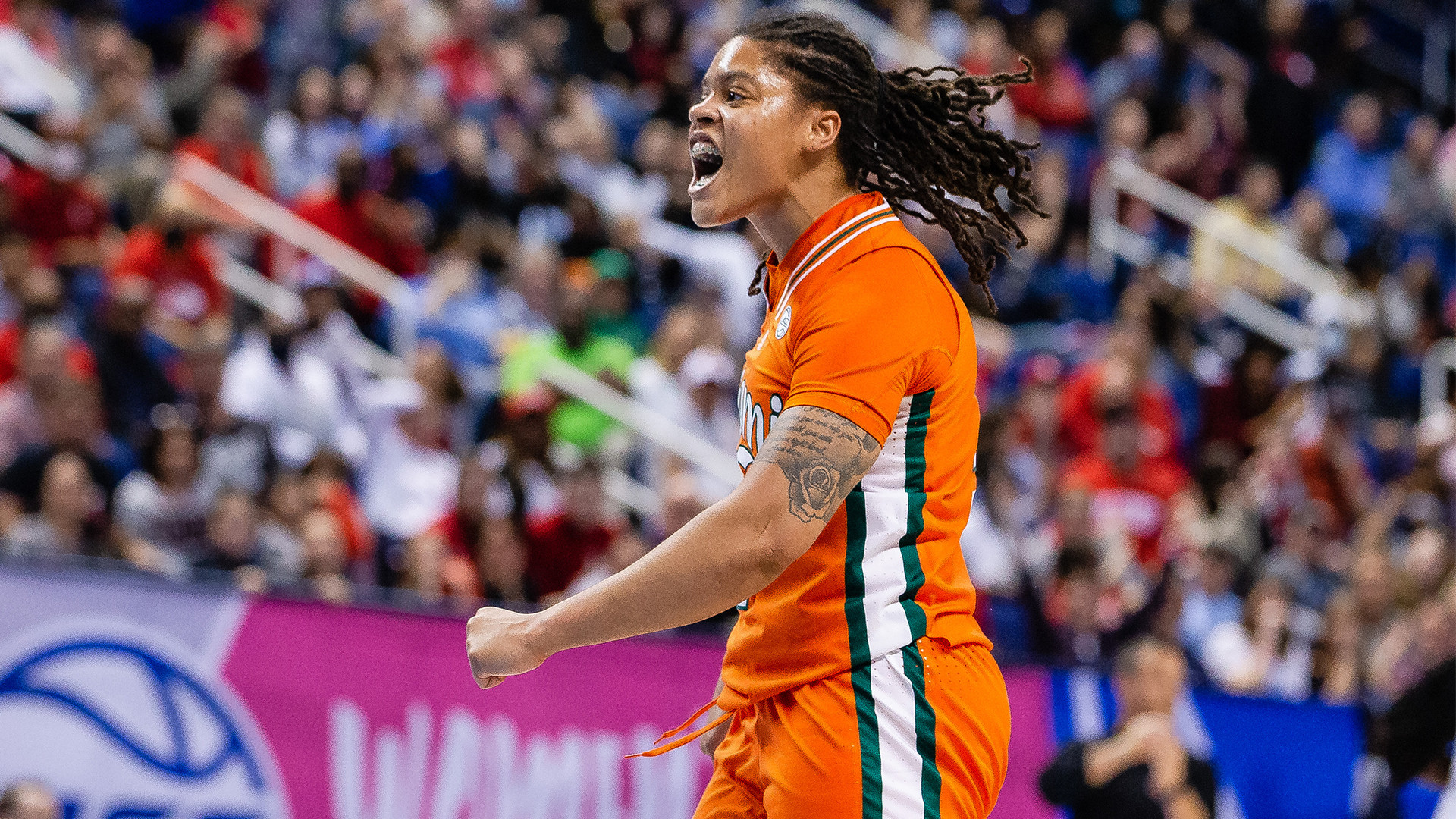 Katie Meier, the winningest basketball coach in Miami history, has seen plenty in her career.
She's coached five All-Americans. Led Miami to seven NCAA Tournament berths. Won a gold medal as a coach for Team USA U-19 team. And her name is etched in the record books at Duke, her alma mater, where she still ranks among the school's all-time leaders in scoring average, steals, free throws made and free throws attempted.
But never had Meier witnessed anything like what Destiny Harden did on Friday night.
Yes, it was Harden's buzzer-beater that lifted the Hurricanes to a 61-59 win over No. 4 Louisville in the quarterfinals of the ACC Tournament and gave Miami its first win over a top-five opponent since they beat the then-second ranked Cardinals in 2019.
But everything that came during the game's final five minutes was plenty remarkable, too.
There was a Harden 3-pointer with 32 seconds left that tied the game at 59. Harden converting on a 3-point play with 1:06 that cut Louisville's lead – which was as high as 16 points early in the fourth – to just three. And a Harden 3-pointer with 4:02 left that started one of the most dominant stretches by a Hurricane in program history.
Harden scored 15 straight points and, combined with the Hurricanes' suffocating defense, gave Miami (19-11, 10-8) a win that seemed all but improbable early in the fourth quarter.
"The performance by Destiny Harden is one for the ages," Meier said. "It's one for the ages."
Said Harden, "I just think it's March basketball and you've got to do everything you've got to do to win. It's either win or go home and we're not ready to go home yet."
Because of Harden, no, the Hurricanes won't be returning to Miami just yet.
There's at least a semifinal game to play in the ACC Tournament in Greensboro, where the Hurricanes will on Saturday face third-seeded Notre Dame, which advanced with a 71-53 win over sixth-seeded Georgia Tech.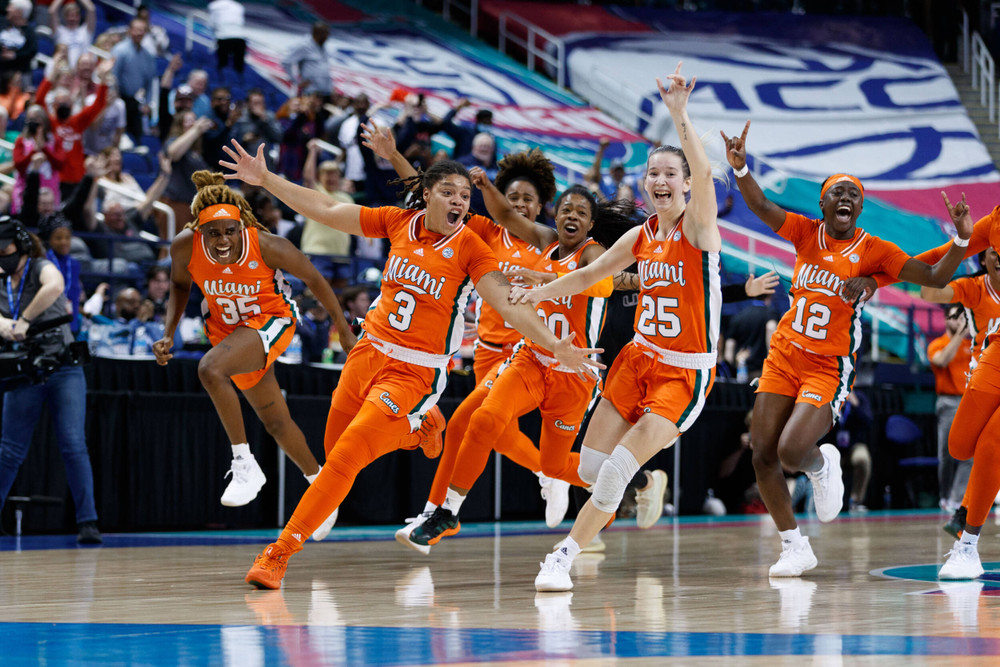 But more importantly, the Hurricanes' win over the fourth-ranked Cardinals likely helped ensure Miami's berth in the NCAA Tournament, something Meier couldn't help but joke about shortly after the game ended.
"Safe to say we're off the bubble?" she asked with a laugh.
If they are, indeed, headed to the NCAA Tournament, the Hurricanes will take with them not just the sharp-shooting Harden, who tied her career high with 27 points on Friday, but a defense that held Louisville (25-4, 16-2) scoreless in the game's final 5:44 and forced five turnovers during that stretch.
Harden also gave the Hurricanes a team-high 10 rebounds, while Naomi Mbandu added 10 points in the win.
"Just the will to win. I'm going to do whatever it takes to win the game," Harden said. "Whether it's scoring or rebounding, I'm going to do whatever it takes. I'm just a team player and my team believes in me to take any shot, so I just did and came out with a good result."
It was a shot, and a result, that set off a wild celebration.
Harden sprinted off the court and toward the locker room moments after the game-winner fell, her teammates gleefully following behind. And their coach was left in complete awe.
"I lost my composure, I did. Going through my mind when the ball was in the air, I actually didn't think it was good and I'm thinking 'Okay, overtime,' and then it went in and I was like 'Oh, my God, I think we just won. We just won," Meier said. "It was funny. When we went off the court, one of the people that I ran into was [former Notre Dame coach] Muffet McGraw and I thought, 'Well, that was kind of like that Arike Ogunbowale turnaround jumper [from the 2018 Women's Final Four]. I had those two thoughts."
But when the dust settled Friday night, Meier made it clear the Hurricanes weren't finished, noting there was still more work to do.
For her part, Harden says she and Miami are ready for whatever may come next.
"I think with this squad that we have this year, we're very blunt with each other, so we can literally say anything we want, whether it's positive or negative and they don't take it negative because we know our role on the team this year," Harden said. "Once we keep on talking with each other and nothing goes too hard, [we do] anything to win the game."