Ready to Reshape a Defense
CORAL GABLES, Fla. – During his remarkable 40-year career, Kevin Steele has worked at some of college football's biggest big-name programs. He's coached beside Hall of Fame legends.
But when the dust settled recently and he let himself think about his next opportunity, the veteran coach couldn't help but smile and relish in the moment with his wife, Linda.
"Just complete childhood excitement," said Steele, who earlier this week joined head coach Mario Cristobal's staff as Miami's defensive coordinator. "I wasn't expecting it necessarily because I did it for Coach Cristobal, the University of Miami, [and] the players that were here. But when it was all done, I had an excitement and I think that excitement comes from the fact that I know Miami football. I've seen it. And it's special when it's rolling."
Steele is now one of those entrusted with helping the Hurricanes get back to that special place, back to the pinnacle of college football.
He understands exactly what that means. And he knows the expectations he now faces.
As a linebackers coach at rival Florida State under Bobby Bowden, Steele saw, up close, how physical and dominant Miami defenses could be. And as the former linebackers coach with the Carolina Panthers while both Micheal Barrow and Bubba McDowell were on the roster, Steele quickly learned firsthand about the brotherhood that is Hurricanes football.
The chance to be part of that brotherhood and to work with Cristobal in reshaping the Miami defense are two of the major reasons Steele – a former defensive coordinator at Alabama, Clemson, LSU and most recently Auburn – now finds himself in Coral Gables.
And only days into his tenure with the Hurricanes, the veteran coach sees potential in both the players already on Miami's roster and in the talent-rich area that surrounds Miami's campus.
"We have two prongs. We're feverishly in the process of talent acquisition and recruiting, in terms of putting the University of Miami football program in the laps of the young men that are looking for a place to grow and launch their careers both on and off the field," Steele said. "So that's going on. But the real nuts and bolts early in the process is, now we have young men here that have already made the choice to come here and they made it for the right reasons. To help them be successful, we're working at this present time to put, schematically, the defense together, put them in the right place and help them understand the work ethic. That's not a buzzword. The grit, the toughness, the ability to fight through adversity, the ability to be comfortable with being uncomfortable so that when we're in a place on the field and we have an opponent, that they know they played the University of Miami.
"And then when they're off the field, they know what it's like to be a Cane football player, a Cane student-athlete and earn a degree from the University of Miami."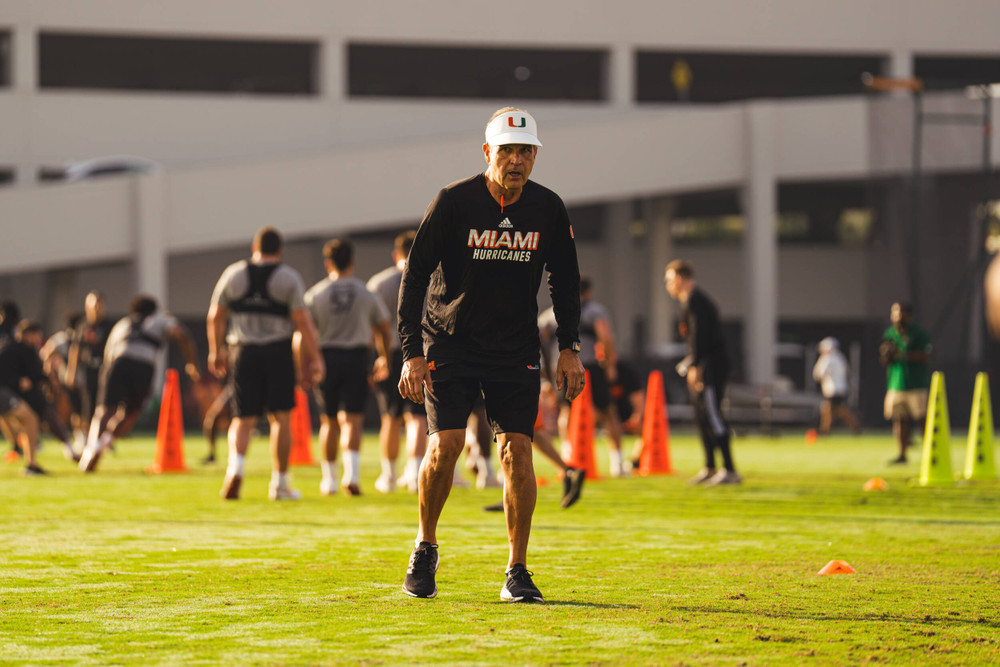 As to his vision for the Miami defense, Steele says the Hurricanes will run a 4-3 scheme and his players will have "speed on the field, relentless effort [and] physical and mental toughness."
Tackling will be a focus, and, Steele says, if the Hurricanes can put all that together, they can have the kind off success some of his past defenses have had.
At Auburn, where Steele served as defensive coordinator from 2016-2020, the Tigers produced 14 NFL draft picks, including multiple first-rounders. And in 2017, when Steele was named a finalist for the Broyles Award – which is given annually to the nation's top assistant coach – Auburn ranked 14th nationally in total defense (319.4 yards per game) and 11th in scoring defense (18.5 points per game). That season, the Tigers allowed just 4.67 yards per play, which was eighth-best nationally.
In his first season at Auburn, the Tigers ranked seventh nationally in scoring defense (17.1 points per game) and 28th in total defense (361.9 yards per game) – an improvement of 43 spots over the previous season when Auburn ranked 71st in the nation in total defense.
Steele will now look to replicate that kind of success at Miami. And he's already confident in the players he'll be working with in the coming days, weeks and months.
"The work that we've put in so far, the time I've been around them, they have a tremendous will to do what we just say. They're eager to learn," Steele said. "They're very teachable. Very teachable. And they have an attitude. There's leadership there. So we've just got to keep working them so they get comfortable with being uncomfortable."
As intrigued as he is by Miami's potential and as much as he respects Miami's past, the other major factor that came into play when Steele decided to join the Hurricanes was the chance to reunite with Cristobal, whom he worked with at Alabama.
He believes that with Cristobal at the helm of Miami's program, the Hurricanes will be a national force again, sooner rather than later.
And Steele wanted to be a part of that.
"Why Miami and why now? It is really very simple for me. I have seen The U on the helmet up close and personal many times and the greatness of that, that was a factor," Steele said. "The deciding factor actually was coach Cristobal. Our friendship goes back before [he coached] at FIU, when he was an assistant and then we coached together at the University of Alabama and we were close there. I know what makes him tick. I know about his tremendous work ethic. That word gets thrown out as a buzzword by a lot of people. 'Hey, let's go to work.' But he's relentless with his work ethic. It's fun to him. So he does it in recruiting. He does it in motivation of players. He does it in life skills outside of football, off the field for the players. He invests in the program and the players in a major way and so my belief in him, it was easy."