"It's Helped Shape My Journey"
CORAL GABLES, Fla. – DJ Ivey didn't exactly grow up immersed in the world of Black Greek letter organizations, nor did he know very much about the Divine Nine, the group of African-American fraternities and sororities that make up the National Pan-Hellenic Council.
But, a close friend pledged a fraternity – Kappa Alpha Psi – at Jackson State, and Ivey was intrigued by his experience. One of his mentors had a similar story. His principal at South Dade High School did, too.
And so, though he already had plenty on his plate as a cornerback on the Hurricanes' football team, Ivey opted to try and learn more about the fraternity and its work on the Miami campus.
It didn't take long for him to discover a group where he felt as comfortable and welcomed as he was when he first walked into the locker room he shared with his brothers on the football field.
Ivey eventually joined Kappa Alpha Psi himself and today, the junior from Florida City hopes his journey can inspire some of his fellow student-athletes to know they too can have a place in a Black Greek letter organization if they so choose.
"The elders and what they did in the community for the people, how they brought up the fraternity, that's what I loved most of all about it," Ivey said. "It's a lifelong brotherhood and it was the fraternity that fit me the most. It's the greatest frat in the world."
As much as he's enjoyed his experience as a member of one of UM's Black Greek letter organizations though, Ivey acknowledges he's had to make sure he manages his time in order to give his best in all of his on-campus endeavors.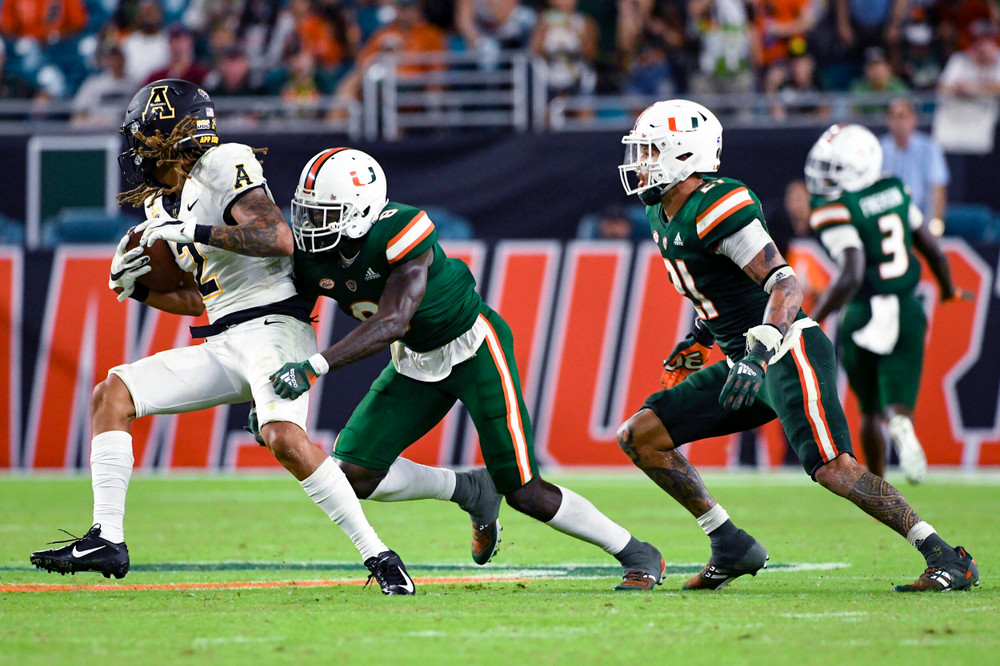 To join Kappa Alpha Psi and remain a member, he's surpassed the organization's 2.5 minimum GPA requirement, working to keep his average at a 3.2. When he served as the organization's exchequer, he was primarily responsible for managing the fraternity's finances.
And of course, he's had to make sure he's at workouts, practices, film sessions, tutoring sessions and more as a member of the football team.
But, Ivey points out, all the work he's had to do has been worth it, especially since both the Hurricanes and his fraternity brothers have provided plenty of support along the way.
"I made it a priority just because it's something I wanted to do," said Ivey, who graduated last spring with a degree in sociology and is now pursuing a master's degree in public health. "Since I stepped on campus, it's just been my dream to become a part of this fraternity. It's all really [about] dedication. If you don't dedicate yourself to it, I'm not sure you'll finish through everything."
That dedication, that work and the bonds he's forged both within his fraternity and on the football team, will only lead to lifelong benefits for Ivey said Renae Myles Payne, Miami's senior associate athletic director for administration and the Hurricanes' Chief Diversity officer.
Myles Payne pledged her sorority – Sigma Gamma Rho – while competing with the track team at her alma mater, the University of Southern Mississippi. She understands some of what Ivey has faced to make his dream a reality.
But it was an experience that she says helped define her college experience – and has provided an immeasurable amount after graduation.
She expects Ivey will encounter the same once he leaves the University.
"You are never removed from the organization. He will be able to go anywhere he wants in the country and have a connection with someone," said Myles Payne, who is one of five members of the Hurricanes athletic department to have pledged one of the Black Greek letter organizations. "I've moved eight or nine times in my career and everywhere I've gone, from east coast to west coast, I've been able to connect with sorority sisters and chapters locally in the area that I've been in. It's an extended family for you when you may not have family close."
Another element of joining a Black Greek letter organization that appealed to Ivey? The sense of community, history and the impact he can have on and off campus as part of the fraternity.
All but one of the Divine Nine were founded before the American civil rights movement and were instrumental in uplifting the Black community and Black students across the country. Six were founded at Historically Black Colleges & Universities, while three – including Kappa Alpha Psi – were founded at other institutions, essentially giving Black students a way to come together on segregated campuses.
"It means a lot to me to be part of an organization like this," Ivey said. "Look at what's going on around the world. We need people to be able to stand up for one another and make things right in their communities…Just wearing these symbols, not everyone gets the privilege to wear the letters I'm able to wear. It means so much more than what it looks like."
And this fall, when Ivey and his Miami teammates return to Hard Rock Stadium to start a new season, he knows he'll continue to have a very special cheering section offering its support.
He wouldn't trade that for anything.
"Not many athletes try to approach a sorority or fraternity because they're afraid it might be too much or this or that," Ivey said. "For me, knowing they're in the stands with all my family, that's so much support and I appreciate them for it. Some of [my brothers] even text me good luck or will text me that I've had a good game. They reach out and I appreciate that.
"It's helped shape my journey and helped me become the person I am today…It's helped me see things differently. I like that."