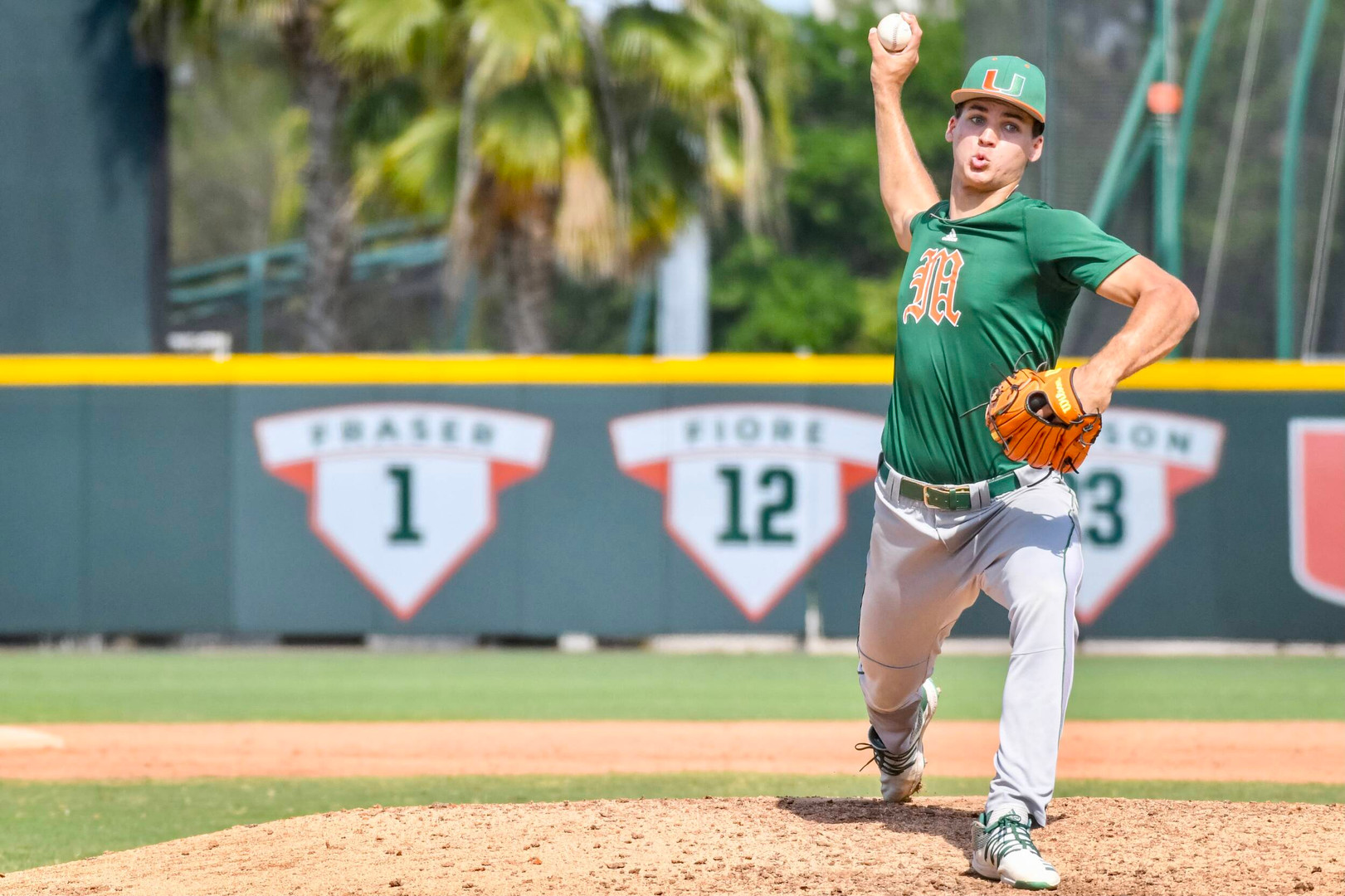 CORAL GABLES, Fla — Something clicked.
David Rossow's adjustment to the collegiate game didn't go as planned.
For the Miami Hurricanes freshman right-handed pitcher, it all changed with one swing of the bat.
"I had been having a rough fall until that point. The first batter I faced in the Orange and Green World Series took me yard. I told myself I was sick of it," Rossow reflected. "I got angry, really. I tried to throw the ball as hard as I could because I was so angry in that moment."
He harnessed his rage.
And very quickly, the Boca Raton, Fla., native became the hurler he had always envisioned.
"From that at-bat on, he's been a completely different pitcher. He's pitched with more purpose and a little chip on his shoulder," Miami pitching coach J.D. Arteaga said. "He's a big, physical right-hander with a loose arm. He has a quick arm with a lot of life on his fastball."
Rossow has always used baseball as an outlet. An escape from the real world.
So, when his sanctuary was taken away from him, uncertainty crept in.
"It's been a bit of growing pains," Rossow admitted. "There's a lot of self-doubt. It's very strenuous, physically and mentally, but I'm here for a reason. They recruited me here for a reason. That's my motivation to keep on going and keep on throwing."
Rossow first fell in love with baseball at six years old. With his family visiting St. Louis, Rossow went to his first ever baseball game, watching the Cardinals at Busch Stadium.
He remembers the crowd. The screeching call for hot dogs. The sweat expectation of crackerjacks as vendors moved through the aisles.
That first game has forever helped shape his life.
"I was up in the top, top deck. I remember seeing everything out there," he said. "I was thinking to myself I could be in rightfield right now."
Rossow immediately asked his mom if he could play baseball.
He skipped T-ball and went straight to a coach-pitch recreation league.
The more he played, the more he fell in love with the game.
As Rossow got to Cardinals Gibbons High School, he emerged as a go-to arm for the Chiefs.
In his sophomore season, Rossow helped lead his team to the state championship game.
And as he went through some of life's biggest challenges, he turned to the game he loved.
"Sophomore year of high school was really rough with friends, relationships and even family," Rossow said. We went to the state championship. I was at the tail end of all that stuff and I got to pitch meaningful innings. It just made me happy. Baseball was a distraction from all that other stuff."
The 6-foot-3, 210-pound righty hit his stride as a junior, posting a 2-0 record with a 1.85 ERA and 21 strikeouts in the shortened 2020 campaign.
After his breakout season, Rossow started to garner attention from the next level. He spoke to coaches from FAU, and Northwestern, among others.
But Rossow's dream was to don the orange and green.
Growing up as a Hurricanes fan, Rossow couldn't have pictured himself anywhere else. Despite an unconventional recruiting process due to COVID-19, as soon as he developed a relationship with Miami's coaching staff, the rest was history.
"I never had an official visit or even an unofficial visit here. Everything I did was on Zoom," he said. "This was really the place. This is the best place I could've come to. "They were always reaching out and they were always checking in with me."
He finished his high school career with a 2.65 ERA and 101 strikeouts across 84.2 innings pitched, earning 4A-14 All-District recognition in each of his last two seasons.
And since arriving on campus as a Hurricane, Rossow has continued to develop both physically and mentally on the mound.
"He's shown signs and thrown very well. For him, command, movement and pitching with intensity is going to be his key," Miami head coach Gino DiMare said. "That day lit something inside of him. He pitched very well after that. He needs to carry that mentality of no fear and going after hitters."
Rossow has carried his new mentality and confident approach to the Hurricanes' spring scrimmages.
And when he gets his first opportunity to pitch wearing Miami across his chest, Rossow's road will come full circle.
"It still hasn't hit me. This is one of those things that is so huge, I might never know what it feels like," he said. "I'm going to be so nervous, but I'm going to be having so much fun at the same time. I just want to go out there and pitch."