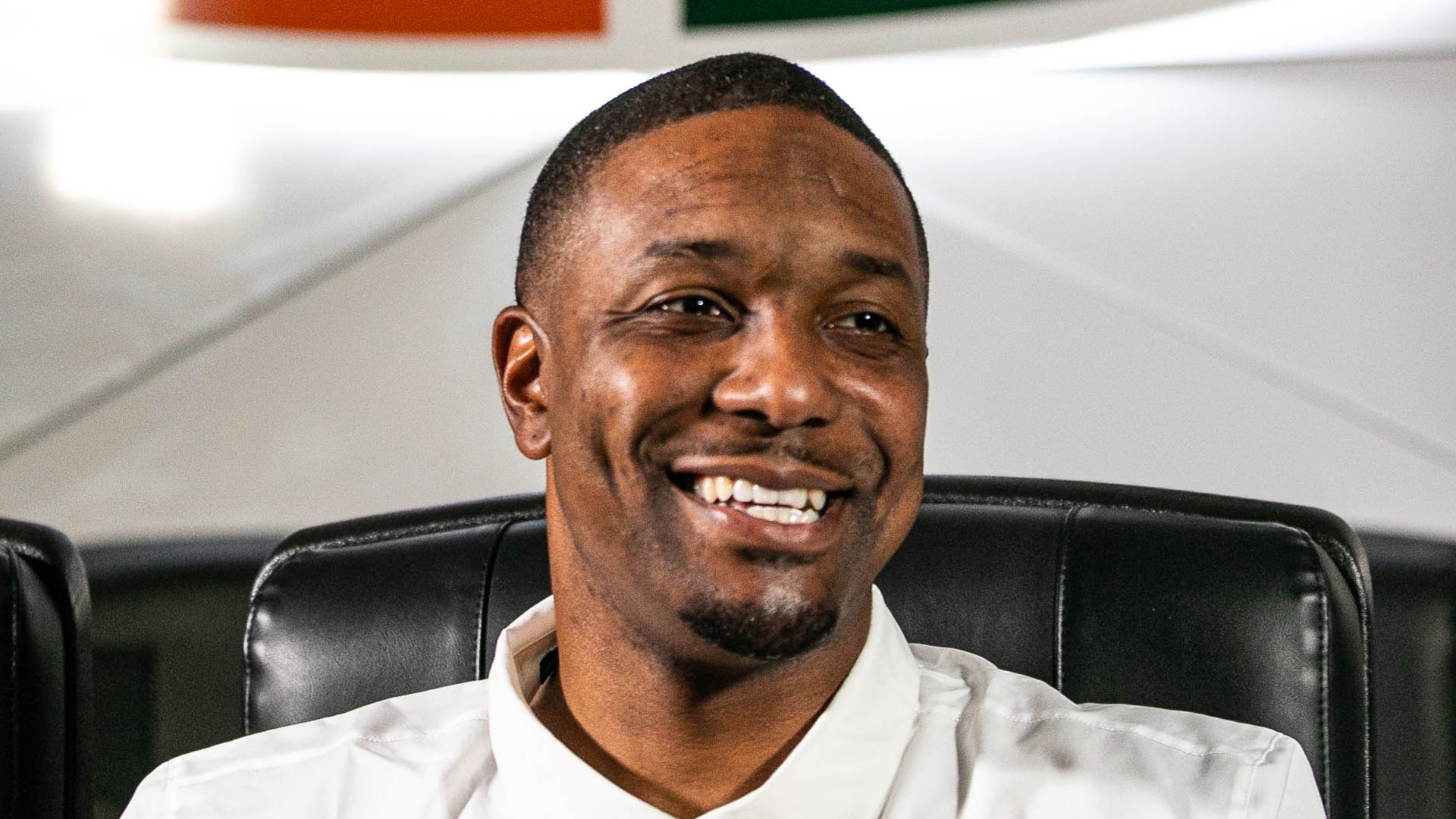 CORAL GABLES, Fla. – Football has been a part of his life for as long as he can remember.
No, his father didn't let him play right away. But still, Bryan McClendon couldn't wait to get on the field; couldn't wait to find his place in what was sort of shaping up to be the family business.
"I used to bug him to death about being able to play the game," McClendon recalled with a laugh. "When he finally let me play, it was just like 'Ah, man, this is the best thing ever.'"
It's only gotten better.
McClendon, the son of former University of Georgia great and former Chicago Bears running back Willie McClendon, went on to become a standout at Benjamin E. Mays High School in Atlanta. He'd eventually have his own stellar career at Georgia, where he won 44 games and played for legendary coach Mark Richt.
His two brothers played college football, too and McClendon spent some time with the Chicago Bears before pursuing a coaching career.
His football journey has taken him from Athens to South Carolina and to Oregon.
It's now brought him to Miami, where Hurricanes head coach Mario Cristobal has entrusted McClendon with coaching and mentoring a new generation of top-flight receivers at a program where so many have starred.
That's not an opportunity McClendon takes for granted, particularly given all the game has given him.
"You just feel honored to get trusted to get asked to do that," said McClendon, who will serve as Miami's co-offensive coordinator and wide receivers coach. "You know this is a program that literally can attract the best of the best out there. When Coach [Cristobal] asked me to do that, you just feel honored you have his trust. You want to make sure you work your tail off to make sure you're doing everything so not just you can be successful or the program can be successful, but for him to be successful as well…
"The reputation of the program definitely precedes itself. [It's] definitely a program with such a storied past. And what it's meant to the college football landscape in general, you feel an honor in having an opportunity to be here…That's probably the first thing that hit me coming down here."
And though he hasn't been in South Florida all that long, it hasn't taken McClendon long to see some of the other advantages that come with coaching at Miami.
First off there's the talent, both in and outside of the building.
The Hurricanes already have a special group of young receivers in the building with Xavier Restrepo, Romello Brinson, Jacolby George, Brashard Smith and Key'Shawn Smith.
And then there are the highly touted prospects across Miami-Dade, Broward and Palm Beach counties that McClendon has gotten to know during his career, one that included him being named the National Recruiter of the Year by 247Sports in 2014 during his time at Georgia, where he worked first as running backs coach and later as receivers coach under Richt.
"You know how rich the state of Miami is, so to speak, as far as talent just everywhere. You want to make sure you're doing all the due diligence you can, first and foremost," McClendon said. "When the University of Miami has been at its best, most of the roster and most of their starters came from this area. You look out there at college football and the teams that are playing in the College Football Playoff and they've gotten a lot of their starters from this area.
"You want to make sure those guys know and understand that all their dreams and goals and aspirations, both on and off the field, can and will get accomplished if they stay here."
After nine years at Georgia where he worked with the likes of Nick Chubb, Todd Gurley and Sony Michel, among others, McClendon went on to South Carolina where he'd serve as wide receivers coach and offensive coordinator.
There, he mentored eventual 2021 NFL Pro Bowl Selection Deebo Samuel of the San Francisco 49ers, who returned from a season-ending injury in 2018 to finish second in the SEC with 11 receiving touchdowns. Samuel went on to become a second-round pick by the 49ers in the 2019 NFL Draft.
After four seasons at South Carolina, McClendon joined Cristobal's staff at Oregon in 2020 as the wide receivers coach and passing game coordinator. Last season, the Ducks posted a 10-4 mark, finished 7-2 in conference play and made their third straight appearance in the Pac-12 Championship Game while averaging 423.6 yards per game.
At every stop on his coaching journey, McClendon has tried to learn much as he could from the coaches around him – including Richt, a former Miami quarterback and Hurricanes head coach.
All of that, he believes, will only help him as he begins his own work at Miami.
"I think everybody's a sum of the things that they've been through and the people that have poured into their lives," McClendon said. "I've been fortunate to be able to do that, to draw on experiences and everything from begin teammates with Devin Hester up there with the Chicago Bears to experiencing all the great coaching guys poured into my life from my college coach to my professional coach to my youth league coach [who] I still talk to all the time. I think just being able to draw from all those experiences and just making sure that those guys can draw and be as blessed from our interaction as I was with the coaches that poured into me…
"That's really what I'm focusing on and making sure I can be as a blessing to those guys as they are to me…I'm one of those people that I just pour myself into the task at hand. I pour myself into being the wide receiver coach here and being the co-offensive coordinator here and I want to be the best one of those out there in the entire world. That's what I'm looking to bring, that same energy to making sure I'm accomplishing that every single day."