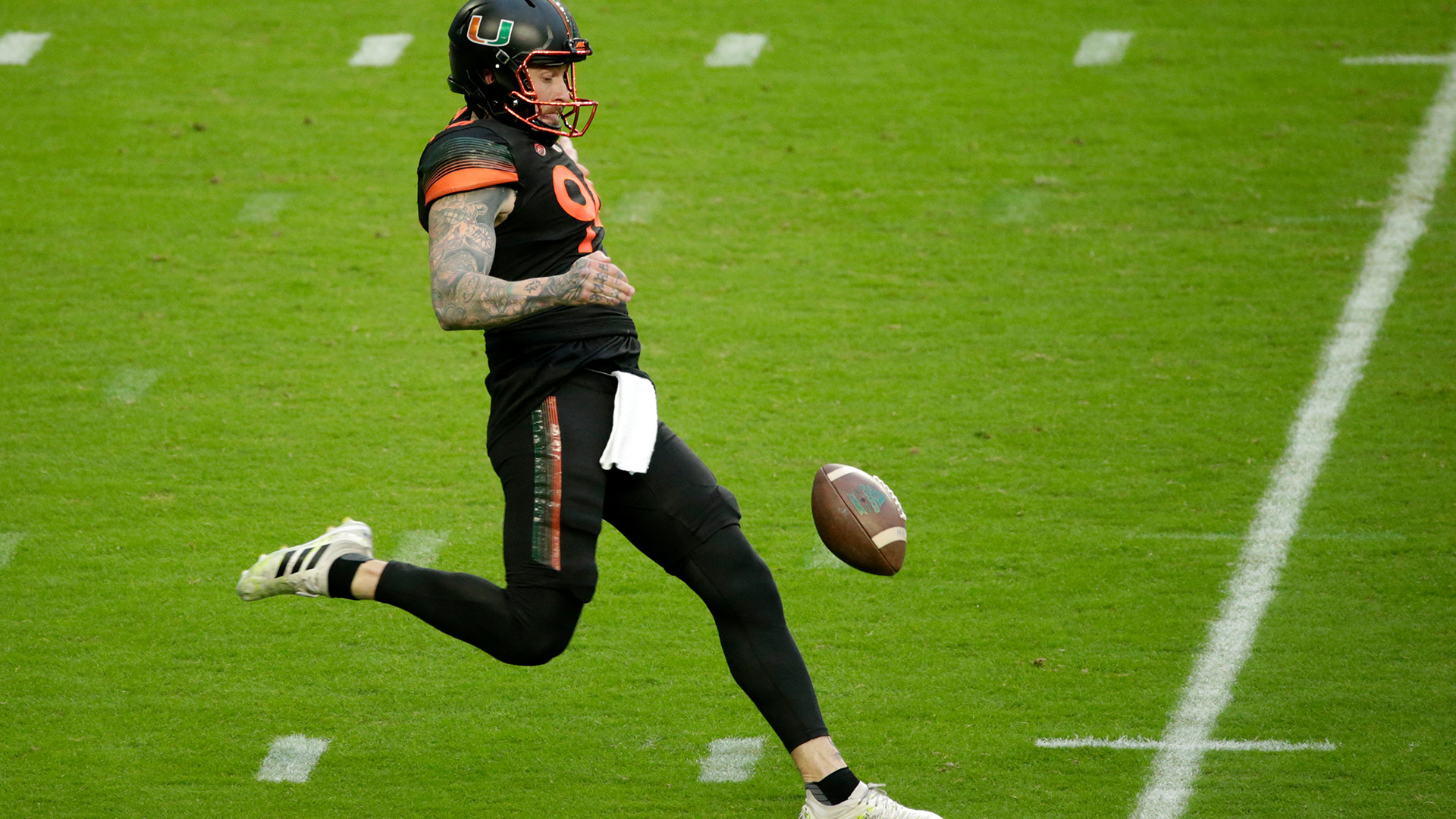 CORAL GABLES, Fla. – Once the decision was made, Lou Hedley wanted to have a little fun.
So the Hurricanes' veteran punter – a fan favorite since arriving at Miami in 2019 – enlisted help from fellow specialists Clay James and Camden Price to come up with a rather unique idea.
The ultimate result? An Instagram post in which Hedley, who had been weighing whether or not to enter the upcoming NFL Draft, put himself into one of the most iconic scenes from 2013's The Wolf of Wall Street to announce he wasn't going anywhere just yet.
In the clip, Hedley assumes the role of broker Jordan Belfort, played in the film by Leonardo DiCaprio, and tells a room full of ecstatic colleagues that "the show goes on" and "this is my home," among other, ahem, sentiments.
And Hedley added more than a few familiar Miami faces into the crowd cheering his news.
Teammates Tyler Van Dyke and Gilbert Frierson make appearances in the 29-second video post. So, too, do Hurricanes head football coach Mario Cristobal and athletic director Dan Radakovich. Pitbull, The Rock and Rick Ross add a little star-power and University president Julio Frenk makes a brief cameo as well.
The entire exercise, Hedley said, was a way for him to not only tell teammates and fans that he'd be returning to Miami for another season, but to generate some laughs in the process.
"I think college is about having fun, you know what I mean? When you turn out at the next level, it gets a little bit more serious. But college, I just look at it as it's really fun," said Hedley, who hails from Mandurah, Australia. "Five years ago, I didn't know what college football was, so coming over here, I've just really enjoyed and embraced it…With the bowl [trip] being canceled, I thought it was just a good time to state that I'm coming back and put some smiles on people's faces. That was the whole reason behind it."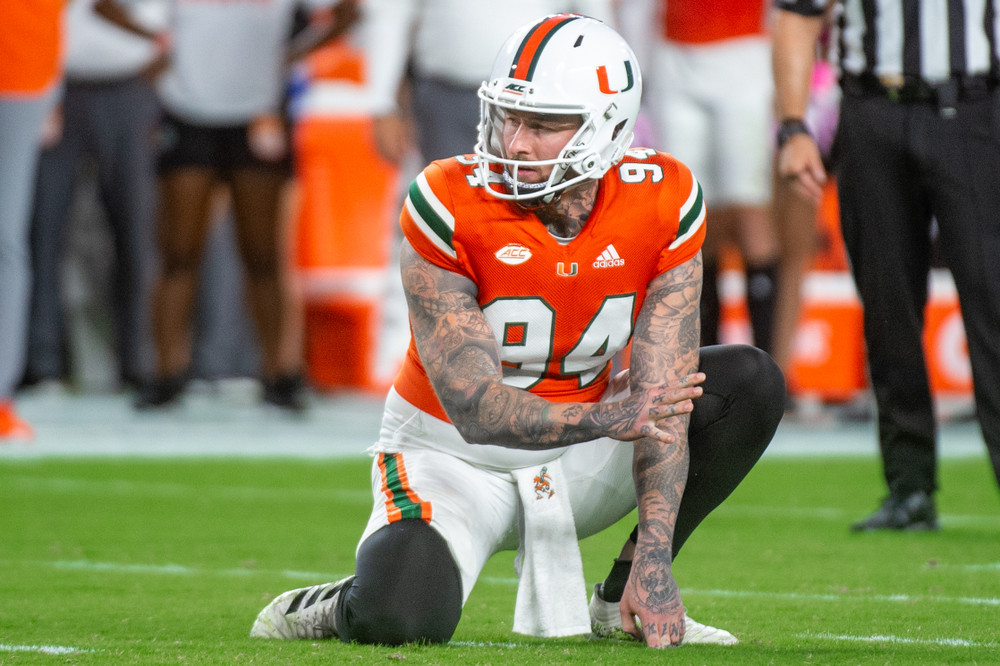 Funny video or not, there's no doubt Hedley's return itself will generate smiles in Miami.
Last fall, the redshirt junior averaged 44.9 yards per punt, a number that ranked No. 3 in the ACC. He had 11 punts of at least 50 yards and landed 19 of his punts inside the opponents' 20-yard line over the course of the season.
He was a semifinalist for the Ray Guy Award and a second-team All-ACC selection, impressive feats all around, especially since the punter says he wasn't always feeling his best.
"I just wanted to be 100 percent healthy going into the draft and stay another year at Miami…I really enjoy the life I have here and the people I'm surrounded by," Hedley said.
But getting stronger isn't the only reason Hedley felt compelled to return for another season.
The opportunity to earn his master's degree and the chance to play for Cristobal – who was named Miami's coach last month – intrigued Hedley and made him feel as if it wasn't yet time to leave Coral Gables.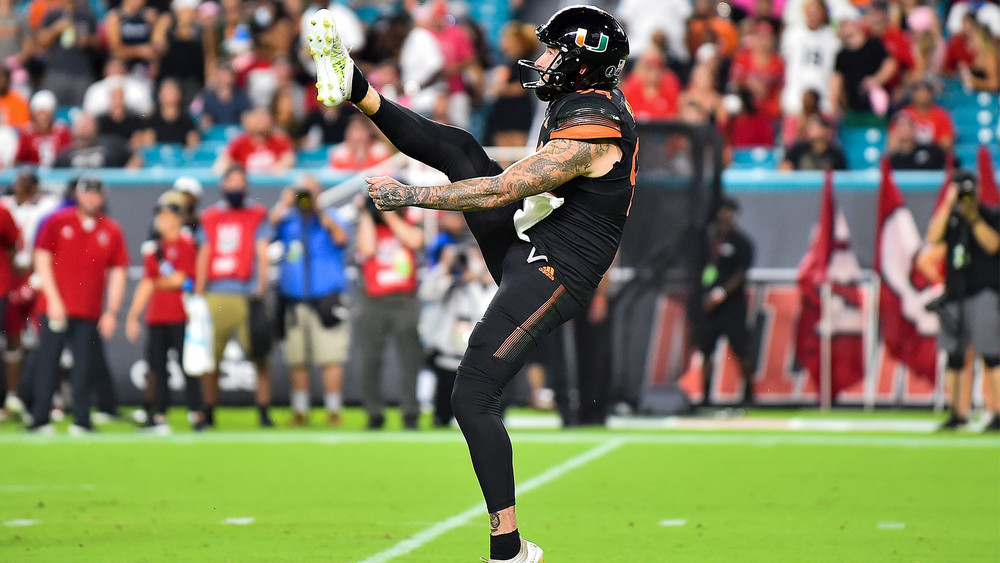 "We spoke about a lot of things and most of it wasn't even football related," Hedley said of his conversation with Cristobal. "We were just talking about our lives and how we got to where we were at that point in time…I think he brings a lot of energy, not just in the program, but outside. All the fans are really getting behind him. That brings a lot of momentum leading to the 2022 season, which I think we're going to be really good…[Cristobal] is a great man. Obviously, he played at Miami. He's been here. He's done it. It's really good having a head coach that lives and breathes Miami just like all the players do. Exciting times ahead."
With more than a few of Miami's veteran leaders including quarterback D'Eriq King, receiver Mike Harley, defensive end Zach McCloud and safeties Amari Carter and Bubba Bolden leaving the program, Hedley knows he'll be called on next season to do more than just flip the field.
And the veteran, who is one of the founders of Canes Worldwide, a group for international student-athletes at Miami, is eager to embrace his role as one of the leaders in the Hurricanes' locker room – especially since he can see himself potentially working as a coach or recruiter once his playing days are over.
"It's time now. A lot of the seniors have left after this year and it's time for some new guys to step up and have their roles," Hedley said. "I think I've got a pretty good relationship with everyone and I think everyone is comfortable enough to come up to me…It feels good to be one of those guys that people can lean on and talk to about anything. If there's a problem that I need to go see one of the coaches about, I'm happy to help out in any way for the boys and I think that will just keep building. I really want to be more of a mentor, get my feet dirty with community service, do all the things I did last year and try to be one of the real positive faces of this program. I'm really looking forward to all of that."
One of his teammates and closest friends says he expects nothing less of Hedley.
"It's huge. On the field, he's obviously, definitely a great punter and he'll definitely help us win some games next year. But off the field, he's a great dude," said James, Miami's long snapper. "He's real high energy. He's got a young soul and I think it's pretty infectious to our room. He comes to work every day and has that lunch-pail mentality…And in our room specifically, he's been a great leader to our young guys…I think he's a huge part of that."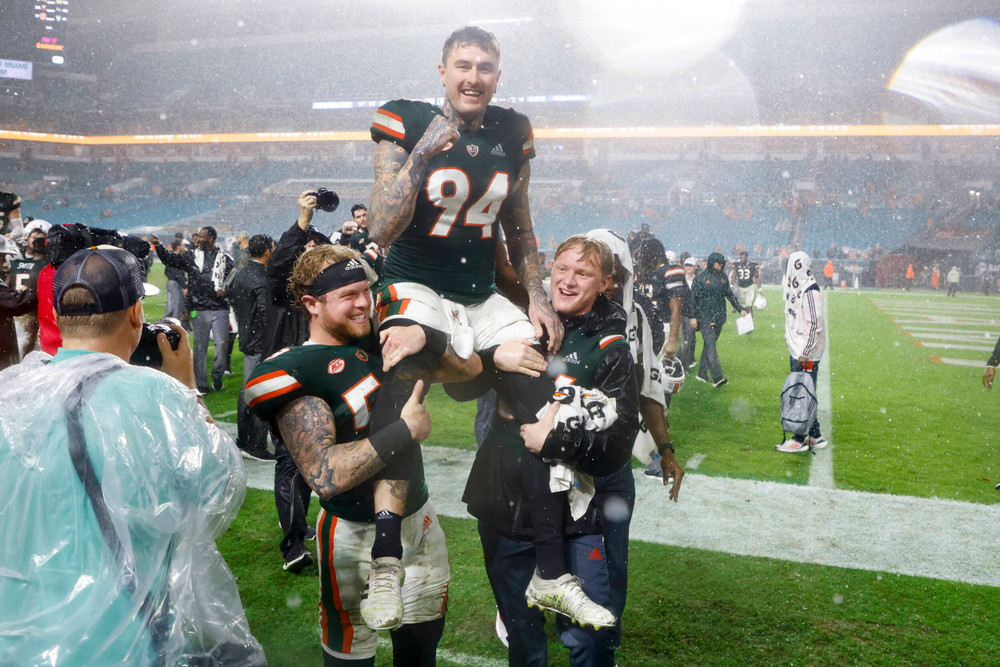 With his decision to return to Miami now solidified, Hedley says his main focus in the coming weeks and months will be getting stronger so he'll be ready for the season ahead. He wants to continue improving on his punts, potentially adding more spiral kicks to his repertoire.
And he's confident the Hurricanes will return enough talent next fall to make a run at the ACC Championship.
He says he's ready to do his part to help make that happen.
"I think the sky's the limit with the talent we've got," Hedley said. "Tyler's obviously an amazing talent…Seeing him come in and do his thing last year the last half of the season was pretty special. I'm super excited to see what he can do coming into this next year. And I think the freshmen did a really good job getting their foot in the door this year. Just watching them evolve and get better and better, I think we can do something really special. We should be in Charlotte next year. That should definitely be our goal, no matter what – to get to Charlotte and see what happens."