A Dream Fulfilled: Morgan Enshrined in CFB HOF
LAS VEGAS — Even on a dais with 13 of the greatest players and coaches in college football history, the green and orange that course through Dan Morgan's veins illuminated the Las Vegas hotel ballroom.
"I took it full throttle. I led those guys and eventually we finished No. 2 in the nation my senior year," Morgan said when asked by the press conference moderator about his role as the de facto leader of the Miami defense.
Pause.
"We kind of got screwed, though. Coach Stoops, we should have played you guys, except Florida State somehow got in there and we beat them."
Oklahoma coach Bob Stoops, along with everyone else in the Las Vegas hotel ballroom, laughed aloud at Morgan's reference to the 2000 college football season, when the BCS computer system determined the Seminoles would have a spot to play the Sooners, and not Morgan's Hurricanes.
To be clear: a national title is about the only thing Morgan didn't win during four standout years at The U.
His accomplishments on the field – as the first player to ever capture the three major college football defensive player of the year awards – earned him a well-deserved spot in the College Football Hall of Fame Class of 2021, which was officially inducted on Tuesday.
"I think what goes through my head, is I think about all my teammates. My coaches. All the people I developed relationships with along the way, which to me, is the most important thing – that you develop those relationships and foster those relationships," said Morgan, now assistant general manager of the Carolina Panthers. "That's what I think about most."
On Monday, Morgan celebrated his induction with eight family members in tow, including his wife Ashleigh, three children and parents. Monday's banquet at the ARIA Resort & Casino was the largest attended College Football Hall of Fame event in the National Football Foundation's history.
"It's very special. I didn't know Dan in college, but I have felt like I got to experience so much of it, because my kids, especially my son Brady, want to watch all the highlights and see old games of him playing," Ashleigh said. "It's really come full circle for the family. But to have everyone here is really special."
In addition to Stoops, joining Morgan in the class were all-time greats like Kansas State running back Darren Sproles, USC quarterback Carson Palmer and Tennessee linebacker Al Wilson.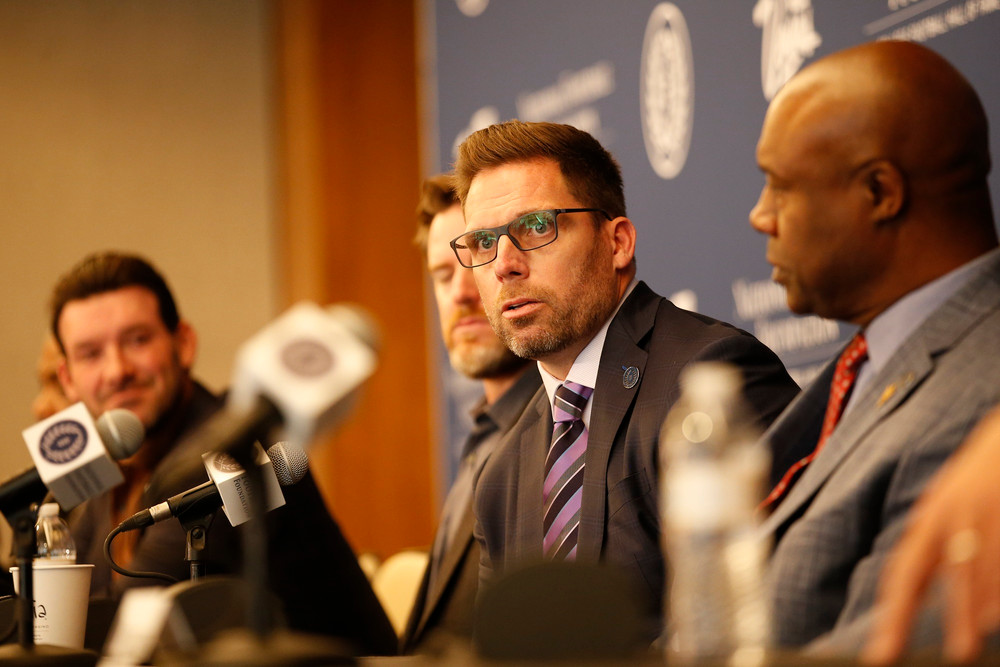 Ashleigh said the impact of the family's last few days in Las Vegas has been felt most by Brady, who accompanied her to his dad's press conference on Monday.
"He is really taking it all in and realizing, 'Oh gosh, dad was really good,'" she said. "I don't think they really quite get it early on, so it's been really good for them to see. It's been very eye-opening."
Despite a challenging work schedule, Morgan focuses on his role as a father as much as possible.
"It's awesome. Dan is so busy with work, and he tries to be home as much as he can, but work keeps him gone and busy," Ashleigh said. "This has been one of those things that's been great. They've had the whole last four days to spend together, soak it all in and truly bond over it. It's been wonderful to see."
Morgan, who totaled a school record 532 tackles during his four years at Miami, was named BIG EAST Defensive Player of the Year and was a unanimous All-America first-team selection in his final season. He was drafted in the first round by the Panthers in the 2001 NFL Draft and played seven years in the NFL before embarking on a career in player personnel.
"You don't really have words for it," Morgan told MiamiHurricanes.com. "A lot of these guys, they were guys I idolized when I was a little kid. I woke up and these were the guys I was watching on Saturdays. I wanted to be like them. To look out and see my wife, see my son, see my parents…it's something special to be able to share that with them."
Morgan's journey to the University of Miami, which started when he received a white Steve Walsh jersey as a kid in a Philadelphia neighborhood loaded with Notre Dame and Penn State fans, was an obsessive one early on.
"I watched Miami on TV all the time," he said. "I'd wake up early in the mornings on Saturdays and I was just in love with it. I think it was just the swag that we talk about, that drew me to it. I loved it. The passion that the guys played with, the cockiness they played with, I loved it. It attracted me there."
After Morgan relocated to Broward County for high school, the chance to suit up for the Hurricanes fulfilled a lifelong dream.
"I played running back in high school and Greg Mark came to see me. He was the defensive line coach at the time," Morgan recalled. "I broke off a couple long touchdown runs and he said, 'Man, this kid can really run.' I had an offer the next day to go play at Miami. Obviously the rest is history. I always wanted to play at Miami, since I was a little kid."
The Hurricanes finished 11-1 in Morgan's final year, the season capped by a Sugar Bowl beatdown over rival Florida after being snubbed from a chance at national championship.
Morgan, now 42, said the life lessons learned at the University of Miami have translated well to his career in scouting. He spent time working for the Seattle Seahawks and Buffalo Bills organizations before his appointment to his current role in Carolina. It was only right that Morgan was joined at his table on Tuesday by Carolina Panthers general manager Scott Fitterer and his wife, Cherish.
"Whatever I do, I always strive to be the best," he said. "And you can't be the best without the work ethic, without the love for it. I love football. I have loved football ever since I was six years old. It's all I've ever known, in terms of the job. It's something I hope I'm doing for years to come.
"It's one of those things that you feel like you're looking down on yourself and watch yourself living a dream."