Takeaways from Miami's Win over Duke
DURHAM, N.C. – Hugs were exchanged, high-fives given and plenty of photos were taken.
Though the Hurricanes were on the road for their regular-season finale on Saturday, Miami's players, coaches and fans took their time leaving the field at Duke's Wallace Wade Stadium.
There were, for many of them, lots of reasons to celebrate after the Hurricanes' 47-10 win.
For one, Miami saw two of its receivers – Mike Harley and Charleston Rambo – rewrite the record book. Its quarterback – second-year freshman Tyler Van Dyke – continued his stellar play. And for the second straight year, the Blue Devils couldn't score on Miami's defense.
But Saturday's game brought with it something else: the closure of a regular season that saw the Hurricanes bounce back from a tough start to win five of their last six games.
And for many of the Hurricanes, that was something to savor.
"Proud of our football team. Proud of our finish. So many guys contributed to today's victory, it was just great to see," Miami head coach Manny Diaz said. "Just really comprehensive. Defensively, [we] played the run great, which is what they do best. Offensively, what can you say again about Van Dyke? And to see Harley and Rambo set records that have stood for a long time and probably will stand for a long time, it's just a great testament to everything we're doing offensively and you have to give the offensive line credit…Tyler had all day back there a bunch of times. Just, like I said, really happy for the effort that our guys came out with today."
With the regular season now behind it, Miami awaits to learn its bowl destination and over the next few weeks, coaches will be on the road recruiting, while players wrap up the semester and prepare for final exams.
Here, though, are some things the Hurricanes could take from their win at Duke as they start moving closer to their final game of the year.
1. Miami finishes strong
There's no doubt the Hurricanes found themselves at a crossroads of sorts earlier this year.
Injuries knocked some of their top players out of the lineup, including veteran quarterback D'Eriq King, one of Miami's unquestioned leaders. They dropped four of their first six and opened conference play with back-to-break heartbreaking losses to North Carolina and Virginia.
With games against top-20 teams looming at that point, many outside of Coral Gables figured the Hurricanes were as good as finished for the year.
Miami proved those critics wrong.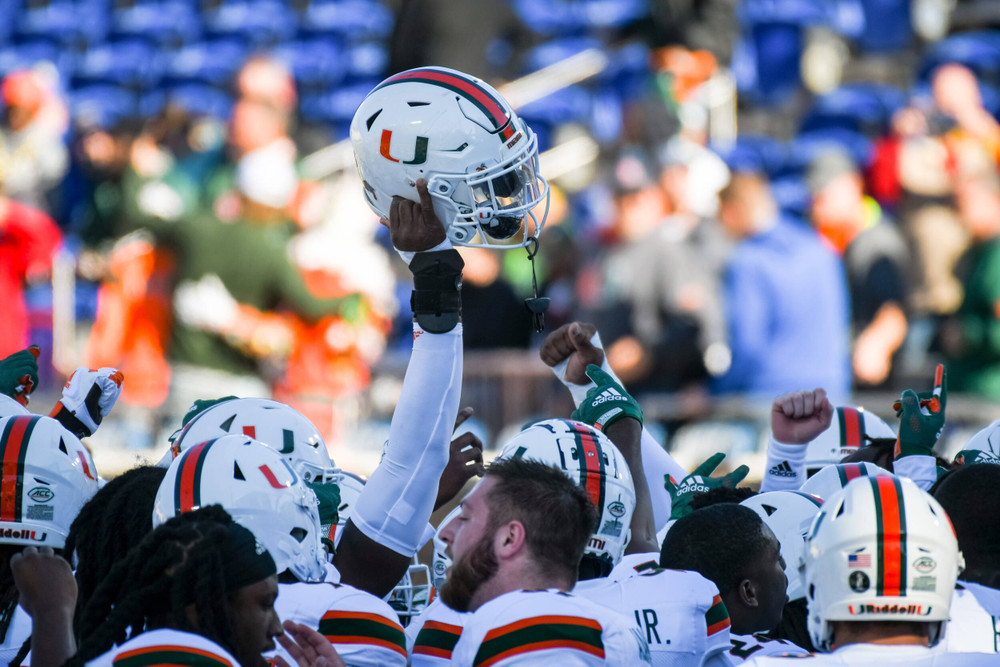 The Hurricanes beat those top-20 teams, NC State and Pittsburgh. Van Dyke grew into his role as Miami's starting quarterback and the Hurricanes closed the year by winning five of their last six, the sixth coming Saturday in Durham.
"Every week, we've been on a one-week mission and the mission this week was to beat Duke. What I'm proud of is those guys in that locker room. I'm proud of how all-in they are for this program. To do what they've been able to do and finish the year the way we've been able to finish…you look at the young guys out on that field making plays today and there's a hunger," Diaz said. "They know this is not the end. This is the beginning. It's about to get really, really good and they sense that. They know the mistakes we've made this year. We all own it. But to look at the adversity that we've looked at in the eye, every week and for these guys to never flinch and week after week to bring it, they're all in.
"They're invested in this program and they want to fight for each other and there's a hunger that they have right now, that we just talked about, that's going to last throughout this entire offseason…This team is united and this team will fight for each other…They've been unwavering in their effort. They've been unwavering in their attitude. The foundation is set. You see the young talent start to grow and grow; they're learning and getting experience…They're ready to do special things."
2. Mike Harley leaves a legacy
Harley's career at Miami didn't exactly start the way the young receiver hoped it would.
It's ending better than he could have ever imagined.
Harley finished the regular-season finale with a game-high 13 catches for 96 yards. That performance helped him pass Reggie Wayne's mark of 173 career catches at Miami, making Harley Miami's new all-time leader in receptions.
Harley's 13 catches also set a single-game mark for the Hurricanes.
After the game, the receiver emotionally recounted how he nearly walked away from football after some of the struggles and coaching changes he weathered early in his Miami career. But he persisted and says he hopes his journey will inspire the players who come after him in Coral Gables.
"I was born to do this. I was born to break records and born to play at the University of Miami. Now, hopefully, I can send a video to the University of Miami when someone breaks my record," Harley said, referencing the congratulatory video messages Wayne and fellow Hurricanes greats Santana Moss and Lamar Thomas sent Harley congratulating him on the career milestone.
3. Rambo's big day caps a prolific regular season
Harley wasn't the only Miami receiver to break records on Saturday.
Rambo, a transfer from Oklahoma, became Miami's single-season leader in both receptions and yards with his eight catches and 101 receiving yards.
He finished the regular season with 79 catches for 1,172 yards, passing the marks set by Leonard Hankerson (72 catches in 2010) and Allen Hurns (1,162 in 2013).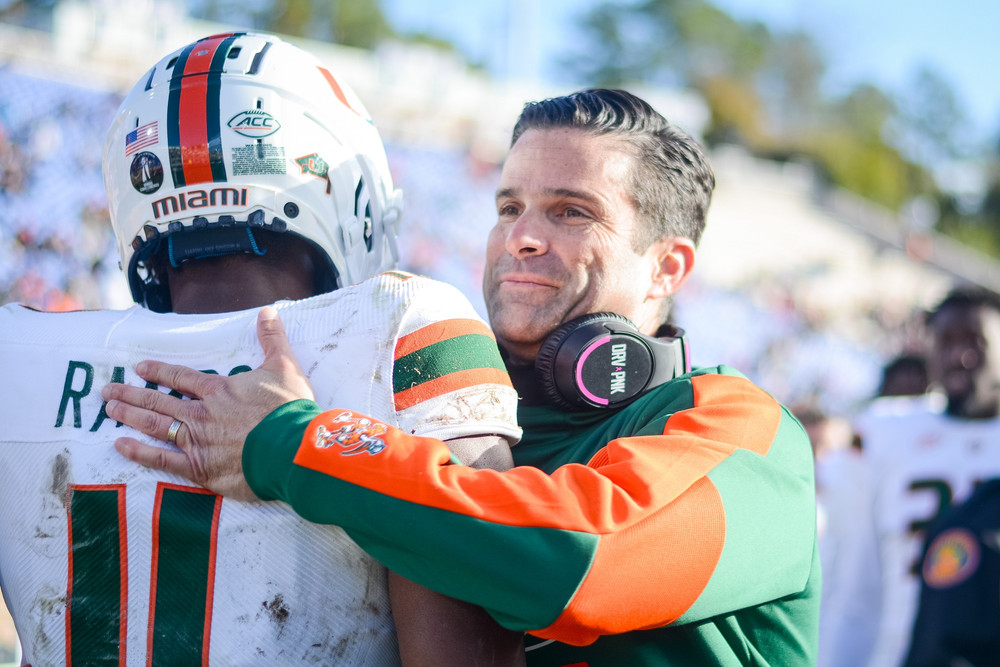 "This feels good," Rambo said. "Even before we got to play ball, when I got here, it was straight grinding and working hard. Today, it paid off. And there's much more to come."
And like Harley, Rambo had a message of encouragement to the receivers who will wear orange and green in the future.
"I'd tell them to go break what I did, what Mike did today…succeed, keep going," he said.
4. Van Dyke does it again
The play of Van Dyke has been a revelation for the Hurricanes during the second half of the season. Once again, the quarterback didn't disappoint on Saturday.
The second-year freshman completed 34 of 49 passes and threw for 381 yards with three touchdowns in the win over Duke.
It marked the sixth straight game in which the quarterback threw for 300 yards. He had 325 yards against NC State, 426 yards against Pittsburgh, 389 yards against Georgia Tech, 316 yards against Florida State and 357 yards against Virginia Tech.
After his impressive outing, the quarterback credited his teammates and coaches for helping him succeed.
"It's been a crazy year. A lot of highs, a lot of lows. I didn't even expect to have serious time this year," Van Dyke said. "To step in to that position and do what I'm doing, I have to give credit to [offensive coordinator and quarterbacks coach Rhett] Lashlee. The line has done a wonderful job. The last two weeks, we haven't had a sack. Guys have done a great job."
So, too, has Van Dyke.
5. Borregales delivers
Freshman kicker Andy Borregales, who has been consistent and solid throughout his first season as a Hurricane, had another big day against Duke.
Borregales converted on all four of his field goal attempts, connecting from 35, 29, 25 and 45 yards. He also connected on all four of his point-after attempts and averaged 52.3 yards on kickoffs.
On the year, Borregales is 17 of 21 on field goal attempts and 45 of 45 on point-after attempts.
6. Franklin, Brown provide a boost
After injuries to both Cam Harris and Donald Chaney Jr., running back Jaylan Knighton has carried much of the workload for Miami during the latter part of the season.
On Saturday, Knighton once again finished as the Hurricanes' rushing leader with 13 carries for 51 yards and a touchdown, but fellow backs Thad Franklin, Jr. and Cody Brown contributed, too.
Franklin had six carries for 45 yards with a 9-yard touchdown that capped the scoring for Miami in the third quarter and Brown added seven carries for 35 yards.
That was a boon for the Miami running game, which outgained Duke 140-62.
7. Jacolby George makes a splash – again
Freshman receiver Jacolby George had a big day against the Blue Devils, finishing with three catches for 81 yards.
He and fellow freshmen receivers Romello Brinson and Brashard Smith have all shown this season they can be impact players moving forward and are among some of the young players who've emerged this season – and could have big roles next year.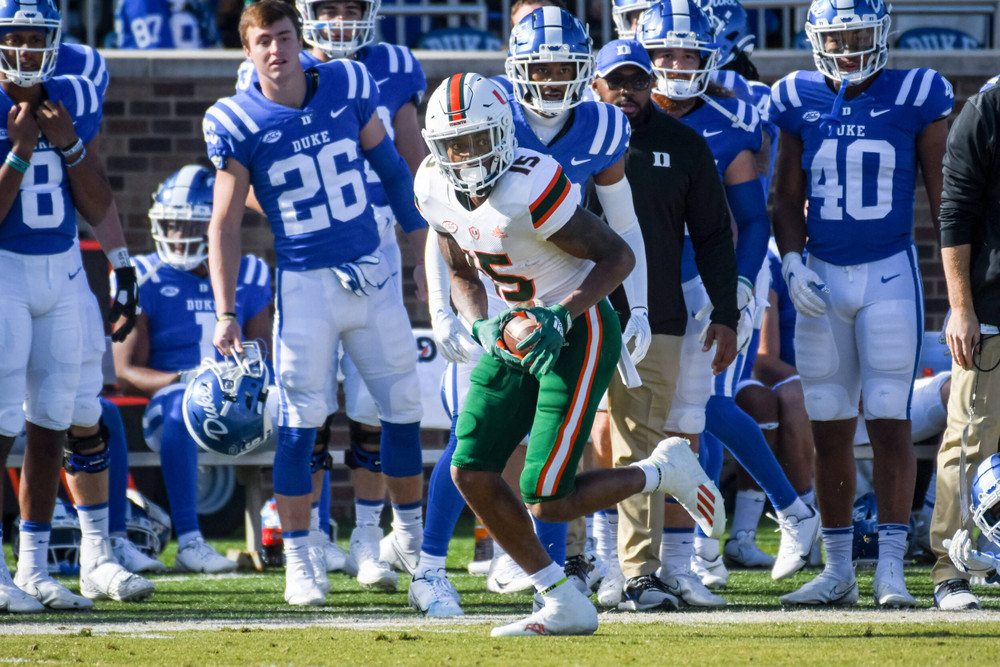 George finished the regular season with seven catches for 183 yards, while Smith had 14 catches for 199 yards and Brinson had seven catches for 90 yards. All three averaged more than 12.9 yards per catch, with George posting a team-high 26.1 yards-per-catch average.
8. Once again, the defense comes up big at Duke
For the second straight year, Miami's defense kept the Blue Devils out of the end zone – in their own stadium.
A Covid scheduling adjustment in 2020 led to Miami making an unexpected trip to Durham last year and the Hurricanes delivered a memorable defensive effort in a 48-0 win.
Last year's win at Wallace Wade marked the Hurricanes' first road shutout since 2000 and their first ACC shutout since joining the conference in 2004.
And while there was no shutout on Saturday, again, the Hurricanes defense kept the Blue Devils from scoring a touchdown.
Duke's only two scores Saturday came on a 40-yard field goal and a 94-yard kickoff return.
Miami's defense held the Blue Devils to just 219 yards of total offense, including a mere 62 rushing yards. The Hurricanes also totaled three sacks, forced an interception and totaled nine tackles for loss in the win.
"It just felt like up front, we really got after them. They're good at running the football…They were a real threat and a real challenge," Diaz said. "It just felt like once we got dialed in after that first series, they struggled to get back to the line of scrimmage and so, I think our front four, the linebackers all played very well."
9. Smith settling in
Freshman striker Chase Smith has, in recent weeks, seen an increase in playing time and Saturday at Duke, the former four-star prospect had one of the biggest stops of the day.
Smith had three tackles and made an especially memorable play in the second quarter with Miami up 24-10 and Duke trying to extend a drive.
Smith got behind the line of scrimmage and brought down Blue Devils running back Mataeo Durant for a 1-yard loss on a fourth-down play. Miami turned the turnover on downs into points, with Borregales kicking a field goal on the Hurricanes' ensuing possession.
"Downs like that, you always just know you've got to play your heart out and put everything you can to get off the field," Smith said. "In that instance, I just saw my gap, I saw my guy and sometimes, you've just got to play ball…I saw the gap open, I spiked it, I made the tackle."
The Hurricanes, no doubt, hope there's more of those plays in Smith's future.
10. Recruiting and bowl prep take center stage
With the regular season now behind them, the Hurricanes will turn their focus to two things: recruiting ahead of the Early Signing Period and preparing for the final game of the year.
The Hurricanes will learn their bowl destination in the coming days and Diaz said on Saturday he expects the team will begin official preparations for that game next weekend.
In the meantime, the coach and his staff will be on the road recruiting with the Early Signing Period set to begin Dec. 15.
"We have a week of school coming up now and we've got to finish strong. We'll lift weights three times this week. We'll have a quick practice next Saturday while we've got an official visit weekend going on, "Diaz said. "The coaches are all out recruiting so we can have another practice on the weekend and then once it goes to the dead period…then we can start to kind of really dive in on the opponent and lay out the practices."