Harley, Rambo Eye History as Miami Takes on Duke
CORAL GABLES, Fla. – One of them has been a Hurricane for years; the other arrived at Miami as a graduate transfer hoping to make a difference in a high-powered offense.
On Saturday in Durham, both Mike Harley and Charleston Rambo can make school history.
When the Hurricanes take the field at Wallace Wade Stadium for their regular-season finale against Duke, the pair will be looking to cement their status as two of the most productive receivers to ever wear orange and green
Harley, one of Miami's veteran leaders, needs just five catches to become Miami's all-time receptions leader. That mark of 174 would put him atop a list that features players like Reggie Wayne (173 career catches), Stacy Coley (168 career catches), Lamar Thomas (144 career catches) and Michael Irvin and Santana Moss (143 career catches each).
Rambo, meanwhile, is in pursuit of two Miami records after joining the Hurricanes earlier this year. The redshirt junior needs just two catches to pass Leonard Hankerson for the Miami single-season reception record (72, set in 2010) and 92 yards to pass Allen Hurns for the single-season receiving yards mark (1,162 set in 2013).
For both receivers, the possibility of owning those records is incredibly special.
"It'd mean a lot, knowing what I've been through here at this University," said Harley, who enters Saturday's game at Duke with 44 catches for 447 yards on the season. "A lot of perseverance. It would show a lot of guys [to] just never give up. Have faith in God. You never know where God will take you."
Said Rambo, who is one of just five receivers to top the 1,000-yard mark in a single season at Miami, "We have goals and I have personal goals. Come Saturday, I'm going to put it out there. However many records it is, I'm going to come for it…Transitioning, making my home here, knowing what I did in [the] spring and summer. A lot of hard work and just put it out there on Saturday, put it on tape."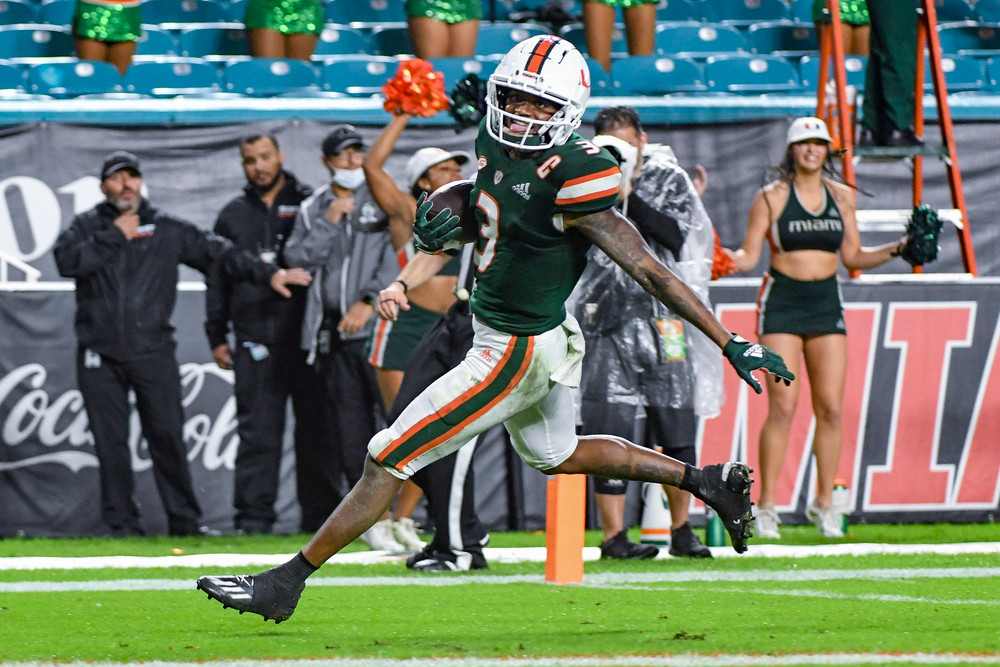 Their Miami teammates – particularly their quarterback – are eager to help them in their quest.
Second-year freshman Tyler Van Dyke, who four times this season has been recognized as the ACC Rookie of the Week for some of his dazzling passing performances, knows that big days for Harley and Rambo will mean a big day for the Hurricanes.
That's not something the signal caller takes for granted.
"We're going to get it for them, 100 percent," Van Dyke said with a smile this week. "We've got a game plan prepared for that. It means a lot, for guys on the team to break the school record. We're going to get it for them."
The Hurricanes and Van Dyke, who's had a breakout season himself since taking over for injured quarterback D'Eriq King in September, will be facing a Duke defense that has allowed an average of 304.6 passing yards per game, a number that ranks last in the ACC.
Still, the Hurricanes (6-5, 4-3 ACC) are aware they need to be at their best on Saturday.
They know with the Blue Devils (3-8, 0-7) playing their final game of the season, they'll more than likely face a motivated squad hoping to finish the year strong and send its seniors out on a positive note.
That could make for a dangerous opponent.
"There's always that sense of urgency with all players. College football players work extraordinarily hard throughout the year and we don't get 162 [games] or 82 [games]," Hurricanes head coach Manny Diaz said. "We get a finite number of games and if I'm a wideout, getting another touchdown catch, if I'm a d-lineman logging another sack, this is kind of the last chance these guys get again until the fall. I think you always see that sense of urgency that can pop up in a game like this. There are some guys…it's their last time through. We saw what it meant to our seniors at their last home game. This will be their Senior Night…One thing we've learned in our time at Miami, you always expect everybody's best shot. When Miami rolls into town, it's always a big deal when people play Miami. We suspect this will be no different."
Said Van Dyke, "It's going to be some guys' last games and they're going to go out there and fight hard. We can't take this lightly. We have to keep doing what we've done all year and keep fighting. Like Coach Diaz said in the team meeting room, the last three years, we're 1-2 against them. We really took that to heart and we've come out in practice and practiced hard. We're excited for this game."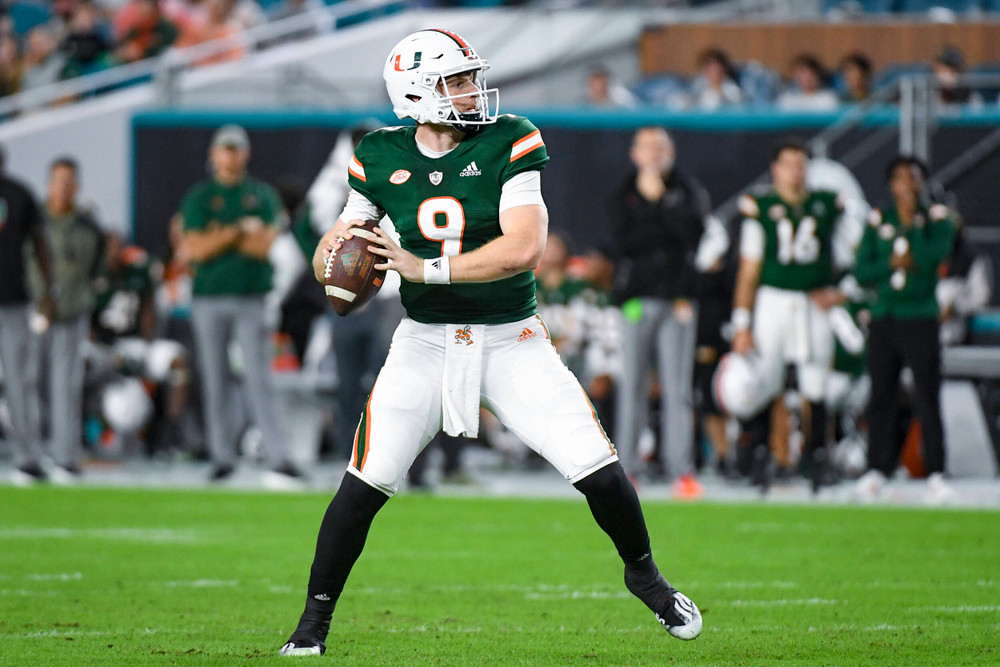 Miami's defense knows it will likely face a unit with something to prove, too.
Last December, after the Blue Devils were quickly added to Miami's schedule during some COVID-19 scheduling adjustments, the Hurricanes held Duke scoreless in a dominant 48-0 win.
Miami forced the Blue Devils into five turnovers that night, totaled 13 tackles for loss and held Duke to just 56 rushing yards.
Numbers like those aren't easily forgotten and the Hurricanes expect Duke will want to put together a better effort. They're determined to make sure they're prepared for that.
"We're not getting comfortable where we're at," safety Amari Carter said. "We have no reason to be…We want to continue getting better. We're still searching for that perfect game where we put all the pieces together – offense is clicking, defense is rolling and special teams is doing what special teams should be doing. We want to go up there and keep getting better."