Hurricanes Hammer Hokies, 38-26
MIAMI GARDENS, Fla. – The Hurricanes' underclassmen vowed to play for their senior teammates in Miami's final home game of the season.
And they delivered on their promise.
Led by freshmen Tyler Van Dyke, Jaylan Knighton and Brashard Smith, Miami downed Virginia Tech, 38-26, Saturday evening at Hard Rock Stadium.
"It was about our seniors, it was about sending them off the right way," Miami head coach Manny Diaz said. "11 times out of 11, we have brought it. And our guys have competed, they've played hard for each other. That, to me, as a coaching staff, that's the thing we are most proud of. It was a happy night. For me, it was watching the smiles of our seniors. You get done and you walk over there with those guys and you just see the reactions. You saw the guys getting carried off the field. Seeing D'Eriq King getting carried off the field and D'Eriq's smile, if that doesn't warm your heart, I can't help you. I think that was the part that was special to me."
Van Dyke threw for 357 yards and three touchdowns, becoming the lone ACC quarterback over the last 15 seasons with five straight games of at least 300 passing yards and at least three touchdowns.
"The biggest thing is that the football team believes that Tyler Van Dyke can lead us," Diaz said. "I think that has been true from day one. I think that is why our guys play like that. Even when we kind of, like I said today, when we sort of hit that spot right there in the third where we sort of stalled a little bit, we knew we could find the plays to make in the fourth quarter which, ultimately, we did."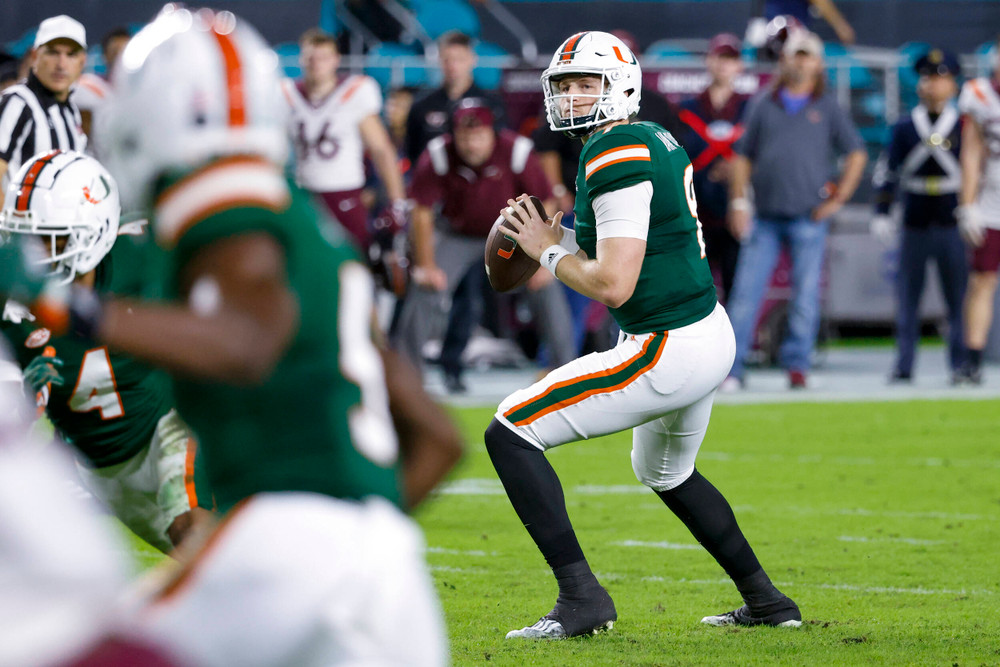 Miami (6-5, 4-3 ACC) stormed out of the gates, finding the end zone on each of its first four possessions.
The Hurricanes needed just four plays to jump on the board. Van Dyke connected with tight end Will Mallory to cap off the one-minute and 45-second scoring drive.
"Obviously, coming into this week, that was what we wanted to do. The way the season has gone, the way the guys have battled, the seniors deserve to go out on that note," Mallory said. "It's a great feeling to see those guys get carried off the field, especially with that [win]. They all deserve it."
Virginia Tech (5-6, 3-4 ACC) responded with a 25-yard chip shot, but that didn't slow down the Canes' offense.
Miami struck quickly, again, marching down the field in two minutes and 24 seconds. Van Dyke completed passes to four different receivers before Knighton punched it in from one yard out, putting the Hurricanes up, 14-3.
For the second straight drive, Knighton extended the Canes' cushion, scoring his sixth touchdown across the last four contests.
Virginia Tech redshirt junior quarterback Braxton Burmeister, who completed 14 of his 17 attempts for 109 yards, registered his lone touchdown of the evening, linking up with Tré Turner for the six-yard hookup.
However, the night belonged to the Hurricanes.
With Miami in front, 21-10, in the second quarter, Van Dyke dropped a 75-yard dime to Smith on the first play of the drive. Smith sprinted past the defense, racing down the field in 10 seconds for the Canes' quickest score of the season.
Yet, the Hokies didn't go down without a fight.
Virginia Tech outscored the Hurricanes, 16-3, over the next 16:17 to pull within five, but the visitors wouldn't get any closer.
While Miami's freshmen made plays early, it was a fifth-year senior who put the finishing touches on the victory.
In his 59th career game donning the orange and green, Mike Harley hauled in a 55-yard touchdown catch, pushing the Hurricanes ahead, 38-26, with 10:39 remaining in the fourth quarter.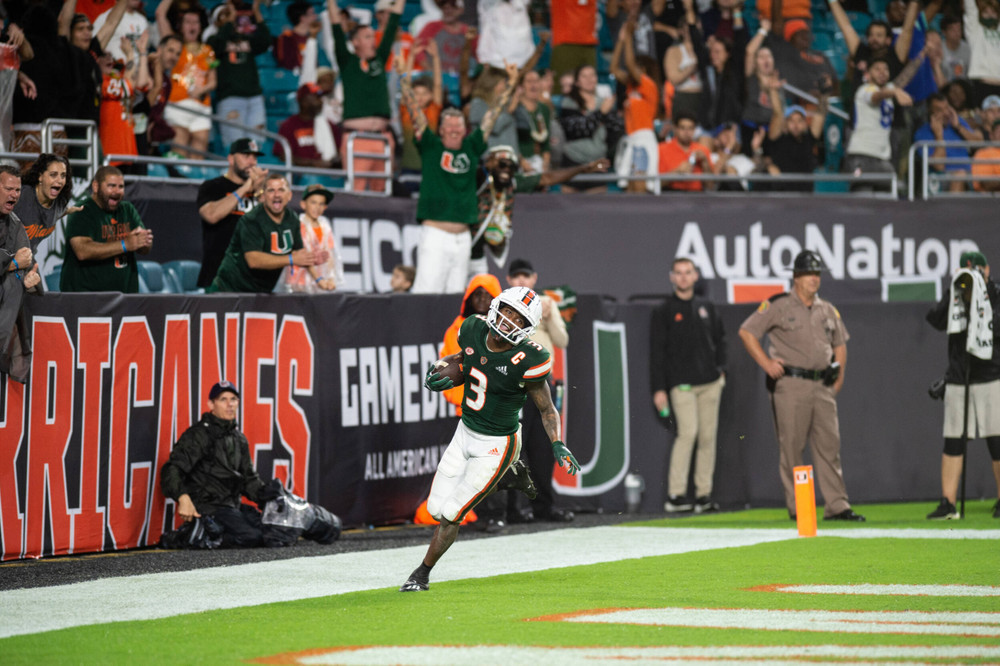 Harley moved into second place on the Hurricanes' all-time receptions list, trailing only UM Sports Hall of Famer Reggie Wayne.
"Everybody came together and fought for the seniors," Van Dyke said. "It was just a great way to send them out, especially Mike Harley. That last touchdown to put it away, he'll never forget that moment ever. So, I'm happy for him, happy for every single senior."
In the win, redshirt junior wideout Charleston Rambo tallied seven catches for 116 yards, becoming the fifth Hurricane to tally 1,000 receiving yards in a single season.
Defensively, Nesta Jade Silvera, Gilbert Frierson and Keontra Smith co-led the Canes with six tackles while redshirt senior Deandre Johnson posted five tackles, including a sack and 1.5 tackles for loss.
"It was a great night, the way this team fought back after a tough season and the way the young guys battled to send the older guys out right," Johnson said. "I'm going to enjoy this win for 24 hours and then on to Duke."
Prior to kickoff, Miami honored its senior class with 24 players running through the smoke for the final time as Canes at Hard Rock.
The Hurricanes conclude their regular season schedule with a trip to Wallace Wade Stadium to face the Duke Blue Devils on Nov. 27. Kickoff is scheduled for 12:30 p.m.