Canes Set to Host Virginia Tech on Senior Day
CORAL GABLES, Fla. – It hasn't hit Mike Harley just yet. Or Amari Carter. Or Zach McCloud.
As three of Miami's most experienced leaders have gone through their preparations for Saturday night's game against Virginia Tech, they've focused on what they can do on and off the field to help the Hurricanes get a bounce-back win after last week's loss at Florida State.
None of them has spent much time yet thinking about how they're about to run through the smoke for the final time and take the field at Hard Rock Stadium for the last time as Hurricanes.
But each of them expects that at some point, that reality will sink in and they're trying to brace for those moments as best they can.
"I think when I get out of the team hotel, get on the bus and ride through Miami, seeing Wynwood and the cars and Hard Rock…when it hits you that you're almost there…I feel like that's when all the emotions are going to set in," said Carter, a fifth-year senior striker. "Just walking in, seeing my family, hearing the fans cheering and screaming, going through warm-ups, running through the smoke, putting the fours up when the fourth quarter hits, there are so many things going through my head and that's when it might get a little emotional. But the focus all week, too, has been getting another win."
Added Harley, "That last bus ride, the last Cane Walk, the last run out the smoke…When Saturday comes, I'm going to soak it all in and take it all in. But it really hasn't hit me at all yet. I've been out there practicing, knowing we've got two games left and the possibility of a bowl game…This has been a big week for the seniors, but it's been a big week for the program, too…We have to focus on the task at hand. Virginia Tech is a good team."
For the Hurricanes (5-5, 3-3 ACC) and Hokies (5-5, 3-3), the end of the regular season looms. Both teams are still trying to secure bowl eligibility and both are looking to try and finish the year on a positive note after weathering ups and downs over the course of the last two months.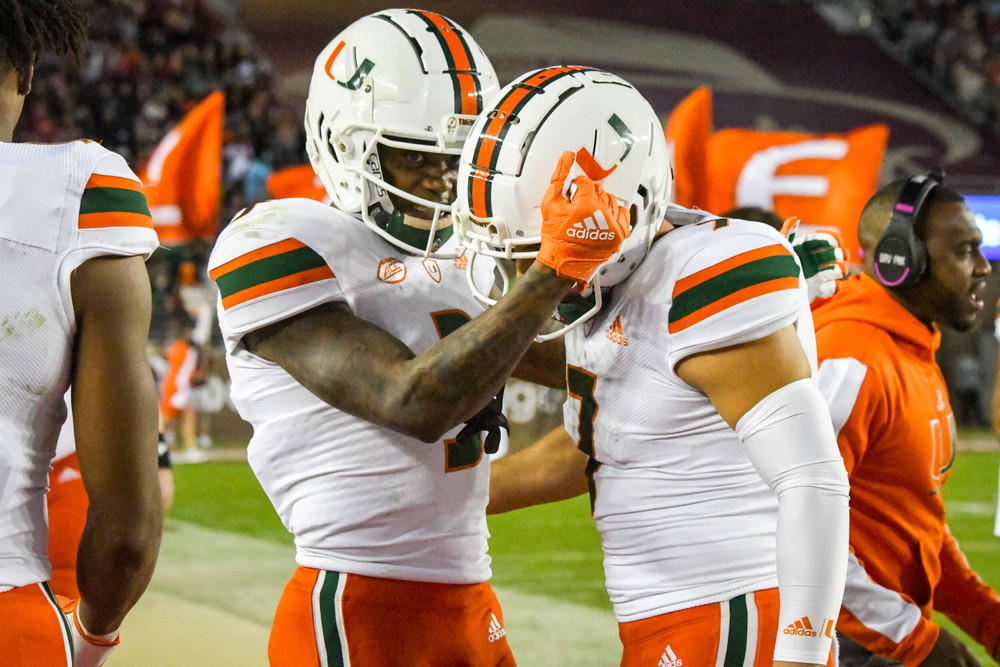 It's against that backdrop that Miami will look to honor its senior class, a group that has faced challenges unlike any other during their time in Coral Gables.
They have gone through coaching changes, injuries and endured two seasons impacted by a global pandemic. But those players have also made big plays, won memorable games and some – like Harley and fellow receiver Charleston Rambo – are chasing Miami records.
All of that, Miami head coach Manny Diaz says, is worth celebrating Saturday. That's why he's been so encouraged by how the Hurricanes have practiced leading up to this week's game, even after the disappointment of last week's loss to the rival Seminoles.
"This team has been good. I have to give them credit: they have not really wavered. We haven't had a bad Tuesday or Wednesday that I can think about," Diaz said. "They've come out, they've put the work in, they've been attentive. They get it. They get the importance of what this Saturday is about for this program and our outgoing seniors."
His message has been taken to heart by more than a few of Miami's underclassmen, including second-year quarterback Tyler Van Dyke, who says that making sure the Hurricanes secure bowl eligibility and give their seniors a memorable home finale has been a priority this week.
"We really want to play for our seniors, get this win for them in their last game playing at Hard Rock," said Van Dyke, who enters the home finale having completed 62 percent of his passes and throwing for 2,193 yards and 19 touchdowns since taking over as Miami's starter when senior D'Eriq King was injured in September. "This team has a lot of fight. Even when we were 2-4, we still went out and played as hard as we could. It's football. We all love playing football. We're going to go out there and play."
While the Hurricanes have shown their resiliency more than once this season, they enter their matchup against Virginia Tech knowing they can't afford to make some of the mistakes they made against both Florida State and Georgia Tech in recent weeks.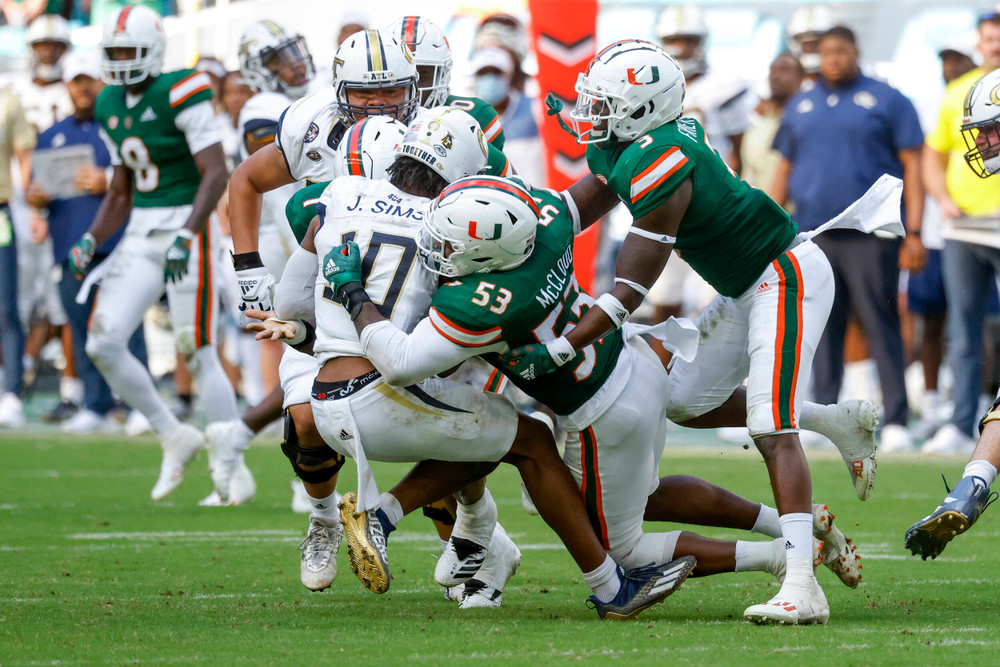 In those two games, Miami turned the ball over a combined six times. Last week against the Seminoles, a slow start forced the Hurricanes to rally from a 17-point deficit. Penalties have been problematic, too.
Cleaning all of that up against Virginia Tech will be essential, particularly given the fact that the Hokies are known for their physicality, strong special teams play and have held six opponents to 17 points or less this season.
"It's an ACC football game," Diaz said. "I'd expect 60 minutes of drama."
If the Hurricanes can come out of those 60 minutes strong, though, they'll know they've honored their seniors in the best way possible. And those seniors say they're determined to do all they can to make sure they help lead Miami to a win.
"Everyone wants to leave on a high note," McCloud said. "But you have to have that mental ability to play with intensity so you aren't caught off guard. Virginia Tech is a good running team. Their quarterback, [Braxton Burmeister] is an athletic guy who can really roll…It's always a physical matchup when you go against Virginia Tech, and that's something we're excited to do."