Still Making a Difference
CORAL GABLES, Fla. – All week long, Bubba Bolden had battled pain on two fronts.
Though he'd tried valiantly to stay on the field, he knew it was no longer possible. His injured shoulder couldn't take any more punishment. Surgery, doctors said, was his only option.
That meant facing a brutal reality: his season – and likely his career as a Hurricane – were over.
Bolden was gutted. Still, he knew exactly where he had to be on that dark October night.
The veteran safety drove to Miami's campus and made sure that as the Hurricanes returned to campus after their 38-34 road win over Pittsburgh he was there to greet them. With applause.
As his teammates got off the team buses, Bolden made it a point to congratulate as many of them as he could, particularly the young safeties who'd just made some big plays against Kenny Pickett, one of the nation's top quarterbacks.
Though he was hurting, this second straight win over a top-20 opponent was worth celebrating.
"That feeling of not being able to play football, that was the worst feeling I could possibly have, especially after last year," said Bolden, who in 2020 led the Hurricanes with 74 tackles. "We had so many expectations for this year, so much hope and this [offseason] was probably the hardest that I've ever worked in my life. To do all that work and then get hurt…I was like 'I can't just flush it all down the toilet. I'm not going to give up on my team, no matter what.'"
Two days later, Bolden underwent surgery. He was back in Miami's football facility almost immediately and has been a fixture at practice and in team meetings ever since.
The same can be said of Hurricanes quarterback D'Eriq King, who in September experienced the same emotional roller coaster Bolden weathered last month.
King, one of Miami's unquestioned leaders since joining the Hurricanes in January 2020, spent the entirety of the offseason working to rehab a knee injury he suffered in last year's season finale against Oklahoma State.
Then, three games into the season, another injury – this one in his shoulder. Like Bolden, he hoped it wasn't serious, that treatment or physical therapy could help. Like Bolden, eventually he learned surgery was his only option and his season also ended far before he wanted.
"The doctors told me I pretty much couldn't play the rest of the year, but being hard-headed, I tried to fight it off for the next two weeks," said King, who threw for 2,686 yards and 23 touchdowns and rushed for 538 yards in 2020. "I kind of knew, though and it was terrible. It sucked. It was probably the lowest point I've been in my athletic career, even with the ACL [injury]. It felt worse than that because I'd worked so hard to get back, expecting big things this year and then I come back and not even a full three games later, I'm hurt again…I had to reach down in myself in find a happiness within other stuff, other than football. I was still around the team, but I kind of learned a lot about myself."
Among those lessons? King, who aspires to become a football coach once his playing career is over, still had plenty to offer the Hurricanes, particularly in the quarterback room.
After he'd spent the spring mentoring quarterbacks Tyler Van Dyke and Jake Garcia, King doubled down on his efforts. He offered another set of eyes on the sideline and another perspective in film sessions.
In the seven games since King's injury, Van Dyke has completed 61 percent of his passes and thrown for 2,193 yards and 19 touchdowns. The second-year freshman has also become more comfortable using his voice as a leader in the locker room.
And while Van Dyke has grown into his role as Miami's starter, King has grown into his role as a budding coach of sorts.
"I think D'Eriq has a big-time future in coaching. Really big-time. And I think he's gotten his first dry run at it this year," Hurricanes head coach Manny Diaz said. "Sometimes, when players say [things] to other players, maybe they say it in a way that unlocks the message. To have a guy like D'Eriq doing that…You can't tell the Tyler Van Dyke story of the success he's had this year without giving D'Eriq a major assist in that."
Said Van Dyke of King, "He's been great, supporting me all the way and giving me that confidence to just go out there and be myself as a player. He's been helpful in meetings, helpful on the field…In the summer, we were in the quarterback room, just drawing defenses up and he'd try to quiz me and stuff like that. I can definitely see him coaching one day…He's going to be pretty good at it."
While King and Bolden have tried to make the best of their respective situations, there are still moments they struggle, moments where they miss the game.
Knowing they've been able to rely on each other to navigate those times has been a boon.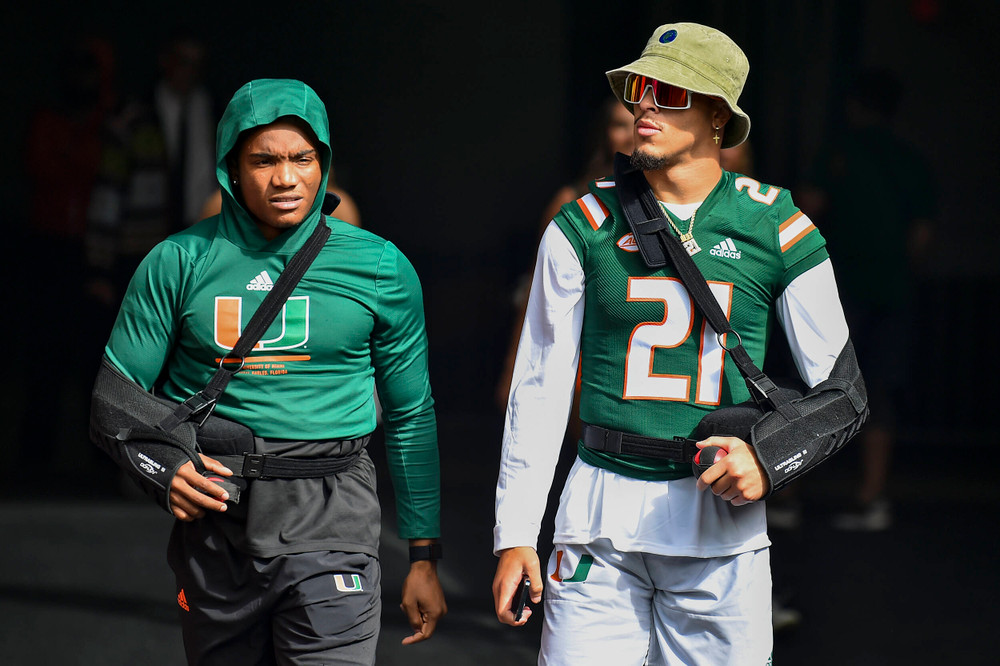 The two have had countless conversations about not only football, but their plans for life once their playing days are finished. And Bolden jokes he hasn't had dinner with anyone in recent weeks as often as he's had dinner with King.
Saturday, the two will be among the players honored when the Hurricanes hold their annual Senior Day festivities ahead of Miami's home finale against Virginia Tech.
And both say as they reflect on their experiences at Miami, they're grateful for their time as Hurricanes.
"I think, really, watching TVD have success was really big for me. I wanted to leave the quarterback room better than when I first got here," King said. "But I think in all, the relationships I made here, was the biggest thing for me. I think that was the highlight, even this year. I made relationships that are going to last a lifetime…They took me in as family when I came here and I'm forever grateful for that."
Said Bolden, "This city, the fans, Miami, the school, the president, everyone embraced me and I think that was the coolest thing, to be able to come here and make a new name for myself. And now, having the opportunity to go to the NFL and say I come from The U, the names on all these banners, I've played at a school with some of the greatest people. I think that was the coolest thing."