"The Best Decision I Ever Made"
CORAL GABLES, Fla. – It has been, for many of them, the experience of a lifetime.
Big games. Memorable plays. Building bonds with teammates and coaches. Earning degrees. Playing in front of family and friends. Learning more about not only the game they love, but themselves.
On Saturday night, two dozen veteran Hurricanes will go through the smoke one last time when Miami plays its final home game of the season at Hard Rock Stadium.
Some of those players arrived at Miami as wide-eyed freshmen, eager to add their names to Hurricanes' lore. Others came in as transfers, looking for fresh starts and the opportunity to make a difference at a program with one of the richest traditions in college football.
They've endured their share of ups and downs, from coaching changes and injuries to heroic comebacks and unforgettable victories and Saturday, they'll have the chance to celebrate it all.
"Choosing Miami over the other schools, the other football programs, was the best decision I ever made," senior striker Amari Carter said. "Going back to day one when I stepped on campus to now, I have so many great memories – the friendships I've made, the times that we've been through, the good times that I've had with my teammates, my brothers, [and] the friends that I've made here. It's something that I'll cherish for a lifetime."
Ahead of Saturday's home finale, some of Miami's seniors shared their thoughts on what it meant to be a Hurricane and some of their favorite memories.
Here's what they had to say, in their own words.
"My most fond memory? Probably this season, just getting to know everybody, going out every week with the offensive linemen, just getting to know each other and getting to know our paths, how everybody came up differently. That's something that can stick with me. This senior year was the one I enjoyed the most. I can look back, I can laugh every day. I think that was amazing. I guess, a thing I liked the most, for me personally, is I live in Miami. The drive from the hotel to the stadium, I can always look at the street that I grew up on. I can always remember the good times, spending it with my grandma, my mom, my grandad, my family. Every year for the past five years, I can look down that street on the way to the stadium and just reflect and say I'm doing it for them."
– Offensive lineman Navaughn Donaldson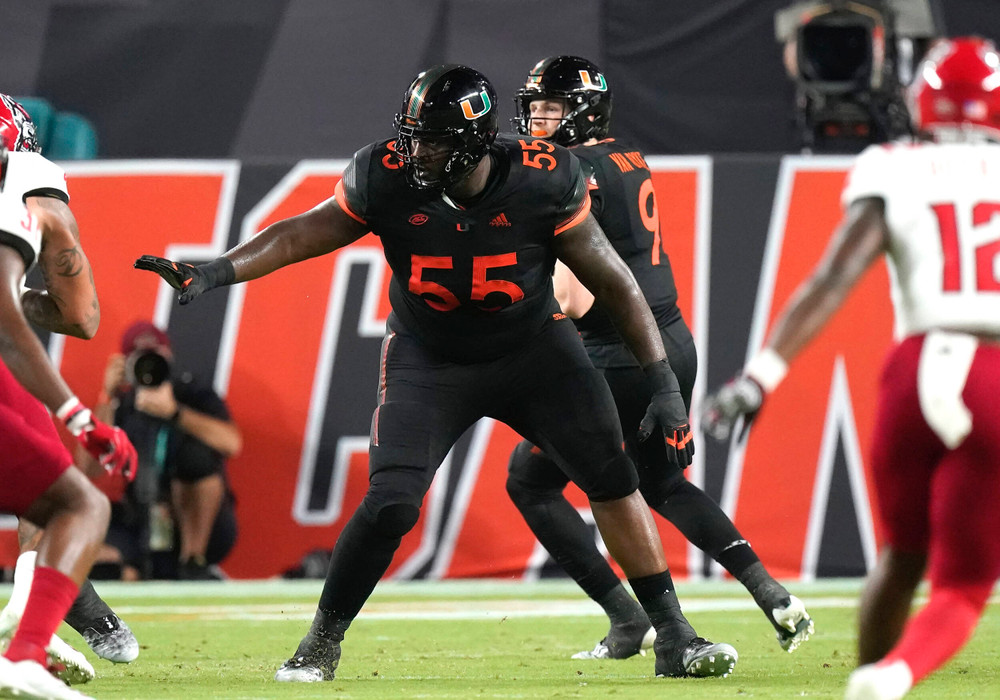 "Miami means a lot to me, to be honest. This place gave me a second opportunity that pretty much no one else would in the country. They rallied behind me. I'll always have love for Blake James. I'll always have love for Manny Diaz. I'll always have love for [Ephraim] Banda. Those are the guys who stood behind me…This school will always mean so much to me and all the players, everybody embraced me when I came in. I was a guy that was a little bit different, coming from the West Coast…but everybody embraced me. And then also, having Brevin [Jordan] was a plus for everything.
 "This city, the fans, Miami, the school, the president, everyone embraced me and I think that was the coolest thing, to be able to come here and make a new name for myself. And now, having the opportunity to go to the NFL and say I come from The U, the names on all these banners, I've played at a school with some of the greatest people. I think that was the coolest thing."
– Safety Bubba Bolden
"Outside of football, the most memorable times [were] just being with my brothers, my teammates and us spending that time together. The things we did outside of football, the work we put in outside the scheduled practices, the scheduled team meetings. Running with DeeJay Dallas at nighttime when everyone else was asleep; doing pushups in the pushup challenges in the dorms with Jonathan Garvin. Those are times I'll never forget. Everything we did with [Jaquan Johnson] and [Sheldrick] Redwine, especially from those younger days. I'll never forget those days."
– Striker Amari Carter
 "It's been a long journey, just coming from Carol City…I was blessed with the opportunity to come to Miami. This is my dream school. I love being home with my family, my fans, show the world what I can do and I'm honored and blessed to be in this position.
 "My years here at Miami have been a great journey. I've been with multiple coaches, great coaches. I've learned from Coach [Manny] Diaz, Coach [Mark] Richt. I'm thankful for [Thomas Brown] giving me a shot. Without them, I wouldn't be here in college. They gave me an opportunity and I showed them what I could do these four years."
– Running back Cam Harris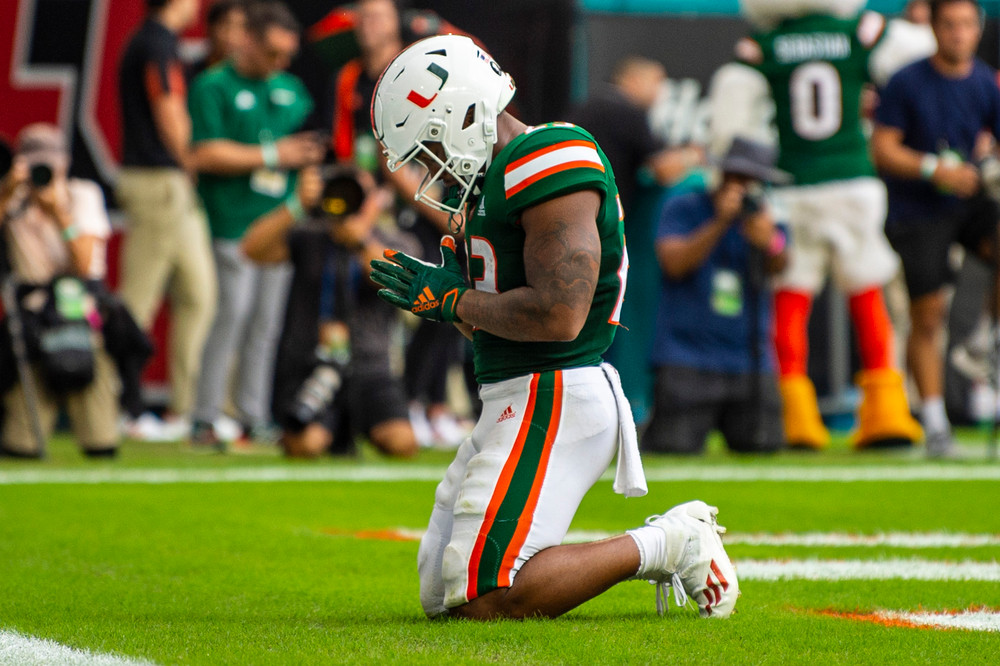 "When I started talking with the Miami coaches, I was super excited. As soon as I got the offer, I committed on the spot. I came for my official visit and I haven't looked back. I've loved every day here. It's such an amazing place compared to other colleges. The lifestyle, the weather every day is just beautiful. The campus is amazing and just the people inside the program…although I'm a long way away from my home, I think the coaches – Coach [Jonathan] Patke, [Special Teams Quality Control Analyst Danny] Kalter, Coach Diaz and all the rest of the coaching staff have made me feel like I have a family here at Miami."
– Punter Lou Hedley
 "I would say when the Canes came calling, it was a no-brainer for me. Being from South Florida, playing for the hometown Canes, it's just been super special. Not taking it for granted. I come in here, I see all the names in the rafters. I see the names, the faces of everyone and it's been special since Day One. I'd say my favorite memory is beating FSU last year…I got to get in there, hit a good punt, so that's probably my favorite memory as a Cane so far."
 – Punter Matias Gasc
 "It's been a long journey since coming in my freshman year. Things haven't always panned out how we always wanted as a team or how I wanted as a player…but it's been a great journey. Coming in and playing with these guys, meeting new faces, meeting new people, [the] wonderful people around the staff, the training room, academics…It's crazy that four years went by so fast but so slow at the same time.
 "As a freshman, the older guys always said 'Don't take things for granted. Your senior year's going to be here quick.' But you know, as a freshman, you never realize how fast it actually will come. It came fast. I just want to say thank you to the University of Miami for bringing me in and showing me the proper way of becoming a man, the proper way of doing the right things and being a leader, not only vocally but a leader that leads, that shows he can lead."
 – Cornerback DJ Ivey
"These last five years at The U have been special because of the people I met, who I came across. I met some great guys here. I built some great bonds that I'll have a lifetime. To be able to share this with my Pops and my mom on the other side, it's just bittersweet. I came from a crazy place and if anybody knows me, they know I endured and overcame a lot…This school will always have a place in my heart, especially those guys in the d-line room with me. I've met some great guys over the years. I'm going to miss those guys."
 – Defensive tackle Jon Ford
"Looking back, I see so many positives that came from my decision to come here…They took me in as family and I'm forever grateful for that…I love this University to death. I know when I have a son, I'm going to push him to come here. When I go back to Texas, or wherever I'm going to live, I'm going to have a Miami license plate. This is my school. I'm getting my [graduate] degree from here. I just love it to death and I'm so grateful I had the opportunity to play here."
– Quarterback D'Eriq King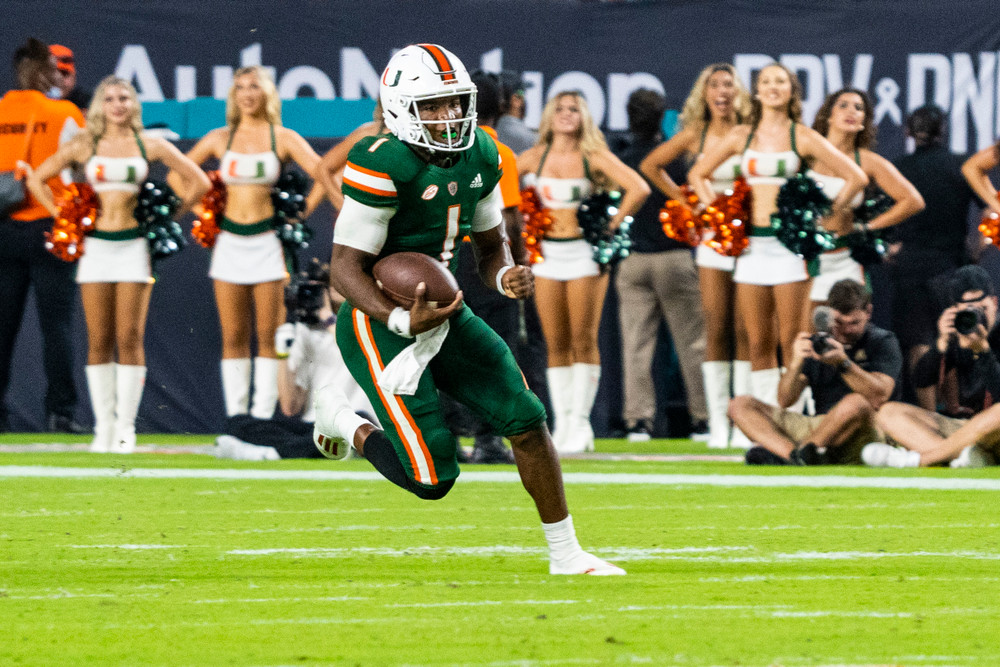 "It's a lot of great memories at The U. I made a lot of plays and I've done a lot of things, but I feel like the most memorable stuff would be in that locker room, on that track, [working] out there with [Director of Strength and Conditioning Dave] Feeley, stuff like that. Being out on Greentree, hurting…but you're with the guys and they're pushing you. I feel like those are going to be my best memories that I remember."
 – Defensive tackle Nesta Jade Silvera
 "It was very special. I had some great moments here…Time just flies. It's crazy. I'd say honestly, that 50-burger [against Florida State] last year felt special.  The crowd, the environment, everything was just great. The atmosphere. All the young guys getting in, playing, scoring touchdowns, making plays. It was just a great moment, a great time for the program. That's one of my best memories."
– Striker Gilbert Frierson
"Miami built me into the man I am today. Through challenges and adversity, it built my perseverance and my toughness. There were a lot of obstacles I had to push through and Miami built me for any obstacles in the future.
"It means a lot to say you're a receiver at the University of Miami. Coming in my freshman year, I didn't really know the meaning of it. But as the years passed on, it really hit me…Having The U on the side of your helmet means a lot. A lot of kids grow up watching it, like I did, and they're not blessed with the opportunity to play here. I wasn't ever going to take it for granted."
  – Receiver Mike Harley
"My time at UM, there's been a lot of ups and downs. We all appreciate the ups, but I'm really thankful, in my experience, for some of the down times I've had…We all go through things. We all go through life and challenges that we have to overcome and the challenges I've been presented in my time at UM have made me a man, a man that I'm proud to be who I am. I'm still evolving [and] growing as a person, but this time at The U has set me up for life. It's done things and given me opportunities I never would have had otherwise. I'm forever grateful to The U."
 – Defensive end Zach McCloud
 "I came originally from Maryland and everyone around the country knows about The U. So, it's just a blessing to be here. I had a great time. Made great friends. I love every part about this team. I'm glad I got to be a part of it…My sophomore year, playing at Florida State, I'll remember that forever. The stadium was packed. I hit two field goals. It was a great day."
– Kicker Camden Price
"Being a Miami Hurricane is a real brotherhood. We're with each other every day. We go through a lot of hard work and a lot of people go through a lot of hard times, so there's a lot of empathy within the program and the team. Everyone is there for each other and you have to be a man for others at times…It's brought a lot of pride to my family and it's meant a lot to me myself being able to be coached and mentored by such great people…I got to play with my brother [Mark Byrne]. I had a lot of great times with great people here and I wouldn't want to be doing anything else."
 – Wide receiver Connor Byrne