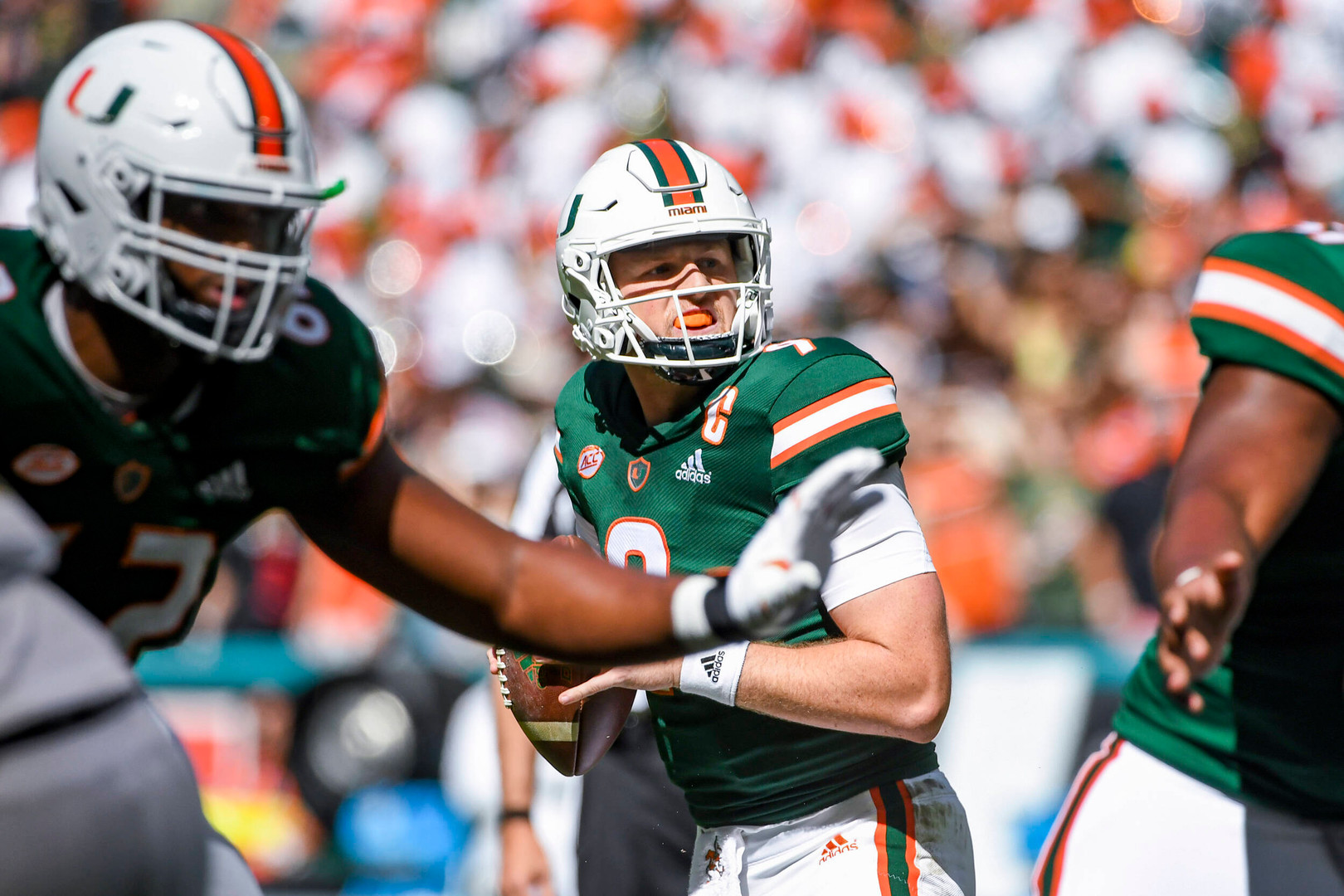 CORAL GABLES, Fla. — Miami Hurricanes football is a brotherhood. A fraternity. A family.
Whether it be the legends that established the Hurricanes' dynasty in the late 1970s and early 80s or the stars that assembled what is often considered the greatest college football team of all-time in 2001, Canes football bonds players together for life.
It's that element that inspired former Miami quarterback Malik Rosier to connect with Tyler Van Dyke.
Rosier, who is a quarterbacks coach for the company Quarterback Country after playing for the Hurricanes from 2014-18, wanted to work with Van Dyke well before the second-year freshman was even receiving national attention.
Their relationship began over the summer with Rosier traveling to Coral Gables to work with Van Dyke.
"We actually had two in-person sessions where we went through footwork and a couple of other things. I just watched him throw," Rosier said. "You can definitely tell whoever coached him before definitely did their job. He has good fundamentals and a strong base. He has really good arm talent and it's just going to keep getting better and better. You can tell he loves to take deep shots. From his arm strength and arm talent, it's just incredible what he can do with a football."
As fall camp and the school year rapidly approached, the duo knew that Van Dyke's schedule would become jam-packed with meetings, workouts, practice and class.
Yet, that didn't slow them down.
Rosier and Van Dyke scheduled a meeting every Wednesday night over FaceTime to break down film from that past week's practices.
And as Van Dyke stepped into the starting role, practice film turned into game footage.
"It's cool that he believes in me and knows that I can do the job for Miami. It's a cool relationship to have," Van Dyke said. "It's honestly good to have another person behind me and supporting me. If I ever need to ask if my mechanics were off, he'll tell me the truth."
During the Hurricanes' winning streak, Van Dyke has completed 79 of 109 passes for 1,140 yards and 10 touchdowns, with only one interception. The second-year freshman became the first Miami quarterback since Bernie Kosar in 1984 with three straight games of at least 325 passing yards.
With Van Dyke becoming more comfortable under center, Rosier has spotted a clear change in the Glastonbury, Conn. native's game.
"He's more confident in himself and his teammates," Rosier said. The other big thing I've noticed, his ability to communicate why he did and what he did. He can really break down the coverages, break down his plays, break down where he goes and why he went there. For him to do that at such a young age and how sharp that he is, is very impressive to me."
This Saturday, Van Dyke will become the fifth different Miami quarterback to start against rival Florida State in as many seasons. The 6-foot-4, 224-pound signal caller and the Hurricanes have the opportunity to win their fifth straight game over the Seminoles, a streak that Rosier started in 2017.
"Embrace the hate," Rosier said of his advice to Van Dyke. "Send them home quietly. Be yourself, be calm and don't let the game environment get to you. Have fun and go play the game you love. Really, just keep being yourself."
For Van Dyke, he's excited to make his mark on the rivalry.
"Looking back at the history of it, that's why I came here," Van Dyke said. "That's why a lot of people are here. It's a great rivalry game. We're definitely preparing like we haven't before — working harder, preparing even better than we were the last couple weeks. We're really excited."