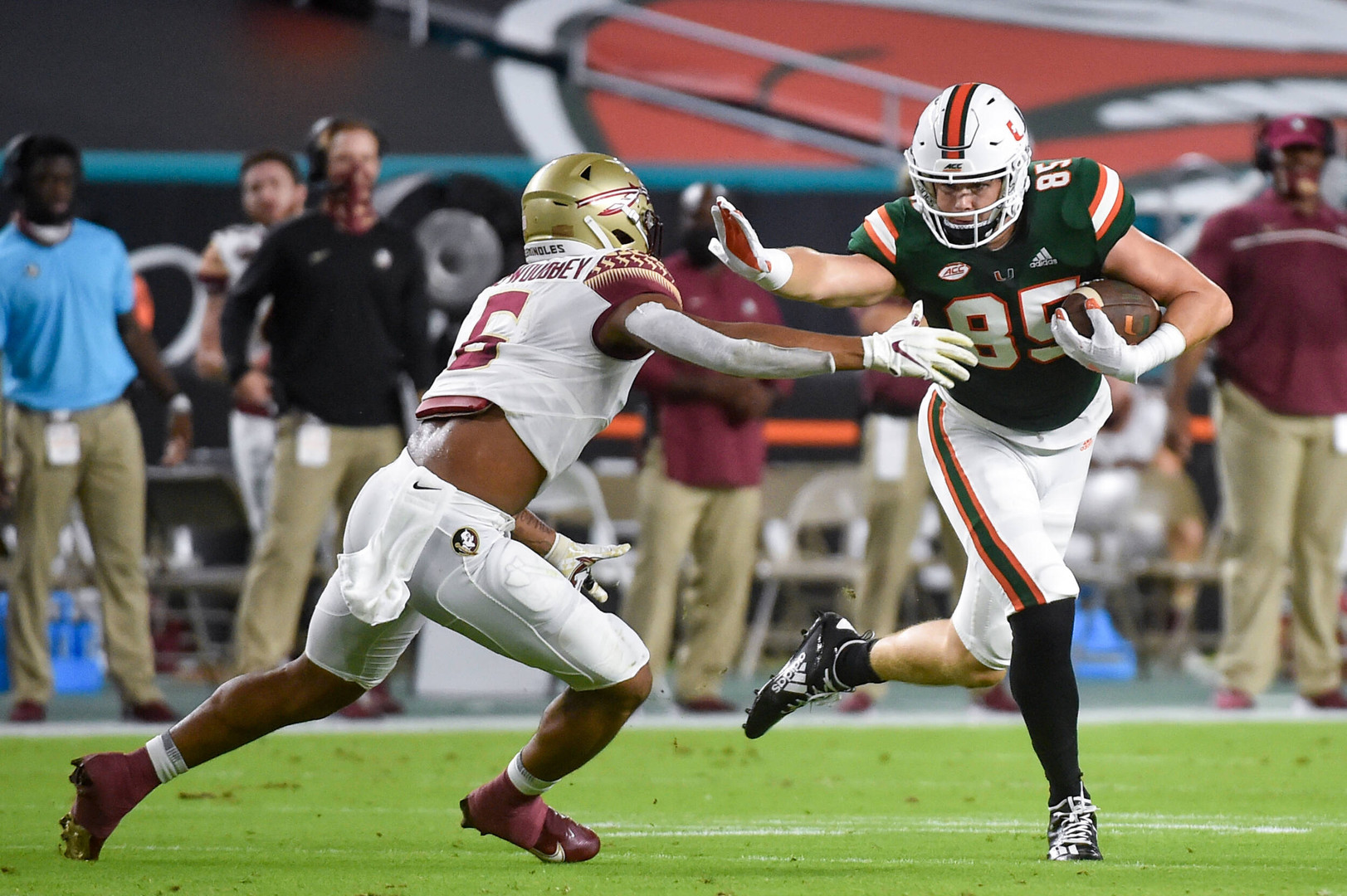 CORAL GABLES, Fla. – Even as a kid in Connecticut, the game captured his attention.
And so, though Tyler Van Dyke had no ties to either Miami or Florida State, the young quarterback made it a point to tune in and soak up as much as he could on that one Saturday every fall when one of college football's most storied rivalries was on full display.
He watched the thrilling last-second drives. The improbable plays. The big hits. The intensity.
Even from more than a thousand miles away, Van Dyke knew Miami-Florida State was the kind of game he wanted to play in one day, the kind of stage on which he wanted to one day shine.
He'll have his opportunity to do exactly that on Saturday when the surging Hurricanes – winners of three straight – head to Tallahassee for their annual showdown with the rival Seminoles.
And like his teammates and coaches, the Hurricanes quarterback already has a deep understanding of what this game means to two programs who have long respected each other – even if they haven't always liked each other.
"It means a lot. It means a lot for the history of the program. It means a lot to the team right now. It's FSU-Miami," Van Dyke said. "We're going to give it our all. It's one of the biggest rivalries in college sports and we're excited to play in it."
While Van Dyke may be a relative newcomer to the Miami-Florida State rivalry, many of his teammates and coaches have grown up in the thick of it. There are homes divided. Lifelong friendships put aside for a few hours every year.
It is a game that defines so much of the experience for every player at Miami and so, in their own words, the Hurricanes shared with us what Miami-Florida State week means to them.
Here, some of what they had to say:
"I would say it's like a holiday. It's the football event of the year. It's been that way since I was a kid. I just love seeing the uniforms on the field together. I just love the way the colors look. I think about the great games, the great players, the great players who have played great in these games and the fantastic finishes. It's how I remember college football being, a game where the ultimate stakes were on the line and the intensity level played by both teams was unmatched. To be part of it in my career, on both sides, has been a major blessing."
 – Head coach Manny Diaz
"It's a neighborhood football game in the street. A lot of emotion, a lot of pride goes into this battle. Nine times out of 10, you're going to play somebody you grew up with or played football with, so that's why I say it's like a neighborhood football street game.
 "Florida State is Florida State. It's the reason you came to Miami. I know you hear it a lot, but it's true. You just look at the schedule and see the games you think might be easy, the games you think might be hard. But you're always going to look at the Florida State game and know it's going to be a battle, no matter what, whether they're 10-0 or 1-9."
 – Senior receiver Mike Harley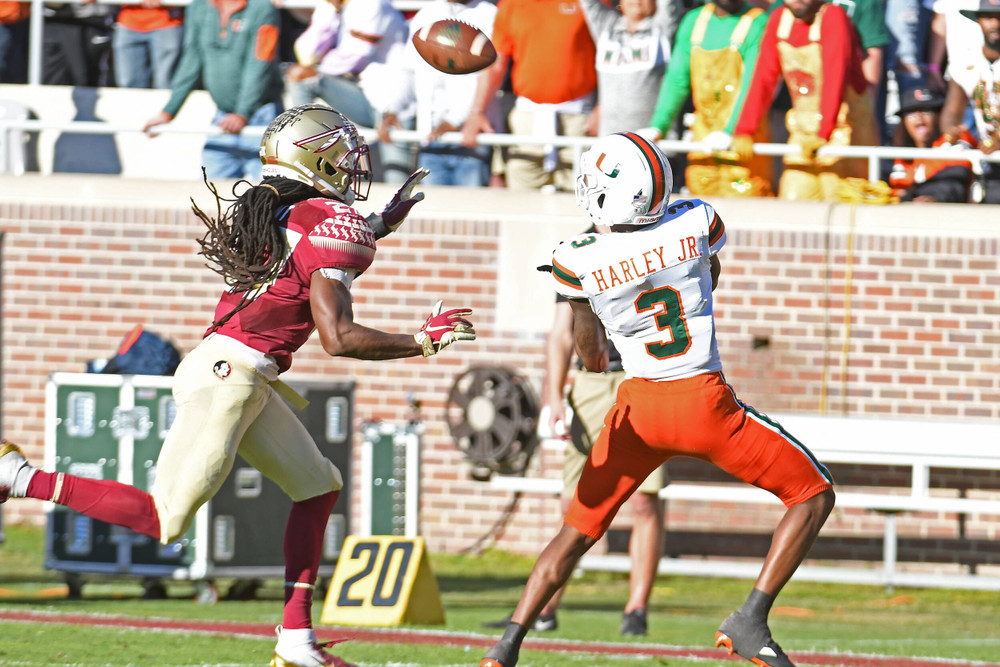 "It means history. I know for certain no single game played between the two teams has been forgotten about. It really means everything. You come to Miami and the one thing you have to do is beat Florida State. That's something you hear all around town, from the off-season to the season, the first game, all the way until the late fall when you play them. It means everything."
– Senior Striker Amari Carter
"It means everything. It's like everybody says – when they ask you what your record is against Florida State, it better be on the winning side because we don't like those guys at all. It means everything."
 – Redshirt freshman defensive end Jahfari Harvey
 "When I think about this game, I think about the history behind it, how this rivalry turned out, all the greats that played in this game. When we watch the highlight videos, we see the intensity and it brings so much energy into us, and to me. I really can't wait to go out there and perform because of the legacy of this game and how everybody talks about this game and explains how important it is that Miami doesn't lose to Florida State. All of that just brings so much passion, to go out there and ball this week."
 – Freshman running back Jaylan Knighton
 "It's an emotional week. It's just fire. Intensity. Everything. This is a game you came to Miami to play in. I'm fired up. You hear that War Chant and it's just something that gets you fired up."
 – Senior defensive tackle Jon Ford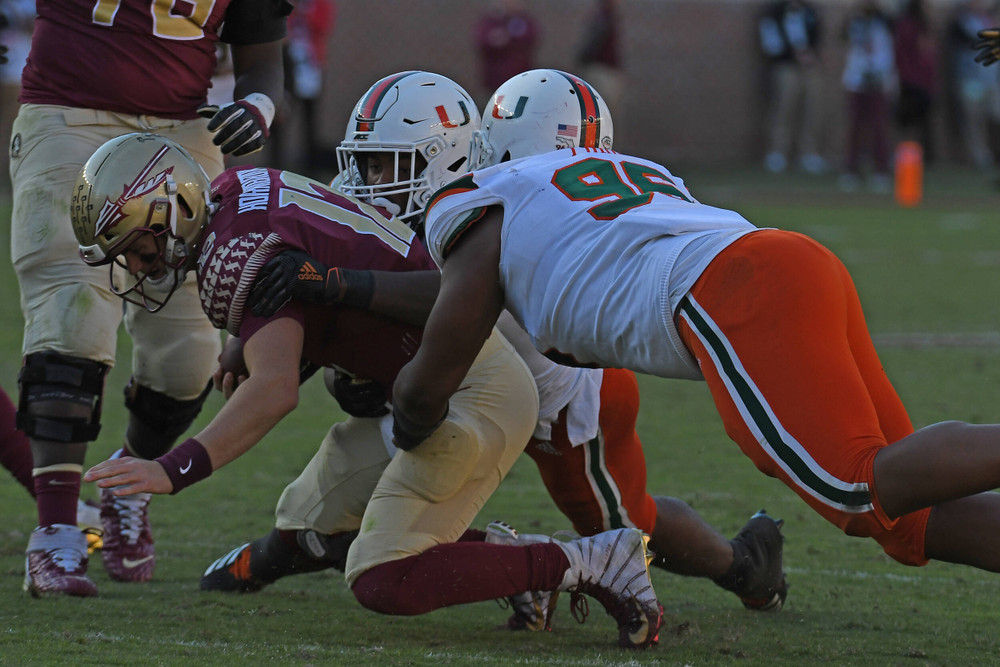 "It means a lot. I'd say bragging rights. Like I was telling the guys yesterday – you don't remember any record but this record right here. I don't know what my record was against Georgia Tech, North Carolina, but Florida State, you will always remember the record. Wins, losses. You always try to play your best and get that 'W.'"
 – Cornerbacks coach and former Miami cornerback DeMarcus Van Dyke
 "Well, I'm a kicker, so, in the back of my mind, I always hear 'Wide right, wide left.' I definitely remember my sophomore year up there. That was my second start and that's a pretty crazy environment. But I would just say, 'wide right, wide left.'"
 – Redshirt sophomore kicker Camden Price
 "This is one of the reasons you come to Miami. This is deeper than just football for me. For me, it's actually a house divided. My mom graduated from Florida State. I'm playing here at Miami…This is a whole thing. It's deeper than just the game. It's different. You can definitely feel it. This game means a heck of a lot."
 – Freshman defensive end Chantz Williams
 "Goosebumps. That's what it is. We watch the video in team meetings and it's goosebumps. Even before I came here, I understood the big deal of it. It worked out well for me – I hated FSU in high school, too, so, it's a big deal. Getting to go up there and play in front of that crowd is going to be a lot of fun."
– Junior tight end Will Mallory
 "To me, it's a legacy-defining game. No matter what you come here to this school and do, how every other game shakes out for you, you're always going to remember your record against Florida State and I think that rings through this building every year. It doesn't matter who you talk to, all those guys from the glory days, they're going to ask you your record against Florida State. It's a legacy-defining game. It's important for the culture for both programs, but I'm only worried about the culture here. It's one of those games that it doesn't matter how you feel – you can be banged up, your body's hanging on by a thread, but you're out there having fun because the rivalry is just that special to you."
– Redshirt senior defensive end Zach McCloud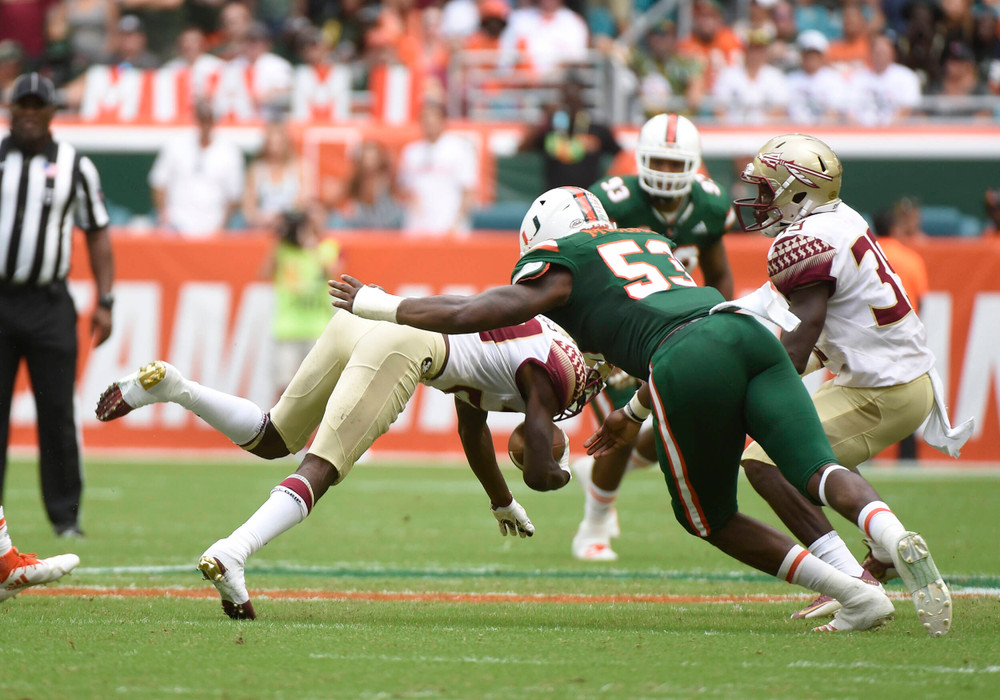 "It means everything to me. It is a big part of why I came here. It's the one game I've been looking forward to most because of the rivalry. I've been watching this game since I was little and it's been an amazing game for both teams. I've just been looking forward to it."
 – Freshman kicker Andy Borregales
 "It's a big game. It's a rivalry game. You're going out there to compete and beat them. That's the main thing. It's going to be great seeing all those people, watching a big football game. You know the atmosphere is going to be jumping."
– Freshman defensive tackle Leonard Taylor