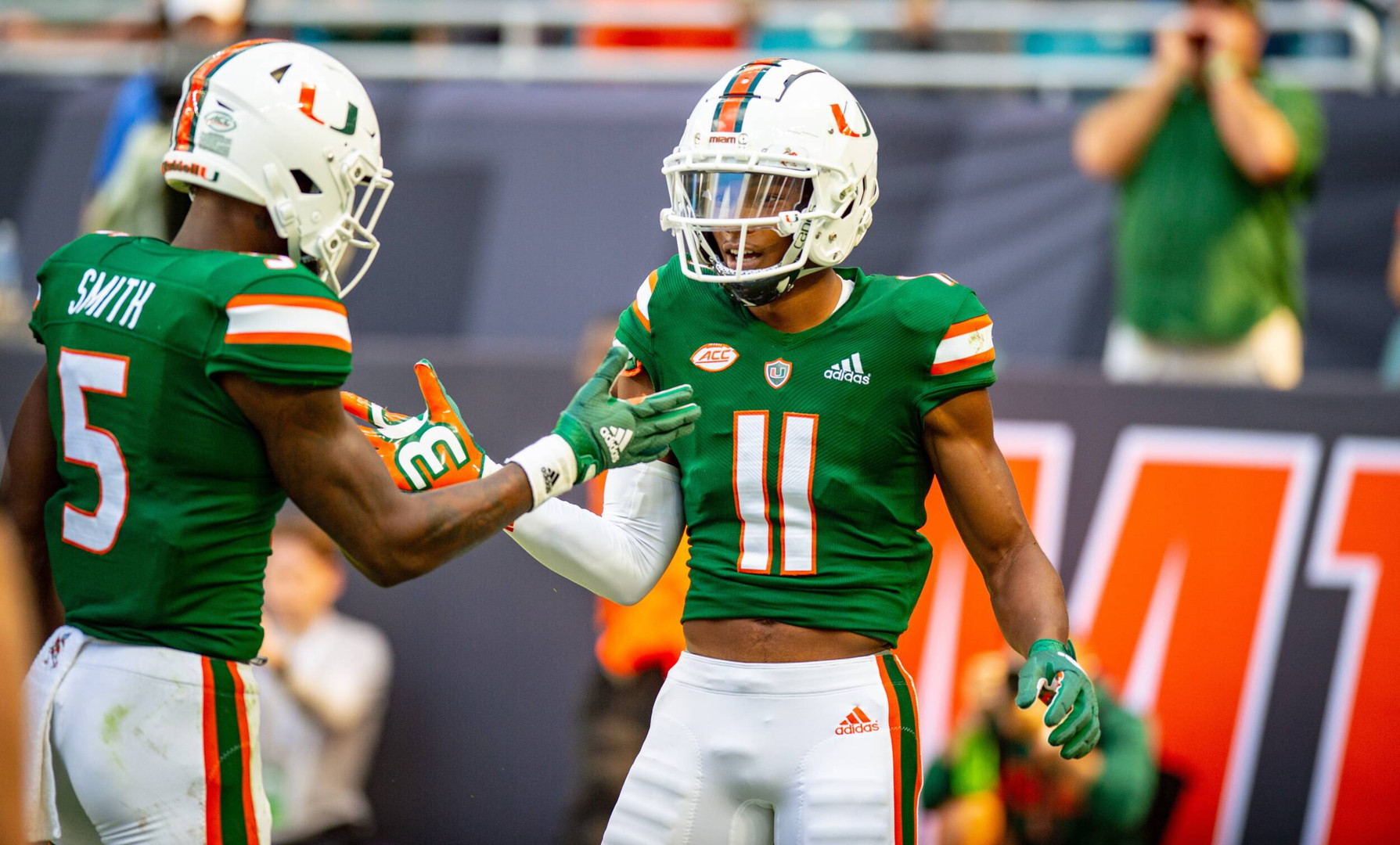 MIAMI GARDENS, Fla. – Charleston Rambo isn't one to get caught up in individual numbers.
After his 210-yard performance in Miami's 33-30 win over Georgia Tech, the receiver made a point to note that all of the Hurricanes' receivers have been delivering of late and that Saturday's victory was a complete team effort.
But there was one accomplishment that made him smile just a bit: the fact that he has now officially joined some pretty elite company in the Miami record book.
Rambo, who hauled in seven catches against the Yellow Jackets, is just the fourth receiver in program history to total more than 200 yards in a single game and his effort on Saturday now ranks second in a single game behind just former Miami receiver Eddie Brown, who had 220 yards against Boston College in 1984.
The only other Miami receivers to top 200 yards in a single game? Wesley Carroll and Phillip Dorsett.
"Being in company with those players and in the record book, it means a lot," Rambo said. "But I've got to stay humble, keep God first and keep getting better. I've got to go in next week, Sunday, Monday, practice, be better. I can be better. And I'm going to be better for the team and for myself."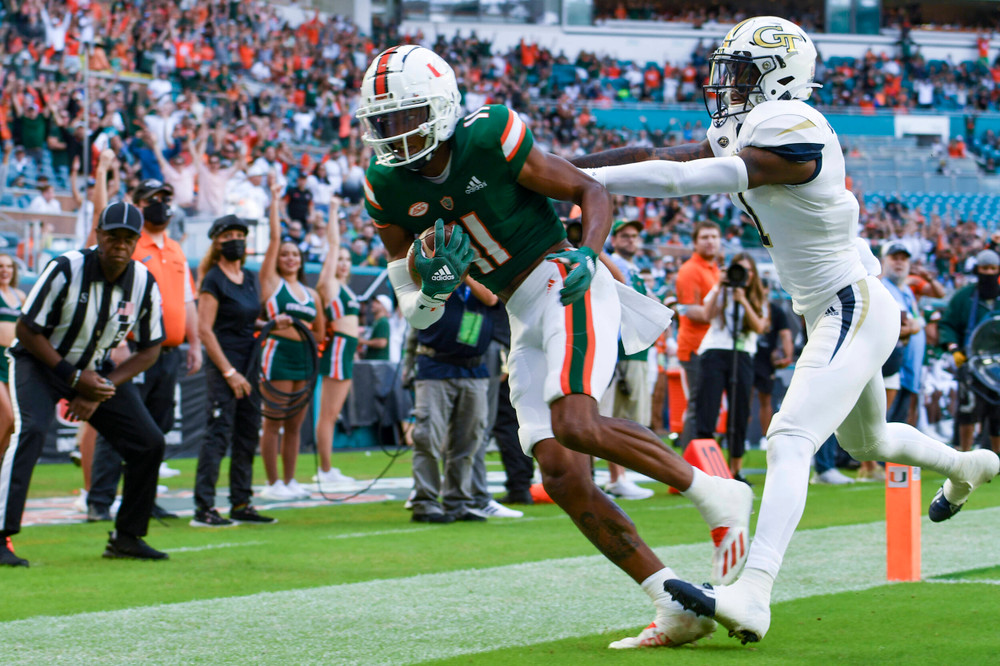 During Miami's three-game win streak, Rambo has been nothing but impressive for the Hurricanes (5-4, 3-2 ACC).
Against North Carolina State, he had nine catches for 127 yards with two touchdowns. At Pittsburgh, it was seven catches for 101 yards. Then came Saturday and his season-best and career-best 210-yard performance that included a touchdown to boot.
In all, the receiver has topped the 100-yard mark in four of Miami's last five games.
"I think I said this after the NC State game, but [Rambo] is a problem. He is a hard guy to leave on single coverage, but all of a sudden, if you want to put two on him, that affects your run fits and how you play your RPO," Miami head coach Manny Diaz said. "He is proving that week in and week out and I think he is one of the top wideouts in our league. Our league is blessed with some big, top wideouts, which to me, means he is one of the top wideouts in the country. We are lucky we have him and I am excited to see what he does here in the month of November."
Said Hurricanes quarterback Tyler Van Dyke, "He's great. Third down, I know I can go to him. I can trust him. Just get the ball and he'll make the play for me. I know he wishes he could have a couple plays back [today], but he still had 210 yards, you know?"
The Hurricanes – and their opponents – aren't the only ones who know what a playmaking threat Rambo is.
Last week, the receiver was added to the midseason watch list for the Biletnikoff Award, which is given annually to the nation's top pass catcher.
Through the Miami's first nine games, Rambo leads the Hurricanes with 860 receiving yards and a team-high 14.8 yards-per-catch average.
But the redshirt junior, a transfer from Oklahoma, knows there is still room for his game to grow. His numbers on Saturday could have been even better, were it not for a fumble and three dropped passes.
That, he says, is why he'll continue pushing himself to be even better during the final stretch of the regular season.
"We're not done. We've practiced all summer, all spring to come out on Saturdays and be great. Nothing less but to be great," Rambo said. "There's more to come. More to come."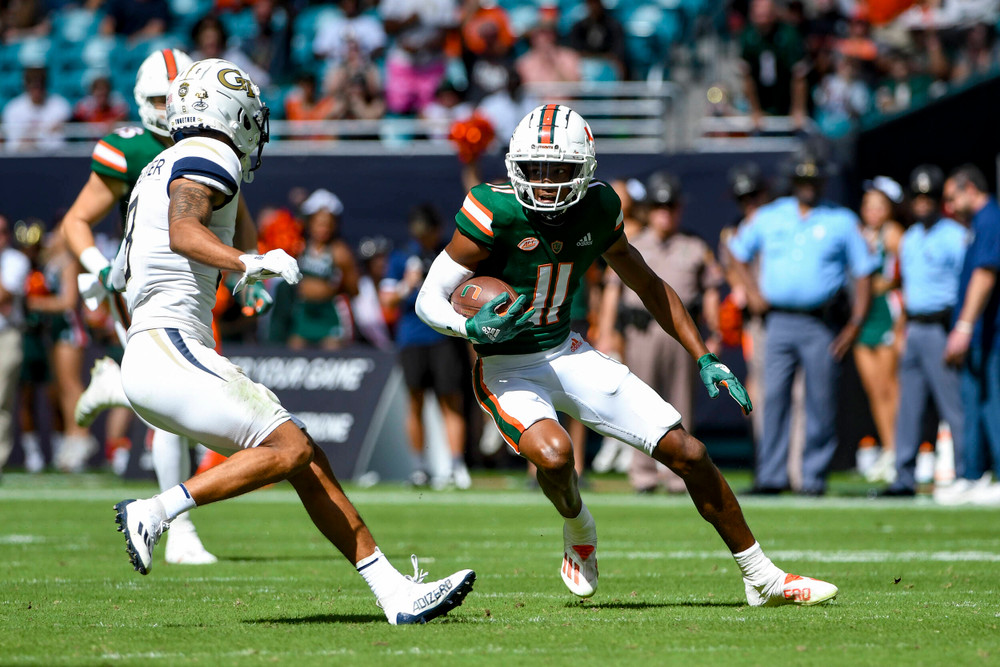 And while Rambo may have been speaking about the Hurricanes as a whole, there could be plenty more to come for him, too – in regards again to the Miami record book.
With his performance Saturday, Rambo moved into the No. 10 spot on the Hurricanes' single-season receiving yards list.
Just above him are names like Michael Irvin, who had 868 yards in 1986; Dorsett, who totaled 871 yards in 2014 and Santana Moss, who had 899 yards in 1999.
Allen Hurns, who had 1,162 yards in 2013, holds Miami's single-season record, but it's not out of the realm of possibility that Rambo could find himself atop the list by season's end.
And that, he knows, will only make his decision to come to Miami even more rewarding.
"Being wanted at a place that needed help on their offensive plan and me being able to be there for them, it just fit," Rambo said. "I just have to out there on Saturday and be better for the team and put the world on notice to what we're doing."