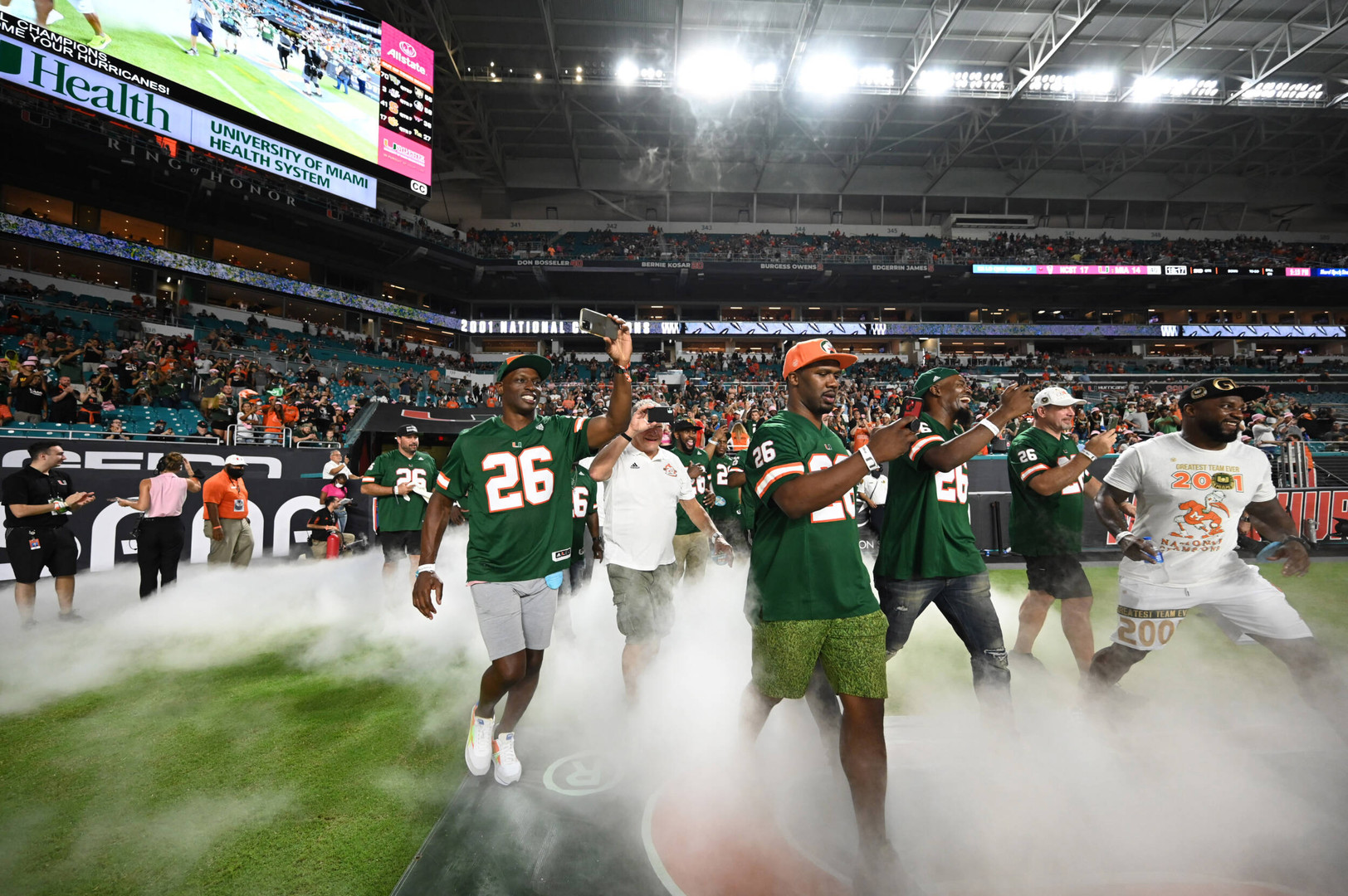 MIAMI GARDENS, Fla. – Once again, they had the chance to run through the smoke. To gather and reconnect with each other and their coaches. To honor teammates no longer with them.
On Saturday night while the current Hurricanes earned their biggest win of the season with a 31-30 upset of then 18th-ranked North Carolina State, from high above, the members of Miami's 2001 national championship team watched and reconnected.
And at halftime, they themselves took the field at Hard Rock Stadium to celebrate the 20th anniversary of their undefeated season, their title and all of the glory that came with it.
"It was such a special time," said former coach Larry Coker, who led the Hurricanes through that perfect 12-0 season. "Just a rare time that you're honored to be a part of. It was a great group of guys and I am just excited to be here…To say hello to the players again, to talk to them, find out about their lives a little bit and have fun with them, it's just a special moment. I feel so blessed to have been part of this team. It was a great experience."
It was also a team whose accomplishments have been unmatched.
The 2001 Hurricanes, widely regarded as the greatest college football team of all time, beat opponents by an average of 33.2 points per game, the largest average margin of victory in UM history. It was a team whose defense led the nation in pass defense, scoring defense and turnover margin. And its roster full of stars produced 38 players who'd go on to the NFL.
The team included 17 future first-round draft picks and 22 future All-Pro honorees. One player – former safety Ed Reed, now Miami football's Chief of Staff – has been inducted into both the Pro Football Hall of Fame and the College Football Hall of Fame.
"It's the standard at this program and it gives you something to aim for every day," Hurricanes head coach Manny Diaz said. "Having guys like Ed and Mike [Rumph] still in the building, they can tell you the stories. Everyone remembers the finish, but the great story is the build and what it took to get that team and their climb up to greatness. That's the blueprint of the program."
And while on Saturday, the Hurricanes celebrated that build and all of their accomplishments, many said it wasn't just what they did on the field that made that season so incredibly memorable.
"The brotherhood really was and is something special," former center Brett Romberg said. "It's been talked about in NFL locker rooms. Guys are always asking 'What's so special about that place?' and it's hard to articulate it unless you've really gone through it. That's why we always say, 'It's a Miami thing and you wouldn't understand.'"
Added former right tackle Joaquin Gonzalez, "Everybody talks about the bond. Bonds can be created anywhere and any place. I think one of the surest things that gets people close is when people go through something together. When we were here in '97, it wasn't sugar cookies and daisies…Our weight room, literally, I could touch the ceiling. It was no more than 1,500, maybe 1,800 square feet. It was like a dungeon. It was so grimy. It was so like a Rocky movie and you just embraced that. You'd look to the side and you'd see guys suffering through a massive squat day and then having to run 60 110 [sprints] thinking 'How are we going to do this?' and you did it…Going through all of that just bonds you for life. Different people experiencing different things and for us, being there and going through that is what brought us close together."
It wasn't just the work of preparing for that one season that the Hurricanes said brought them together. As many of the veterans on that team recalled, it was the struggle of going through a losing season in 1997, when some arrived at Miami, that made their 2001 run all the sweeter.
It was a time at Miami that still means so much to Hurricanes fans, something the team experienced again during its weekend in South Florida.
Coker and his wife, Dianna, chuckled when sharing how many times Hurricanes fans stopped them to say hello in the lobby of their hotel. And Gonzalez and former right guard Martin Bibla had a Saturday-morning game of pickleball at a local park interrupted multiple times by Miami fans who wanted to say thanked them for the memories they helped create.
"We're 20 years removed from that and we had passersby saying thank you to us," Bibla said with a laugh. "That's incredible. It almost seems presidential. Like, 'Thank you for your service' and I was like 'We didn't do anything but play a game. We played a game.' But it was special and surreal."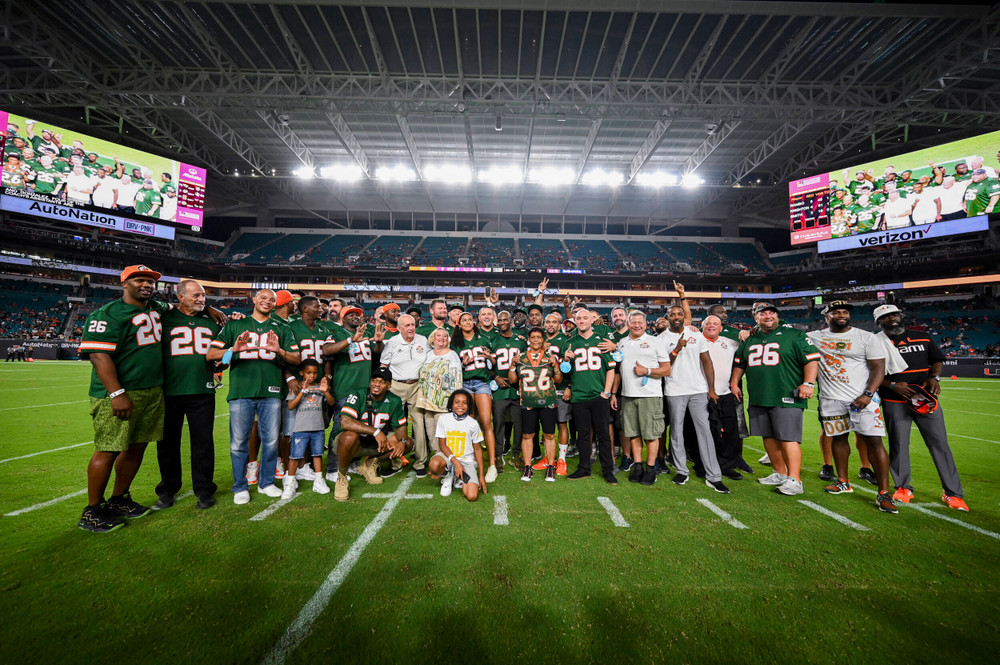 The weekend, as memorable as it was, did have a few somber moments.
When the players took the field Saturday night, virtually all of them wore jerseys honoring their fallen teammate Sean Taylor, while Taylor's daughter, Jackie, and her mother Jackie were in attendance Saturday to spend time with Sean's teammates.
And before the game, the team and their guests held a moment of silence for Taylor and for their late teammates Chris Campbell and Carlos Joseph.
It was one more sign of the bond the team still shares, a reminder of how much they all mean to each other, even 20 years later.
"Not all family bonds are created by blood. It's about the pride you have in each other, in everybody's lives and what they've done to grow you as a person," Bibla said. "It takes a village to raise a person and the village of Miami, as big and small as it can be, made a world of difference and shaped every one of us…It's the men that we are and the lives that we live and the relationships that we built…Twenty years removed and we all come back, we all have the same memories, the same stories, the same bonds. That's unbreakable."