CORAL GABLES, Fla. – Jaylan Knighton has always been plenty fast.
His ability to outrun would-be tacklers, combined with his then-flaming red hair, had coaches and teammates calling him "Rooster" as a youth football player growing up in Fort Lauderdale.
The nickname stuck. Knighton only got faster the more he played, a fact that was on full display last week when he scored three times in Miami's heartbreaking loss to North Carolina.
By his sophomore year at Deerfield Beach High, the future Hurricane was a budding star. But his coaches, knowing he could take things to another level, encouraged Knighton to join the school's track team.
Formal speed training, they told him, would only make him better.
The running back heeded their advice, competing in the 100-meters, the 200-meters and the 4×100-meter relay.
He'd go on to break school records on the football field and become a consensus four-star prospect, the nation's fifth-ranked running back and an Under Armour All-American.
A plethora of big-name college programs including Alabama, Clemson, Oklahoma, Florida, Florida State, Oregon, Penn State and others recruited him heavily.
It was his hometown program at Miami where he eventually signed and last weekend in Chapel Hill, when the Hurricanes needed him most, the second-year freshman stepped up in a big way.
With veteran running back Cam Harris out of the game after getting hurt early in the third quarter, Knighton sparked Miami's offense, scoring two second-half touchdowns, including one on a 60-yard catch-and-run play where his speed was on full display.
The Hurricanes ultimately came up short in a 45-42 loss to North Carolina, but Knighton finished with a game-high 165 all-purpose yards and recognition as the ACC's Rookie of the Week after his performance.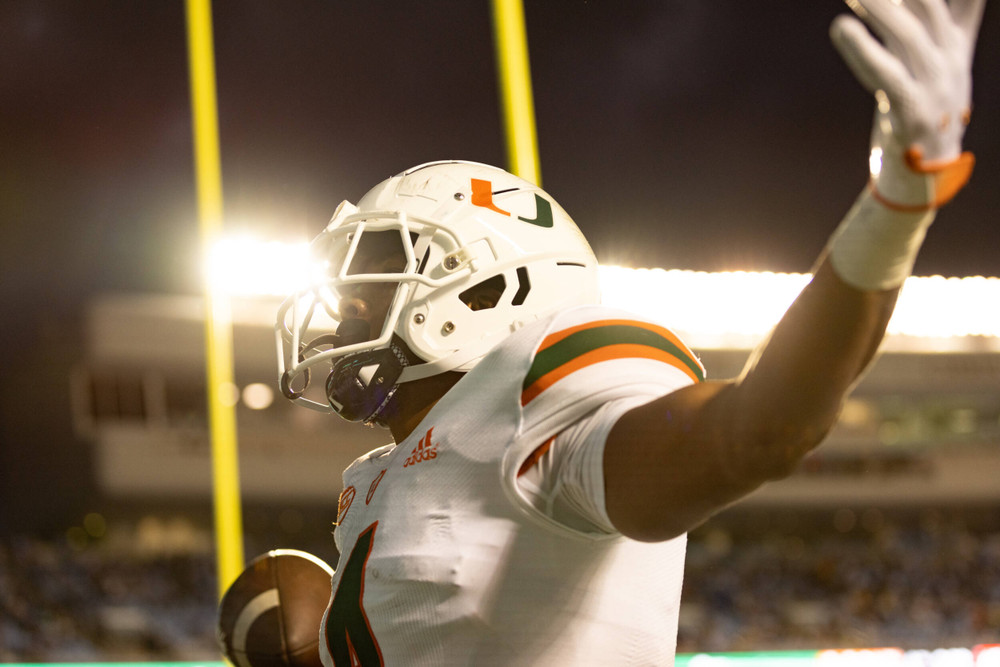 "He looked like a No. 1 guy during the game," Miami head coach Manny Diaz said. "It's a tragedy to lose a guy like Cam, with how important he is to the team. But the way Rooster ran, it provided a spark for us. He made some big plays and I think the whole team is confident when he's out there."
Added Hurricanes quarterback Tyler Van Dyke, "Once he has that ball in his hand, he's hitting the hole, catching it and just going. He really can provide a big spark to our offense and I'm glad he went off that game. We needed it. We really did."
Miami (2-4, 0-2 ACC) will need more of that from Knighton moving forward.
With Harris now ruled out for the remainder of the season and fellow running back Donald Chaney Jr. also sidelined by injury, Knighton is now the Hurricanes' featured back.
It's a role that may have seemed tough to imagine, given that he was suspended the first four games of the year. But Knighton says he grew from the experience and he's determined to continue contributing for the Hurricanes, on and off the field.
"You learn to appreciate the game a lot more. The week I came back, I felt so good. I promise, it was one of the best feelings of my life, getting back out there with the first team and the second team, getting those calls," Knighton said. "It felt like nothing had changed and nothing had really changed because of the attitude I had when I was suspended. How I practiced, you couldn't even tell I was in that situation…Even when I was suspended, I was coming out here every day, working hard, not beating myself up…Me and my parents talked day in and day out. Coach Diaz, we talked day in and day out…I just came in and executed every day. That was my main focus. I wanted to get my brothers better."
For Knighton, part of helping his team now isn't only delivering big plays – though he expects he'll be carrying a heavy load in the coming weeks.
The running back says one of his biggest priorities now is making sure his fellow backs – freshmen Cody Brown and Thaddius Franklin Jr., among them – are ready to step into the spotlight, too.
Like Knighton, they'll be called on this weekend when the Hurricanes host 18th-ranked North Carolina State (5-1, 2-0) at Hard Rock Stadium.
The Wolfpack will bring one of the nation's top defenses with them to Miami Gardens. Through six games, NC State has allowed an average of just 90.8 rushing yards per game, a number that ranks eighth among FBS programs. Opponents are managing a total of 292.7 yards per game, which ranks 11th nationally.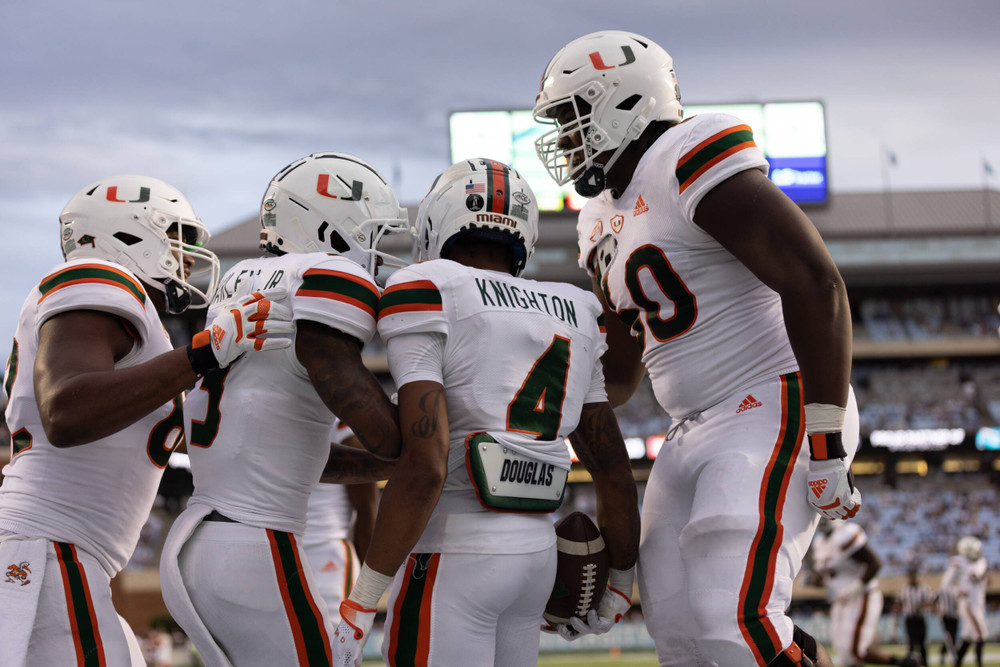 It will be a challenge for Van Dyke, Knighton and the Hurricanes to move the ball, but Knighton says it's one he embraces, especially now that he's one of the leaders on the offense.
"I have to make explosive plays. Block. When they blitz, pick it up. Be physical. If those things are done, the main thing is going to happen," Knighton said. "We're going to run the ball. We're going to make plays. The line is going to get physical and block. We'll see what all that brings. If we execute that, we can see the outcome…We have the athletes. We have the players. We have the plays. Confidence and execution, that's what we have to do."
Knighton's willingness to count on all his teammates, Diaz said, will make a difference for the running back as he adapts to his new role.
Yes, he'll be asked to do more. But he doesn't have to do it alone.
"Honestly, just run hard. Run hard and play well without the football because North Carolina State is a very multiple defense," Diaz said of what he'd like to see from Knighton on Saturday. "They bring pressures from everywhere and really, just do your job. What we keep saying is when guys that are talented do their jobs, their talent shows up.
"Rooster did a great job of doing his job on Saturday and that's all he has to do. He doesn't have to put on a cape. Just be you and let your talent shine."