Takeaways from Miami's Game at North Carolina
CHAPEL HILL, N.C. – This game, the Hurricanes hoped, could provide a much-needed boost.
After a gut-wrenching loss to Virginia two weeks ago and learning that quarterback and unquestioned team leader D'Eriq King would need season-ending shoulder injury after being hurt last month, Miami arrived in Chapel Hill looking to try and hit a reset button of sorts.
Second-year freshman quarterback Tyler Van Dyke had shown his mettle in King's absence. Miami had used its off week to try and get back to basics in practice. And North Carolina, the preseason pick to win the ACC's Coastal Division, had already endured three conference losses.
An opportunity was there for Miami. But for the second straight game, a late Hurricanes rally came up heartbreakingly short.
Miami, which at one point trailed North Carolina by 18, pulled within three and drove deep inside Tar Heels territory in the game's final minute.
But facing a third-and-4 situation on North Carolina's 16-yard line with six seconds left, Van Dyke's pass attempt was batted down and ultimately, intercepted.
North Carolina hung on for a 45-42 win while the Hurricanes, who missed a last-second game-winning field goal against Virginia in their previous game, were left devastated again.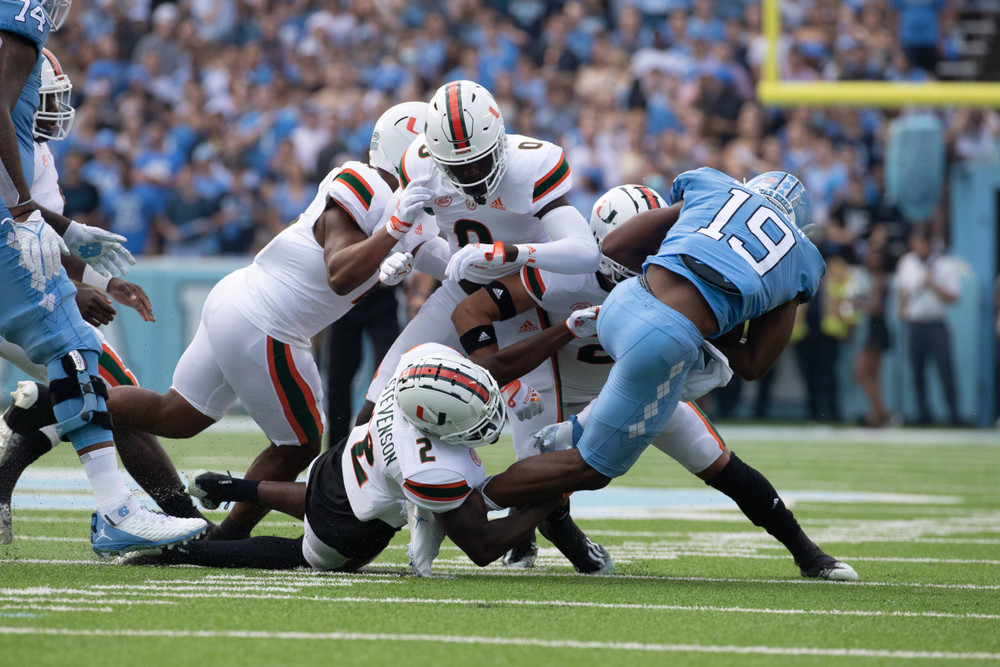 Afterward, Miami's coaches and players were clearly emotional.
"In the years that I've been doing this, to be a part of a team that has a mental toughness, the resiliency, the courage that this team has, I don't know if I've ever been a part of it before and that's why my heart breaks," Miami head coach Manny Diaz said. "We just can't find the play to get them the victory that, in my mind, they deserve. The pride I feel being a part of this with these guys, the way they fight, I know the reward is coming. It is. It's just the way that it works. It's a play and as coaches, we have to find that play."
Miami will have its next opportunity to try and find that play when it returns to Hard Rock Stadium to host 18th-ranked North Carolina State next Saturday.
The Hurricanes say they will continue fighting and pushing forward in an effort to bounce back from their 2-4 start. Here, more of what they said they took from their loss at North Carolina.
1. Despite a late rally, another tough start proves too much to overcome
Against Virginia two weeks ago, the Hurricanes needed time to find their offensive rhythm.
That happened again Saturday against North Carolina.
Midway through the second quarter, the Tar Heels built a 28-10 lead after Ty Chandler's 4-yard touchdown run. To that point, Miami's lone touchdown had come from its defense, when Jahfari Harvey intercepted a Sam Howell pass and returned it for a score.
While the Hurricanes did score again before halftime when Jaylan Knighton found the end zone on a 2-yard run, Miami went into the locker room with just 80 total offensive yards, compared to North Carolina's 275.
That helped contribute to Miami's eventual 31-17 halftime deficit and the Hurricanes – Van Dyke, included – acknowledged that can't continue.
"We've just got to get started faster," Van Dyke said. "We've got to get going…We just have to learn from the experience and keep working."
Still, as frustrating as the first half was for the Hurricanes, Miami outscored North Carolina 25-14 in the second and finished outgaining the Tar Heels 421-382.
That helped put Miami in position for the win on the Hurricanes' final drive and that fight, the Hurricanes said, will continue to help define this team moving forward.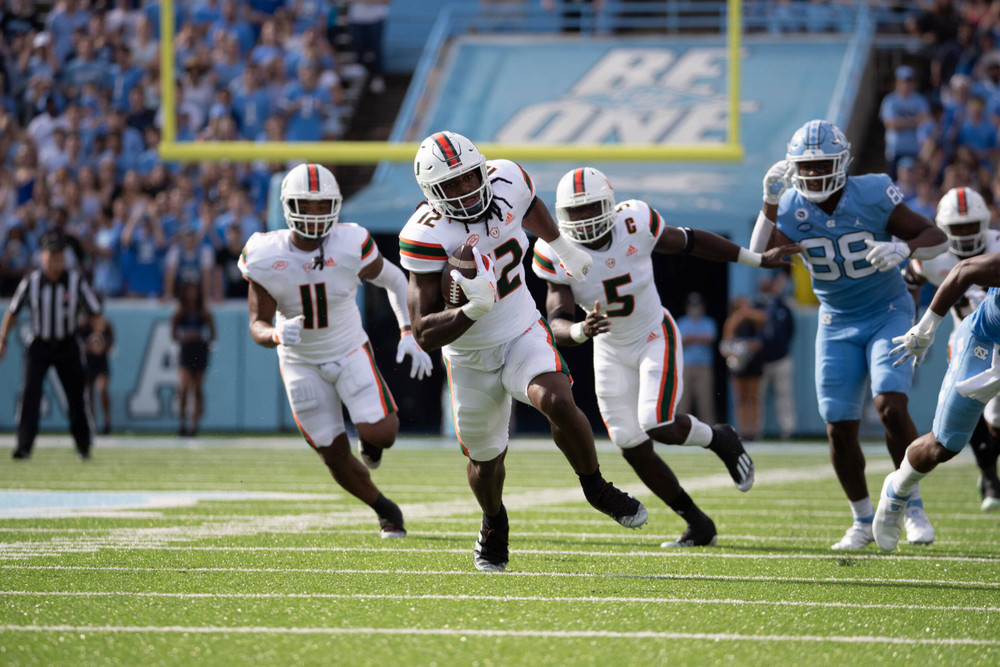 "We're just a couple plays away from winning both those games and the locker room, we're going to be tighter than ever," Van Dyke said. "We all love each other. We're all brothers. This team will keep fighting, as you saw at the end of the game. We just have to start faster, get things going in the beginning of games so we don't put ourselves in those types of situations."
Said Diaz, "We had to just stop helping them. We made some personnel changes that, I think, that maybe helped us in the back end…but, unfortunately, again, the mistakes we made in the first half gave us very little margin for error defensively."
2. Missed tackles continue taking a toll
Throughout the start of the season, Miami's defensive players and coaches have acknowledged they need to do a better job getting opponents on the ground.
While there has been a concerted effort in Miami's practices to work on tackling, on Saturday, more than a few Tar Heels – preseason ACC Player of the Year Sam Howell, among them – got past their share of Hurricanes defenders.
Howell, North Carolina's quarterback, finished with 98 rushing yards and scored two rushing touchdowns in large part because the Hurricanes couldn't wrap him up.
Improving on that, Diaz says, needs to continue being a priority.
"Two high-profile ones on the quarterback, on Howell. Howell's a big, strong runner and both ended up being touchdowns," Diaz said. "Those are just gross errors. We mentioned at halftime you've got to wrap his legs. You hit him high, he's a difficult guy to bring down…Very disappointing for those plays to just be such obvious errors."
3. Van Dyke continues growing
While Saturday marked Van Dyke's third start this season, it was the first time he started on the road and the first time he entered a game as Miami's announced starter, news that came last week when Diaz shared King needed surgery.
In each of his starts, Van Dyke has shown why he was a highly coveted four-star prospect coming out of high school.
Saturday against North Carolina was no different.
While the young quarterback endured some early struggles, he bounced back to finish the day 20-of-45 for 264 yards with three interceptions and a touchdown.
He led the Hurricanes on four scoring drives in the second half and brought them inside North Carolina's 15 in the final minute before his last pass attempt was batted down by a defender.
It was an effort that, not surprisingly, earned praise from his coach.
"Tyler Van Dyke, what a performance. Unbelievable," Diaz said. "First road start for a young guy like that, everything they were throwing at him, so courageous."
4. Jaylan Knighton steps up
After missing the first four games of the season, running back Jaylan Knighton is back in Miami's rotation and on Saturday, his big-play ability paid dividends for the Hurricanes.
Knighton finished with a team-high 17 carries for a team-high 92 rushing yards and added another two catches for 72 yards, including a 60-yard catch-and-run touchdown that pulled Miami within 38-34 late in the third quarter.
His return, the Hurricanes hope, could be a spark moving forward and Knighton, for his part, says he is ready to do what he can to help Miami turn things around.
"Just trusting the o-line, just press the hole, get north and south, don't do [anything] we don't practice. We practice pressing the hole. That's what we have to do. Once I pressed the hole, just find a way and go," Knighton said. "That was my main focus. I kept telling my o-line 'I got them' and they said they got me. Me and Tyler were talking…let's run the ball. That was the focus."
5. Time to get back to work
While the Hurricanes have lost their first two conference games, there are still six ACC games left on the schedule. That's six opportunities to continue improving, to try and secure bowl eligibility and see how things shake out in a topsy-turvy ACC where 11 teams have multiple conference losses.
The fight the Hurricanes have shown against Virginia and North Carolina has been encouraging, Diaz said. Now, Miami needs to just keep pressing forward knowing a potential upset of North Carolina State could be just what the Hurricanes need.
"It's heartbreak," Diaz said. "The way they invest…it's like college football. We're an imperfect team. There's a lot of imperfect teams in college football, but the one thing this team has is it's got fight…I feel like this has been two weeks in a row, everybody on our sideline knew we were going to win the football game on our last drive and somehow, it didn't come off."