"He Has His Brothers Behind Him"
CORAL GABLES, Fla. – It was a moment she knew her son was ready for, one he'd been preparing for since the moment he arrived at the University of Miami more than a year earlier.
Still, as she watched Tyler Van Dyke take the field at Hard Rock Stadium for the first time as a starting quarterback last month, Amy Van Dyke felt a knot form in her stomach.
While everyone else saw a 6-foot-4, 224-pound second-year freshman slinging the ball downfield in a big win over Central Connecticut State, Amy Van Dyke saw a wide-eyed 10-year-old with big football dreams who'd happened to be on that very same field years earlier.
That day – when the Van Dykes had attended a Miami Dolphins game as guests of former coach Tony Sparano, who'd coached at the University of New Haven while Amy Van Dyke's father, Bill Leete, was the athletic director there – a young Tyler Van Dyke had taken his football everywhere. He'd thrown passes in the stadium parking lot and later marveled at the plays unfolding before him as the Dolphins hosted the New England Patriots.
His mother, of course, had snapped countless pictures to remember it all, never imagining that Tyler would one day, return to Hard Rock as a starter for the Hurricanes.
But that's exactly what Van Dyke was on a warm September afternoon two weeks ago.
"It's surreal. Sometimes I kind of have to check myself and say, 'Wow, he's really here.' I have tears in my eyes right now just talking about it," Amy Van Dyke said. "It's really his opportunity…He's always thrived when he's been part of a team and he's been the leader…He will find a way, whatever way he can, to support his team. That's just the way he is."
It's an opportunity that has come under the toughest of circumstances.
Just a week before making that first start, Van Dyke was on the sideline watching as his teammates, including veteran signal caller and mentor D'Eriq King, tried to mount a fourth-quarter comeback against a physical, upset-minded Michigan State team.
Miami came up short that day and King suffered a shoulder injury that sidelined him not only against Central Connecticut State, but Virginia, too.
Van Dyke led Miami's offense in both those games. And now that doctors have determined King needs season-ending surgery, Van Dyke's role has changed – for good.
"It's going to be Tyler Van Dyke's team," Hurricanes head coach Manny Diaz said during his weekly radio show on WQAM-560 on Monday. "I think we saw Tyler grow up in the second half of that Virginia game. I think our players respected that. They respected the toughness in which Tyler [showed] not just his ability to throw the ball, but what he did with his feet. And we all have to get behind Tyler."
On Greentree and in Miami's meeting rooms, that's what's happened.
Veterans like receiver Mike Harley and running back Cam'Ron Harris have tried to help Van Dyke strengthen his voice as one of Miami's leaders. King has offered guidance on and off the field. Coaches, including offensive coordinator and quarterbacks coach Rhett Lashlee, have offered words of support.
And Van Dyke's parents, of course, have done their part, too, encouraging the quarterback both during visits to South Florida and on plenty of phone calls from home in Connecticut. Now, they and the rest of their family will be cheering loudly in the stands when Van Dyke takes the field for his first road start Saturday as the Hurricanes travel to Chapel Hill to face North Carolina.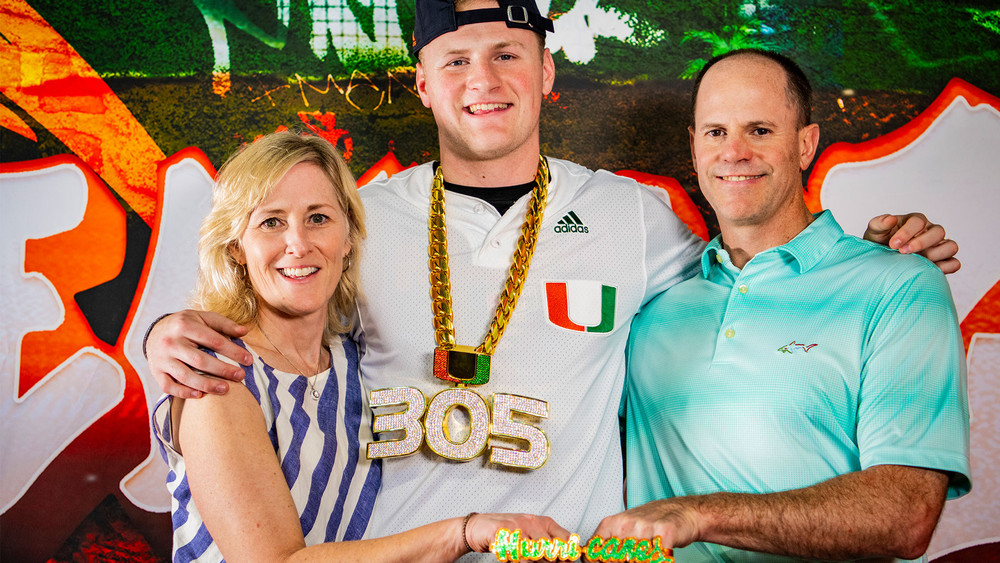 All of that, the quarterback says, has made a difference as he's moved into to his new role.
"It means a lot," said Van Dyke, who completed 25 of 40 passes for 473 yards in his starts against Central Connecticut State and Virginia. "Now that I'm in this position, I feel like people are rallying behind me, helping me grow, helping me with my leadership, helping me be a better person."
Said Harris, "He knows he has his brothers behind him. We're behind him 100 percent, win or lose. We keep saying 'You're the general. You're the boss of the team. We have to go behind you. Whatever you say, whatever you do, we're with you 100 percent. That's what it is.'"
For his part, Van Dyke says he's made it a priority to continue improving.
After the loss to Virginia, he conceded he needed to work on his pocket presence. That was a focus for him during Miami's off week. And while he admits he was nervous the first time he addressed his teammates in the locker room ahead of the Central Connecticut State game, Van Dyke says he's now increasingly more comfortable using his voice.
He expects there will continue to be growing pains as he logs more snaps and accumulates more starts. But he understands the responsibility that comes with playing quarterback at a program like Miami's and he's determined to do the work needed to succeed.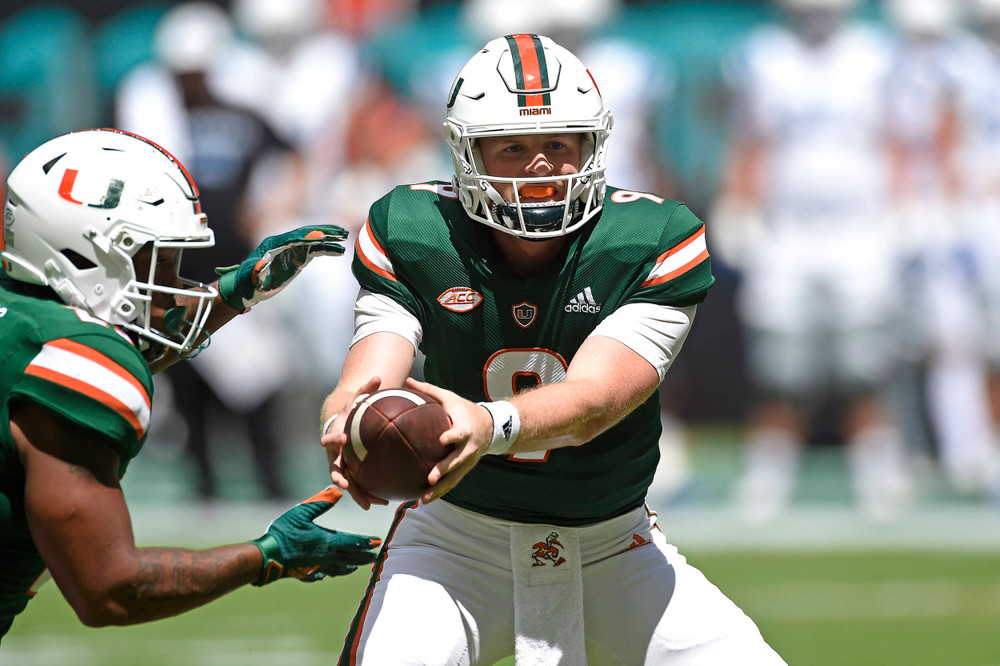 "I've always dreamed of being a starter for a college football team, a Power 5 team. Now, we've just got to get the job done. We've got to win when it comes down to it," Van Dyke said. "That's what I'm really focused on. I'm not really focused on me being the starter…I feel confident in myself and I feel confident in my teammates."
And his teammates are confident in him.
"He's just laid back and calm, but what shocked me was before the Central Connecticut State game, how he brought everybody up and started talking," Harley said. "I was like, 'Oh, man. He's ready. He's ready for his shot.' And he's been doing good ever since he got his shot."