Takeaways from Miami's Game Against Virginia
MIAMI GARDENS, Fla. – For the second time in a month, a late field goal made the difference.
Unfortunately for the Hurricanes, this one didn't go their way.
After a 15-play, 75-yard drive in the game's final minute set the Hurricanes up to kick the winner against Virginia on Thursday night, freshman Andy Borregales – whose 43-yarder against Appalachian State gave Miami a win just three weeks ago – missed this time from 33 yards out.
Final score: Cavaliers 30, Hurricanes 28.
Virginia, which had dropped two straight conference games before Thursday, celebrated wildly. Miami, which had hoped to head into its off week with a conference win, was left stunned and disappointed.
"What I know is what I just saw in the fourth quarter when there was not a lot of evidence that we could do what we did right there and give us a chance to win the game," Miami head coach Manny Diaz said. "The guys believe in each other. There's not a person I'd rather line up to kick that field goal than Andy Borregales. I think everyone on that sideline thought we were going to win the football game and that we had done enough to win the football game."
With a tough night behind them, the Hurricanes will now take some time to heal – mentally, physically, and emotionally. They won't play again until they travel to Chapel Hill on Oct. 16 to face preseason Coastal Division favorite North Carolina.
But before that happens though, here's some of what players and coaches said they can take from their experience against Virginia.
Challenges and all, there was fight late
The Hurricanes, no doubt, weathered their share of ups and downs in Thursday's loss. Things had the potential to go south late in the third quarter when Dontayvion Wicks made an incredible touchdown catch on a play could have been a Miami interception. The play, though, wound up pushing Virginia's lead to 27-14 just minutes after Miami had pulled within five.
The Hurricanes could have given up after a play that remarkable, but instead, they scored again, first on a 57-yard run by Cam'Ron Harris with 1:04 left in the third quarter and later, on a 24-yard run by Tyler Van Dyke early in the fourth.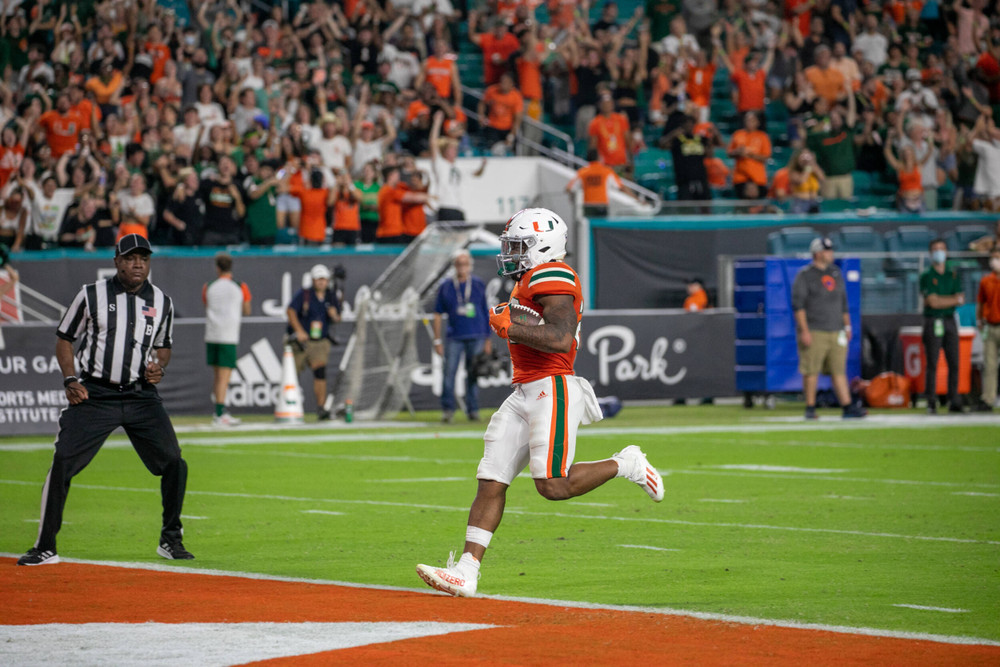 Defensively, the Hurricanes held the Cavaliers to just a 30-yard field goal in the final quarter and forced a punt on the possession that set up Miami's final drive and the potential game-winning field goal.
The effort, Diaz and his players pointed out, was there.
"It doesn't take away from the fact that we lost the game, there are no moral victories. But if you want to check the heartbeat of a team and the morale of a team and whether these guys truly believe in what is going on here, I think that fourth quarter was it," Diaz said. "The way we started and the way we were having such a difficult time moving the football, the guys didn't care about that. They stayed after it. Multiple guys made plays."
Added Harris, "Virginia's a great team. It was just a tough loss that we had. We've got to come together as a team. We started off slow, but once the second half came, we came together as a team and dominated the second half. We just have to finish."
Another slow start takes its toll
As Harris noted, the Hurricanes struggled to find their rhythm early and ultimately, that proved too much for Miami to overcome late.
Just before halftime, the Cavaliers – already the beneficiaries of two points after a safety – scored again on a 25-yard run by Mike Hollins to push their lead to 16-7. Virginia also outgained Miami 245-94 in the first half.
The Hurricanes rallied, outscoring Virginia 21-14 in the second half, but like two weeks ago against Michigan State, it wasn't enough.
"Obviously, we started slowly and allowed them to take control of the game. I think, at one point, snaps were 35 to 11. We had a hard time getting a rhythm," Diaz said. "We had a hard time running the football. We had a hard time protecting our quarterback. As time went on, we grew into the game and like I said, I thought our fourth-quarter effort was worthy of victory, but ultimately, we came up one play short."
Tyler Van Dyke settles in
A week after making the first start of his Miami career, freshman quarterback Tyler Van Dyke was called on to start again with veteran D'Eriq King again sidelined by a shoulder injury.
And while Van Dyke and the offense struggled early, the quarterback settled in nicely in the second half, leading Miami on three scoring drives and putting them in position to attempt the game-winning kick in the fourth quarter.
Van Dyke finished the night 15 of 29 for 203 yards with a touchdown and no interceptions. He also scored on a 24-yard run that pulled the Hurricanes within two with 9:09 left.
"I have to give credit to the offense. They really kept me up when things weren't going well They told me to keep my head up and I just went out there and made plays in the second half," Van Dyke said. "Guys made plays for me. Mike [Harley], Cam'Ron Harris ran the ball really well. Charleston Rambo, too. I'm just really proud of all those guys."
Van Dyke continued, "I wasn't nervous at all. I started out slow and it was really fast out there. I came back in the second half a lot more confident and saw things better. I'm proud of the team and proud of how we fought on both sides of the ball and we're going to keep fighting."
Said Harris of the quarterback's performance, "Being in Tyler's situation was a hard situation to be in as a quarterback. In the first half, he was just trying to get comfortable and trying to get his rhythm. In the second half, he was making great reads and great decisions."
Defensive missed opportunities prove costly
While Virginia quarterback Brennan Armstrong came into Thursday's game having thrown for 300 yards in four straight games, Miami's defense had its opportunities to make life difficult for him throughout the game.
Unfortunately, dropped interceptions and missed tackles let Armstrong find his rhythm and helped the Cavaliers score early and Virginia wouldn't trail all night.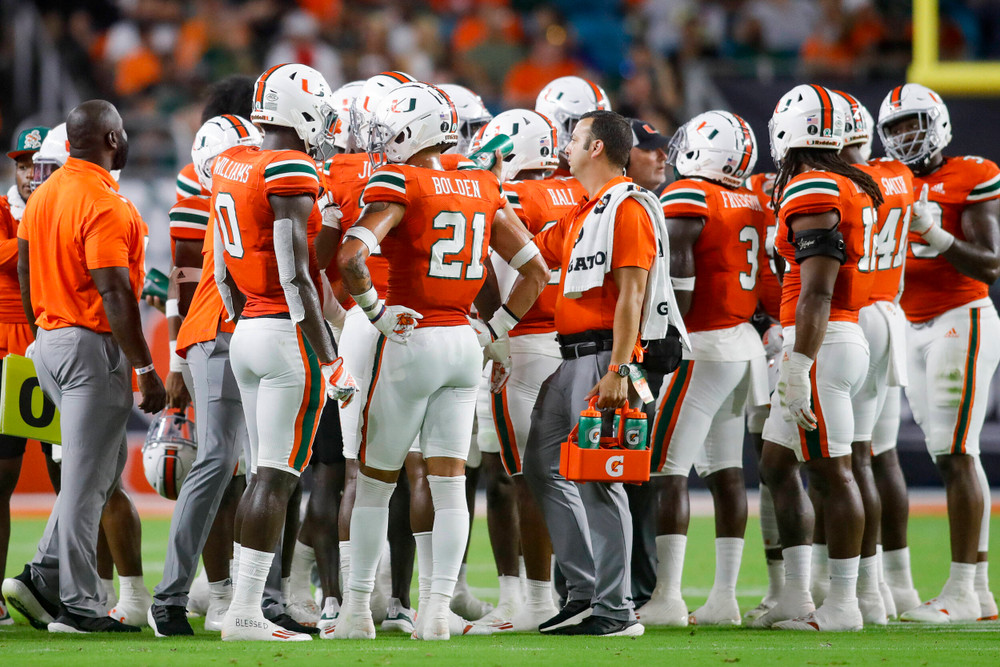 "They do have a very good offense, but defensively, to me, it was a game of missed opportunities," Diaz said. "We had the ball in our hands on the first third-down with the potential for a pick-six. We had the ball in our hands in the red zone. We had the ball in our hands on the goal line, that ended up being a touchdown for them. Missed sacks…It felt like we were a step away from a lot of really big plays happening, but a step away is not enough."
Hedley steps up again
The Hurricanes have long known what punter Lou Hedley can do.
But the redshirt junior, a finalist for the Ray Guy Award last year after averaging 47.3 yards per punt, continues to prove how big a difference maker he can be.
Hedley, who earlier this week was named a Campbell Award semifinalist for his work in the classroom, hit a season-long 62-yard punt in the first half that elicited cheers from the Hard Rock Stadium faithful.
He'd go on to average 48.9 yards on the night and downed two punts inside the 20-yard line.
It's time to regroup and move forward
With their high-profile season opener against defending national champion Alabama and a four-game homestand now behind them, the Hurricanes have an off week ahead before they return to action at North Carolina later this month.
It's time Diaz knows his players need in many ways.
Several players – including King, fellow quarterback Jake Garcia and defensive tackles Jordan Miller and Jared Harrison-Hunte – are nursing injuries and could use the week off to rest and recover.
The rest of the Hurricanes, Diaz pointed out, could use the same before starting a tough seven-game stretch to finish the year.
"I think we'll be able to get some guys back who have been out. We have a lot of guys out there who were carrying bumps and bruises and pushed through it. Then, we'll be able to refine what we are doing with the personnel that we have available," Diaz said. "The [first] five games have been disappointing. There is no other way to say it. There is no excuse that you can make. It's not what this team is. There is more in us and our players believe that.
"I think that is what was on display there late, but again, we have to find a way to make the plays at the end of the game. This team will battle. This team will fight. Despite all the adversity they have gone through, we were on the verge of doing something really special tonight and just came up short. We have to take that part of it and build off that."