Honoring a Legendary Coach
MIAMI GARDENS, Fla. – Beverlee Schnellenberger considers herself "a strong lady."
Tears, she said with a smile, aren't necessarily something folks see from her often.
But Thursday night, when she looked up at a corner of Hard Rock Stadium, her eyes watered. Emotion washed over her. And she couldn't have been more proud – and grateful.
Howard Schnellenberger, her late husband and the architect of the Hurricanes' championship dynasty, had just been inducted into Miami's Ring of Honor, his name enshrined beside those of so many of the legendary players that helped the Hurricanes win five national titles.
And Beverlee, who was flanked by family members and several of her husband's former players during the halftime ceremony, was overcome, especially since she hadn't known exactly what it was that Miami had planned to honor its legendary coach.
"I'm still in shock," she said. "Howard has football fields named after him, buildings named after him. But this is very special to me and my family. And I know the players from why back when absolutely love it, too. This isn't just for me. To be in the Ring of Honor is so fabulous. I had no idea and it's such a blessing. That's really…it's better than the Hall of Fame."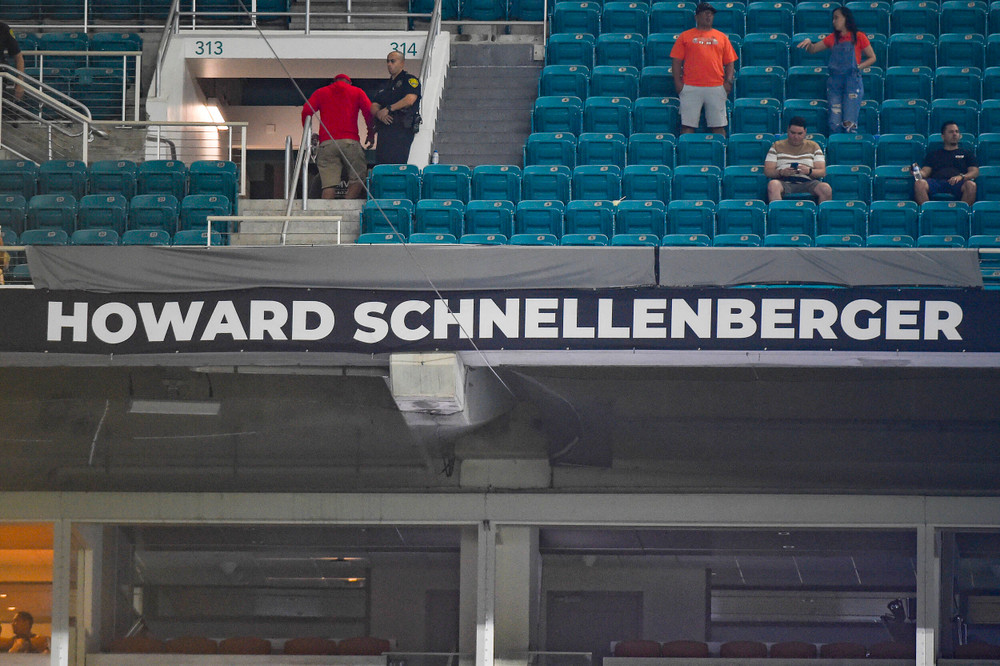 The Ring of Honor ceremony celebrating the career of Howard Schnellenberger was just one of a series of special tributes Miami put together on Thursday to honor the coach who passed away in March at the age of 87.
Miami's players – who have been sporting helmet decals with his image all season – wore special patches the coach on their jerseys Thursday. Those game-issued jerseys are set to be auctioned off, with all proceeds benefitting the Schnellenberger Family Foundation.
Beverlee and her sons Stuart and Tim also served as honorary captains for Miami during the pre-game coin toss and in addition to all of that, more than 40 of Schnellenberger's former players were at Hard Rock Stadium to share in his family's special moment.
That, Beverlee Schnellenberger said, was especially meaningful.
"What I said to them when I saw them in a group was 'I see a lot of love for Howard Schnellenberger in this room'…and I wanted them to know they're the ones that started The U," she said. "It was not a special thing to come to the University of Miami in 1979. But for them to take the opportunity and to take a chance and believe in their coach and believe in themselves to start this program and keep it going, they're all still very faithful to their U and successful in their own rights and that makes me happy. That makes Coach Howard Schnellenberger super happy, too."
For many of Schnellenberger's players, there was nowhere else to be on this night.
Former Hurricanes center Don Bailey Jr., who was a part of Thursday's ceremony, said Schnellenberger's guidance and influence changed his life, on and off the field. Former nose guard Tony Fitzpatrick echoed those sentiments.
And both acknowledged that without Schnellenberger revitalizing a Miami program that was floundering in the late 1970s, Miami simply wouldn't be what it is today in so many ways.
"There's no question he saved our program. Saved it. Made it. Built it. And it's still thriving because of him," Bailey Jr. said. "Swag. He invented it. We didn't talk about it, but he damn sure wanted you to have it. He wouldn't let you back down from anything. A hard-core commitment. And I really think when this program gets punched in the mouth, not just on the field but off the field, he taught us to fight back. And his genius, he brought offense to college football."
Added Fitzpatrick, "Coach was so special to me. I was actually one of his first recruits…He took young men and turned them into full-blown men. He taught them how to work, to fight for what is good, to be a partner in something we were all trying to build and he had us believing, it didn't matter who our opponent was, that all we had was time. We didn't lose. Time might have run out. He told the school 'In five years, I'll have a national championship' and I was with him all five years…To go into that magical season of 1983 and to go through the whole thing, a bunch of 7-point games, some shutouts and then to go against one of the best teams ever in college football and beat them, to be side-by-side with him meant the world to me."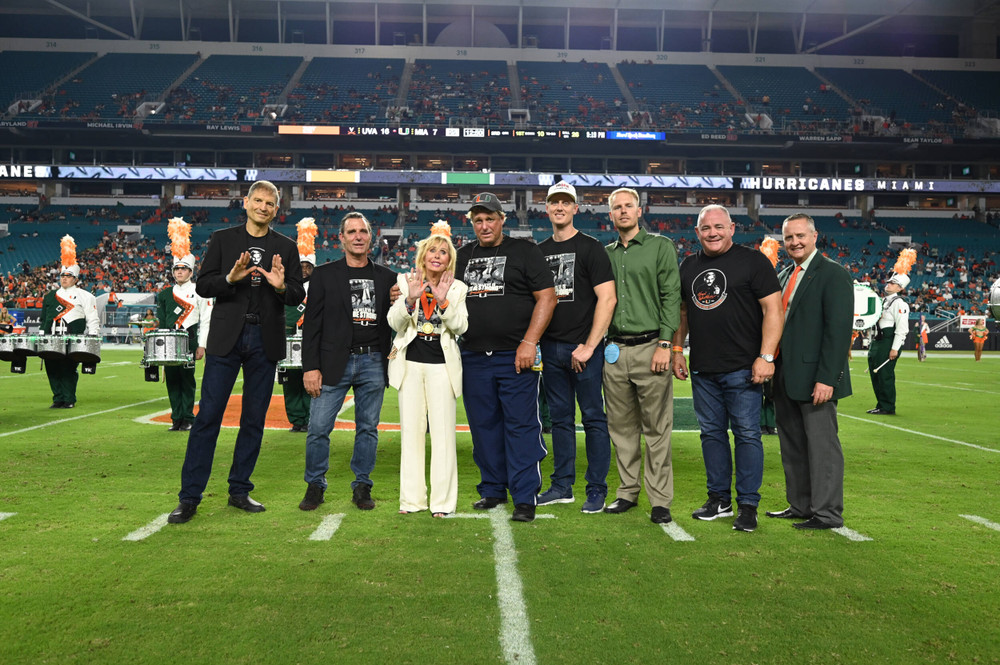 Schnellenberger's former players aren't the only ones who recognized his impact on not only the Miami program, but college football as a whole.
It was Schnellenberger who brought a pro-style passing attack to the Hurricanes and Schnellenberger who made it a priority to build his roster with players from South Florida.
Recruiting his "State of Miami" remains a priority for the Hurricanes to this day and that focus has given countless players from Miami-Dade, Broward and Palm Beach counties the opportunity to not only wear orange and green, but earn their degrees from Miami.
None of that is anything the current Hurricanes take for granted.
"He deserves all the recognition for what he did. It is the miracle of Miami," Hurricanes head coach Manny Diaz said. "There is no story in college football like where Miami was when he got here and leading them to a national championship. Everything we have in this program we owe to his miracle…He saw an undervalued commodity in the South Florida high school football player and committed to it and helped lay the blueprint for how things have gone ever since."
Said Hurricanes receiver Mike Harley, a Fort Lauderdale native, "He built our foundation from the ground up. I'm familiar with what he did at FAU, too. But he created that recruiting pipeline of guys from down south. He was a blessing…I heard him talk and he had a pipe in his mouth and he talked about South Florida being a different breed. He wanted to keep all the guys home."