Hurricanes Set to Open ACC Play Against Virginia
CORAL GABLES, Fla. – For the Hurricanes, there was little time to celebrate.
Not long after their record-breaking win over Central Connecticut State, Miami's players and coaches were back to work on the Greentree Practice Fields, their focus on the next challenge: a short week to prepare for Thursday night's conference opener against Virginia.
"There's an urgency," Hurricanes head coach Manny Diaz said. "I think you can see the urgency that our players have for league play. They understand what's at stake and then just the short week adds to that urgency as well. It's all contributed to a high-focus football team."
Added cornerback Tyrique Stevenson, "Everybody's coming in more focused and more locked in because we do start the ACC this week. And we all understand the goals that are at hand and the goals that we are able to reach due to the fact that it's up for grabs right now. We all understand the main points, so the locker room right now, it's fun and it's exciting and most definitely, it's locked in."
The Hurricanes know they'll need that focus, particularly against a Cavaliers team that won the Coastal Division in 2019 and has played Miami close in each of the schools' last three meetings, all of which have been decided by eight points or less.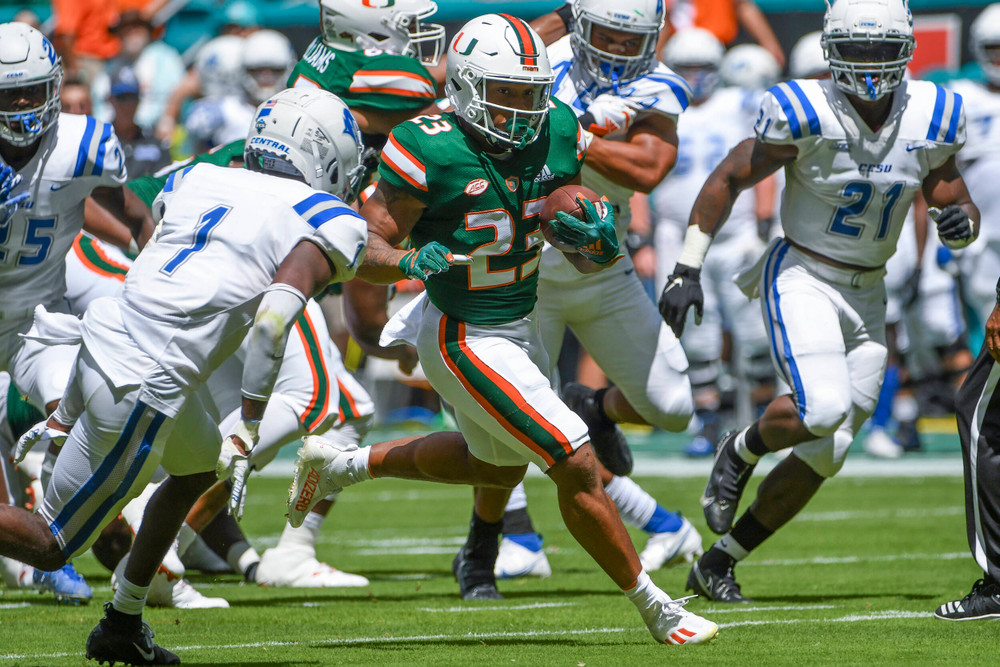 Virginia, which because of last year's Covid-adjusted schedule is making a third straight trip to Hard Rock Stadium, brings with it one of the nation's most potent passing attacks.
The Cavaliers have thrown for 1,722 yards through their first four games, a number that leads all FBS programs. Quarterback Brennan Armstrong, a junior, leads the nation with his average of 438.2 total yards of offense per game and ranks fourth among FBS signal callers with a completion percentage of 66.7 percent.
In last week's 37-17 loss to Wake Forest, Armstrong threw for 407 yards and completed 33 of his 59 attempts – numbers that have, no doubt, caught the attention of Miami's defensive backs.
"We're going to have to stop all their explosive passes. They have an explosive offense. That's really what their game is," Stevenson said. "They have a good passing game and going into this game we know he's going to throw the ball 50 times and the secondary has to be up to the task. And I feel like we'll be able to do it…We feel like we'll be up for the challenge this week and if we stop that, we can suffocate their game a little bit."
While Virginia (2-2, 0-2 ACC) knows who will be leading its offense this week, the Hurricanes (2-2, 0-0 ACC) are in a bit of a different position.
While Diaz said veteran quarterback D'Eriq King has been improving since injuring his shoulder in Miami's loss to Michigan State on Sept. 18, his status for Thursday's game remains unclear.
Freshmen quarterbacks Tyler Van Dyke and Jake Garcia alternated possessions against Central Connecticut State and both, Diaz said, did well enough to earn more playing time moving forward.
Van Dyke, who made his first start in the win over the Blue Devils, was 10 of 11 for 270 yards with three touchdowns while Garcia was 11 of 14 for 147 yards and two touchdowns.
"Based off the performance on Saturday, I don't think either Tyler or Jake deserves not to play if called upon. I think both guys did enough to show they move the football team and get us in the end zone and neither guy did enough to say they wouldn't deserve to play. We feel like we're kind of where we started – we're blessed with options of different guys that can lead us to victory."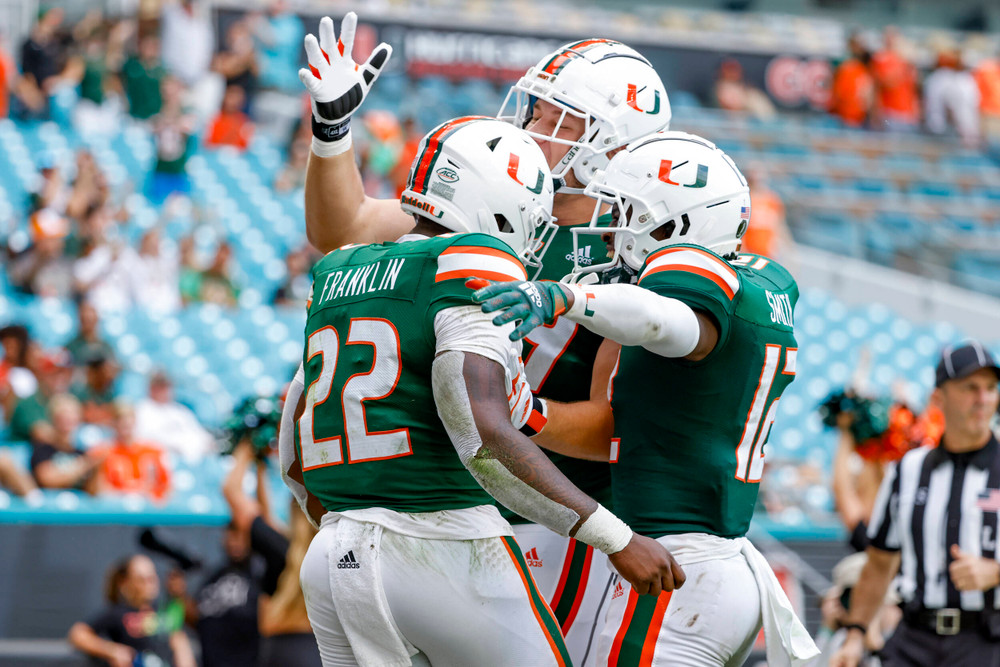 If the two freshmen are called on to lead the offense against Virginia, Miami's veteran playmakers say they're determined to do their best to help things go as smoothly as possible for the young quarterbacks.
"We all give them pep talks, tell them we trust them, tell them to lead the way," said senior receiver Mike Harley. "Like I always tell them, they'll probably make a bad read or a bad pass at some point, but I have to make that catch for them. I have to make them look good and give them confidence…They're here for a reason. It's next-man-up mentality. Whoever we run with is going to get that 'W' for us."
The Hurricanes are also hoping they can get an offensive boost from a refreshed rushing game, which excelled against Central Connecticut State.
Junior Cam'Ron Harris had a big day against the Blue Devils, rushing for 100 yards and a pair of touchdowns while making an 83-yard catch and run play that gave the Hurricanes another score.
Freshmen running backs Thad Franklin Jr. and Cody Brown, meanwhile, added 88 and 77 yards respectively. Another potential boon for Miami's ground game? The return of freshman Jaylan Knighton, who missed the first four games of the season but rushed for 209 yards last year.
While last week's win was a confidence boost of sorts for the Hurricanes, Miami's players and coaches understand they still have to continue showing improvement on several fronts, especially if they want to contend for a Coastal Division title and a berth in the ACC Championship Game.
That goal is still within reach for Miami, though the focus this week is not on getting to Charlotte, but getting better and handling the Cavaliers.
"We're not worried about anything, except again, the tangible things in the moment that we still think have to be our focus," Diaz said. "Whether that's physicality, whether that's protecting the football, which we did a better job [of] on Saturday [and] taking the football away, which we did not do as good of a job as we wanted to on Saturday, red zone production, the real things…We're not going to talk about championship races and conference races and stuff like that. I think the players understand that that's all out there. But that is a reward for doing the little things right over the next eight weeks."