"Everything I Learned About Football, I Learned it in Spanish First"
CORAL GABLES, Fla. – Elijah Arroyo was generally, a happy-go-lucky, easygoing kid.
But when his parents told him their family was moving from Miami to Mexico, the 6-year-old wasn't quite sure what to make of the situation – at least, not at first.
After his parents assured him they'd help him continue playing the sport he'd just recently discovered, though, Arroyo grew comfortable with the idea of his family's big move.
"He was like 'We're moving to Mexico? That's great. As long as I can play football,'" laughed LaTorri Arroyo, Arroyo's mother. "So we started doing some research, found a team that was not too far from our house and in Cancun, actually, American football is very organized. It's a big sport and you end up spending so much time together with the players and the other families…It turned out to be a huge commitment for him and he loved it."
That youth football team in Cancun, it turns out, would have a bigger impact on the future Miami tight end and his family than any of them could have imagined.
For Elijah, Los Troyanos were a lifeline of sorts, a way to meet other kids his age in a new country where he was still struggling to learn the language. For his parents, it was a way to connect with other families in their new community.
On the field, Los Troyanos gave Elijah Arroyo something else: an understanding of the game he'd played for just one year in the United States before his family's move.
"It was cool because most of everything I learned about football, I learned it in Spanish first. That was cool, learning different routes and coverages and the details of the game. I learned all of that down there and when I moved [back to the United States], I got to kind of translate it and I kind of figured out the different names of things and all that," Arroyo said. "It was kind of easy to learn because I already knew it. It was just different words and languages…and when I was down there, we weren't running like a Wing-T offense or anything like that. We had coaches with signals and it was no-huddle…It was more of a newer offense, like what is done here."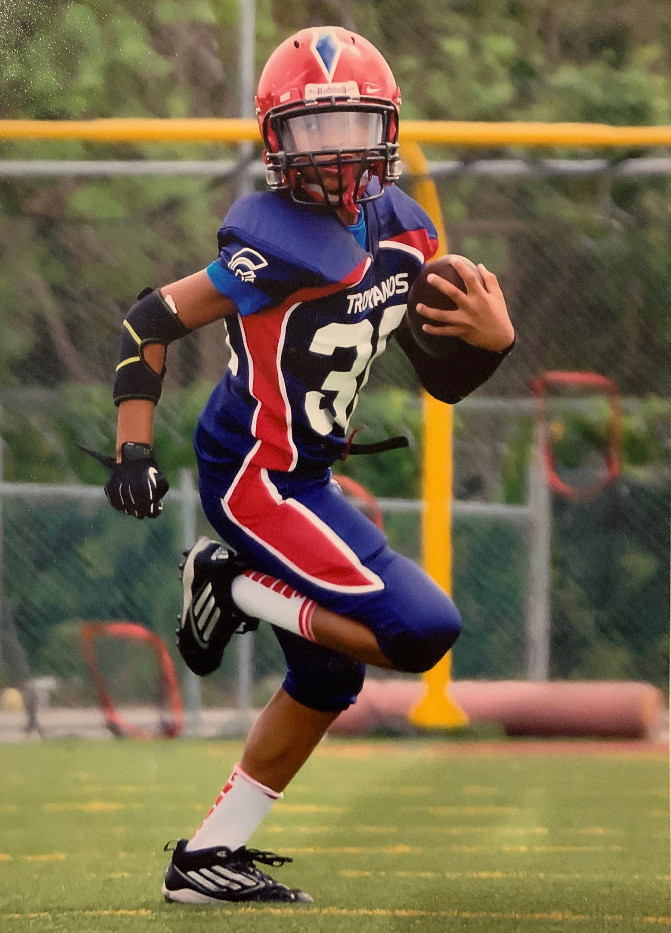 Arroyo's experience in Mexico helped set him on a path that would eventually bring him back to his hometown, as a Hurricane.
After six years in Mexico and playing in Cancun's youth-league programs, Arroyo and his family moved to Texas where he'd eventually become a consensus four-star tight end prospect at Independence High in Frisco.
He was recruited by the likes of Alabama, Arizona State, Auburn, Georgia, LSU, Michigan, Penn State, South Carolina and USC, among others. But when Miami – the team he'd loved as a child – offered him the opportunity to add to the legacy at Tight End U, Arroyo jumped at the chance.
Today, he's one of two Hurricanes that can say they fell in love with football in Mexico.
Redshirt freshman long snapper Alan Nadelsticher, a native of Mexico City, was introduced to the sport by a cousin who spent a lot of time watching Miami Dolphins games on television.
The pair went from watching games to eventually tossing the ball around together. Eventually, Nadelsticher decided he wanted to play himself.
It wasn't easy – there weren't many teams in his hometown and Nadelsticher – who was bigger than some of the other kids his age – was hampered by the strict youth-league weight limits and limited number of available programs.
By the time he was 13, though, he'd found his way onto a team affiliated with one of the local schools, Linces Uvem Lomas Verdes. There, Nadelsticher played both offensive and defensive line.
It wasn't the quarterback experience he hoped he'd have, but Nadelsticher learned enough about football to realize he wanted to pursue it further. And he realized if he wanted to make his dream of playing collegiately in the United States a reality, he'd have to make a life-altering move.
"I watched, whenever I could, college football. I thought it was so cool, with all the bands and everything…That gave me an idea and I was like 'You know what? I want to try and play college football and the best way to do that is to go to the U.S. because there really isn't much recruiting in Mexico," Nadelsticher said. "We looked into options and we found IMG [Academy], which I had gone to a baseball camp for because I played baseball as well….My second semester of high school sophomore year, I left Mexico and went to IMG where I then played my junior season and I played my senior season. I ended up here after that…
"The biggest transition, I want to say, was leaving home to play there…It was a just a completely different experience and a completely different level of play than back home."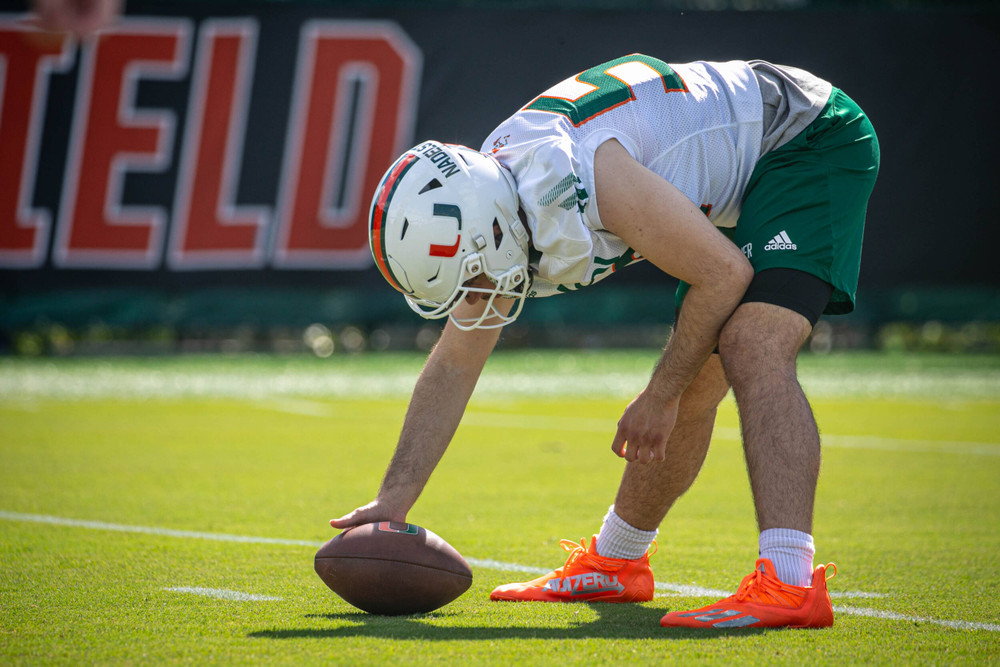 At IMG, Nadelsticher eventually transitioned to playing linebacker before one of his teammates – a kicker – suggested he try snapping. Soon enough, that became his primary position and a conversation with former Hurricanes coach Mark Richt at IMG eventually brought him to Miami.
"It was an opportunity I couldn't really pass up," Nadelsticher said.
Though neither of their football journeys followed the traditional path many of their teammates took, both Arroyo and Nadelsticher say their experiences in Mexico prepared them first for the challenges of high school football in the United States and now, for the rigors of playing at a program like Miami's.
And both say they're hopeful their stories can inspire young football players in Mexico, who may wonder if they, too, can find their way onto some of college football's biggest stages.
"I want to inspire the Mexican community and Mexican football players and help them realize that if you put in the work and you're determined, then it's possible to reach the level that Elijah and I are in," Nadelsticher said. "It's definitely not easy and you're not going to get to that point by going half at it. You have to be willing to put in long hours, do a lot of work and explore every option you have. But if you're willing to do that, it's possible and I want to get that across."
Added Arroyo, "I think it means a lot to be able to be a part of that. I know down there there are a lot of kids with a lot of talent, but they can't really get the exposure that you want down there. There are kids that can make it…I have friends who are still down there and they can look on TV and say 'That was my teammate. That was my brother right there.' Being that motivation for other people that live in Mexico, I think, is great…And being able to wear Arroyo on my back and [have] all the people down here see it, they love it. It's great."