Freshmen Shine in Win over Blue Devils
MIAMI GARDENS, Fla. – Brashard Smith made the catch, ran downfield and when his legs threatened to give way, tumbled into the end zone for the first touchdown of his Miami career.
Downfield, only moments after he'd thrown the first touchdown of his Miami career, Tyler Van Dyke celebrated the fact that in the span of minutes, with that throw to Smith, he'd just doubled his tally.
On Saturday, Smith and Van Dyke were among the Miami freshmen who not only logged a good amount of playing time in the Hurricanes' record-breaking 69-0 win over Central Connecticut State, but had a significant impact on the day.
Van Dyke, who made his first start in the win, was 10 of 11 for 270 yards with three touchdowns, while fellow freshman quarterback Jake Garcia was 11 of 14 for 147 yards and two touchdowns in his Hurricanes (2-2) debut.
The two, who ran drills during spring practice while veteran D'Eriq King recovered from offseason knee surgery, were called upon this week to help lead the Hurricanes with King sidelined again.
Both showed throughout the day they had the ability to keep Miami's offense moving.
"I thought they were both poised. Sometimes you can tell during conversations pre-game and in between series. They handled themselves very well and they knew what was going on," Hurricanes head coach Manny Diaz said. "Both guys can obviously throw the ball. There were a couple of decisions that both guys need to be corrected on, but that is to be expected. I thought the thing that was really exciting was that they made plays down the field…I'm really proud of both guys, but more importantly, I'm proud of the team for the confidence they put in the two quarterbacks. Taking over for D'Eriq King on a Saturday is no small thing."
Added Van Dyke, "It was good to get some in-game reps in front of the atmosphere because…I haven't really experienced it. I've gotten some reps last year and then a couple this year until today. It was good to get out there and get some reps against another team. It's a lot faster out there than it is in practice. I'm prepared, so I'm ready."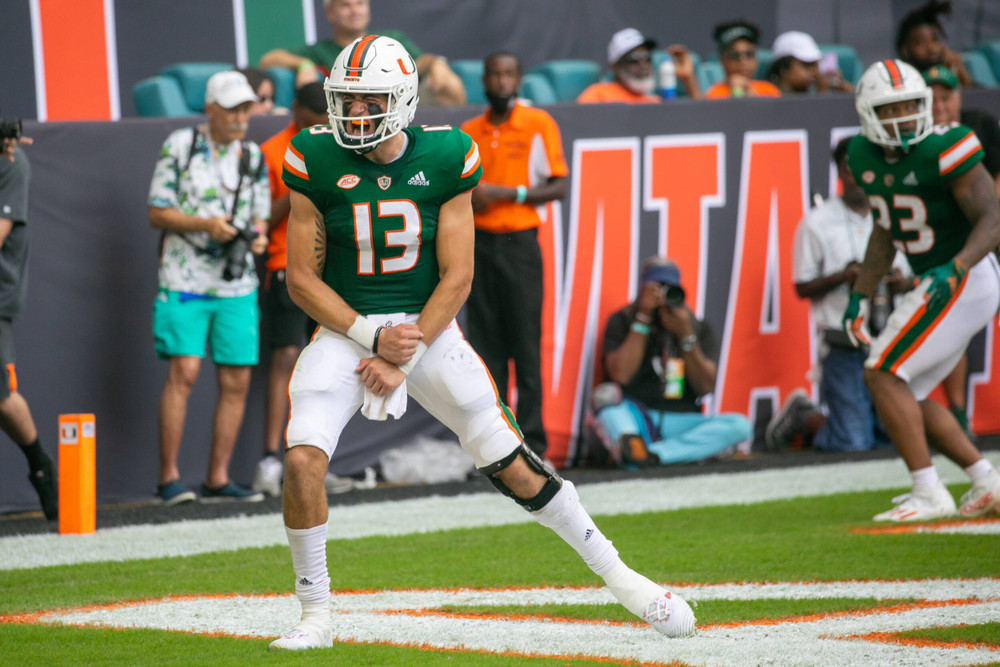 But the quarterbacks weren't the only freshmen who made the most of their opportunities against the Blue Devils (1-3).
Safety James Williams, who made his first start Saturday, snagged an interception, broke up a pass and had three tackles. Defensive tackle Leonard Taylor notched three tackles, including one for loss.
Offensively, running back Cody Brown scored twice and finished with 77 yards on 14 carries, while fellow back Thaddius Franklin Jr. had seven carries for 88 yards with a touchdown. And Miami's trio of freshmen receivers – Smith, Jacolby George and Romello Brinson, affectionately known as the "Three Amigos" by teammates and coaches – all scored and combined for 160 receiving yards.
In all, seven Hurricanes scored for the first time in their college careers in Saturday's game, one in which Miami totaled a program-record 734 total yards of offense.
It was the kind of confidence-building performance the freshmen know they can build on, especially as Miami now turns its focus to ACC play.
"Today was a huge day for us. Obviously, we put up points and the defense held them down, so it was a great opportunity for the freshmen to get in, make plays and get their feet wet a little bit," Garcia said. "You had some people making their first catches today. You had some guys making their first touchdown catches. I had my first touchdown throw today. You had guys making their first tackles today. It was all huge. Their first time stepping on the field, they did those things…You get in the game and it looks different out there from standing on the sideline. That's a huge confidence booster for us, overall and I know everybody's happy right now."
Among those celebrating with the freshmen Saturday were many of their veteran teammates.
Senior receiver Mike Harley, who caught Van Dyke's first touchdown, reveled with every big play his fellow receivers made. Safety Bubba Bolden was animated on the sideline, providing encouragement to his younger teammates and both Van Dyke and Garcia noted that throughout the days leading up to Saturday, King provided plenty of guidance.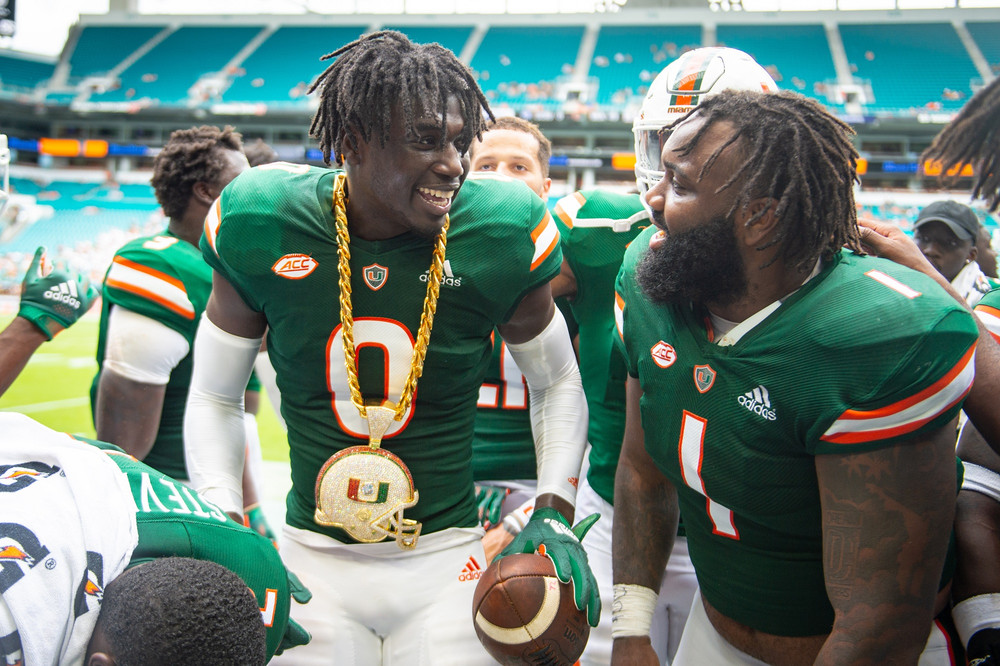 All of that, Diaz said, was invaluable.
"Our players want to win. Everybody wants good things to happen. They want to win and players respect players that help the football team win and I think they see that with this freshman class," Diaz said. "There's a lot of really talented guys and this is what we've changed here. If we continue to recruit like this year in and year out, this is the pathway forward and today was a commercial for that."
And while there was plenty for Miami's freshmen to be proud of Saturday, the group understands things are about to get more challenging and the stage on which they may be called upon next will be even bigger.
After the Hurricanes host Virginia on Thursday, they'll begin preparations to travel to Chapel Hill where they'll face a North Carolina team that was picked as the preseason favorite to win the division. Games against NC State, Virginia Tech and rival Florida State loom down the road.
In any one of those – or the rest of Miami's ACC games – the freshmen could be called on again.
They know they will have to continue to grow – and perform.
"It's high expectations because we're at Miami, but at the same time, we're built for this," Williams said. "We were born for this. We're made for this. We already know the ins and outs, and the ups and the downs that come with it. We're ready to just work. We just want to play ball."