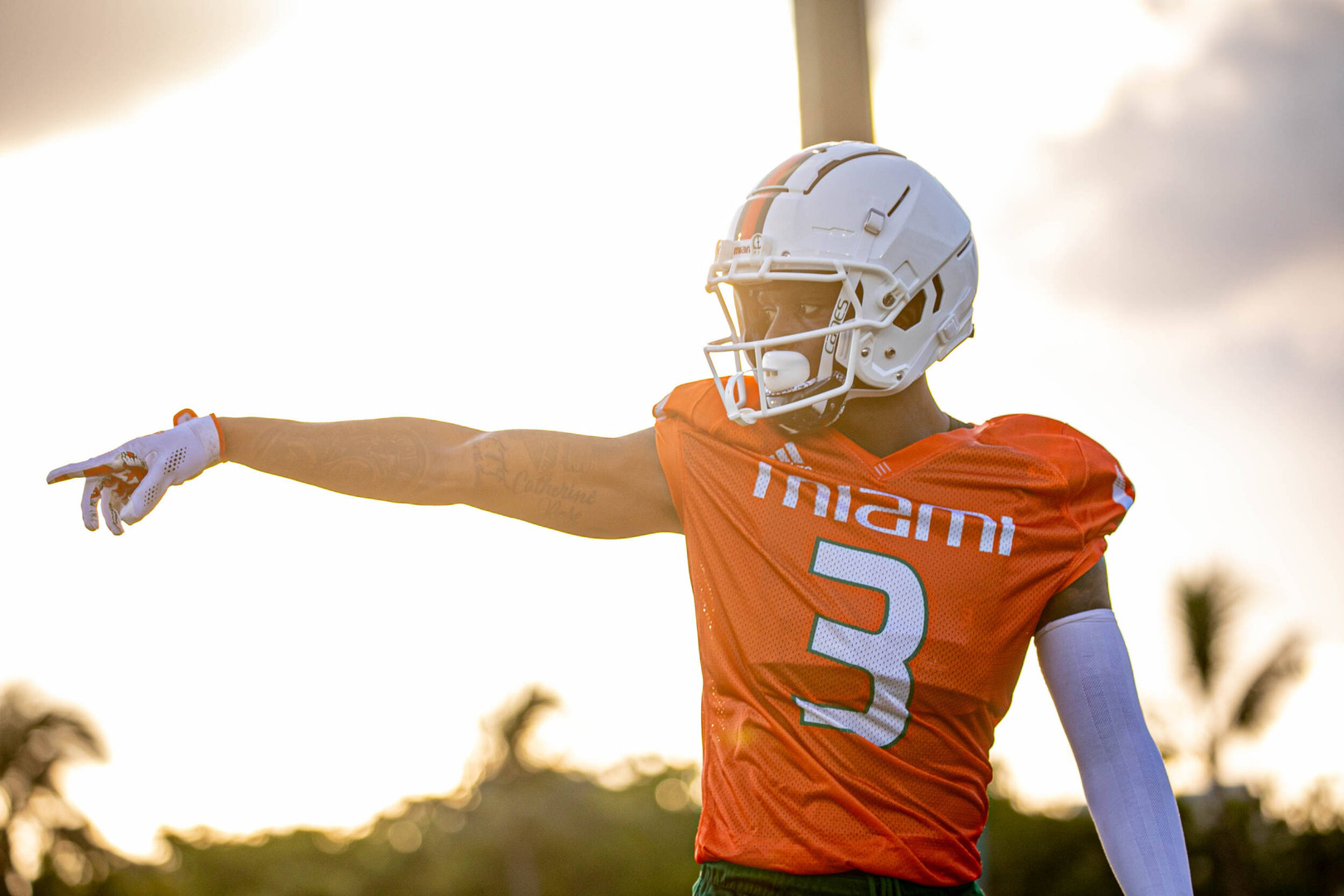 CORAL GABLES, Fla. – It was a friendship that seemed all but destined to happen.
They shared the same name. Played the same position. Attended the same high school.
No wonder Hurricanes legend Michael Irvin felt a connection with Mike Harley, the young receiver who had just been honored by St. Thomas Aquinas, the two's shared alma mater.
"When he was in high school, he won the Playmaker Award, the Michael Irvin Award, and we became great friends immediately," Irvin recalled. "I was just drawn to him. Look at all the parallels. His name is Michael, my name is Michael. He was at St. Thomas, I was at St. Thomas. And he was just a light. I met him and I knew he was special. I knew he was different."
It's been years since Irvin presented that award to Harley and in that time, the receivers' bond has only deepened – especially with Harley choosing to play college football at Miami, where Irvin became a bona fide star and eventual first-round NFL draft pick.
The two call and text each other often, their conversations ranging on all matter of topics, from family to technique on the field. There are in-person heart-to-heart conversations every time Irvin returns to South Florida. And Harley has bestowed the nickname "Pops" on his mentor – an honor that makes Irvin especially proud and speaks to the trust that exists between them.
Today, Harley stands poised to pass Irvin in the Miami record book.
Entering Saturday's game against Michigan State, Harley needs 11 catches to surpass Irvin's 143 all-time receptions, a number that ranks fourth in program history. And if Harley – who had a career-high 799 receiving yards last season – can best that total this year, he'll pass Irvin's 2,423 career receiving yards, a number that stands third on Miami's all-time list.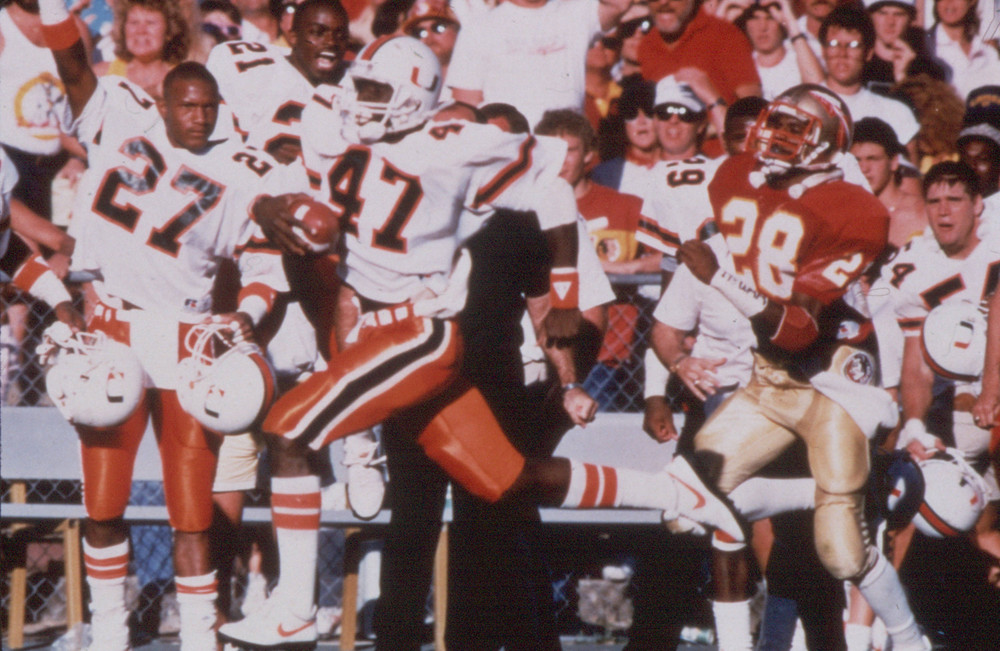 The young receiver has already made it clear to his mentor that he intends to pass both of those marks – and Irvin couldn't be more happy to see his young charge do exactly that.
"I always say that in love, in father-son or mentor-mentee relationships, if they're done right, then the father always wants the son to use his ceiling as his floor. I want Mike to use my ceiling as his floor and take it higher," Irvin said. "He can start with breaking my records. And then I want him to go do something else with it. That's what it's all about."
Added Harley, "At Paradise Camp, I told him, 'I don't want you mad at me, but I'm going to break your records' and he hugged me and said 'I want you to. There's a reason God put you in that position' and that's probably one of my best memories. It was a proud moment…When he gave me that hug, I knew I couldn't let him down. I've got to hold up my end of the bargain. It's a little bit of pressure, but I'm ready for it."
That Harley has the skill level to etch his name in the Miami record book is a given.
A former four-star prospect, Harley was the Hurricanes' leading receiver last fall, was twice named the ACC Receiver of the Week and was a third-team All-ACC. His speed and athleticism have impressed Irvin, who jokes he was never able to run the way Harley can.
But the Pro Football Hall of Famer sees something else in Harley's game that he says will help the receiver find success this season – and hopefully, beyond.
"This game isn't just about your skill. It's also about your will," Irvin said. "We face hand-to-hand, man-to-man combat. It's not just that I mastered my skill and I'm very good. It's also about matching your will because I'm going up against you, man-to-man…To see his skill, plus his will, his desire, his drive, you gravitate to that every time."
And while Irvin and Harley often discuss X's and O's, ahead of his last season at Miami, Harley asked Irvin for guidance on another front.
And there, too, Irvin was happy to oblige.
"He was the voice of his teams, the voice of the offense and I just felt like I had to step up tremendously and be a vocal leader," Harley said. "The best players can be the best leaders. The best players are the hardest workers. I felt like I had to put myself out there more, be more vocal and do everything right so I could set the example and everyone else could follow me."
Said Irvin, "I look at him and I see a young man. He was a kid before. Now he's a real young man, leading other young men. He's no longer the freshman coming in. He's a senior. He's on top of the food chain. His teammates are looking at him for direction."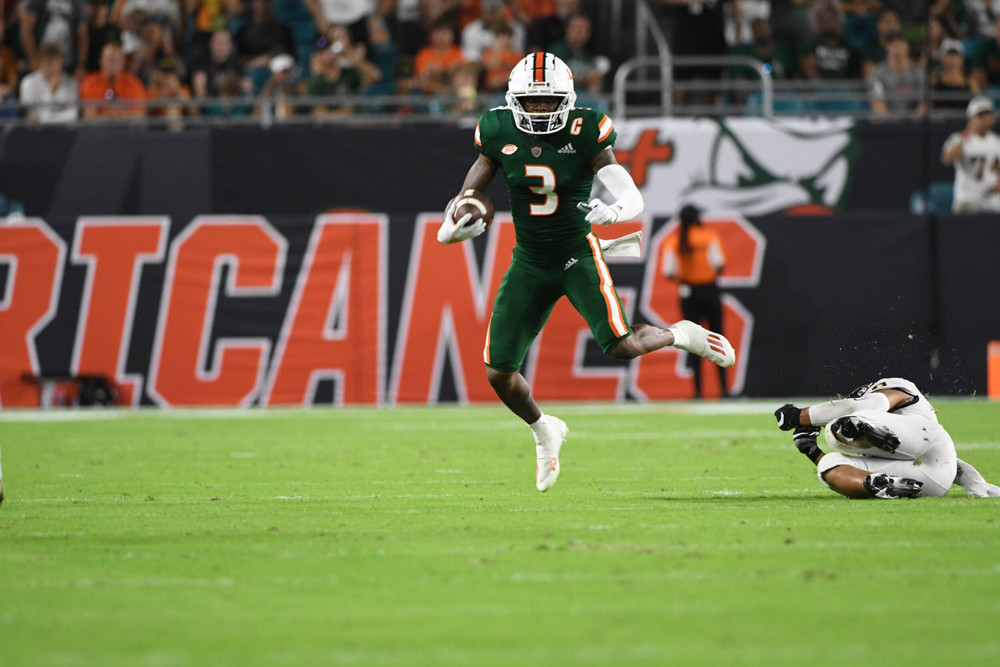 That Harley and Irvin have forged a friendship as close as they have is part of what Hurricanes head coach Manny Diaz says the Miami program so special.
And the two receivers aren't the only ones who have connected.
Miami center Corey Gaynor says former Hurricanes offensive lineman Brett Romberg has offered advice and guidance in the past. And at this year's Paradise Camp – where Harley and Irvin talked records – former Hurricane great Calais Campbell spent time working with two of the newest members of Miami's NFL fraternity, defensive ends Greg Rousseau and Jaelan Phillips.
Relationships and stories like those have played out at Miami throughout the course of the last 30 years. Diaz is hopeful that trend continues in the years to come.
"It's unique to Miami. I've not seen that at other schools that I've been at," Diaz said. "And for Mike and Michael, the story goes even beyond Miami, back to St. Thomas. The expectations there, then the expectations here at Miami. The crazy part is that now, Harley has the opportunity to start leaving his name in the record book along with those greats like The Playmaker. That's pretty special."
Harley and Irvin agree. And both are eager to see how Harley's final season in orange and green plays out.
"You talk about me being there for him, well, he's been a blessing to me," Irvin said. "Every time I watch him play, I'm sitting here smiling…I can't tell you the joy I get on my face when I watch him make a play. It's like one of the greatest gifts I think God can give you, to watch that kid make a play and know I had a small hand in his life, just trying to help and direct him…I want his story to work out great. I want that story to have a great ending to it."
Added Harley, "I'm just trying to make him proud, make myself proud, make my family proud and make this program proud. Wearing that U on my helmet means a lot and I want to come out there and not waste any time or take it for granted. Michael Irvin would probably want to play one more down here as well, if he could. I'm just filling his shoes, following his footsteps and praying I can break his records and everything else so I can be a real legend, too."