Welcome Back to Hard Rock
CORAL GABLES, Fla. — The old adage says a picture is worth 1,000 words.
While the saying may carry some truth, Nesta Jade Silvera's effervescent response when asked about Miami's impending home opener belied the notion.
"I love Hard Rock Stadium," a beaming Silvera said on Wednesday. "That's my favorite place to play in the world. It's going to be great getting back in front of those fans. I'm pretty sure it's 100-percent capacity, so that should definitely be great.
"I hope that fans come out and get it rocking."
Just 1,000 words? Maybe the stadium capacity of 65,326 is a more accurate number.
After a disappointing defeat to consensus top-ranked Alabama in their season opener on Sept. 4 in Atlanta, the Hurricanes (0-1) return to Hard Rock Stadium for the first of four straight home games on Sept. 11 against Appalachian State.
For Silvera, one of Miami's top performing defensive lineman of the last two seasons, Hard Rock Stadium represents a semblance of familiarity after a frenzied 2020.
For Charleston Rambo, it means a return to the site of one of his best performances as an Oklahoma Sooner – a 74-yard game against Alabama in a College Football Playoff semifinal that included a 49-yard touchdown grab.
For D'Eriq King, Saturday's game against App State (7 p.m., ESPNU) is his first ever in front of a full-capacity Miami fanbase that has embraced "The King" as its de facto leader.
"I think everybody is really excited," head coach Manny Diaz said. "It's been a long time coming, to see our stadium the way we remember it. Get the fans in there and get some home field advantage…get a little boost for our guys. I think our guys have a little bit of an edge about them, which they ought to."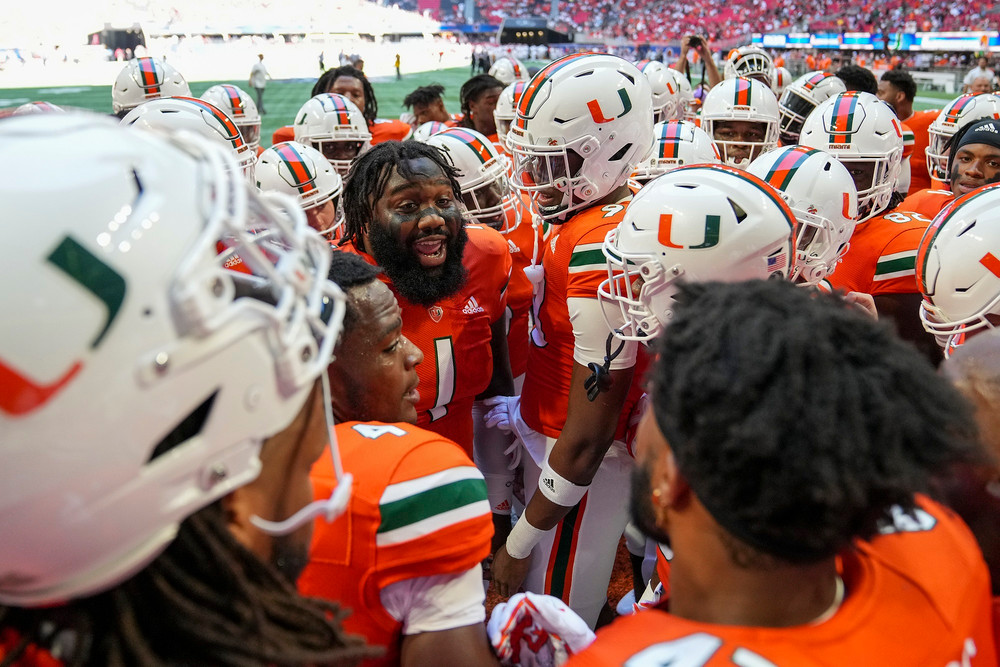 The Hurricanes finished 4-1 at their home venue a year ago, and Miami is looking to continue a run of dominance in home openers that stretches back to its move from the Orange Bowl prior to the 2008 season.
Miami has never lost a home opener at the stadium, racking up an impressive 13-0 record since 2008. The Hurricanes have outscored opponents, 594-83, in home openers at Hard Rock Stadium, good for an average margin of victory of 39.3 points.
UM topped UAB, 31-14, in its 2020 home opener and is 24-6 in 30 home games since Diaz joined the program as defensive coordinator prior to the 2016 season. Miami hasn't lost a home opener since 2006.
Regardless of past results, however, the challenge in front of the Hurricanes is an obvious one. App State has a ­64-15 record and 81.0 win percentage since the start of 2015, ranking fifth nationally behind only Alabama, Clemson, Ohio State and Oklahoma.
"They're used to winning and they expect to win," Diaz said. "They absolutely dominated East Carolina in their opener. That was on a Thursday, so they've had two more days to heal up from that game.
"They're going to run the football and they're going to run the outside zone. They do it really, really well. They've been in the top 10 of the country in rushing offense almost ever year. It's going to be a great challenge for our run defense. You have to be eye-disciplined on the back end because they're going to have play-action pass off that."
Miami is matching up with App State for only the second time ever; the Hurricanes played the first road game of the Mark Richt era in Boone, N.C., in 2016, a 45-10 throttling with Diaz leading the helm in his first year as defensive coordinator.
Diaz, student-athletes and fans alike are undoubtedly looking forward to the home debut of Turnover Chain 5.0, which came out once during Miami's loss to Alabama on a fumble recovery by defensive lineman Jordan Miller.
The chain, which features a charm in the shape of a Miami helmet, weighs one kilogram and is encrusted with 2,754 sapphires of different colors. The chain itself is 34 inches long and weighs 3.5 kilograms, while the entirety of the famous sideline prop took roughly 3.5 months to complete.
"We need a great fanbase to support our guys on and cheer," Diaz said. "We've got a lot of special guys who came back for this reason. A lot of guys mentioned, when they wanted to come back a year ago, that they wanted to come back and play at Hard Rock Stadium in front of our fans."
Following Saturday's matchup with the Mountaineers (1-0), Miami doesn't travel for a football game until an Oct. 16 showdown with ACC Coastal foe North Carolina in Chapel Hill, N.C.  Fans who have not tailgated a Hurricanes home game in nearly two years will get the chance on Saturday before watching a group whose story is far from written, Diaz said.
"Hopefully running out of the smoke will be as special as we all remember it, and we put on a great performance in front of our fans," Diaz said.
In the latest episode of The Manny Diaz Show, Joe Zagacki and Don Bailey, Jr. preview the Keys to the Game for Miami's matchup with Appalachian State.