Persistence and Dedication
CORAL GABLES, Fla. – The decal is small and simple, tucked onto the right side of his helmet.
But every time Gilbert Frierson's eyes land on the little black mortar board adorned with Miami's famed orange and green "U," the striker can't help but feel a sense of pride.
Frierson, who graduated earlier this year, is one of 19 Hurricanes who will take the field Saturday at Hard Rock Stadium for Miami's home opener having already earned their degrees.
Some, like long snapper Clay James and punter Lou Hedley, arrived at Miami with credits they'd already earned elsewhere, whether through dual enrollment or at junior college.
Others like quarterback D'Eriq King, offensive linemen Jarrid Williams and Justice Oluwaseun and defensive end Deandre Johnson earned their degrees elsewhere and are now pursuing graduate degrees at Miami.
And some, like Frierson, safety Amari Carter, cornerback DJ Ivey, defensive end Zach McCloud, offensive lineman DJ Scaife and receiver Dee Wiggins are South Florida natives who arrived at their hometown university and managed to earn their degrees more quickly than most.
For Frierson, it took a mere seven semesters – a fact that makes the redshirt sophomore smile.
"It was really like, my freshman year and that first spring, learning how to balance school and football at the same time," Frierson said. "I'm thankful for the academic [support staff], always staying on top of me, making sure I was in tutoring and getting those hours in study hall. A lot of people don't see all the hard work that was put in, all the study hall hours, all the tutoring. They only see the end part. I'm thankful for having my academic team around me, making sure I stayed level-headed and keeping me on track so I could graduate in seven semesters."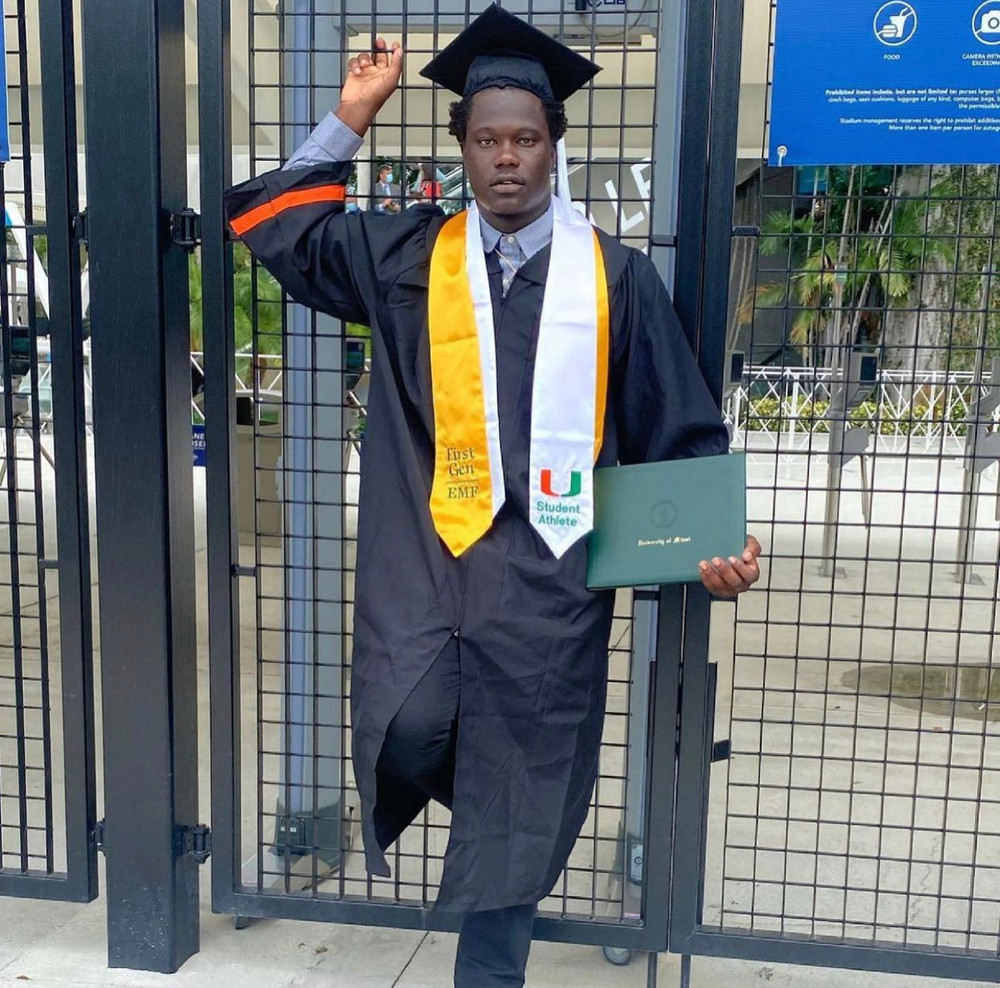 Frierson, who hails from Coconut Grove and attended Coral Gables High School, earned his degree in sociology, a course of study he says made a lasting impression on him.
In one of his favorite classes, Frierson says he had the opportunity to work with and mentor local teens working their way through the juvenile justice system.
There were plenty of heart-to-heart conversations and countless opportunities to connect and encourage as the college students worked with the teens.
"That class was such a blessing. We all come from different places, different communities and different cultures, but you can always find a way out," Frierson said. "If it's school, if it's sports, if it's business, you can find your way out. But you need guidance. Everybody needs someone to push them where they have to go and at a young age, you can make mistakes. We all make mistakes. It's never too late to help someone. If it's 10 people you talk to, you may not be able to get to all 10, but if you can get to one, that's a step closer and that was our goal, to help and provide the kids with as much knowledge and information as we could so they could better themselves…Hopefully, right now, they're doing better and chasing their goals."
For Frierson and the Hurricanes who graduated early, the push to earn their degree ahead of schedule began years ago.
During the recruiting process, Miami's academic services department does its best to show both prospects and their families how to chart a faster-than-usual path to graduation, if that's what a student-athlete wants to do.
"Under normal circumstances, that seventh semester is their last season if they didn't come in as a mid-year [enrollee]. We want to make sure that last season that they're here to compete, that they finish up their unfinished business in the classroom," said Associate Athletic Director Demetreus Darden, who is also the Director of Football Academics. "We want them to successfully pass all their classes, graduate and leave on a high note when they finish their football career here so that when they do get invited to the [NFL Scouting] Combine or they get invited to the Senior Bowl, that they're free and clear and they're not worrying about 'Man, I have one more semester left' or 'If I get drafted and I make a team, I still have to come back and finish more work.'"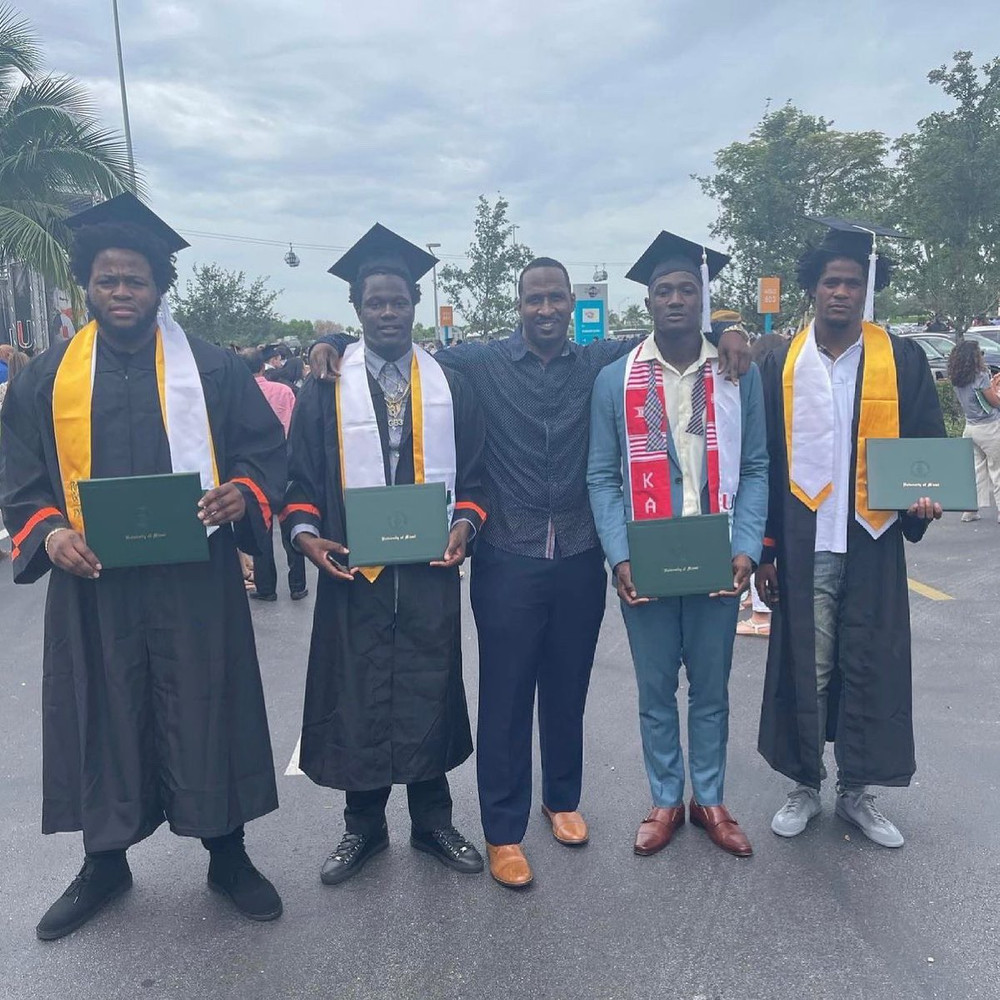 To make that a reality, some players work through their summers and follow a demanding schedule, one that has been even more challenging over the course of the last 18 months because of the COVID-19 pandemic.
During part of 2020, online classes and virtual tutoring sessions became the norm for many Hurricanes. There were technological issues, logistical issues and a lot of adjusting, but, the graduates – and many of their teammates – made it through.
The group received help from several members of Miami's academic services staff including Darden, Assistant Athletic Directors Heather de la Osa and Stephanie Shuey, Academic Advisors Michael Imeokparia, Jeff Duplisea and Michele Gaston, Learning Specialist Kevin Crum, Senior Program Coordinator London Wood, Administrative Assistant Aliana Valenzuela and Senior Associate Athletic Director David Wyman.
All helped the Hurricanes navigate the challenges they faced.
"I would say they've been so resilient. They've persisted through some extraordinarily unprecedented times. The generations we've lived in, there's been nothing like this to persist through," Wyman said. "I want to give them credit for just really working so hard, staying the course, staying focused on their academics, but also their commitment to both athletics and academics. We want them to be high achievers in athletics, but we want them to be high achievers in academics, too."
Added Miami head coach Manny Diaz, "It's a year-round exercise. Even in the past year, with the pandemic, the break between spring semester and summer school was non-existent. We had guys that went to school almost every day for 52 straight weeks. I don't know a lot of people that work for 52 straight weeks or do anything for 52 straight weeks. They're dedicated, and to see guys finish early, that just shows how dedicated they are."
Along with having 19 players already earn their degrees, another nine Hurricanes are on track to graduate in December, with three of them – King, Williams and punter Matias Gasc – scheduled to earn graduate degrees.
It's an accomplishment and goal none of them take for granted, even as they prepare to head into the bulk of the season.
"It's going to mean a lot. It's going to mean a lot to my father. He didn't have to pay a dollar for school and that is far more blessed than a lot of people in this country," said center Corey Gaynor, who is among those set to graduate in December. "I'm very grateful. It's definitely going to be a sense of relief when I get my degree."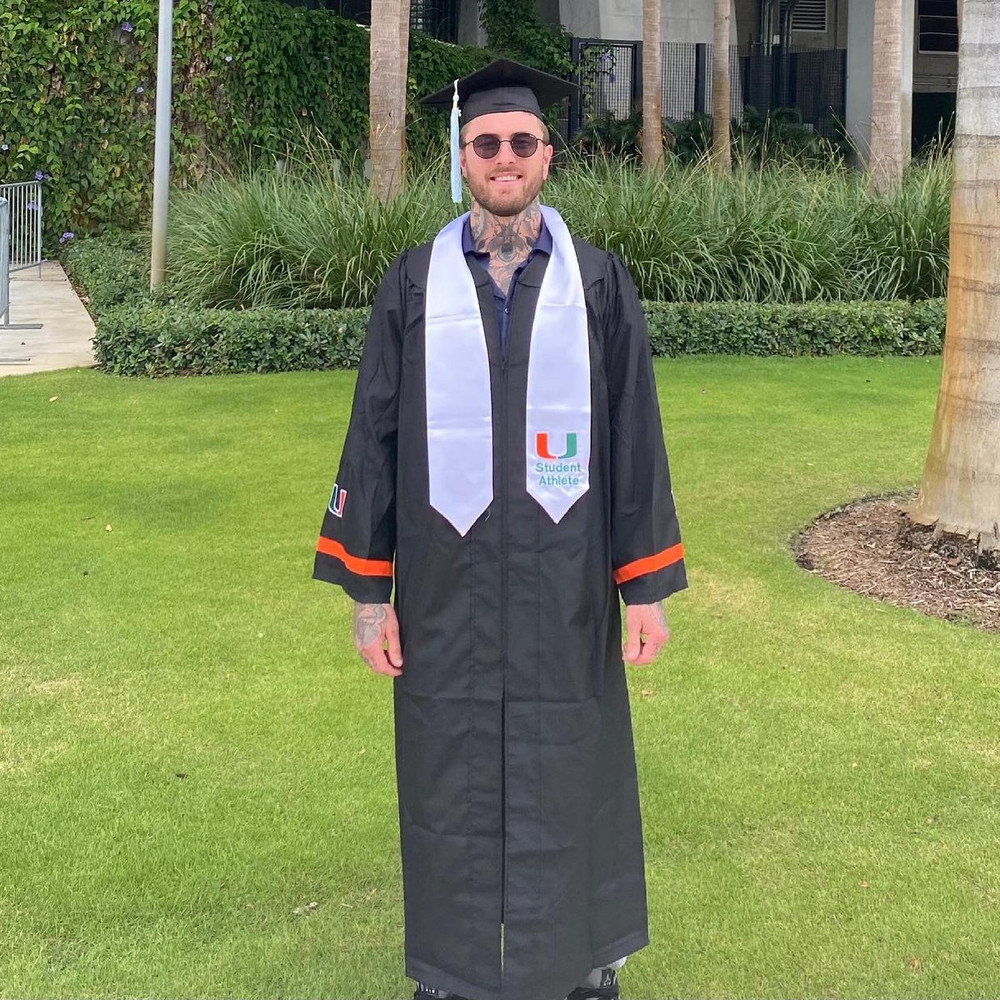 For the Hurricanes who have already walked across the graduation stage, it'll be exciting to welcome more of their teammates into their group, decals and all.
And they hope their work will inspire Miami's underclassmen to keep pushing and follow in their steps one day, too.
"We're a bunch of grown men handling our business. It's for us, but it's not just for us. It's also for the young guys. They can see that it's cool to graduate. It's cool to have your degree. It's cool to go to class and go to school," Frierson said. "Those guys can see what we've done. And we're on them, making sure they go to class and do their work. We want this to spread…Just, finish school. Get your degree. That's the main goal. That's why we're here. We're student-athletes. Ball is ball, but the books are what's most important."