Takeaways from Miami's Season Opener
ATLANTA – There was plenty of excitement headed into the opener.
Thousands of fans clad in orange and green traveled to Atlanta to watch the Hurricanes take on defending national champion Alabama. More than a few Miami legends – including Michael Irvin, Ed Reed and Edgerrin James among them – were at Mercedes-Benz Stadium, too.
And after months of working to rehab the knee he injured in last season's finale, Hurricanes quarterback D'Eriq King finally returned to live action for the first time since December.
But it didn't take long for the Crimson Tide to change the tone of Miami's afternoon.
Alabama scored on its first four possessions, jumped to a 27-point lead and never looked back in what was ultimately a 44-13 win over the Hurricanes.
It wasn't the opener Miami wanted, but as head coach Manny Diaz and his players made clear immediately after the loss, there is still a lot of football to play.
Over the course of the next few days, Diaz and the Hurricanes will study the film from their matchup against Alabama in an effort to help Miami continue improving.
But immediately after the game, the coach and his players offered some of their thoughts. Here, some of what the Hurricanes can take from their opener as they prepare for a four-game homestand at Hard Rock Stadium that begins Saturday against Appalachian State.
D'Eriq King is back
Ahead of the opener, one of the biggest questions facing Miami was how King would fare after his injury, his ensuing surgery and the months of recovery that followed.
The good news for the Hurricanes? The quarterback looked like himself throughout the afternoon.
King completed 23 of his 30 pass attempts and scrambled effectively on multiple occasions.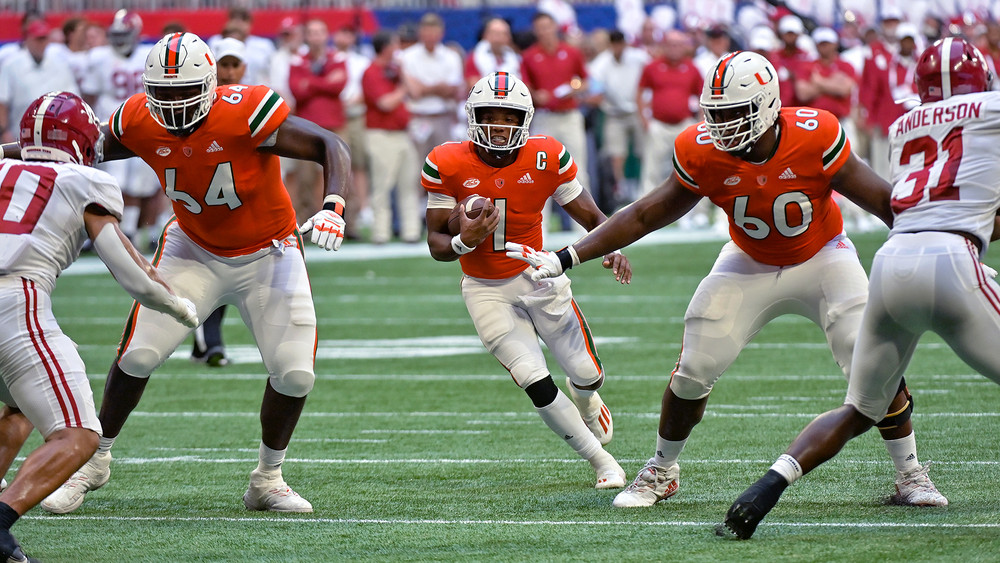 He did limp off the field after one big hit, but returned to the game after, getting re-taped on the sideline.
"I thought he was brave. I thought he was sharp. I thought he made some excellent throws," Diaz said of King.
Said receiver Xavier Restrepo of King's effort, "D'Eriq's one of the hardest workers I know. Just seeing him recover from the injury, like day and night. I'm like 'wow.' I saw him in the training room every single day. I thought I was a hard worker [but] when you actually see him determined and [with his earbuds] in and working, it's fantastic. It's amazing to see."
 Alabama's Young Didn't Play Young
While the Crimson Tide were the favorite coming into the game, Alabama faced quarterback questions of its own, with freshman Bryce Young making his first start in Saturday's game.
And if the Hurricanes – or anyone else, for that matter – wondered how he'd fare in the spotlight, Young proved the Tide have little to worry about on the quarterback front.
The freshman completed 27 of 38 passes for 344 yards and four touchdowns with no interceptions – and he earned praise from the Hurricanes in the process.
"They had a lot of confidence in him and he's earned it," Diaz said. "The way he played tonight for a young guy was very impressive."
 Third downs were an issue
More than once early, Miami's defense was able to get Alabama in some third-and-long situations. But twice in the first quarter, the Crimson Tide were able to convert – first on a 12-yard completion from Young to John Metchie and later on a 9-yard completion to Jameson Williams. Both of those conversions ultimately led to touchdowns.
There was more of that later in the game, too.
In all, Alabama was 10 of 16 on third-down conversions, while Miami was 6 of 14 on that front.
That, Diaz said, was costly.
"I thought the difference in the game was third-down offense. I thought their quarterback made some plays, keeping plays alive outside the pocket that extended drives that kept our offense off the field," Diaz said. "Offensively, we had a hard time getting in a rhythm because of that."
More than a few of Miami's freshmen stepped up
Season openers are almost always an opportunity for a talented newcomer or two to step up and on Saturday, some of the youngest Hurricanes made their presence felt.
Safety Kamren Kinchens saw extensive playing time and delivered, notching seven tackles and forcing a fumble, while fellow freshman safety James Williams had two tackles and was in on a tackle for loss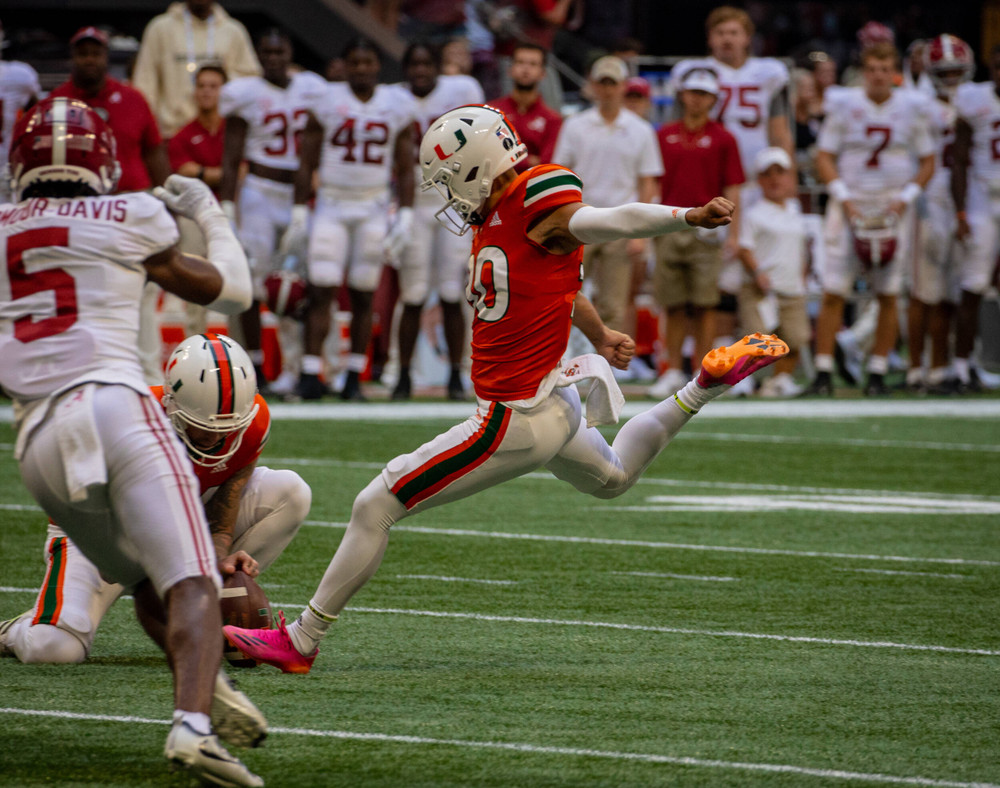 Kicker Andy Borregales converted on both of his field goal attempts, including a 37-yarder on his first collegiate kick. They, too, earned praise from their head coach.
"Yeah, it's what we've seen in practice, you know? The last two recruiting classes – which sort of make up the majority of our team – if we continue to stack classes like that, it's going to continue to be really positive going forward this year," Diaz said. "Andres, it was great to get that situation where he had to make a kick before halftime and [he] made one [in the] second half. That's going to give him a lot of confidence that he's done. Excited for those guys getting a chance to make plays in their debut."
The specialists? Still special
A season ago, Miami's kicker – Jose Borregales – became the first Hurricane to win the Lou Groza Award as the nation's top kicker. Hurricanes punter Lou Hedley, meanwhile, was a finalist for the Ray Guy Award.
On Saturday, Miami's specialists again delivered, with Andy Borregales – Jose's younger brother – converting on his field goals and point-after attempt, while also showing his power on kickoffs.
Hedley, meanwhile, averaged 47.2 yards per punt, with a long of 54 yards.
There's confidence the Hurricanes can keep growing
As disappointing as it was to open the season with a loss, Diaz and his players are confident that not only does Miami have room to grow – but that the Hurricanes have the ability to succeed this year.
And the lessons they learned in Atlanta will only help on that front.
"College football is famous for overreactions after Week One. That's not what this team is all about," Diaz said. "You just don't get your story written after one game. We're just not there year. The guys in the locker room, if anything, what happened today will bring them even closer together."
Added Kinchens, "We didn't get the outcome we wanted, but it's time to go back to the drawing board. Everything starts back over tomorrow. We took a loss, but now it's on to App State and let's continue. One loss [doesn't] mean you're out of it."
Time to shine at home
One big advantage the Hurricanes have now? They play four straight games at Hard Rock Stadium, including their home opener Saturday against Appalachian State. That's followed by non-conference showdowns with Michigan State and Central Connecticut State and then Miami's ACC opener against Virginia on Sept. 30.
Playing at home is always a boon – and Diaz hopes it'll be even more so this year, with Hard Rock Stadium back to welcoming fans with 100 percent capacity.
And for some of Miami's newer players – including King himself – it'll be the first opportunity to play in front a true crowd at home, given last season's COVID-19 restrictions.
"We've got a stretch of games coming at home. It's a big deal for us to get in front of our fans," Diaz said. "Our fans, I thought, were great tonight, to have them out there. D'Eriq King has never played in Hard Rock Stadium with our fans in it. We've got to have a great atmosphere next Saturday night. This team's story is not even close to being written yet, and we've got a lot of guys that have a lot of pride to make sure it goes the way they want it to.