Stepping Into the Spotlight
CORAL GABLES, Fla. – Will Mallory is 6-foot-5, weighs 245 pounds and is an absolute force.
But when Miami quarterback D'Eriq King looks at his top tight end, he sees something a little…different.
"He's a security blanket," King said with a smile. "I love him. I love him a lot."
The quarterback paused, then continued excitedly.
"He makes amazing catches. He's a big target. A guy I can trust," King said. "I know he's going to do right every day. He's going to run the right route, run the right depth and that's just a great thing to have at tight end."
As the Hurricanes move ever closer to their Sept. 4 opener against defending national champion Alabama, King isn't the only one with high praise for the versatile Mallory.
Already, the junior has earned himself a spot on the preseason watch list for the Mackey Award, which is given annually to the nation's top tight end. And coaches and teammates have raved about how Mallory looked in preseason camp after he missed spring drills while recovering from a shoulder injury.
"Will's done great. The thing I think about when I think of Will is he's just reliable. He's steady. He's consistent," offensive coordinator Rhett Lashlee said. "I think that's why D'Eriq would call him his security blanket. D'Eriq trusts him. I trust him. We all trust him."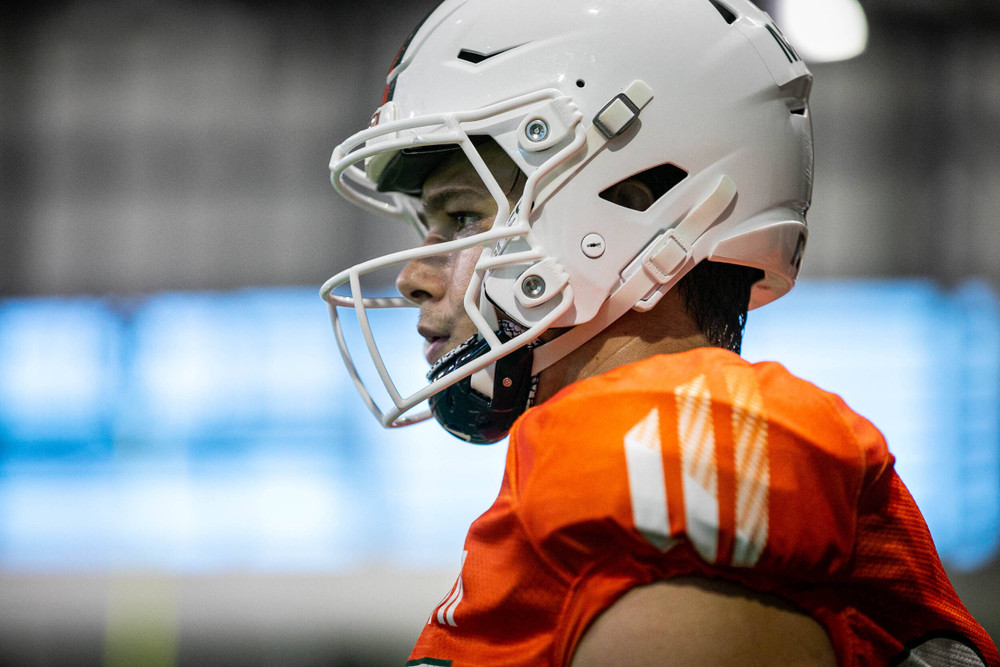 Now, after three years of playing alongside fellow tight end and close friend Brevin Jordan, who was drafted by the Houston Texans in May, every expectation is that Mallory will be one of Miami's more reliable offensive weapons this season.
Those are expectations Mallory is happy to embrace.
"I try to take advantage of ever opportunity I get and I'm thankful and glad my coaches and teammates have that feeling of trust in me, that they know when it comes down to it, I can make a play," the tight end said. "This year, I want to keep improving, extending plays, yards after catch, making the touchdowns, making those big play. I want to continue doing all of that so they have that confidence in me and they know 'when we need something to happen, we can give it to Will.'"
Last fall, Mallory had just 22 catches for 329 yards. But he found the end zone on four different occasions and he averaged 15 yards per catch, second on the team behind only Jordan's 15.2 yards per catch.
He had a career-high six catches and a touchdown in Miami's comeback win at North Carolina State last November and more than once, was King's go-to target on clutch third-down plays.
But, Mallory battled nagging injuries throughout the season and didn't always feel his best. An offseason shoulder procedure sidelined him during spring drills and during that time, he and King – who injured his knee in Miami's season finale – went through the rehab process together.
It was a stretch that Mallory says helped them build an even stronger bond as the tight end and the quarterback prepared for the season ahead.
"I mean, in reality, before Covid hit, when he came here, I was only with him for like two months, maybe? Then we came back and it was straight into the season. I never really got to know him all that well," Mallory said of King. "Definitely being there with him, I got to know him a lot better. I mean, you don't want anyone else to have to be in there, but there's no one better than him to have as a rehab partner, per se. He's as competitive as they come. If he's making strides in his recovery, then it's certainly helping me in mine, too, just trying to stay on track with him and all that he's doing. Getting that chance to be with him, be around him, that strengthened our relationship and our friendship and I was really thankful for that."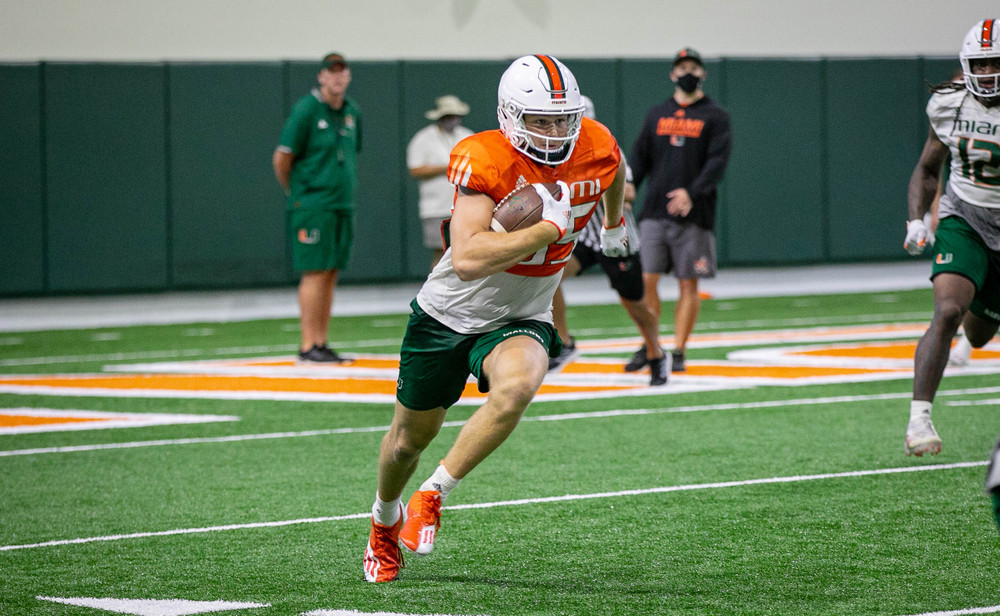 Having to watch spring football from a distance also give Mallory a different perspective about the game he's been around all his life, thanks to his late grandfather, father and two uncles, all of whom coached at either the college or NFL level.
Missing time on Greentree was less than ideal, but Mallory tried to find the positives.
"I think last year, being banged up with stuff, I definitely needed that. Then getting to look at a new perspective of the offense, I learned that way, being off the field. That was good," he said. "But even from just a football standpoint, there's times when anything gets tough and you get down on yourself and you're like 'I don't know if this is for me.' Being away from the game, though, I appreciated it more and I was that much more excited to get back…I missed the spring and it definitely could have helped me. But it was still a positive impact on me."
These days, Mallory is feeling as well physically as he has in a long time. Along with continuing to develop in his own game, he's taken pride in mentoring Miami's younger tight ends including freshmen Elijah Arroyo, Khalil Brantley and Dominic Mammarelli, as well as redshirt freshman Larry Hodges.
He knows together, that group will be entrusted with carrying on the legacy of "Tight End U" and that's a responsibility Mallory takes seriously.
"It's huge. When you think of The U, that's one of the things that comes with it," Mallory said. "You think of Tight End U and being a part of that. I'm extremely fortunate just because of how special it has been in the past and even how special it's been in recent years. To say I'm part of that group is crazy…I'm very thankful to be a part of it and hopefully, I can keep making it proud."