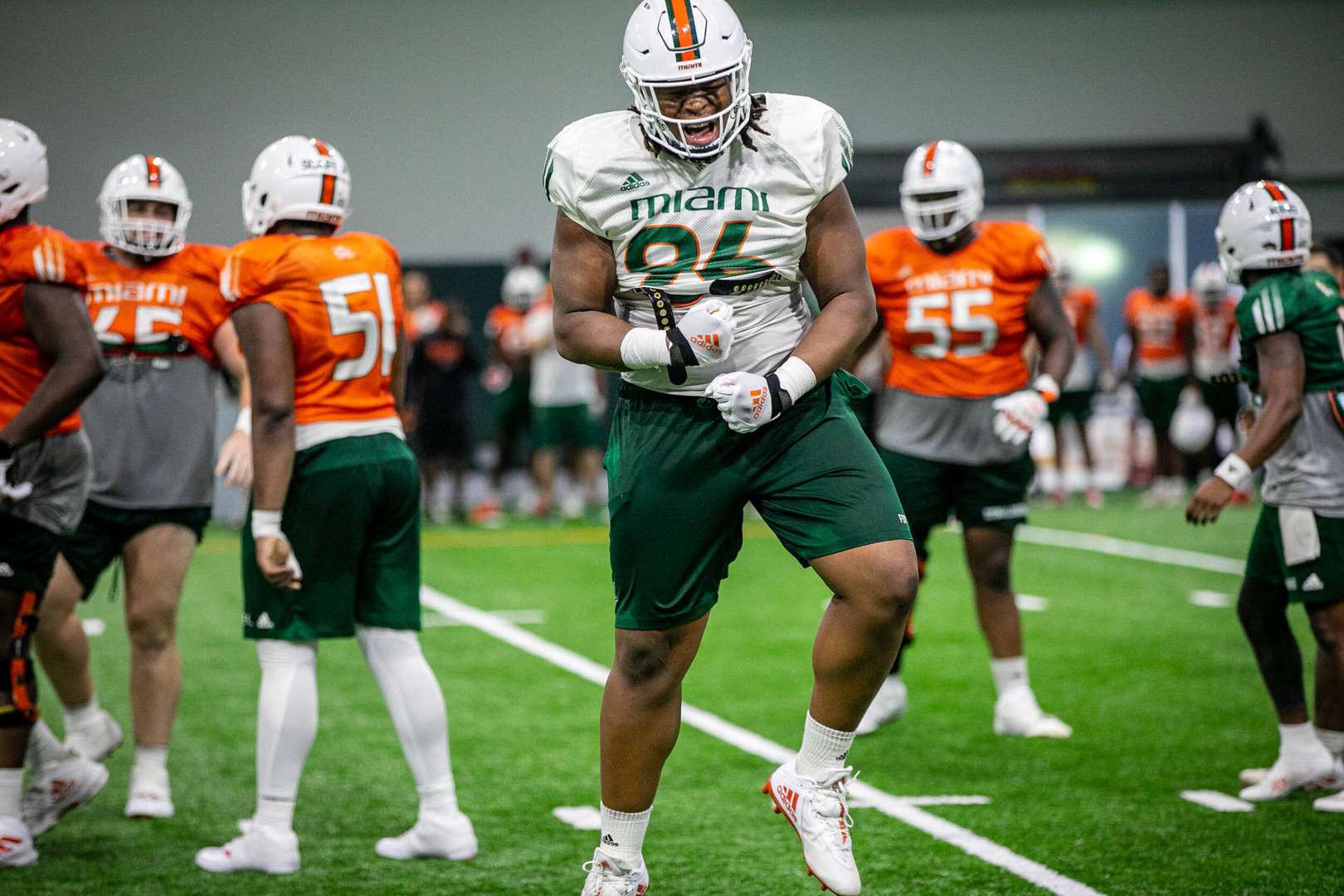 CORAL GABLES, Fla. – It was one play during one drill but it seemed to capture the kind of energy his group has been showing early in preseason camp.
Moments after Jon Ford batted down a pass attempt on a third-down play during Tuesday evening's practice, the defensive tackle was mobbed by teammates who escorted him off the field with cheers and high-fives.
The celebration was short lived – there was another drill to get to, after all – but the energy continued and Ford said, motivated him to continue pushing harder as practice continued.
"It's a real adrenaline rush," the senior from Fort Lauderdale said. "In a real situation like that, a third down, to be able to knock a ball down and get off the field, it's always great…It's been really competitive out there. Guys are competing every day. You see young guys putting it in, you see older guys putting it in. There's nobody out there with the old-man mentality of 'Oh, I don't have to work as hard.' Everybody's working hard. Everybody's competing."
As the Hurricanes move into their second week of camp, Miami's defensive linemen are determined to continue building on the success their group has had in recent years.
Former starting defensive ends Jaelan Phillips and Quincy Roche combined for 12.5 sacks and 30 tackles for loss last season. With both in NFL training camps now, the Hurricanes know they will need some of their new faces on the edges to step up.
Already, that's starting to happen.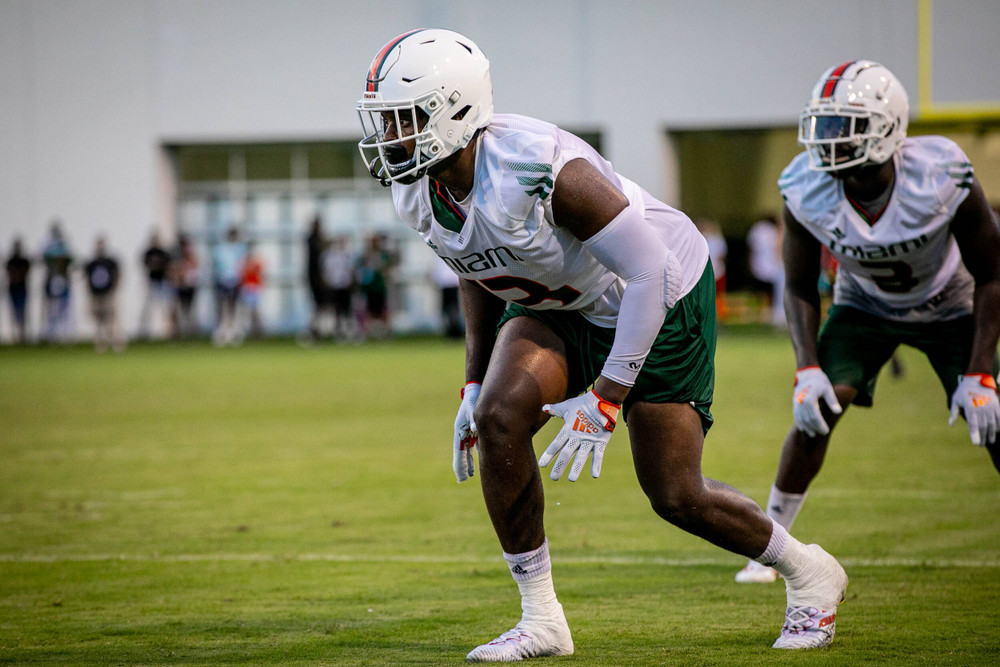 Early in camp, Jahfari Harvey – who had 18 tackles including five tackles for loss and five QB hurries last fall – has been playing well enough to earn praise from teammates and defensive line coach Jess Simpson. So too, have Zach McCloud, who transitioned to end from linebacker and Deandre Johnson, who transferred to Miami after totaling 58 tackles, 15.5 tackles for loss and 10 sacks during four years at Tennessee.
Freshmen Chantz Williams and Thomas Davis have flashed as well, Ford noted. And the more intense the competition is in the coming weeks, the better off the Hurricanes know they will be.
"The competition is up there. The guys are coming in every day, giving their all, taking Coach Simpson's teaching to the practice field," Johnson said. "It's something that just fuels the fire for me. It's something that motivates me every day, knowing there's a 'next man up' mentality when you come to The U. We know [playing defensive end] is a huge responsibility here. I'm just working hard, willing to take it to the next step."
At defensive tackle, the Hurricanes have a pair of former Broward County standouts trying to set the tone in Ford (19 tackles in 2020) and Nesta Jade Silvera (35 tackles, eight TFLs in 2020).
Also pushing for playing time are Jared Harrison-Hunte (17 tackles, six TFLs and three sacks in 2020), Jordan Miller (11 tackles in 2020) and former five-star prospect Leonard Taylor, a high school All-American who had 51 tackles, 23 tackles for loss, five sacks, three forced fumbles, an interception and a blocked kick during a seven-game senior season at Miami's Palmetto High last year.
While the competition early on has been fierce, Simpson – who returned to Miami this offseason after a two-year stint coaching the defensive line for the Atlanta Falcons – says one of his big questions as camp continues is whether his players can keep up the intensity and consistency he's seen through five practices.
If that happens, he noted, the Hurricanes will continue to be successful.
"This game requires consistency. So much of it is response, whether it's responding to how you feel, whether you're banged up and tired or whether you're worn out mentally and emotionally," Simpson said. "Can you respond? Can you be the same guy every day? Can you approach this work and do it the right way over and over and over and not get bored with the mundane things in football that make you better? If we can do that, we can continue to climb and improve. If we hit bumps in the road, that's where we won't spike. That's my message to them every day: can you be the same guy every day? This has been a good block. Now our job is to do it again this week and do it again next week."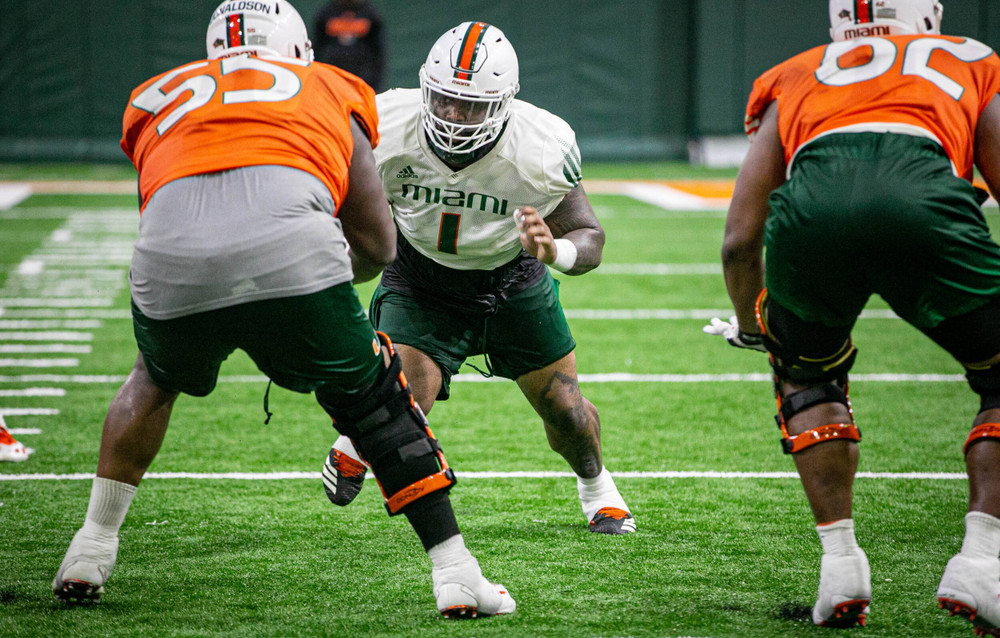 Simpson says the leadership already shown by players like Silvera, Ford, Johnson, Miller and McCloud should help the Hurricanes build that consistency.
"I think their attitude of not being entitled or that they're owed this or that, being open to being competitors is probably even more important," Simpson said of his veterans. "The leadership they've shown to the young kids, they've been really good examples of how to take notes in meetings, how to act, how to do a walk-through the correct way, how to warm up and do things right, how you practice right. That's the fun part. I'm having a blast with my room. They're a bunch of fun kids to coach."
And for their parts, that group is intent on doing what they can to help continue the kind of success Miami's defensive lines have had under head coach and defensive coordinator Manny Diaz.
They know what's expected of them and they intend to do their best to deliver – both in camp and beyond.
"We can do a lot of great things. A lot of old guys, a lot of new young guys that can bring some good things to the table," Ford said. "We're looking to compete on a high level this year."
Added Johnson, "We know everything starts with us up front. We want to be a disruptive group. We want to be a hard-working group. We want to be mentally strong, mentally tough and also intelligent, knowing what blocks to expect, what schemes to expect from certain teams each and every week. As long as we do that and follow Coach Simpson's coaching, we should be great."