Teaching, Encouraging and Energizing
CORAL GABLES, Fla. – He's still wearing cleats, still sprinting up and down Greentree and his voice still carries across the same practice field where, not long ago, he too, honed his craft.
For first-year Miami cornerbacks coach DeMarcus Van Dyke, all of that still feels like a dream come true.
"There are times I have to pinch myself because I get to go out there and get those guys right," said Van Dyke, who starred for the Hurricanes from 2007 to 2010. "I want to give those guys every bit of energy I've got and make sure they're ready…It's truly special to be back here, the place I chose to come out of high school. Now I'm here coaching. I'm blessed. I tell my mom every day 'I can't believe I'm coaching cornerbacks at my alma mater. I'm enjoying every minute and I can't wait to see how this season goes."
Van Dyke isn't the only new – if not familiar – face on Miami's defensive coaching staff this season.
Earlier this year, head coach Manny Diaz revamped that group, giving Van Dyke – who previously worked with the Hurricanes as both a defensive quality control analyst and a director in Miami's recruiting department – the opportunity to coach cornerbacks.
Diaz also brought in SEC veteran Travaris Robinson – a Miami native – to coach defensive backs, asked former Purdue safety and former Texas A&M defensive analyst Ishmael Aristide to lead Miami's outside linebackers and brought former Hurricanes defensive line coach Jess Simpson back to Miami after a two-year stint with the Atlanta Falcons.
Rounding out the defensive staff is inside linebackers coach Jonathan Patke and Diaz himself, who will again serve as Miami's defensive coordinator, a role he held from 2016-2018.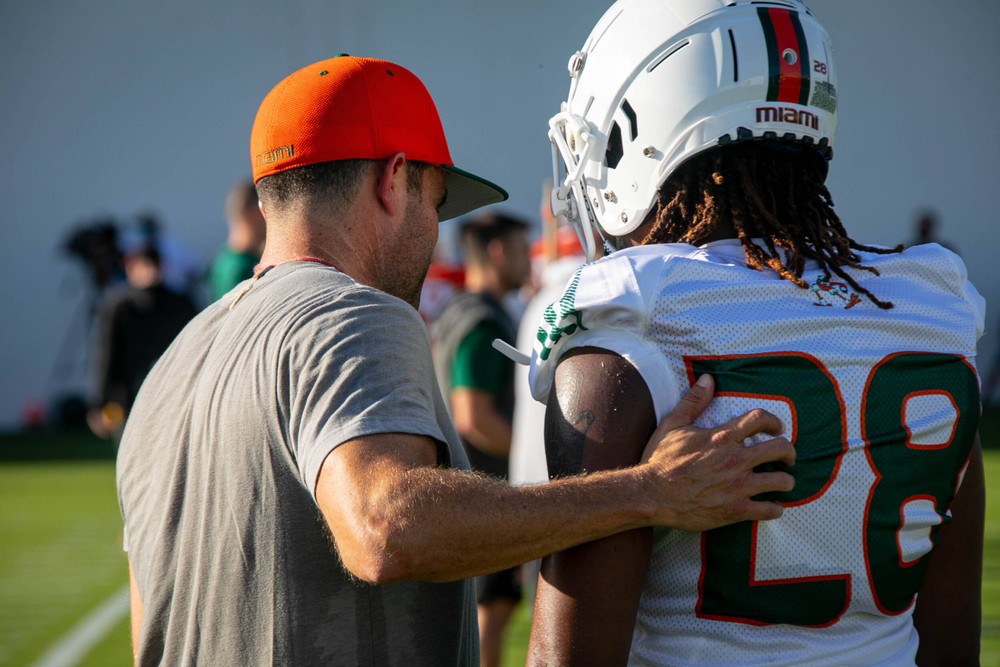 During that time, the Hurricanes were a force, and in 2018 specifically, were among the top four teams in the country in several statistical categories including total defense, tackles for loss, third-down conversion percentage and passing yards allowed.
Some of those numbers slipped last season, but as the Hurricanes move into their second week of preseason camp, Diaz has stressed he and his coaches aren't going to let their players dwell on what happened in the past.
The goal is to get better now and to focus on what can be done going forward.
"I just think we have a hungry room of players on defense. They have pride. They know there's a standard of how we play here at Miami and they get it," Diaz said. "But they also know that what happened a year ago doesn't carry into this following season with us. This is a very similar movie to what we saw from '15 to '16, where there's just this stigma that was following the kids around. We had to find a way that, mentally, we could let that thing go in the past and choose to write our own story for this version of the defense."
That's a mindset that has resonated with several of the veteran Hurricanes, who say they already appreciated the teaching styles their new coaches have utilized early in camp.
"When we get beat on a play, they're trying to coach us. They're trying to teach us right there how to correct it," said striker Amari Carter of Aristide and the rest of Miami's new coaches. "They want everything out of us and they're giving us everything they have, from the meeting room to after practice. During practice, they're giving us their all and they expect the same in return. As players, we love that. We're going to gravitate towards that. It's just going to make the program better."
Added Zach McCloud, who shifted to defensive end this off-season and is now working closely with Simpson for the first time, "It's really appreciated by the players. He'll even sometimes be like 'Hey, you keep messing this up. How do you want me to address it? How do you want me to coach you up on this?' He understands not every player responds the same way to just one coaching style. Some guys really need someone to get in them and chew them out all the time, some people need the teaching and some people just need to be told 'I need you to fix this' and they fix it…He's a guy that really doesn't just say 'I'm going to teach you this way and this way only because it's the way I coach.' As players, we appreciate that."
Early in camp, Miami's defensive players say they've also already seen how well Miami's new coaches work together, despite the fact they haven't been together all that long.
The chemistry, the cohesion, all of it is on display in meeting rooms, on the field and beyond.
And that – the coaches say – has already made a difference.
"I think we've got a lot of good guys on our staff that are bringing forth new ideas. [Diaz] is doing a really good job of accepting and listening to the ideas and we're kind of coming up with a plan and it's our plan," Robinson said. "It isn't his plan. It isn't my plan. It isn't [defensive quality control coach Bob] Shoop's plan. It isn't Patke's plan. Or DVD's. It's our plan. I think we have a really good staff working together. We've got good continuity and we've got to continue growing that chemistry, building it. It's all about trust. That's from player to player and coach to coach and coach to player."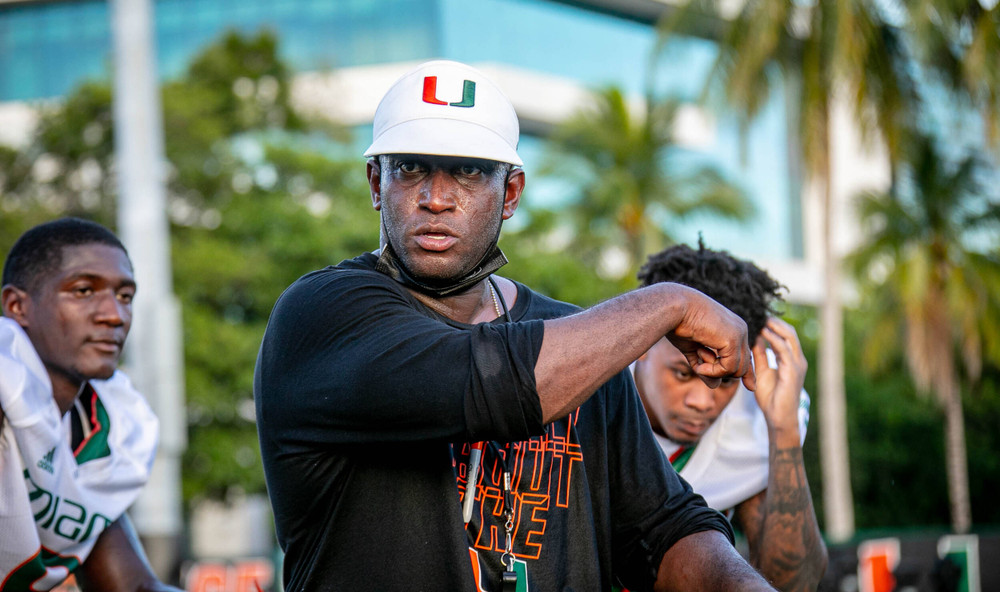 Also on display early in camp is an abundant energy from Miami's new coaches.
At Robinson's urging – or, good-natured teasing, more accurately – Van Dyke has been sporting cleats at practice, making it easier for him to sprint alongside his players during drills.
Diaz has been engaged, too, running from position group to position group during practice and even getting on the ground himself to demonstrate proper technique during at least one ball security drill last week.
There's encouragement, laughter, cheering and correction happening across the field  and the Hurricanes believe that will only help as they not only navigate the often-grueling stretch that is camp, but the season beyond.
"My mom always says to me: Positive thoughts create positive outcomes and positive energy creates positive energy. I try to pretty much give these guys positive energy always," Van Dyke said. "I know that position. I played cornerback. It's tough. You're on an island by yourself. That can be a bad feeling. So we want it to be positive, positive information, positive vibes. I want them to know I'm there with them all the time."
Said Robinson, "When you start looking at the staff, there are guys that have played and they understand what it takes and how hard it is. They celebrate the good things and they're on the guys about the bad things. We do have a lot of energy. That's part of the passion. That's one of our core values, to have passion and enthusiasm in everything we do. Our guys are doing that."